Transgenderism: the great delusion of our time
One day it will be studied alongside witch-hunts and alien abductions.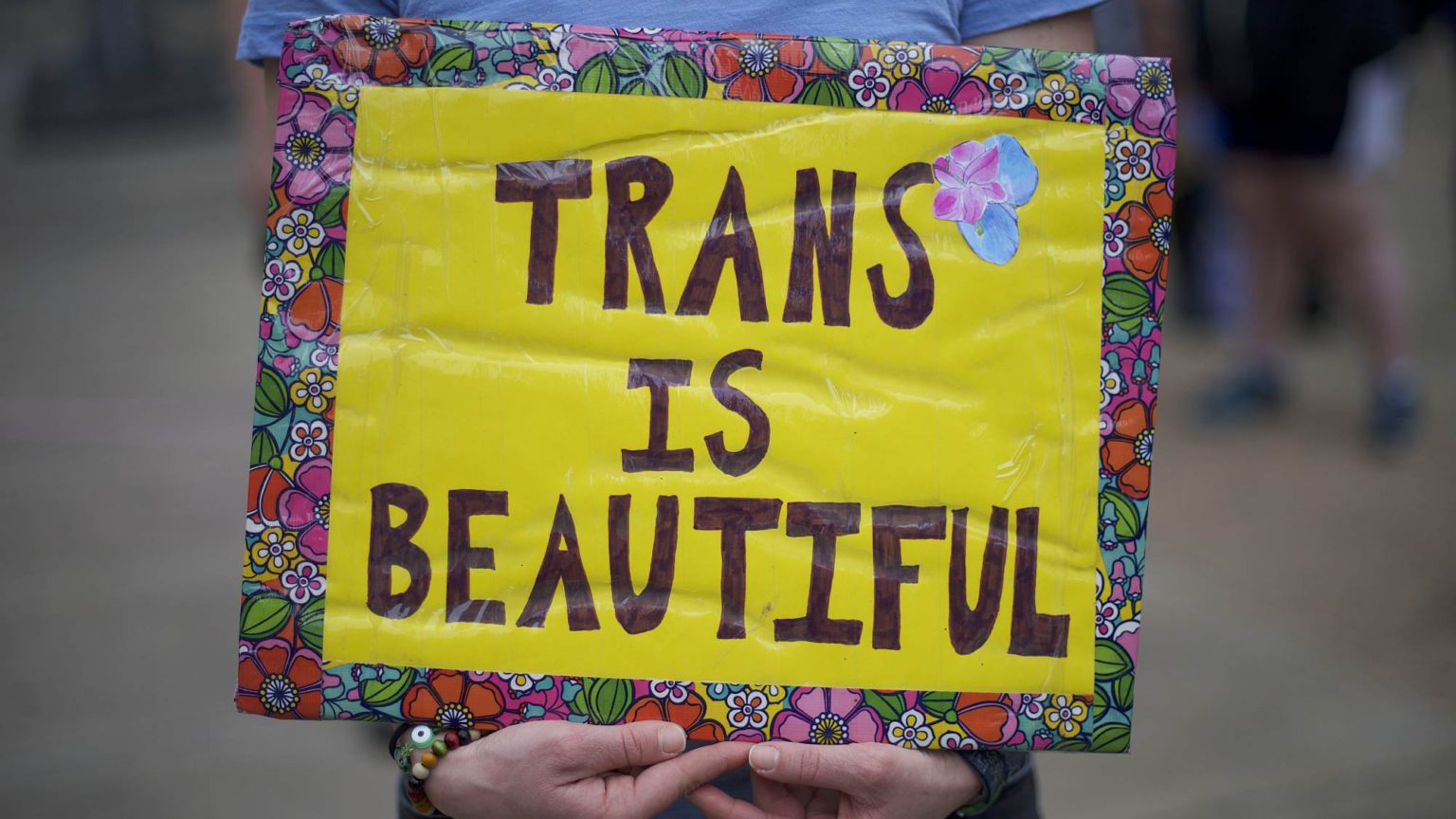 The recent remark by Dawn Butler, shadow secretary of state for women and equalities, that 'a child is born without sex' is certainly one of the most bizarre things said by a politician in my lifetime. It is surprising that it hasn't attracted more derision than it deserves. Or perhaps it isn't. The transgender myth – that one's actual sex, not one's gender, is entirely of one's own choosing – is firmly embedded as the definitive popular delusion of the 21st century. It will take future historians of a more rational age to assess it more soberly and explain its origins.
My theory is that it is the consequence of what might be called the Discrimination Dialectic. Our society is constantly at war with itself between two conflicting imperatives: the need to have an Other (every culture needs one) who we can define ourselves against and be mean about, and our more contemporary, and culturally specific, progressive imperative to ceaselessly end discrimination against minorities and erstwhile Others. This dialectic involves identifying, or maybe even inventing, the next Other in order to emancipate them.
When I was very young it was still acceptable to be a misogynist – television comedians still made jokes about wives and mothers-in-law – and it was acceptable in certain circles to be racist. Homophobia was even more mainstream well into the 1980s, when 'poof' and 'homo' were unremarkable playground insults.
Going back further, misogyny, racism and homophobia were all pretty mainstream in the 1960s. They are all taboo today. Most people under 30 probably don't even know that Irish jokes were commonplace until the 1980s. So what discriminated Other should our society campaign for now? What minority can we be progressive about now? Trans people, it transpires.
It is owing to our culture's cult of progress, and the liberal-left's compulsion of forever ending discrimination, that the trans movement has captured the Labour Party so virulently. While Butler's remark raised some eyebrows, a recent statement by the London mayor, Sadiq Khan, raised none, when he asserted that 'Trans women are women. Trans men are men.' Another transparent falsehood. A trans woman is a trans woman.
Trans is a powerful myth, which explains how it demands some curious mental gymnastics and strange doctrines. First was the notion that by having cosmetic surgery you can change your sex. (You can't, because you can't change your chromosomes or biology. I never have and never will menstruate or give birth.) Then came the idea that you can change your sex through performative utterance, by merely declaring you have done so. And now comes the literally – literally – unreal dogma that babies have no sex.
Most people, especially those of a woke persuasion, like to ridicule Christian creationists who believe the Earth is only 6,000 years old. They are certainly irritating, such is their wilful, wanton resistance to accept the overwhelming scientific evidence for evolution. True trans believers have become intolerable for exactly the same reason: their flight from reality and denial of not just science, but also what is staring them in the face. You don't even need a doctor to tell what sex a baby is.
The trans movement began as an extension of the gay-rights movement. But since gays are nearly totally accepted now, it has usurped it. It has since morphed into something more uncanny: a modern-day cult. It's an ersatz new religion, hence the doctrine among its believers that 'transphobia' is a most grievous transgression. Look, too, at the way people demand that strangers use pronouns of their choosing. And regard the degree to which people have internalised 'transphobia' as a modern-day blasphemy against this religion, a heresy against the church of trans, with so many people terrified to speak openly and honestly about it.
It is nothing more than a case of hysteria, a modern-day delusion, a phenomenon that one day will – or should – be studied alongside witch-hunts and alien abductions.
---
Poaching poorer countries' nurses
While the debate in the UK about migration, NHS staffing and low-paid employment focuses on immigration levels from the EU, it is worth considering the matter of emigration out of EU member states. An article in Labour Heartlands last week tells us that since Poland joined the EU in 2004, around 20,000 trained nurses have left the country. Of the 280,000 that remain today, only 42,000 of them are under the age of 40, with the average age being 51. In 2015, Poland had 5.2 nurses and 2.3 doctors per 1,000 citizens. 'The country's health-care system is chronically underfunded.'
The majority of nurses and doctors who come to the UK for employment come from countries poorer than ours. Yet it is these states that have paid for or facilitated their education. We are further impoverishing these countries by taking their labour. If our unwillingness to train our own doctors and nurses has been deplorable, poaching them from poorer countries is profoundly shameful.
---
Three cheers for Big Pharma
Last March I developed a case of intense itching on my back and backside. Presuming it to be the re-emergence of the eczema that tormented me as a child, I thought it could be remedied with cream. But no cream seemed to solve it. Nor did changing diet or clothing. Consequently, I have spent the past 11 months constantly scratching myself, leaving my skin scarred and myself in considerable pain. My concentration has at times been consequently shot, leaving me periodically unable to read or write.
After a particularly savage scratch attack two Saturdays ago, I had a doctor come round. I had already suspected it wasn't eczema – I didn't recognise the unpleasant smell. I suspected it was something worse. It turns out it wasn't. It was a fungal infection all along. He gave me a prescription for a dose of antibiotics. The fungus is now gone, the pain is subsiding and the scars are healing.
I consequently feel obliged to state that 'I ♥ the NHS'. But I must also add that 'I ♥ Big Pharma'. In an age in which we are meant to hate greedy corporations ('Big' with a capital 'b' has become a pejorative adjective in itself), it is time to give some respect to the pharmaceutical corporations that invent these wonderful drugs.
So thank you to Pfizer, who patented fluconazole in 1981, to the inventors of flucloxacillin, patented in 1961, and to the Schering Corporation that launched prednisone on to the market in 1955.
To enquire about republishing spiked's content, a right to reply or to request a correction, please contact the managing editor, Viv Regan.