Mubarak's dictatorship lives on
President Sisi has filled Hosni Mubarak's despotic shoes.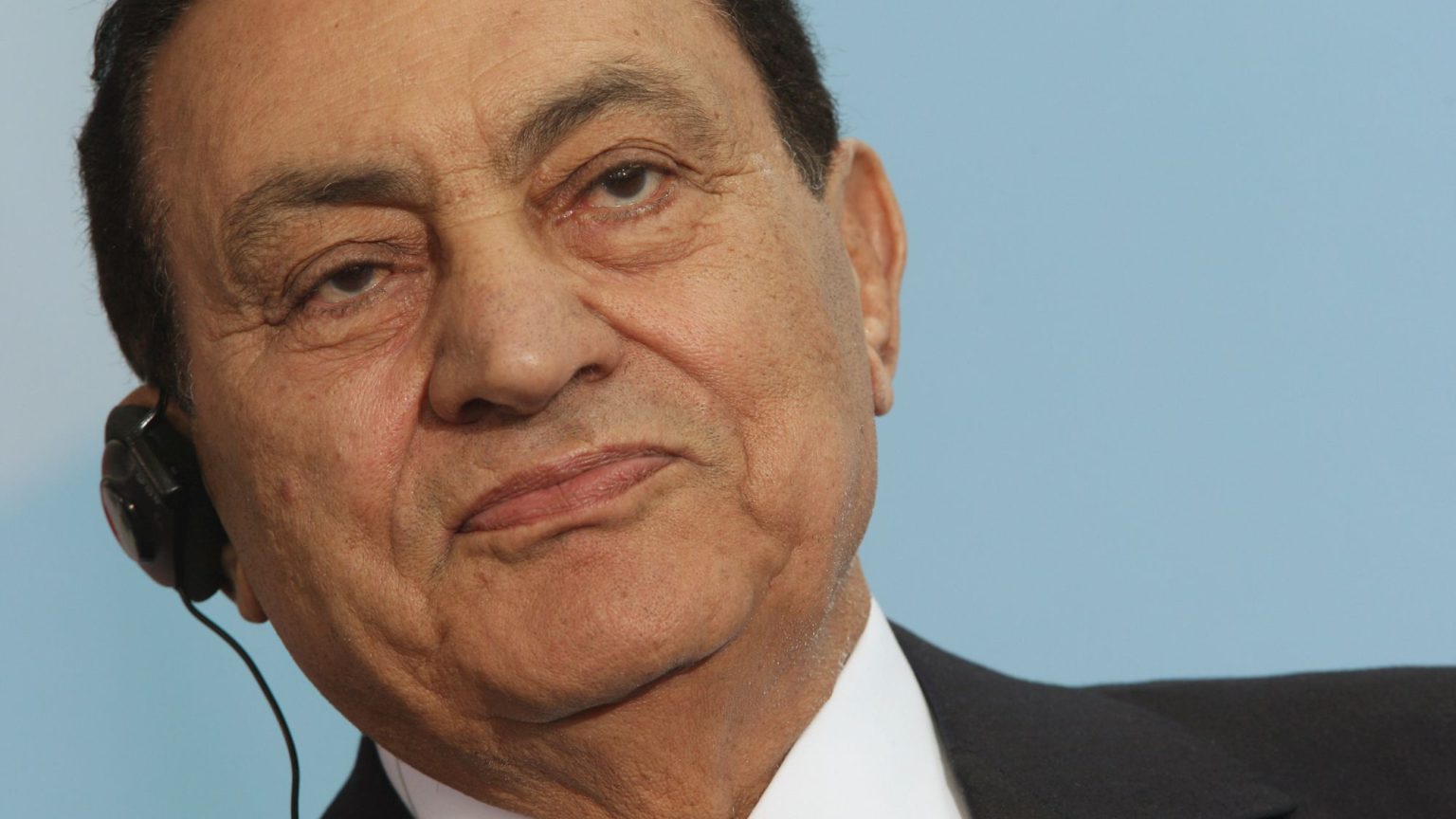 Hosni Mubarak is a significant figure. He was the military dictator who ruled Egypt, the Arab world's most populous country, for three decades.
Yet his death this week, aged 91, was greeted in Egypt and beyond with neither celebration nor mourning, but with something far more telling. A collective shrug. The obituaries were perfunctory, the reports phoned in. Even the full military funeral he was given on Wednesday concentrated on his role, as air vice-marshal, during the 1973 Arab-Israeli War, as if his 30-year dictatorship was of interest only to devotees.
This oddly muted response wasn't just because it felt like Mubarak had already died – nine years ago, in the moment at which he handed direct control to the Supreme Council of the Armed Forces. Certainly the then rather hollow persona of the strong general, with the ever-jet-black hair, really did die that day, leaving behind the frailer, grey-topped reincarnation we saw wheeled into a Cairo court in August 2011, to face charges of corruption and ordering the killing of protesters during mass protests.
But the response to his actual death also speaks of something else: a sense that while Mubarak may have exited the stage for good now, it doesn't much matter. And this is because the Egypt in which he died remains all too similar to the one in which he was deposed as leader nearly a decade ago. It is that continuity which renders his death fairly meaningless.
Then, of course, in early 2011, it was all meant to be so different. On 11 February, after 18 days of protests, Mubarak's resignation was experienced as momentous. That's why there were such jubilant scenes among the protesters in Cairo's Tahrir Square — because it felt as if Mubarak's departure signified something. It was meant to signal the end of the single-party state Mubarak and his National Democratic Party had forged, and herald a more open, democratic future.
Nothing was guaranteed, of course. The Egyptian military out of whose ranks Mubarak, a one-time fighter pilot, had risen, remained the dominant political force, as it had done since it overthrew King Farouk and established the republic in 1953.
But the yearning for freedom, no matter how vague, unorganised and un-led it was in those early days of the Arab Spring, was real and palpable.
It was also, as it turned out, too easily suffocated. By 2013, the first genuinely elected president of Egypt, and a senior figure in the Islamist Muslim Brotherhood, Mohammed Morsi, had been ovethrown in a coup d'etat. Murbarak, then languishing in prison, might have gone, but the military dictatorship he once fronted had been fully restored, this time under the leadership of General Abdel Fattah el-Sisi.
If anything, under now President Sisi the Egyptian state has proven more repressive and autocratic than it was under Mubarak. The state of emergency, which Mubarak's fledgling government imposed after the assassination of Mubarak's predecessor, Anwar Sadat, in 1981, was allowed to expire briefly in May 2012. But it was temporarily reimposed in August 2013, before being fully reissued in 2017.
Thus empowered under the so-called emergency law, Egypt's huge, repressive state apparatus, in which there is said to be one policeman (secret or otherwise) for every 40 citizens, has been doing what it did under Mubarak: massacring hundreds, imprisoning political dissenters in their thousands, and disappearing many others. Even the much loathed Stasi-like State Security Investigations, whose headquarters protesters stormed during the heady days of the Arab Spring, has been rebranded and revamped as the National Security Agency under Sisi. Reports that it continues to surveil, torture and kill dissidents are no surprise.
Hope for democratic reform has also evaporated. Mubarak himself seemed to flirt with it in 2005, when he amended the Egyptian constitution to allow for the first multi-candidate presidential election in Egypt's history. But thanks to vote-rigging, intimidation and the continued proscription of certain political groups, including the Muslim Brotherhood, Mubarak was re-elected, winning nearly 90 per cent of the vote – albeit on a turnout of less than 25 per cent.
Sisi shares with Mubarak a willingness to exploit the appearance of democracy for shamelessly autocratic ends. In February 2018, Egypt's parliament – created in 2016 and stuffed full of Sisi appointees and sycophants – passed legislation which effectively extended Sisi's autocratic rule until 2034. There will still be elections, of course, but Sisi will struggle to lose given that, like Mubarak, he has outlawed his main opponents.
But above all, what unites the regimes of Sisi and Mubarak, beyond the military foundations on which they are built, is precisely that which partially sustains the Egyptian military — the economic and political backing of the US and its Western allies.
In many ways, Mubarak's reign was always defined by the extent to which he aligned the Egyptian state with the regional interests of the US. Like much else Mubarak did, he was merely building on the achievements of his predecessors — in this case, the peace agreement struck between Sadat and Israeli prime minister Menachem Begin at Camp David in 1978. Overseen by the US, the Camp David Accords transformed Middle Eastern politics. Up until that point, Egypt, under Gamal Nasser, and, for a time, Sadat, had pitched itself as the vanguard of Arab Socialism, leading its Arab comrades, with support from the Soviet Union, against the imperialist West. That's why Sadat's decision not just to agree a peace deal with Israel, but also to throw Egypt's lot in with the US was so significant. It transformed Egypt's regional role, from the leader of a pan-Arab rebellion into a force for that staple of US foreign policy: regional stability. And of course it did so in return for substantial financial and military aid from the US.
The alignment with the US affected the internal politics of Egypt, too. A regime that had built some of its legitimacy on the basis of its pan-Arab mission had, almost overnight, turned domestic supporters of that mission into potential enemies. Sadat was to discover this to his cost when, on 6 October 1981, several army officers, with Islamist views, opened fire on him during a military parade in Cairo. His then largely unknown vice-president, a 53-year-old Hosni Mubarak, was injured. Eight days later he was sworn in as president.
Despite the unrest, Mubarak held fast to Egypt's pro-US line. As he told American broadcaster Walter Cronkite a few days after becoming president: 'I will follow the same procedure, the same line and I'm going to carry on the same way.'
Throughout Mubarak's reign, Egypt toed the US line, principally preserving peace with Israel, while trying to rebuild relations with those Arab states it had once sought to lead. There were grisly ironies to Egypt's alignment with the US. The political Islam the Egyptian state was tacitly willing to encourage, as a means to defeat secular leftism during the Cold War phase of this alignment, was to become a thorn in its side during the 1990s, as the Islamist threat grew to terrorising proportions. Nevertheless, by the early 2000s, Egypt was playing the role of an indispensable ally in the US-led 'war on terror', for which it was amply compensated. Indeed, as a Wikileaks cable revealed, the US was giving Egypt $1.3 billion annually in 'foreign military assistance' by 2009.
Such was the perceived strength of the military and of the security-state apparatus the US had helped to build that, come 2011 and the Arab Spring, many in the White House were confident Mubarak would survive. Just days before Mubarak was forced to resign, then US secretary of state Hillary Clinton confidently declared the regime to be 'stable' and in 'no danger of falling'.
And, crucially, the US didn't want it to. Preserving the status quo in Egypt was vitally important to the US. It wanted Egypt to maintain its role in the region, as a bulwark against the spectre of Islamism, writ ever larger in the shape of the Islamic Republic of Iran. And so, when the military re-took control of Egypt in 2013, and installed Sisi as Mubarak Mark II, there was no condemnation from the West (President Obama even refused to call it a coup). Rather, one would imagine, there was relief. Egypt could go back to what it had been before 2011: a brutal dictatorship, but one pursuing 'regional stability' – or at least the West's version of it.
Little wonder, then, that since Sisi donned Mubarak's ruling garb the US has returned to giving the Egyptian state an annual gift of $1.3 billion in military aid, and $150million in economic assistance. This has continued even under Donald Trump's erratic administration.
'I just want to let everybody know in case there was any doubt that we are very much behind President Sisi', said Trump in 2017. It could have been Hillary Clinton talking about Mubarak in January 2011. While so much has changed in the Middle East since the Arab Spring, too little has altered in Egypt. One dictator has died. But it was never going to matter. For another already stood in his place.
Tim Black is a spiked columnist.
Picture by: Getty Images.
To enquire about republishing spiked's content, a right to reply or to request a correction, please contact the managing editor, Viv Regan.