Don't blame the AfD for Hanau
The exploitation of a terrorist atrocity for political ends is straight out of the AfD's own playbook.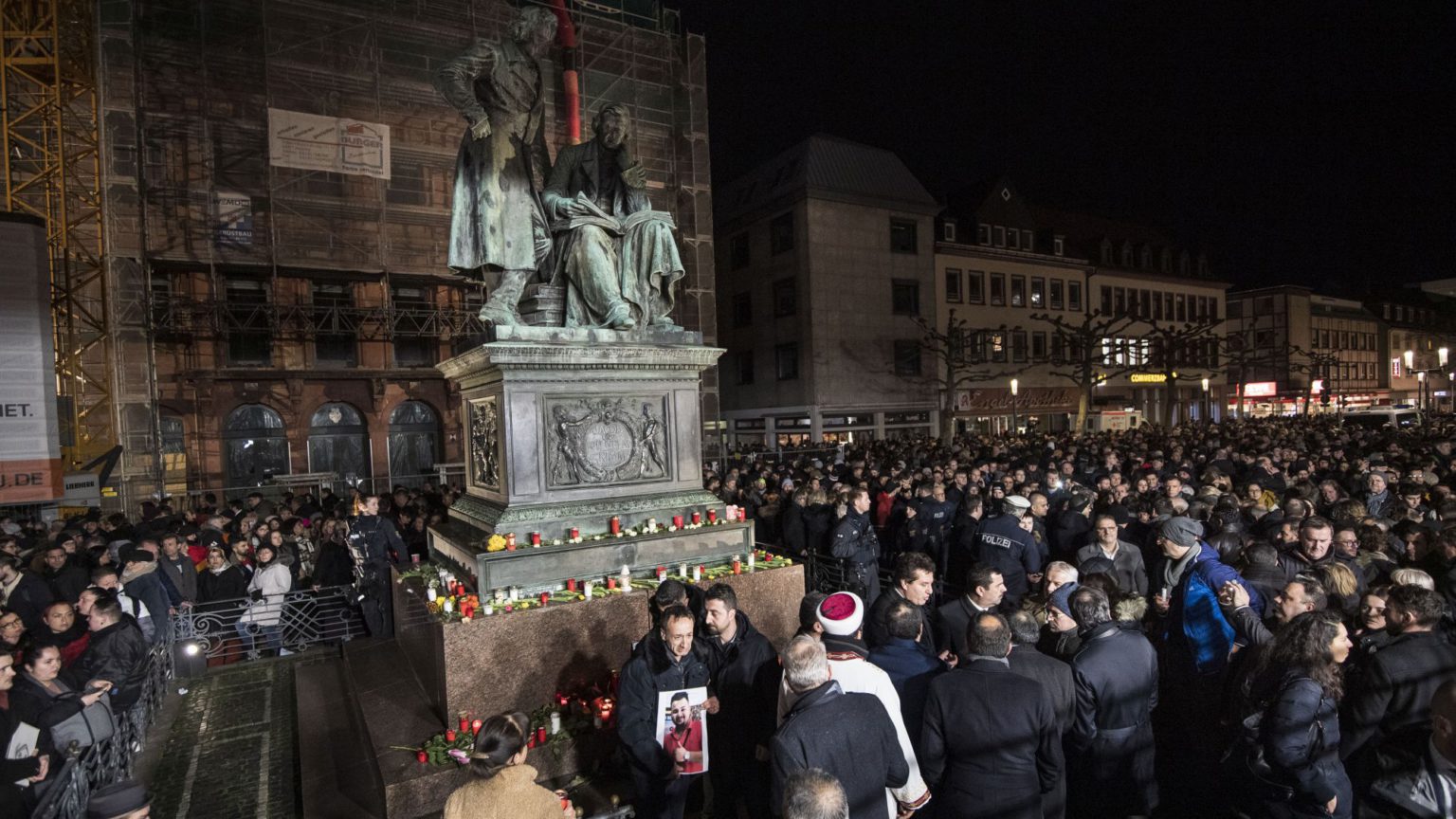 German interior minister Horst Seehofer has declared that 'right-wing extremism is the biggest threat to [Germans'] safety'. And you can see why. In the western German town of Hanau last week, 43-year-old Tobias Rathjen carried out a racist terrorist attack on a shisha bar and a café, shooting dead nine people and leaving many more injured. The victims were all of Kurdish, Turkish, Bulgarian and Romanian origin. The attack in Hanau came only months after another act of racist violence in Germany, in which a gunman, 27-year-old Stephan Balliet, attacked a synagogue in Halle, killing two people.
While many, like Seehofer, have rightly drawn attention to the far-right views of the Hanau attacker, leading figures in the right-wing Alternative for Germany (AfD) party have stupidly dismissed any racist or political motivation for the attack. Jörg Meuthen, the AfD's leader, has said that the attack was the act of a solitary maniac, and should not be connected to any far-right ideology.
Meuthen may be right that Rathjen, who later killed his mother before turning his gun on himself, was mentally disturbed. The 24-page tract he left behind, in which he claimed the secret service was able to read his brain, and that Hollywood had stolen his ideas, certainly indicates mania. But acknowledging that he was a madman does not change the fact that his murderous act was racist in intention and deed.
But while the AfD is wrong to deny the racist motivations of the Hanau attacker, its opponents have gone too far the other way. They have blamed the AfD and its supporters for the racist attacks in Halle and Hanau. Lars Klingbeil, the Social Democratic Party's (SPD) general secretary, has even called the AfD the 'political arm' of the perpetrators of the recent spate of racist attacks in Germany.
Others critics of immigration, outside the AfD, have also been blamed. Jacob Augstein, the editor of left-leaning weekly Der Freitag, attacked the politician and writer Thilo Sarrazin, who wrote an anti-Muslim tract in 2010, and the journalists Henryk Broder (a Jew himself) and Roland Tichy, who have criticised chancellor Angela Merkel's immigration policies. Augstein blamed them and others for 'poisoning the public discourse', and creating the conditions in which Halle and Hanau could happen.
The irony here is that the likes of Klingbeil and Augstein are doing precisely what they have so often criticised the AfD for doing – namely, exploiting an act of terrorism to further their own political agendas. So, when a depraved Islamist killed 12 people, and injured many more, at a Berlin Christmas market in December 2016, many were rightly outraged at the AfD's attempt to blame the attack on Merkel and her immigration policies, with the Frankfurter Allgemeine Zeitung accusing the AfD of 'abusing the dead for its own campaigns'.
Yet these selfsame critics of the AfD's exploitation of terrorism are now blaming the AfD for the act of a crazed individual. It marks another low point for political debate in Germany.
Of course, there is nothing wrong with trying to locate acts of extreme violence within a broader political and social context. We could, for instance, look at why the Halle and Hanau attackers shared such similar profiles, from their intense social inadequacy to the fact they both lived at home with their mothers.
Yet too few genuine questions are being asked. Far from encouraging a broad debate about the nature of Islamist and far-right terrorism, the society in which it is happening and how we might best respond, too many seem intent on demanding ever more social control and censorship. German justice minister Christine Lambrecht, for instance, responded to last week's attack by demanding that the government set clear limits to free speech. Klingbeil, an SPD colleague of Lambrecht, even called for the AfD to be surveilled by the German intelligence service.
This is a shameful exploitation of the Halle and Hanau attacks. Having given up trying to address anti-immigrant sentiment through debate, Klingbeil, Lambrecht and others are now simply trying to curtail and censor debate.
Moreover, they are also trying to demonise the AfD further, and put the public off supporting it. And it may work, at least for a while – the AfD fared badly in Sunday's regional election in Hamburg, picking up just 5.3 per cent of the vote. But these efforts to stigmatise the AfD and limit debate won't really convince voters of the government's position. And they certainly won't stop terrorists.
If it is true that the threat of right-wing terrorism has increased, it is all the more important to understand its true dynamics and causes. Seehofer is right to say that the government has a duty to clamp down on terrorism and right-wing extremist violence. But a state that is hard on terrorism needs to be all the more liberal when it comes to respecting free speech and the democratic rights of its citizens.
Sabine Beppler-Spahl's Brexit – Demokratischer Aufbruch in Großbritannien is out now.
No paywall. No subscriptions.
spiked is free for all.
Donate today to keep us fighting.
Donate online
To enquire about republishing spiked's content, a right to reply or to request a correction, please contact the managing editor, Viv Regan.