Hong Kong in the shadow of coronavirus
Fear, panic and a justified mistrust of the state have made matters worse.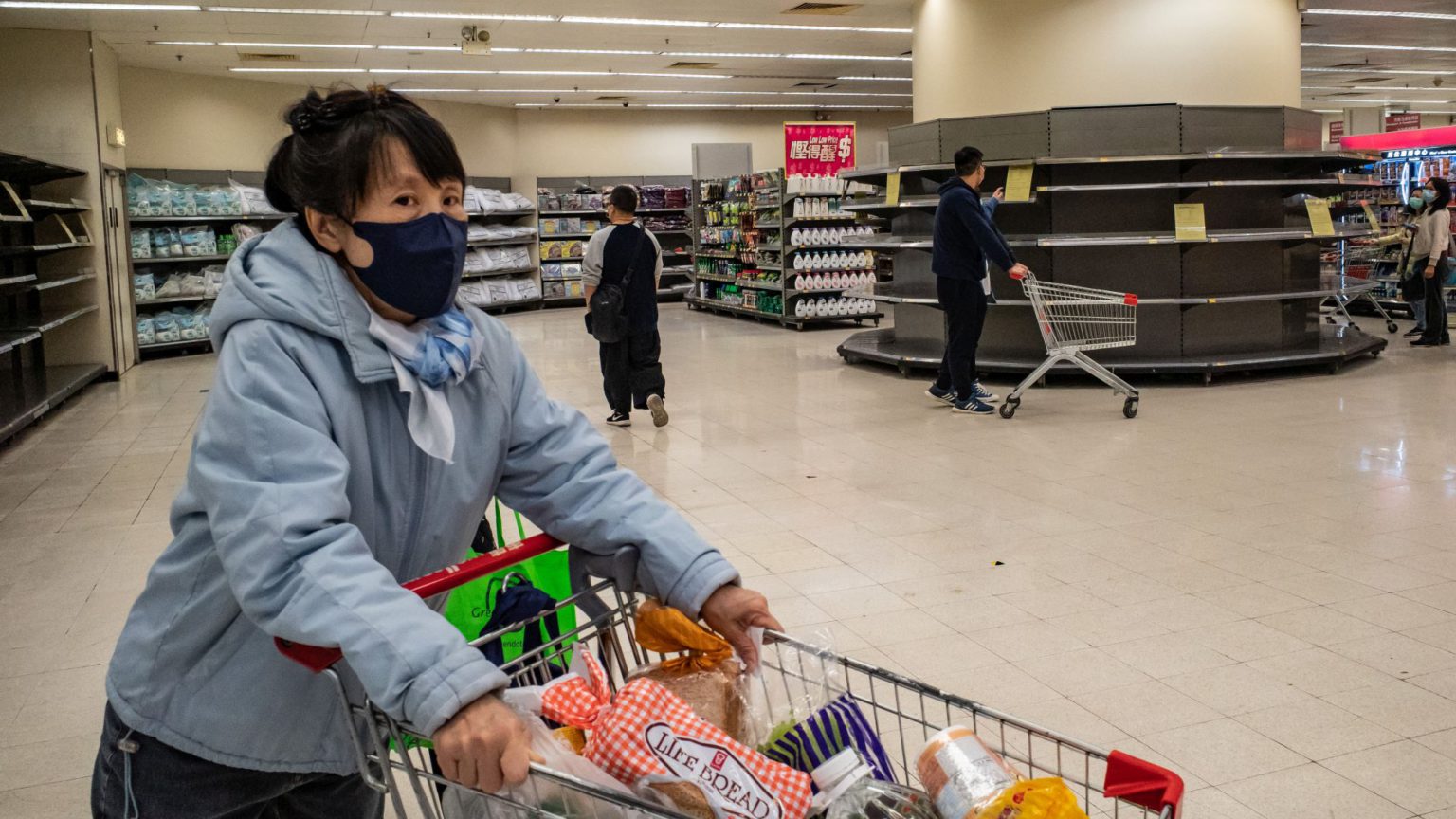 The deadly novel coronavirus, now officially called Covid-19, which emerged from Wuhan in China's Hubei province, has reached Hong Kong. Though there have only been 62 confirmed infection cases in Hong Kong at the time of writing, people are understandably worried.
Some of the responses, however, have been far from rational. One of the strangest has been the stockpiling of toilet roll. Coronavirus is not gastrointestinal and does not cause diarrhoea. The panic-buying of toilet roll was probably triggered by the memory of SARS, which at one point was believed to have been transmitted through the sewage system of a Hong Kong apartment building. That theory turned out to be wrong, but so distrustful are Hongkongers of the government, and any advice it offers, that they are stockpiling toilet roll anyway, just in case.
Not only has the coronavirus arrived amid a backdrop of months of anti-government protests, but distrust with the government has also been compounded by its sometimes farcical attempts to quarantine the sick. Local Hongkongers and those arriving from mainland China have mainly been quarantined in residential buildings in densely packed districts. In some areas, demonstrations have erupted, with protesters objecting to the choice of location. They have been met with the usual diet of tear gas and pepper spray.
Panic buying is reducing the availability not just of toilet roll but also of alcohol swabs, thermometers and masks. The lack of alcohol swabs is a problem for diabetics who have to inject or take frequent blood samples and need to keep the injection site clean. The lack of masks means that some people who are genuinely ill might not be able to wear a mask, which could help to protect others.
Masks are in hot demand because people believe they can provide protection against the virus. The government has also advised people to wear masks. But in truth, wearing a mask provides minimal protection against Covid-19, which spreads mainly through direct bodily contact and through contact with surfaces recently touched by an infected person. The virus gets on our hands and is transmitted when our fingers go in our eyes, up our noses and into our mouths. This accounts for around 90 per cent of transmission.
Masks protect against airborne viruses that can be inhaled, but if the mask is flimsy, like most of the masks people are wearing, then even that protection is short-lived. Once a mask is moist (which happens as soon as you breathe through it), then it stops being a barrier for the coronavirus and becomes a place where it can live. Viruses live much longer in moist environments. Masks also encourage the wearer to touch their face as they adjust it, which encourages transmission.
Overall, the negatives of wearing a mask outweigh the positives. Masks should only be worn by hospital workers and the ill (to protect the rest of us). For healthy people the best advice is to keep your hands and surfaces clean and to try to avoid touching your face.
Despite advising people to wear masks, the government has failed to provide an adequate supply, which has created obvious concern. Conspiracy theorists have linked the lack of masks to the government's ongoing efforts to impose a ban on pro-democracy demonstrators wearing masks. The lack of masks is seen as a continuation of government attacks on its own populace by other means. This perception hasn't been helped by the fact that police are in some cases better equipped with protective gear than frontline healthcare workers.
Hongkongers are also suspicious of the World Health Organisation (WHO). Many feel that mainland China is dictating how the WHO responds to the crisis, protecting China's reputation and economy above protecting its own population from coronavirus. The lack of information from the mainland, and the existing distrust of the authorities in Beijing, is further adding to a sense of panic.
Mainland authorities are also accused of being responsible for the death of whistleblower Li Wenliang, an opthalmologist who warned about coronavirus in December, and the disappearance of Fang Bin and Chen Qiushi, citizen journalists covering the coronavirus outbreak in Wuhan.
As well as brutality, there has been sheer incompetence. Beijing has reportedly been unable to supply Wuhan with enough doctors or medical supplies to deal with the infections. At this distance it is not clear how many problems are down to the virus itself or the state's poor handling of it.
Nobody knows the extent to which Beijing, or even local governments, have the virus under control. One leading dissident has described the devastation and the state response as akin to 'total war'. 'Everything is being caught up by the struggle – the nation's ethical fabric, its politics, our society, as well as the economy', he says. The disappearance of China's leader Xi Jinping for several days also did little to calm nerves or to project a sense of control.
Because China was hit first by the virus, it will have spread unchecked in its native form. This means we cannot use what we know about the infection in other countries to work out what is really happening in China. Currently, 99 per cent of coronavirus cases are in China. Other countries now have an advantage in knowing which measures can be taken to protect hospitals and vulnerable populations who will be more likely to die.
As the virus spreads across the world, it will mutate. Coronavirus is about 20 times more lethal than seasonal flu. Covid-19 is much more infectious than SARS, but it is also much less lethal. As a rule, more infectious viruses tend to be less lethal – and they tend to become even less lethal as they mutate. That is because humans and viruses have co-evolved to carry viruses and transmit them. A virus that wipes out its host is not going to be able to readily infect other hosts – a virus needs its current host to survive and transmit itself.
Controlling the spread of a virus requires people to take sensible precautions, which is a lot more likely to happen if they receive sensible advice and trust those providing it. The political upheaval in Hong Kong has made that nigh-on impossible.
Martin Barraclough is a Hong Kong-based writer.
Stuart Derbyshire is an associate professor at the National University of Singapore Department of Psychology and Clinical Imaging Research Centre.
Picture by: Getty.
To enquire about republishing spiked's content, a right to reply or to request a correction, please contact the managing editor, Viv Regan.