Hong Kong: the brutal crackdown on democracy
Beijing and the Hong Kong government have nothing to offer but violence.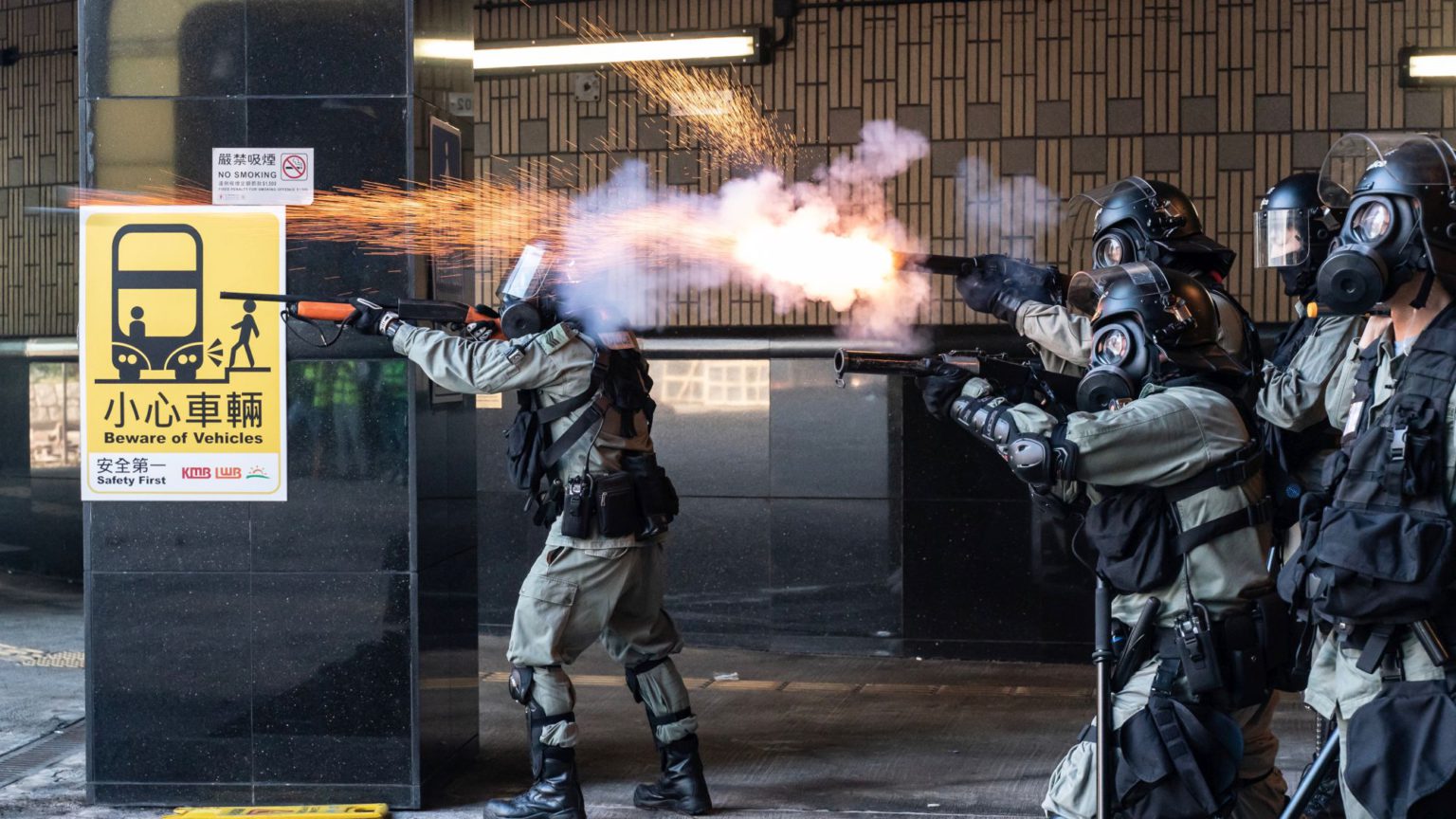 The absence of any political imagination or willingness to compromise means that the government of Hong Kong has nothing to offer its population except more violence. The protesters are demanding that the autonomy of Hong Kong and universal suffrage – as apparently promised under Hong Kong's Basic Law – be respected. But Beijing has made it abundantly clear that it has no intention of meeting these demands.
Today, Beijing reduced the Hong Kong authorities' room for manoeuvre even further. After the high court overturned a government ban on the wearing of face masks at demonstrations, Beijing declared that Hong Kong's courts have no right to decide whether any Hong Kong law is constitutional or not.
Goodbye 'One Country, Two Systems'. With nothing in the political armoury, the Hong Kong government is now arming its police force with machine guns, tear gas, water cannons and a device that emits such high-volume sounds it can cause nausea or even shatter eardrums. Police in recent days have fired live rounds. At the time of writing, police are patrolling Central, the central business district, carrying M16 machine guns. Since the pro-democracy protests began, they have fired off thousands of rounds of tear gas, rubber bullets and bean bags.
They have now added mass, apparently random arrests to their intimidation tactics. Volunteer medics leaving the three-day siege at Hong Kong Polytechnic University (PolyU) have been detained alongside protesters. One student has died of head injuries after falling amid clashes with the police, though the exact chain of events and who is responsible is still unclear. Protesters have also accused the police of beatings, torture and even rape in custody. Meanwhile, at least in the world of social media, some protesters are believed to have been 'disappeared'.
What has quite often disappeared are any identifying marks on police uniforms, making it impossible to pursue claims of abuse against individual officers. Adding to the intimidatory atmosphere are the occasional appearances of gangs of white-shirted thugs, probably triads, beating up suspected activists.
In recent weeks, the police have shown themselves to have no reluctance in arresting, detaining and intimidating secondary-school children and even elderly women. At the recent siege of Hong Kong PolyU, a group of 65 headteachers and a retired senior politician, Jasper Tsang, had to negotiate with the police to secure the safe release and passage of hundreds of secondary-school-age children from the campus.
Rather than subduing the protests, police violence and intimidation have caused the violence to escalate. Protesters have responded with makeshift weapons that include catapults, Molotov cocktails, spiked traps on roads, and crossbows. Photographs sent to CNN show cooking gas canisters turned into nail bombs. Horrifically, one man who remonstrated with protesters was set on fire. A 70-year-old man was hit on the head by a brick and died, though it's unclear if he was hit by pro- or anti-democracy protesters. The protesters have hit one police officer in the leg with an arrow and have disabled one of the police water cannon trucks with a row of spikes laid out across a road.
Public support for the pro-democracy protesters may have lessened because of the increased violence and massive disruption. Though the most high-profile stand-off between protesters and police took place at PolyU, the demonstrations are by no means confined to student radicals. The students of PolyU only managed to hold out against the police for as long as they did because members of the public formed supply chains to send in food and medical supplies. Protests were also organised in other districts in attempts to lure the police away from the university siege. What's more, the police now regularly patrol the central business district because every lunch hour, office workers come out and protest against their brutality. Those protests have been occurring in other spots across Hong Kong, too.
Many members of the public are undoubtedly put off by the protesters' increasing use of violence. But widely circulated videos of the police driving vans at high speed and a motorbike towards crowds tend to reinforce dislike and distrust of the police rather than the protesters.
An optimist might argue that the way ahead for the Hong Kong government is to make sure that local elections – currently slated for Sunday – go ahead as planned. But there is a serious possibility they will be delayed. Usually, these elections are about little more than who empties the bins, meaning low turnout is common. But this time, the elections have been widely anticipated as a chance to give the authorities an electoral slap in the face.
A further provocation could be the planned reintroduction of Article 23 – a national security law prohibiting treason, secession, sedition and subversion, which is widely seen as a thinly veiled attack on Hong Kong's democratic aspirations. In 2003, attempts to implement Article 23 provoked 500,000 people to march, leading to its withdrawal.
Both a delay to elections and the implementation of Article 23 are likely to cause further unrest. If the past few months have proven anything, it is that Hong Kong's elites will always take the move most likely to fan the flames. It will be difficult for the authorities to end the demonstrations without making concessions. But Beijing is not in the mood to compromise.
Martin Barraclough is a writer based in Hong Kong.
Picture by: Getty.
To enquire about republishing spiked's content, a right to reply or to request a correction, please contact the managing editor, Viv Regan.