That Life: nostalgia for a London now lost
This Life reminds us of a time before exorbitant rents and identikit Pret baguettes.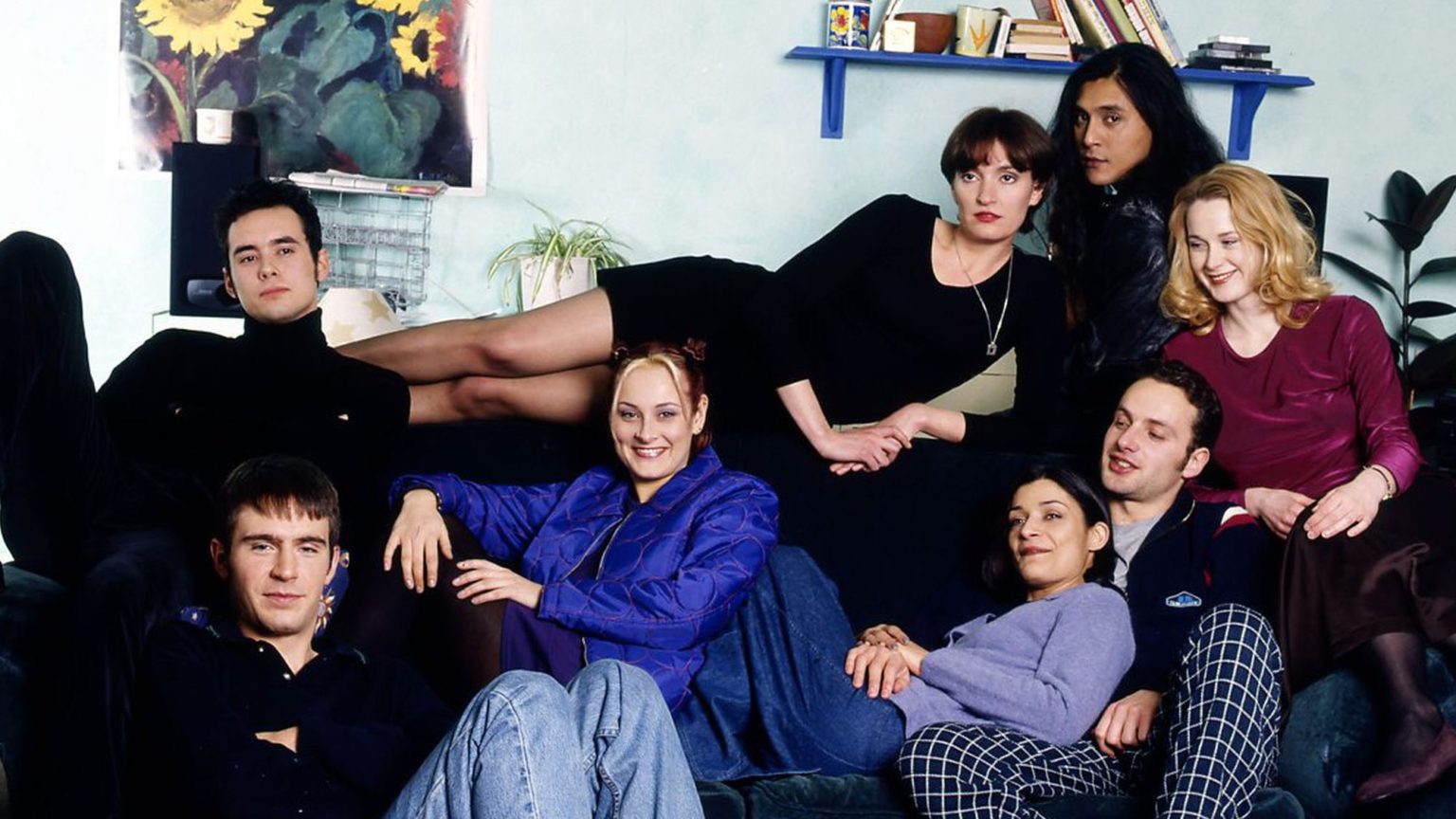 The announcement that This Life, the cult Nineties BBC TV series, has been reissued on iPlayer has caused an outpouring of affection and warmth on fortysomething social media. When the first series aired, late at night on BBC Two in 1996, these viewers were in their teens. Given the target middle-class demographic for the series, they were probably doing their A-levels and dreaming of the life of promise that would come when they left home for university and then embarked on a professional career in Cool Britannia.
The series exemplifies a zeitgeist of promise and progress. It was heralded as innovative for its wobbly camera work, giving a gritty and no-holds-barred glimpse of 'real life'. But it was the kind of life it depicted, of twentysomething, newly qualified lawyers in a shared London house, that the Guardianistas of Islington seem to be particularly nostalgic for.
The series is said to capture a profound generational shift in social values. It admirably portrays a mixed-race relationship without explicitly commenting on it, or making a storyline around well-worn themes of intercultural tension or familial disapproval. Then there's the gay Welshman Warren, who struggles with coming out to his family and is the unfortunate victim of archaic laws against cottaging, his arrest threatening his promising career.
Spliffs, tabs of MDMA, bottles of vodka, and lines of coke drift in and out of wobbly shot, with no hint of disapproval or any negative consequences. Remember it was known then that vast numbers of young people were taking ecstasy every weekend, while the daily papers were still holding firm to Nancy Reagan's 'Just say No' war-on-drugs rhetoric in the wake of Leah Betts' death in 1995.
But this red-top rhetoric of zero tolerance to drugs belonged to the time of the first waves of heroin and crack cocaine use in the Eighties. Many of those who were in their late teens in 1996 would have seen the Zammo-on-smack storyline on Grange Hill a decade earlier. The cast famously put out a 'Just Say No' charity single, and met Nancy Reagan in the White House in 1986. (A 1998 tabloid story later claimed one of the cast was high during this meeting, though the cast member denies this.)
This Life seems custom built for fortysomething nostalgia. Hard-drinking ladette Anna leaves men feeling used and broken-hearted, their sorrows accompanied by the bittersweet melodies of Portishead and Leftfield. Scenes in classically English London pubs, with snooker tables and pinball machines, show people smoking indoors. Drinks were cheap enough to get a big round in and not think twice about it.
A note of sadness underlies the affection for This Life among today's urban bourgeoisie. One wonders if they're not yearning for a time before Brexit and Trump. A time when smoking a fag while drinking a pint was the preserve of Liam Gallagher or Jarvis Cocker, not Nigel Farage. A time when things could only get better, if people had enough sex and drugs and listened to enough Britpop and Bristol trip-hop.
But the orgy of appreciation for This Life demonstrates not only the generational shift between the Generation Xers of 1996 and their Baby Boomer parents, but also that between the bewildered post-Brexit Gen Xers and the Gen Zs of the 2020s.
For all This Life' social liberalism, the casual sex or cottaging storylines would be unsustainable in this era of Tinder and Grindr. Even the grittiest and wobbliest camera angle can't quite capture the dopamine boost of a swipe right.
The total absence of the smartphone in This Life is striking. This was a time when people could stare thoughtfully out of a window, daydream while queuing in shops and even sit on public transport without having their faces glued to a screen. Drink- and drug-use among the young has been in decline since 1998. Mental-health problems among the young are more often linked to addiction to digital technology.
Twenty-four years on, London is a very different place. While the chambers near Fleet Street and Chancery Lane are sealed in Grade 1-listed aspic to this day, the characters' walks to and from the Tube station show an unpretentious city which has now disappeared. The 'real life' production values are not only visual but phonic. There is hustle and bustle and traffic noise here, yes, but it isn't a city drowning in so many people and so much development that on-street conversations are impossible among the roar of pneumatic drills.
This Life's scenes of lunch breaks in cafés now look like museum pieces. The small, family-owned independent cafés still visible in Nineties Holborn have now vanished. The characters' conversations, over a plate with a tuna-mayonnaise sandwich or a jacket potato, wouldn't be quite the same over the crinkling sounds of identikit Pret baguettes being unleashed from their plastic wrapping.
For young people today, it is not sadness that will accompany watching This Life, but frustration. For this was a time when a group of young, average lawyers could afford to rent an unassuming south London townhouse. This was a time when it could be assumed things really could only get better, insofar as each new generation would be more prosperous than its forerunners. All you needed to do, it seemed, was leave the boring provincial or suburban settings of home and consume cigarettes and alcohol, to be a free spirit without any concern for pesky things like social cohesion.
A great deal has changed since 1996 – that life feels a world away from this life we're living today.
Jacob Phillips is an academic living in London. Follow him on Twitter: @Counteredlogos
Picture by: BBC
To enquire about republishing spiked's content, a right to reply or to request a correction, please contact the managing editor, Viv Regan.