For the love of Larkin
Clive James' brilliant final book is a moving testament to the greatness of Philip Larkin.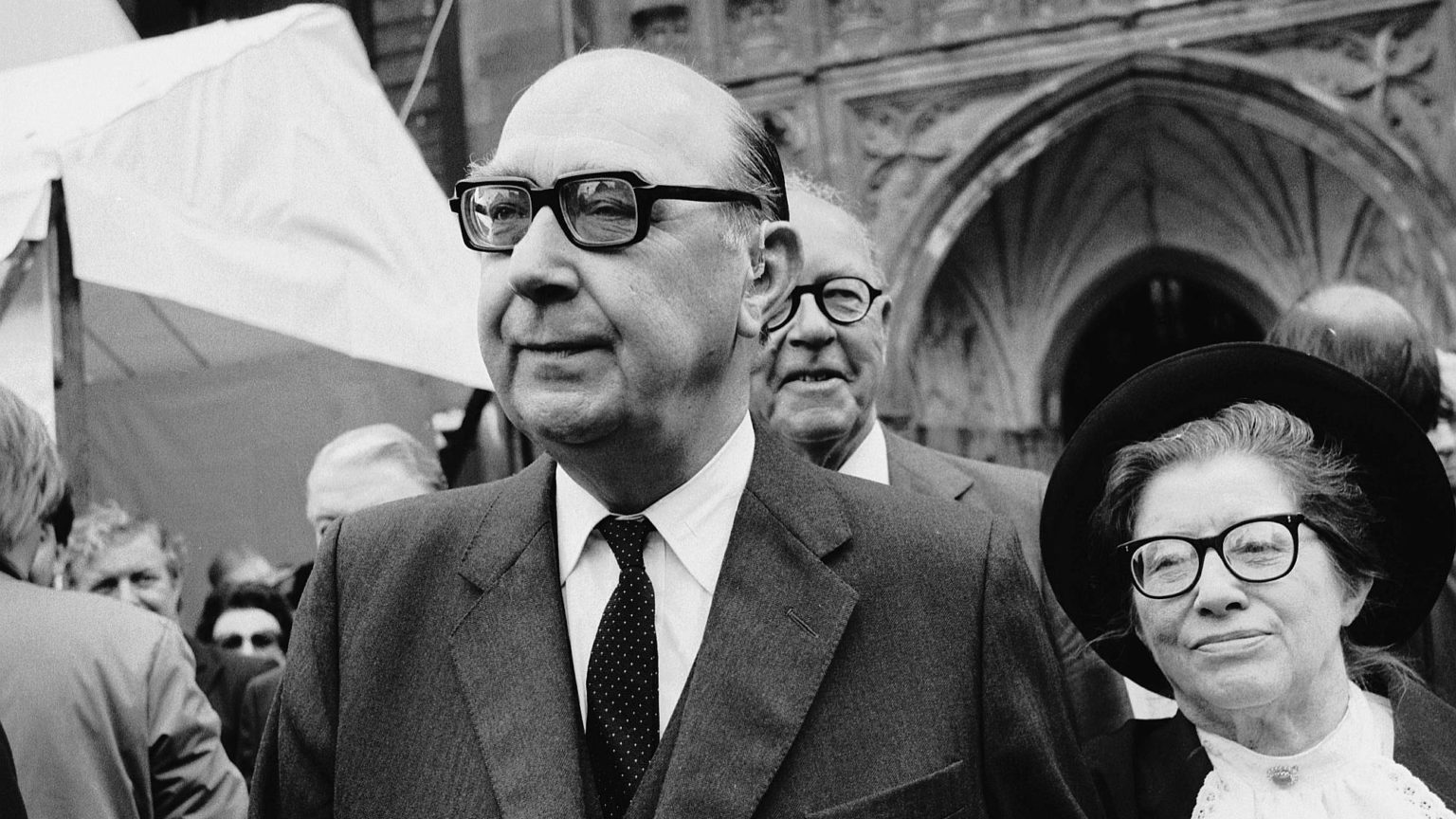 In order to explore Clive James' lifelong fascination with the poetry of Philip Larkin – which has culminated in the new volume, Somewhere Becoming Rain: Collected Writings on Philip Larkin – I had hoped to be able to interview James. I naively assumed his miraculous life, after a terminal cancer diagnosis in 2010, was set to continue into its ninth decade. Alas, that was not to be the case, as James died in November, aged 80.
It means that Somewhere Becoming Rain has now become the last written work of James to be published in his lifetime. (There is a poetry anthology, replete with his own observations, to come later this year.)
James is best known for making funny TV programmes about bizarre Japanese TV during the 1980s. But before his days of celebrity, he had spent 10 years as a TV critic for the Observer. He wrote about popular culture in a style so ironic, so laced with aphorism, and so downright amusing, that his reviews were described by fellow critic Mark Lawson as 'dangerous to read while holding a hot drink'.
Like his peers, such as Melvyn Bragg or Jonathan Miller (who died on the same day as James), he was curious about everything, and communicated it with brio to anyone and everyone who cared to view, listen or read. But this thoroughgoing versatility in an age, as James put it himself, 'that doesn't understand versatility', did not stand in the way of an admirably clear and single-minded focus on Philip Larkin.
Comprising James' articles written on Larkin from the 1970s onwards, Somewhere Becoming Rain is a bracing testament to James' devotion to poetry and Larkin's poetry in particular. There is also plenty of James' characteristic hyperbole, swagger and wit to savour here. In the course of a 2003 review of a one-man show about Larkin's life, starring Tom Courtenay, James took issue with the way critics tended to respond to Larkin. He took a particular swipe at Bonnie Greer, who had dismissed Larkin as racist, and his poetry as second-rate. 'Greer's sensitivity to poetry', he writes, 'could be assessed when she appeared in an episode of BBC2's Essential Poems (To Fall in Love With) and gave her assigned poem the kind of working over calculated to make Hugo Williams take up gardening.'
But then there is also beautiful simplicity and pathos here. Take this passage, from James' last Larkin piece in 2018, where he muses on the terrifying line from Larkin's poem 'Old Fools', 'Why aren't they screaming?':
'[P]erhaps the reason the old fools aren't screaming is because they've just been watching Ernie Wise dance and found his self-delighted, light-footed élan as enchanting as Eric's jokes. Right there was a point I would have loved to have discussed with Larkin. But I wasn't smart enough – or wasn't yet sick enough – to know that we can get very near the end and still be thankful to have lived.'
Greer and others, such as the critic Tom Paulin, incur James' wrath for their 'tin-eared' approach to the controversy over Larkin's racism, pornophilia and 'such nameless vices as conceiving an admiration for Margaret Thatcher', all of which had become common knowledge after the publication of Larkin's Selected Letters and especially Andrew Motion's Philip Larkin: A Writer's Life. Throughout, James emphasises that, for him, Larkin's private life is a 'sideshow', and that his poetry – containing the 'most magnificent poetic achievements since Donne and Marvell' – is his 'real life'.
James had an effortless ability to blend the high and low in a single set of observations. We see this when he comes back again to Eric Morecambe, as he ponders who should play Larkin next after Courtenay has exhausted his vocal chords: 'The perfect lookalike, Eric Morecambe, is sadly not available, and anyway he was too merry.' He goes on to suggest Alexei Sayle who, although not the right shape, 'can do the right kind of humour', and even Jack Nicholson if Hollywood were ever to consider a biopic.
These pop-culture references remind us of something else important about Larkin. His poetry was genuinely popular. He was in fact voted Britain's best-loved poet in a Poetry Book Society survey in 2003. His 1974 collection, High Windows, sold 6,000 copies within three weeks of being published.
A statue of him still stands on the concourse of the railway station in Hull, where he lived and worked as librarian from the 1950s until his death in 1985. This was the proof of his determination to avoid Bohemia, and live life 'hovering between the supermarket display cases, checking out the rising price of Marmite'. James writes of 'the unstoppable increase of [Larkin's] prestige as it grew to match the common reader's love'. Larkin wrote about love, sex and death. Moreover, he did so intelligibly: 'every Larkin creation makes nothing but sense on the level of straightforward statement'.
Universal themes and intelligibility certainly go some way to explaining Larkn's popularity. Or as James puts it, 'the evidence suggests that Larkin's poetry, from a standing start, gets to everyone capable of being got to'.
But while his subject was the everyday, his 'powers of registration [verged] on the divine', writes James. In addition to his technical mastery and 'rhetorical majesty', Larkin also brought a spiritual beauty to his work, an intense love of what this life is – 'the million-petalled flower of being here', as he put it. And it's made all the more remarkable for springing from a man for whom 'deprivation… [was] what daffodils were for Wordsworth'.
Other critics have sought to pin down the specificity of Larkin's talents. Peter R King writes that Larkin learnt from Hardy that 'a modern poet could write about the life around him in the language of the society around him'. And Ian Hamilton writes that Larkin learnt from Yeats to 'accommodate a talking voice to the requirements of strict metres and tight rhymes'. Thus his greatness comes down to his ability to mediate lyrical beauty through a clear national voice.
But it takes James to take us that one step further. Larkin is 'bottled lightning', he writes, and his poetry 'goes on being intelligible as it climbs into the realms of implication, until finally there you are, up above the estuary and heading down a cloudy channel. Towards where? Well nowhere except everywhere.'
Whether poetry is widely read or plays a meaningful part in our national life anymore is a question you are confronted with after reading such a deeply felt and well-written book as Somewhere Becoming Rain. It is, in some ways, a book from another era – an era perhaps, as writer John Banville described the early 1970s, 'when people still read books and not only read but talked about what they were reading'.
It is an era that is just that little bit more distant now, with James' passing.
Neil McCarthy is a teacher and writer based in London and Dublin.
Somewhere Becoming Rain: Collected Writings on Philip Larkin, by Clive James, is published by Picador. (Order this book from Amazon(UK)).
To enquire about republishing spiked's content, a right to reply or to request a correction, please contact the managing editor, Viv Regan.