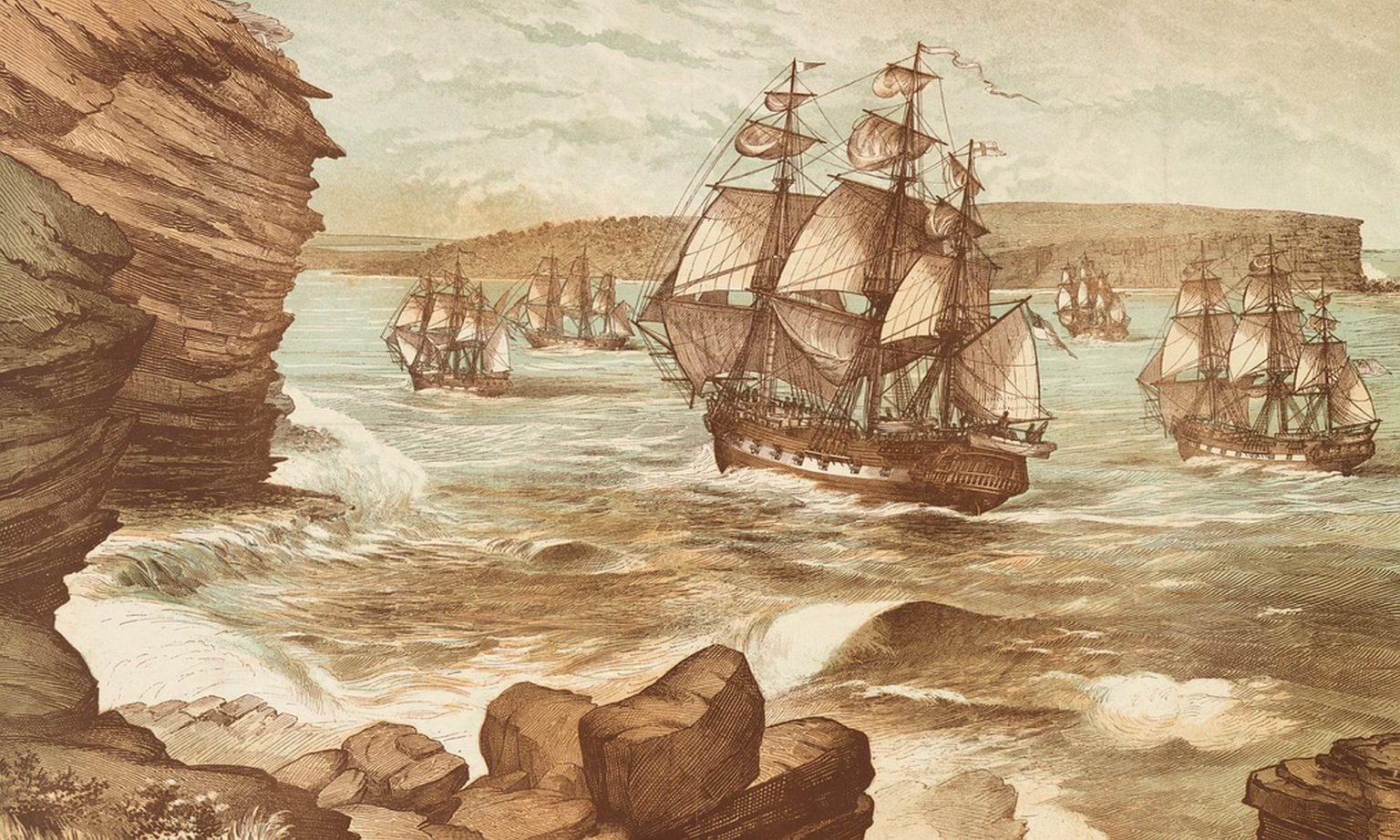 Long-read
The First Fleet: Australia begins
The story of Australia's original colonists is one of honour, courage and stubborn curiosity.
Australia Day lands, as ever, on 26 January. It is the day when Australians come together to celebrate the founding of the nation and ponder what it means to be an Australian.
It is also increasingly a day of contention; of demonstrations to 'change the date'. Campaigners lament the date and label it 'invasion day', arguing that its remembrance is an insult to Aboriginal people. They call for a different interpretation of history that does not view Australia as being founded with the arrival of the British. Which is why it is worth looking at what took place in 1788, and the succeeding several years, for the story of the First Fleet is an epic one. It reminds us how the present was once balanced on the endeavour of a relatively small number of people, many of them extraordinarily brave, some foolhardy and cruel, a few remarkably far-sighted.
With the loss of America as a colony in the War of Independence, Britain was no longer able to export its convicts across the Atlantic, though this didn't stop it trying. James Cook's exploration of the South Pacific made the curious world of Terra Australis Incognita a possibility. Eleven ships set sail from Plymouth in May 1787, carrying around 1,400 people, including convicts, marines, officers and seaman, on an eight-month, 15,000-mile journey. The voyage is an incredible story in itself. Never before had so many people been moved so far on the face of the Earth. None of the leading officers had sailed the Southern Ocean before, and only the flagship Sirius carried Larcum Kendall's K1 clock for measuring longitude. That all eleven ships arrived at Botany Bay within a few days of each other with barely any loss of life is a historic feat of seamanship and navigation.
Little is known about the crews but that they were international in make-up. Sailors from France, America, the Caribbean, Madagascar and many Cornish may well have been handpicked or pressed. Phillip and several offices went ashore at Botany Bay, carried out of a longboat up the beach by convict James Ruse to parley with the Aboriginal people. The Fleet spent two weeks at Botany Bay before Phillip decided it was unsuitable for settlement. They investigated to the north and entered the harbour described by Surgeon John White as 'without exception, the finest harbour in the universe'. Phillip's initial plan was to call the settlement New Albion, but as the precariousness of their situation dawned on him, he decided to name the location after the then home secretary Lord Sydney, believing he would not let a settlement named after him perish. Before the convicts had set foot on their wilderness jail, Phillip and a few officers raised the union flag on the beach, drank to the health of King George III and formally took possession of New South Wales. There was a volley of musket fire from marines. And that symbolic rather than dramatic episode is the origin of Australia Day.
But it was to be on 7 February that the newly anointed governor Arthur Phillip set out his stall. Drums and pipes were played, the convicts were made to sit on the beach circled by soldiers and marines, and before them were the leading officers. Phillip read out his instructions from London. There would be a court established, all executions would require his consent. Phillip was very specific about the treatment of indigenous people. As George Worgan, a naval surgeon, recorded in his memoir: 'The Governor gave strict orders that the natives should not be offended or molested on any account… they were to be treated with friendship.'
Philip told the convict men that 'if they attempted to get into the women's tent of a night, they would be shot upon'. Everyone would work to make the colony work. Convicts 'would never be worked beyond their abilities, but every individual should contribute… [S]tealing the most trifling article of stock or provisions should be punished by death.' Food rations were to be the same for marine and convict alike.
Phillip's regime was unconventional for the time, arguably farsighted. When planning for the colony he was adamant that 'there shall be no slavery in a free land'. There was a tradition that once ships had sailed south of the equator, normal disciplinary rules did not apply and even junior officers could strike seamen at will. The admiral was having none of it. When rations had to be reduced, Phillip reduced his own rations. Years into the settlement he refused to devote labour to building a church. He dined and danced with Aboriginal people and gave them clothing. It was a style of governance that was not popular among all the senior officers.
Never before had so many people been moved so far on the face of the Earth
The Fleet had brought two years of food supplies. Or at least they thought they had, but some of the barrels were only partly filled. Regardless, hunger was an issue from the outset. Convicts bartered and gambled their rations; many could not make them last a week. Initially those caught stealing food were not hanged, but flogged or sent to Pinchgut Island in the harbour. But when three men were caught in an organised theft from the stores tent, Phillip decided to set an example. Two were reprieved at the last moment, but teenager Thomas Barrett was hanged from a fig tree.
Barrett's short life is a narrative of England's 18th-century underworld. In his early teens, he was convicted of stealing and sentenced to death. He was then reprieved and put upon the Mercury for America, where he took part in a mutiny. Sentenced to death a second time, he was reprieved again and put on the Dunkirk hulk before being sent to Botany Bay. On route he fashioned fake dollars from brass buckles and traded them with marines for food. Technically, he could have been hanged for that, but instead the ship's surgeon gave him a silver kidney dish to engrave with the details of the ship's voyage. The result, 'The Charlotte Medal', is today seen as the first ever example of Australian colonial art.
The colonists fished and farmed. They regularly threw a seine across the cove and they established a farm too close to the shore. They harvested the medical properties of the Eucalyptus and berries that saw off scurvy. They had brought some livestock with them, but four of the five cows and one of the two bulls got away into the bush only to be found as part of a herd some seven years later. In September 1788 the harvest at the farm failed. The seeds they had brought had overheated on the journey, and they had planted them in an Australian summer. Starvation was more than a possibility.
The flagship Sirius set out on a seven-month journey to the Cape to purchase supplies. It circumnavigated the globe at 30 degrees – something mariners would struggle to do today – and did so with a half-starved crew. First Lieutenant Maxwell became delirious, and had to be restrained beneath decks for attempting to sink the ship. Reports of madness, of abject melancholy, are not uncommon in the early years of the colony. The Sirius returned with four months worth of supplies. Meanwhile, convict farmer James Ruse and nine others were sent up river to establish a new farm at Paramatta, where the soil was more favourable. They worked from November onwards in temperatures of 100 degrees Fahrenheit, but within eight months they had cleared the land and established a farm of over 30 acres that was beginning to feed the settlement.
Governor Phillip then conducted an experiment – he wanted to see how long it would take a man to become self-sufficient. He had an acre-and-a-half cleared for James Ruse, and promised that if he could feed himself, he would be rewarded with a land grant of 30 acres. It was generally thought impossible for a man to live off the land but Ruse accomplished it. He is known as the continent's first settled self-sufficient farmer, and today there is a James Ruse High School. Captain Watkin Tench devotes a page to the 'humble adventurer', much of it in Ruse's own words:
'I was bred a husbandman, near Launcester in Cornwall. I cleared my land as well as I could with the help afforded me. I have now an acre and a half in bearded wheat, half an acre in maize and a small kitchen garden…'
It would have been a psychological turning point in the colony and gradually more convicts became settlers following in Ruse's path.
Governor Phillip initially struggled to build a relationship with the indigenous peoples. They kept themselves at a distance, perhaps in the hope that the settlers would leave. There were incursions and reprisals that Phillip was concerned might escalate:
'It was absolutely necessary that we should attain their language, or teach them ours that the means of redress might be pointed out to them, and to reconcile them by showing the many advantages they would enjoy by mixing with us.'
In an effort to learn the language, Phillip had several Aboriginal men abducted, beginning with Arabanoo. He was held in chains and locked in a hut with a convict at night. Unsurprisingly, this did not improve relations between the settlers and the aborigines, and little was learned from the captive. Although it was Arabanoo that taught the colonists the word 'galgalla', the indigenous term for the smallpox that ravaged their population in the spring of 1789. A second captive, Bennelong, eventually chose to stay with Phillip and acted as an interlocutor between the Eora people and the British. His presence at Phillip's house brought others into the settlement and a period of relative peace between the two peoples.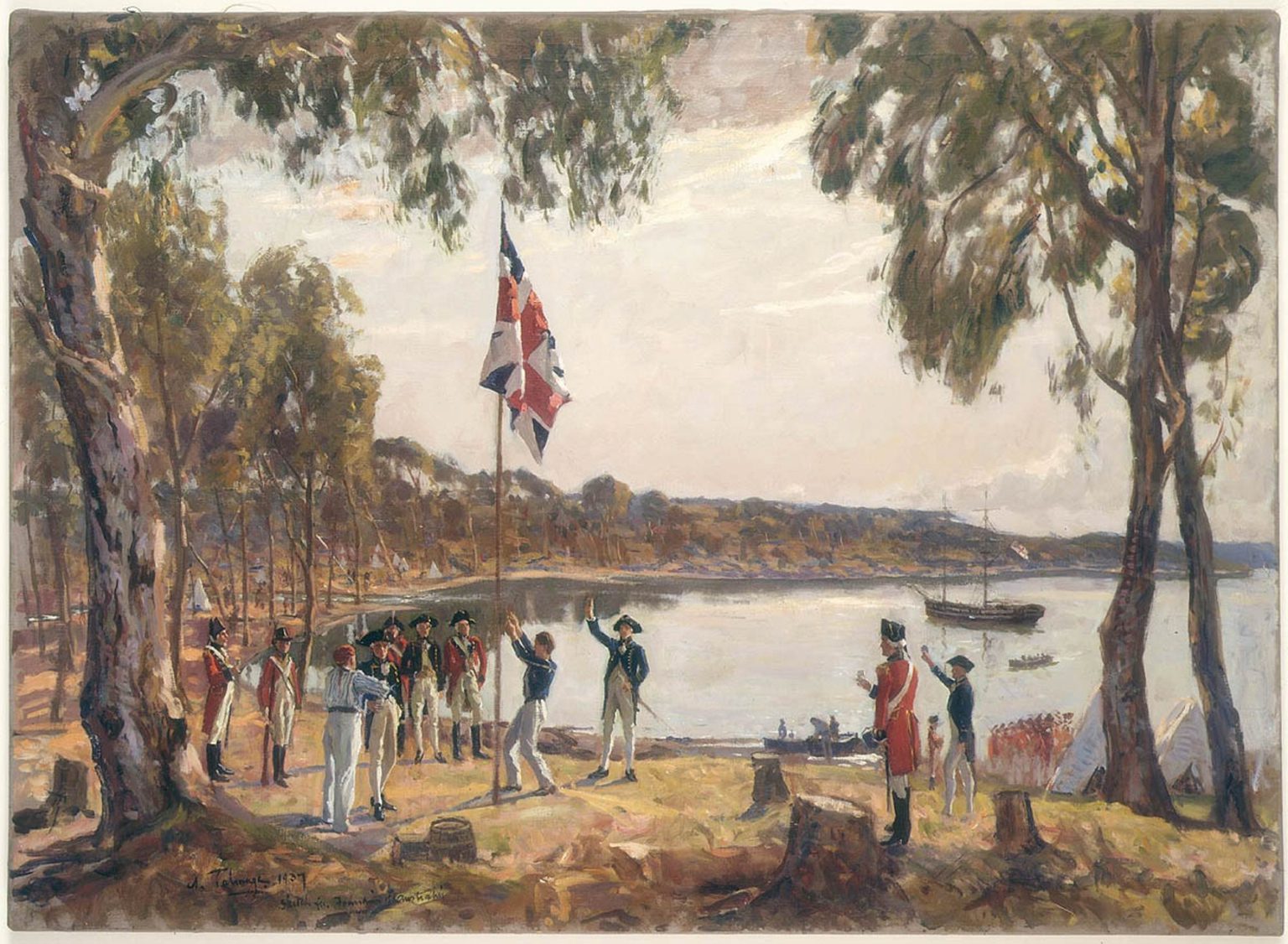 'The Founding of Australia 1788', by Algernon Talmage, 1937 (courtesy of the State Library of NSW).
Lieutenant William Dawes compiled a dictionary of the Dharug language of the Sydney area, working in his observatory at the entrance to the cove. While key individuals such as Dawes, Phillip and Tench were sympathetic to the indigenous people, Phillip in particular viewing them as existing in a state of grace, immune to the greed of the modern world, others did not. Phillip's gamekeeper John McIntyre for one, was suspected of hunting and murdering Aboriginal people for sport.
Phillip left the colony in 1792, with Bennelong accompanying him to England. Watkin Tench left the year before and served in the Napoleonic Wars. William Dawes left the colony for West Africa, and eventually became an abolitionist alongside William Wilberforce. Despite the smallpox epidemic, the years of the First Fleet made little impact on wider Aboriginal life, but it did begin what author Inga Glendinnen calls a 'trail of tears.'
Ruse eventually headed for the Hawkesbury area of New South Wales, where there were outbreaks of violence. The government had one particular Aboriginal language group rounded up and taken to Norfolk Island off the east coast. Before they died the last two survivors were interviewed by an anthropologist about their customs and rites. It was not customary to share such knowledge, but they knew they were the last of their kind, and a culture of many thousands of years is now a page-and-a-half in the State Library of New South Wales. It is a process that was repeated elsewhere. In the 20th century, Aboriginal people were punished for even speaking their own language, and could have their children taken from them if they were caught doing so.
There is much that contemporary Australia needs to acknowledge about the past, but simply changing the date of Australia Day won't achieve that. If anything, it avoids examining the journey to the present. In a little over 200 years, Australia has become one of the most successful and wealthiest societies on earth. Surely the national day can be a moment when a glass is raised to all Australians, the Aboriginal people whose way of life changed irrevocably, those migrants that came and continue to do so, and the First Fleet whose members, as Glendinnen, says:
'Deserve honour too, for their openness, their courage, and their stubborn curiosity. In the end, it was the depth of cultural division that defeated them, not any lack of energy, intelligence or good will. '
Michael Crowley is a dramatist, and the author of The Stony Ground: The Remembered Life of Convict James Ruse and First Fleet.
Picture published under a creative commons license.
To enquire about republishing spiked's content, a right to reply or to request a correction, please contact the managing editor, Viv Regan.