Emily Thornberry is everything that's wrong with Labour
She sums up the sneering contempt that Labour now has for working-class people.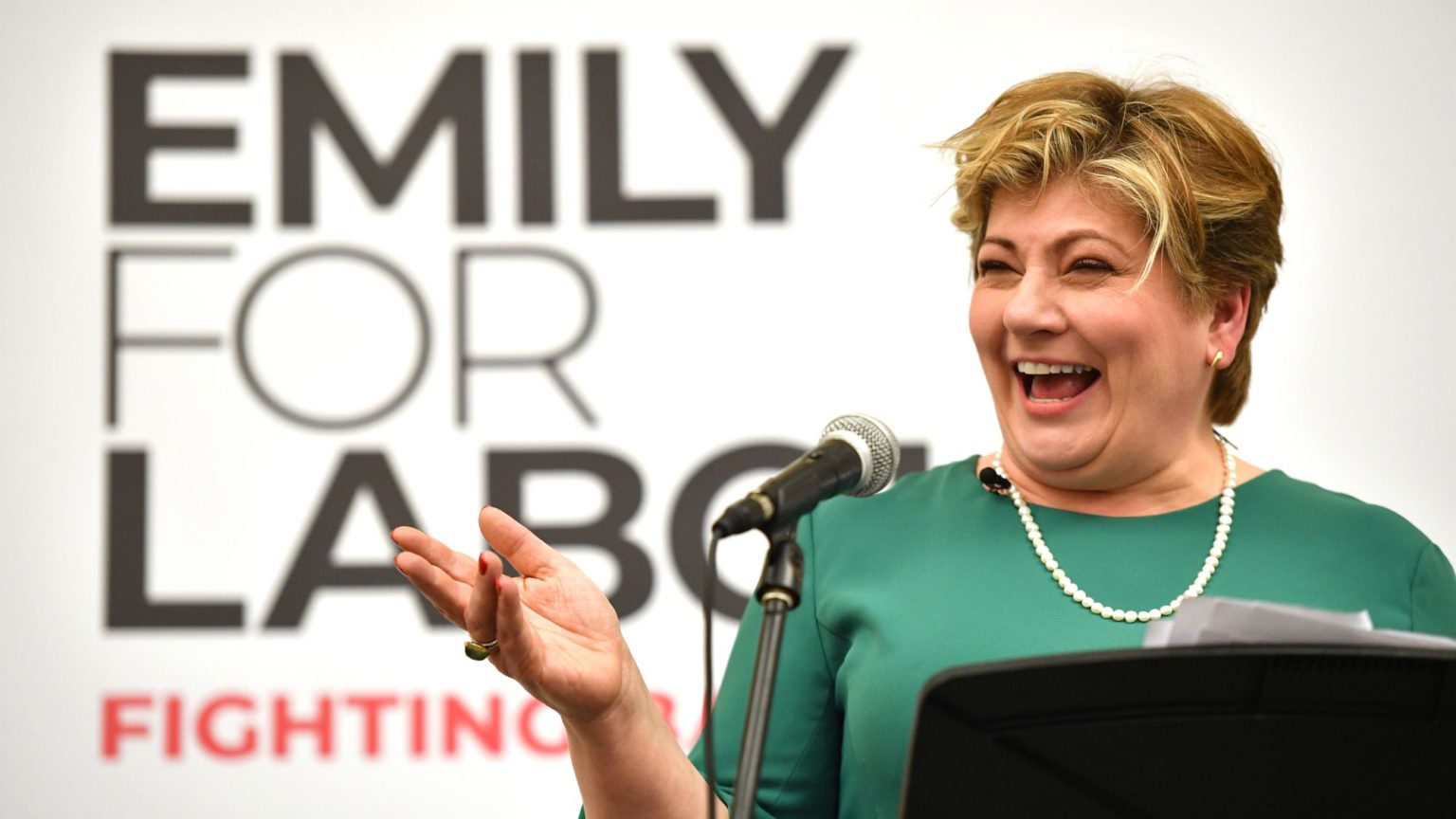 Labour leadership hopeful Emily Thornberry was hauled over the coals on The Andrew Neil Show last night. In particular, she was pressed on her sneering attitude towards working-class voters.
Footage from an event called 'Love Socialism, Hate Brexit' last year shows Thornberry laughing at her colleague Dawn Butler's suggestion that 'If you don't hate Brexit, even if you voted for it, there's something wrong with you'. Neil accused her of 'joining in the sneering at Brexit voters'.
Why did Emily Thornberry laugh when colleague Dawn Butler said: "If you don't hate Brexit… there is something wrong with you"?#andrewneilshow https://t.co/2VkZSquO7g pic.twitter.com/74bqz3Ja6p

— BBC Politics (@BBCPolitics) January 22, 2020
It's not the first time that Thornberry, who lives in a £2million house in Islington with her husband Sir Christopher Nugee QC, has been accused of turning her nose up at working-class people – all the while standing for a party that is supposed to represent them.
In 2014, the Islington South MP infamously tweeted a picture of a house with England flags and a white van outside, giving it the caption 'Image from Rochester'. She was forced to resign from the shadow cabinet. The resident of that house branded her a 'snob', telling the Sun that Labour MPs 'need to get out of their mansions and visit the working class'.
Labour's Emily Thornberry resigns from shadow cabinet amid row over tweet sent during Rochester by-election campaign http://t.co/pUwzjxowGo

— BBC Breaking News (@BBCBreaking) November 20, 2014
During the 2017 election, Thornberry suggested voters were more interested in Theresa May's hair than policy. 'It is not good enough for people to be saying "I like Theresa May's hair", or "I like that shade of blue". Politics is not about that', she said on ITV's Peston, delivering a stern rebuke to the supposedly superficial public.
Emily Thornberry says voters should focus on policy, not Theresa May's hairhttps://t.co/Kl2fkbnsFw pic.twitter.com/gnJE4cA5h0

— Mirror Politics (@MirrorPolitics) May 7, 2017
Following Labour's catastrophic defeat at the 2019 General Election, former Labour MP Caroline Flint claimed that Thornberry had recently told a colleague representing a northern, pro-Leave seat that 'I'm glad my voters aren't as stupid as yours'. (Though Thornberry strongly denies this and has threatened legal action against Flint.)
Does Emily Thornberry think Leave voters are stupid? ? pic.twitter.com/gGaccKCkXF

— Change Britain (@Change_Britain) December 15, 2019
Emily Thornberry's sneering contempt for the masses sums up everything that's wrong with the Labour Party today. For all the internal debate about whether Labour needs to leave behind Corbynism or Blairism or both, it is Thornberryism that most urgently needs exorcising.
Picture by: Getty.
To enquire about republishing spiked's content, a right to reply or to request a correction, please contact the managing editor, Viv Regan.