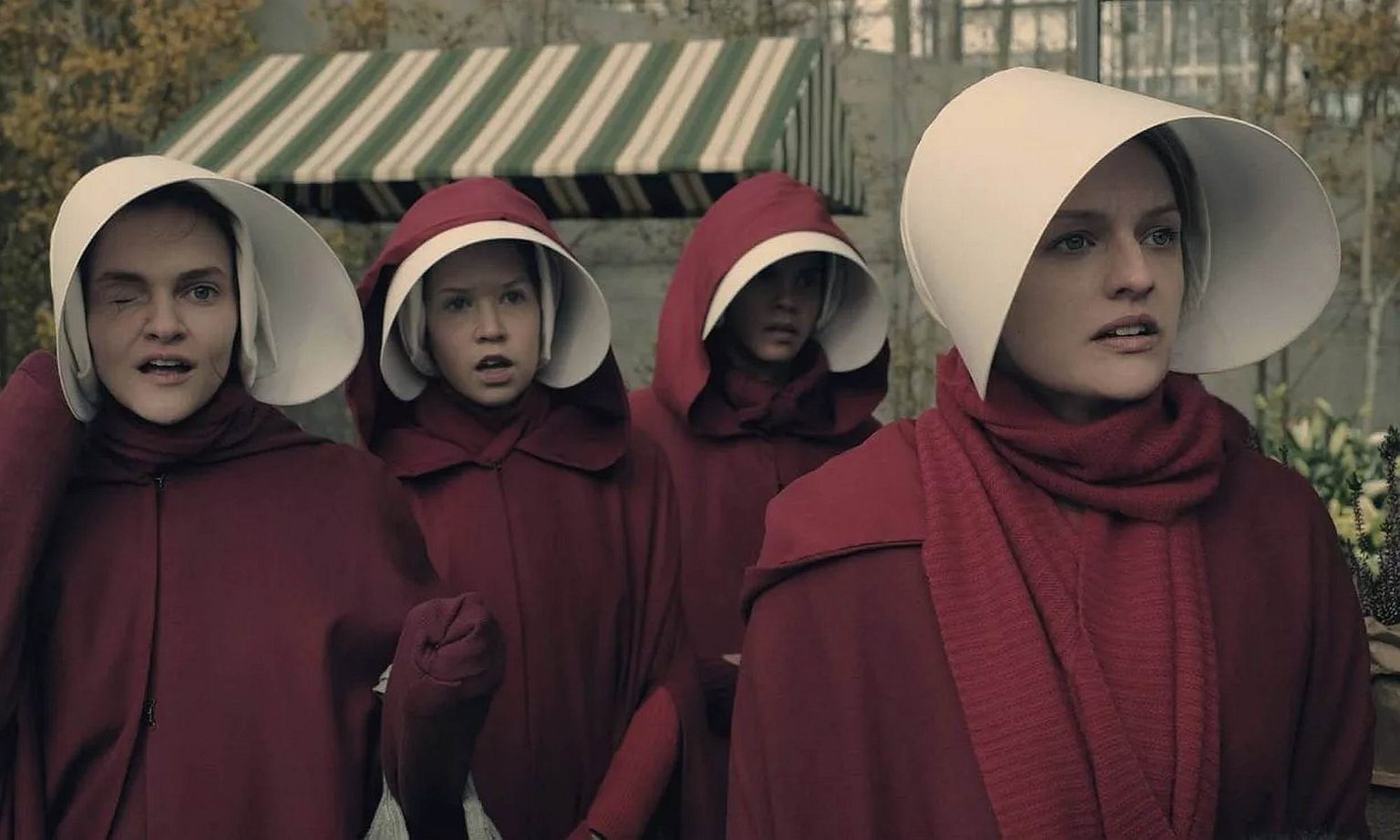 Long-read
#MeToo, Trump and misreading The Handmaid's Tale
Feminists wilfully ignore the commitment to freedom of expression that lies at the heart of Margaret Atwood's fiction.
Today, Margaret Atwood is no longer an author. She's a saint. A modern-day, feminist saint, but holy nonetheless. The novel on which her sainthood rests is, of course, The Handmaid's Tale, a first-person account of Offred, a handmaid living under the authoritarian regime of the Republic of Gilead. Offred's sole purpose in life is to carry and give birth to the children of her various assigned commanders.
Today, The Handmaid's Tale is so much more than a work of dystopian science fiction. The symbol of the handmaid – the oppressed woman – is now a staple of all kinds of political protest. Handmaid costumes, with the winged hoods and red robes, have appeared on pro-choice rallies and anti-Brexit marches. Indeed, so prevalent has the iconography of The Handmaid's Tale become that billionaire reality-TV star Kylie Jenner even threw a Handmaid's Tale-themed birthday party. It was not well received by other ardent Atwood fans.
Originally published in 1985, The Handmaid's Tale was an immediate critical success, gaining a nomination for the 1986 Booker Prize. The New York Times praised Atwood as having 'succeeded with her anti-Utopian novel where most practitioners of this Orwellian genre have tended to fail'.
Yet it is only recently that Atwood and The Handmaid's Tale have been lionised. Indeed, after its initial publication, The Handmaid's Tale tended to be celebrated from the margins, rather than embraced by the mainstream. A film adaptation followed in 1990, with the screenplay partially written by Harold Pinter. But, even with big names like Faye Dunaway, Robert Duvall, Natasha Richardson and Aidan Quinn all starring, it proved a box-office flop. Pinter even made a point of distancing himself from it after its failure.
So why, then, over 35 years later, has The Handmaid's Tale suddenly become such a hit?
Atwood and her most famous book owe their sanctification, in part, to the political rise of that barrel-bellied, blonde beast Donald Trump. Following the announcement of his presidential candidature in the summer of 2015, feminist paranoia hit the roof. Trump's past and present bouts of male chauvinism sparked fears that America under Trump would be a misogynistic nightmare. In April 2016, not long after the release of the Access Hollywood tape on which Trump had talked of grabbing women 'by the pussy', the US TV network Hulu announced the production of a serial adaptation of The Handmaid's Tale. It was as if only then, in the midst of Trump's sexism, that Atwood's seminal work made sense. The Republic of Gilead, an authoritarian state in which women were systematically oppressed, was now a glimpse into the future of a Trump presidency.
The emergence of the #MeToo movement in October 2017 further fuelled the rise of The Handmaid's Tale. As #MeToo developed into an all-out attack on sexual misconduct in general, Atwood's most famous work seemed to strike a chord among an ever-growing number of people. Hulu's TV adaptation was updated to include modern references, such as GPS-style trackers instead of tattoos on the handmaids, purposefully blurring the line between dystopian fantasy and reality. One reviewer claimed that the TV version 'captured a moment in time and successfully funnelled its rage outwards at a world in which women are indeed silenced, controlled and killed by men'. A piece for the Sydney Morning Heraldconcluded that it is 'hard to imagine a book that resonates with our times as powerfully as The Handmaid's Tale'.
Atwood herself has partially sustained the claims that The Handmaid's Tale offers a critique of contemporary America, saying that there is 'nothing in the book that didn't happen, somewhere'. Last year, during the run-up to the publication of its sequel, The Testaments, which follows the next generation of handmaids and the resistance, Atwood was even more explicit. 'Instead of moving away from Gilead, we started moving towards it, especially in the US', she said.
Yet there's a problem here. The Handmaid's Tale is simply not a warning or premonition of the Trumpian, #MeToo years to come. That contemporary feminists have managed to co-opt the handmaid to symbolise the supposed threat of contemporary patriarchy and sexism rests on a simplified reading of the tale.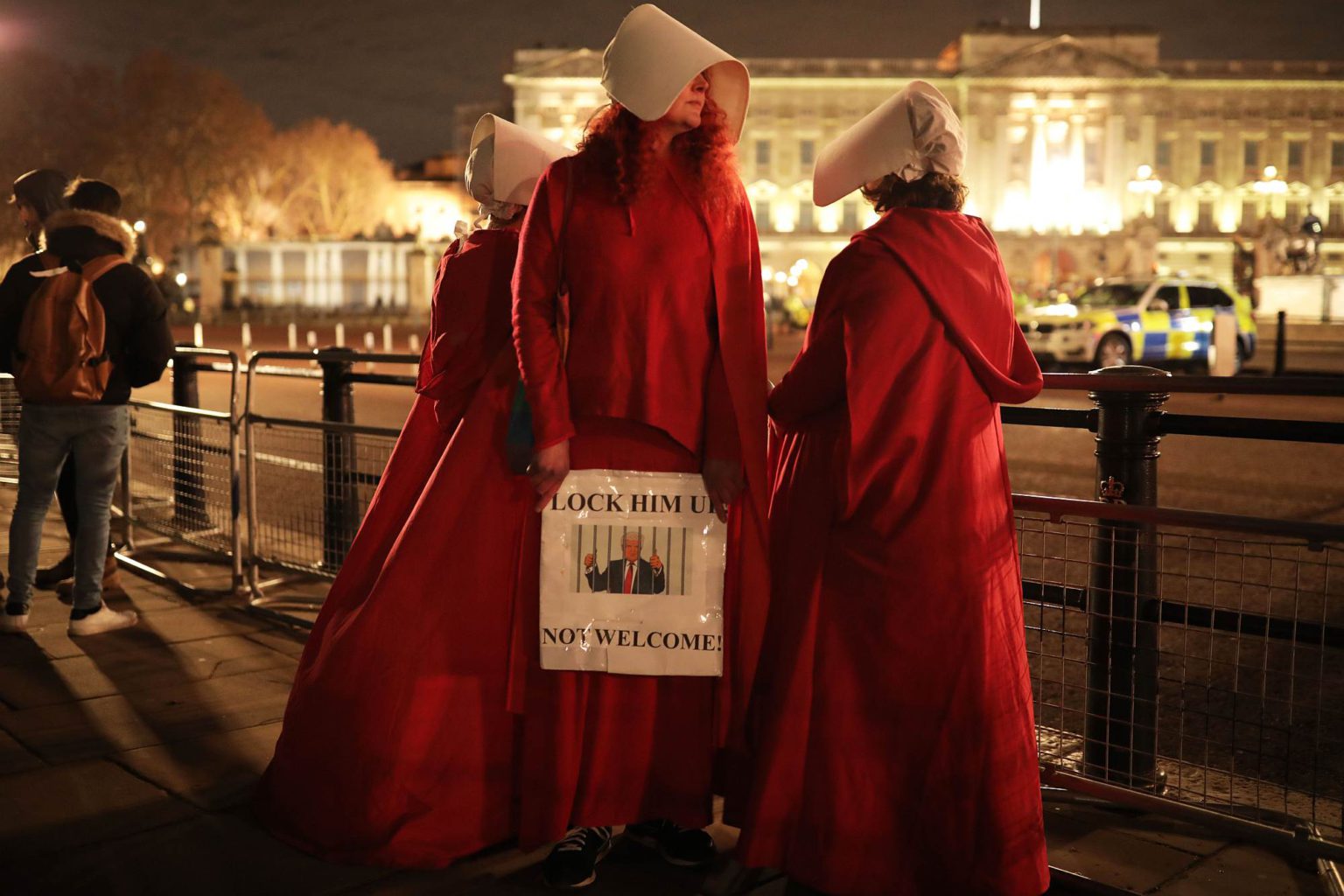 Activists demonstrate against US President Donald Trump outside Buckingham Palace, London, 3 December 2019 (Picture: Getty.)
Published in 1985, the same year that Ronald Reagan was sworn into office for the second time, following his landslide victory in 1984, The Handmaid's Tale's depiction of conformity, religious fundamentalism and the fetishisation of motherhood is historically specific. In 1983, for instance, President Reagan had written an article for The Human Life Review aimed at cementing his reputation as a pro-life advocate. Reagan promised to roll back the 1973 Roe v Wade Supreme Court ruling, which had set a precedent for access to abortion for women. No wonder the idea of powerful men having jurisdiction over women's wombs resonated.
Atwood, a Canadian, was therefore using the particular tensions of mid-1980s America to create her dystopian fiction, imagining a world in which widespread sterility has led an authoritarian regime to sanctify pregnancy. Indeed, Atwood was drawing on an America riven by the culture wars. An America in which the contraceptive pill had only recently been legalised for use by unmarried women. An America still getting used to women in power suits joining and sometimes managing the workforce. The reaction to the emergent America was often extreme. Think, for example, of lawyer Phyllis Schlafly, who waged war on feminism and spearheaded anti-equal-rights organisations like the Eagle Forum.
But the America to which The Handmaid's Tale was responding was a very different nation to that of today. Prejudice against women, against their intellectual capacities, was not merely the preserve of an oafish president. It was a daily reality. Plucking The Handmaid's Tale out of the 1980s, and applying its vision to the supposed 'everyday sexism' of the late 2010s, is to erase the vast advances made by women over the past 40 years.
In fact, there are other important trends informing The Handmaid's Tale obscured by today's simplified feminist reading. Atwood's novel arrived, for instance, towards the tail end of a protracted period of paranoia during the Cold War — Reagan's 'Star Wars', the missile-defence programme, had been announced in 1983. Hence The Handmaid's Tale plays on distinctly Cold War fears, set, as it is, at a time of unexplained nuclear and ecological disaster.
The Handmaid's Tale was also published slap bang in the middle of the AIDS panic. So, the Republic of Gilead features men who have become inexplicably sterile and women who give birth to 'shredders' (severely deformed babies). In the Republic of Gilead, sex and procreation are a risk.
Like all good science fiction, then, Atwood's dystopian world reflects the paranoias, prejudices and panics of the society she is observing. Atwood's exploration of these contemporary fears – fear of sex, fear of political and religious fundamentalism and fear of impending global doom – turns the The Handmaid's Tale and The Testaments into far more than simple-minded feminist handbooks.
But that is precisely what too many have argued that The Handmaid's Tale and now The Testaments are — namely, contemporary feminist handbooks. This interpretation ignores a key part of Atwood's worldview: her championing of freedom of expression. It is no accident that The Handmaid's Tale is a first-person account from a defiant handmaid. Her individual freedom to express herself matters. One of the novel's most powerful moments occurs when Offred is given a pen to write down 'Nolite te bastardes carborundorum' in the commander's office. He tells her that it is just a simple boy's joke in Latin – meaning 'don't let the bastards grind you down'. But it is her ability to reconnect with writing and reading that matters to her: 'The pen between my fingers is sensuous, alive almost, I can feel its power, the power of the words it contains.' Reading, writing and refusing to be silenced constitute Offred's method of defiance in the Republic of Gilead.
That is why the contemporary feminist co-option of The Handmaid's Tale sits awkwardly. Because Atwood's championing of the importance and revolutionary power of freedom of speech and thought goes against the censorious tendency of today's feminist politics.
At one point in The Handmaid's Tale, Offred is reminded of the earlier times in which she was free, and reminisces about her life with her partner Luke and her daughter, who was taken from her. Offred considers the difference between then, when 'women were not protected' and there were 'rules that were never spelled out but every woman knew' with regards to avoiding the dangers of strange men, and her present in the Republic of Gilead:
'Now we walk along the same street, in red pairs, and no man shouts obscenities at us, speaks to us, touches us. No one whistles.'
This is perhaps the most politically powerful moment in the book. Offred remembers the tyrant Aunt Lydia's words: 'There is more than one kind of freedom, said Aunt Lydia. Freedom to and freedom from.' The freedom to speak and act versus the freedom from offence and hurt. If Atwood's novel is a warning, it is not about sexist old men like Trump. Rather, it is about the danger of giving up the freedom and risks of a liberated life for the sterile regulation of the safe space.
The Testaments actually develops this theme, emphasising the importance of freedom of speech. Hence we find out that Aunt Lydia, one of the central architects of the totalitarian regime of Gilead, is plotting to bring it down with one weapon – the written word.
Atwood's championing of the revolutionary power of freedom of speech goes against today's censorious feminism
It is unlikely that Atwood's feminist cheerleaders, who want to make misogyny a hate crime, ban sexist speech and protect women from words, will support her defence of the 'freedom to'. But then, Atwood's actual political vision tends to be eclipsed by her contemporary deification. She can't even get a hearing for herself, such is her mythical reputation now. For example, in an article published three months after #MeToo started, headlined 'Am I a bad feminist?', Atwood questioned #MeToo's scalp-hungry nature:
'I believe that in order to have civil and human rights for women there have to be civil and human rights, period, including the right to fundamental justice, just as for women to have the vote, there has to be a vote. Do Good Feminists believe that only women should have such rights? Surely not.'
For this, and for asserting that 'women are human beings, with the full range of saintly and demonic behaviours this entails, including criminal ones', Atwood was castigated on social media as a victim-blamer. It obviously hurt. 'Taking a break from being Supreme Being Goddess, omniscient, omnipotent, and responsible for all ills', she tweeted following the backlash. 'Sorry I have failed the world so far on gender equality. Maybe stop trying? Will be back later.' But, unlike Dame Ann Leslie, Catherine Deneuve and other high-profile female critics of the excesses of #MeToo, Atwood's transgression has been politely ignored by most. Her role as the creator The Handmaid's Tale is too important to allow her to have nuanced views on contemporary feminist politics.
Atwood is a fantastic writer, evidenced by both The Handmaid's Tale and The Testaments. In the great tradition of dystopian fiction, these works shine a light on the political contradictions of their time. Moreover, her defiant championing of women's freedom to be exposed to the trials and tribulations of a life lived at liberty remains powerful. Yet in today's culture of censorship and panics about women's safety, it is controversial, too. Perhaps Atwood knows this. Perhaps it is Atwood herself who is speaking through Aunt Lydia at the end of The Testaments: 'Goodbye, my reader. Try not to think too badly of me.'
Ella Whelan is a spiked columnist and the author of What Women Want: Fun, Freedom and an End to Feminism.
To enquire about republishing spiked's content, a right to reply or to request a correction, please contact the managing editor, Viv Regan.