The warriors of London Bridge
Those who risked death to subdue Usman Khan showed what real heroism looks like.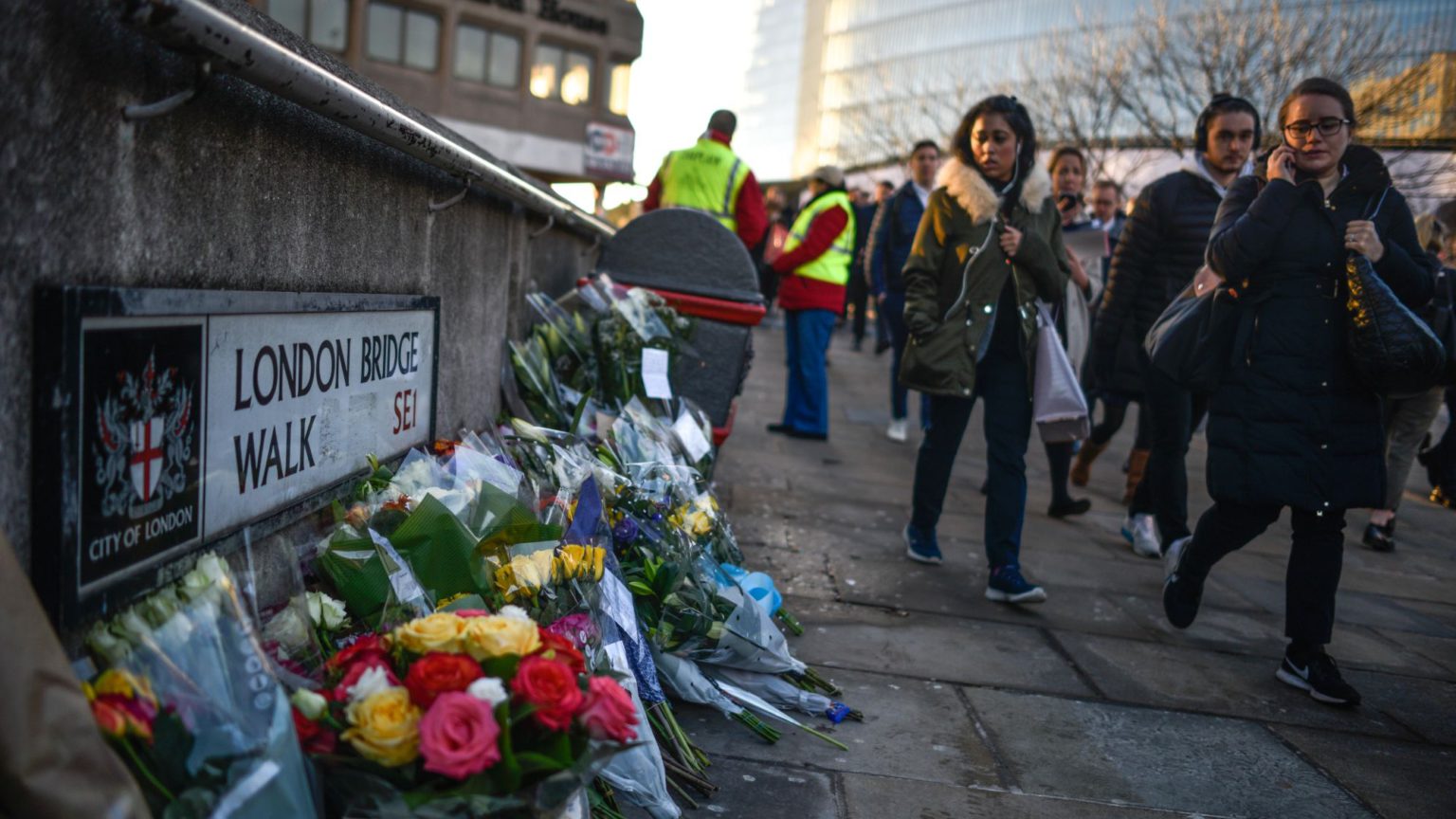 It is just before two o'clock in the afternoon, on Friday 29 November. At Fishmongers' Hall on London Bridge, Learning Together, a five-year-old prisoner-rehabilitation scheme, is holding a conference attended by prison staff, academics, criminal-justice campaigners and, crucially, former inmates. At that moment, a 28-year-old convicted terrorist called Usman Khan interrupts proceedings. He pulls out two knives and reveals a suicide vest, and starts making threats, before proceeding to stab five people as he makes his way out of one of the conference rooms.
James Ford is one of the first to intervene. A convicted murderer, he is out on day release. His first act is to perform CPR on Saskia Jones, one of the people stabbed by Khan. Sadly, it will be to no avail. Ford then pursues Khan.
John Crilly, a 48-year-old reformed ex-prisoner, is not in the same room as Khan. But he hears a high-pitched scream, and immediately heads towards its location. There he sees Khan, his bloodied knives and the suicide vest. Quickly realising what's going on, he attacks Khan first with a lectern, and then takes a fire extinguisher off the wall.
At that moment, Crilly is joined by Darryn Frost, a civil servant at the ministry of justice. Hearing the commotion and then seeing Khan, Frost, like Crilly, arms himself with whatever is nearest at hand. This being a maritime building, that just happens to be a narwhal tusk. By this point Crilly is jettisoning the contents of the fire extinguisher at Khan. As he put it later, 'I was spraying it in [Khan's] eyes… he can't see and that gives the whale guy a chance to give him a poke'.
Elsewhere, another individual, another moment of decision. Lukasz Koczocik, a 38-year-old Polish man working as a kitchen porter in Fishmongers' Hall, also hears the shouting and the screams. He doesn't have to do anything. He could hide or even escape. But he doesn't. He knows first aid, he knows he can help, so, arming himself with a metal pole, he, too, heads off to confront Khan.
In the ensuing melee, Crilly, Frost and now Koczocik find it tough going against a man armed with knives and wearing what looks like a set of explosives. Koczocik's pole bounces off Khan's suicide vest, allowing Khan to stab Koczocik's left side. Khan is then heading towards the exit. Others working at Fishmongers' Hall, including another kitchen porter, two women at the coat check, a doorman and a receptionist, all tried to stop him. But it's no good. Khan manages to get out of Fishmongers' Hall, pursued by Crilly, Frost, Ford and a couple of others. Eventually, they corner him on London Bridge itself.
More moments of decision. Thomas Gray and Stevie Hurst, two London tour guides, are driving north across London Bridge, when they see several men running after the knife-wielding Khan. As Gray puts it, they did 'what any Londoner would do' and jumped out of the car to help take Khan down.
Khan is eventually floored. Gray stamps on his wrist to try to release one of the knives. Khan is restrained but there is still the small matter of the suicide belt. As Crilly put it, 'I was prepared probably to lose my life'.
We now know that the suicide belt was fake. But those confronting Khan did not have our knowledge. They had theirs. They all knew, profoundly and urgently, that they could die. That with the release of a trigger, or flick of a switch, Khan could snuff them out.
And here lies the heroism of those who confronted, pursued and ultimately subdued Khan. They were prepared to die in the service of an ideal: to save the lives of others. They could have done otherwise. They could have chosen to look after themselves. They could have calculated that their interests were best served by fleeing. They could have decided that survival was the best course of action.
But this is what makes their actions just that little bit sublime. They weren't thinking about merely surviving. They were thinking about the thing that makes life worth living – which is to risk everything, including one's own life, in the service of an ideal.
Evolutionary psychologists and the like tend to think of human behaviour in terms of some natural biological law, some instinct of self-preservation, or some set of cognitive biases. Four weeks ago on London Bridge, we saw how threadbare such theories are. In each moment, there was no law determining these individuals' actions. There were just individual moments in which they acted freely. In which they rose to the moral occasion. The moment when Crilly responded to the scream. The moment when Frost seized a narwhal tusk from the wall. The moment when Gray and Hurst stopped the car and ran over to help.
Their heroism speaks to something we should all value: moral autonomy. The freedom, that is, to act according to one's own judgement. To act according to what one judges right, rather than merely sensible or economic.
They are heroes, certainly. But they are not demi-gods. Far from it. Their lives will be as knotted with moments of weakness as anybody else's. More so, in fact. Crilly was convicted of murder under the joint-enterprise law after his friend killed a man during a burglary. And Ford is serving a life sentence for slashing the throat of a woman with the mental age of 15. Her aunt has understandably bristled at Ford's unwitting celebrity, saying 'he is not a hero, he's a murderer'.
But that is the other aspect to their heroism. It did not emerge from nowhere. It has been prepared by their willingness to regret, feel remorse, and to resolve to think and act differently. And, of course, this has been cultivated by others, such as the London Bridge victims and charity workers Jack Merritt and Saskia Jones, who always believed in prisoner rehabilitation. In many ways, the heroism of Crilly, Ford and another ex-prisoner, Marc Conway, is a tribute to the work and conviction of those, like Jones, Merritt and their colleagues at Learning Together, who believe that people can change and rehabilitate themselves – if they really want to.
Which, of course, Khan himself did not. He was a convinced jihadist. He never felt any remorse for plotting to bomb the London Stock Exchange, because he never doubted he was right. His murderous Islamist zeal rendered rehabilitation impossible. But Khan is the terroristic exception to the rule. Crilly, Conway and others showed that people can change. Moreover, all involved, from the kitchen porters to the receptionist, showed that one can act freely and morally and seize the moment – or, indeed, a narwhal tusk. Let's have more such citizen action in 2020.
Tim Black is a spiked columnist.
Picture by: Getty.
To enquire about republishing spiked's content, a right to reply or to request a correction, please contact the managing editor, Viv Regan.