The biggest casualty of Trumpian politics? The truth
Trump has adopted consistent lying as his main political strategy.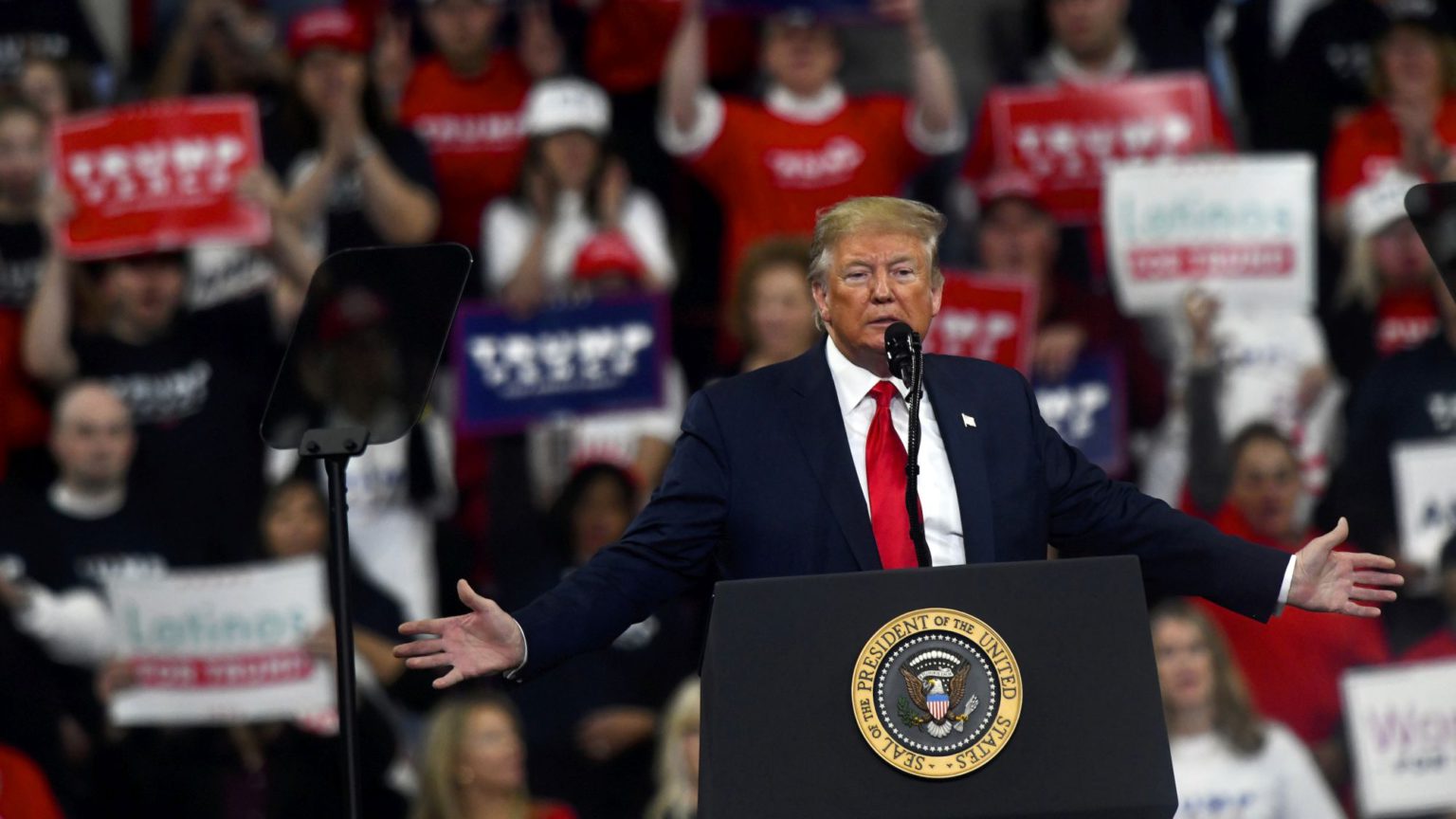 When I say that Hannah Arendt's masterwork, The Origins of Totalitarianism, will help you understand America's raging political crisis, I'm not suggesting that we're heading toward Stalinism or fascism. We are, however, riven by what Arendt called the 'mixture of gullibility and cynicism' that enables people 'to believe everything and nothing'.
If there is a better shorthand explanation of the fact-free, post-truth, Trumpian political world we now inhabit, I haven't seen it. 'Mass propaganda discovered that its audience was ready at all times to believe the worst, no matter how absurd, and did not particularly object to being deceived because it held every statement to be a lie anyway.' We now know that, as Trump predicted, he would retain his tribal support if he shot someone in broad daylight on Fifth Avenue. He'd simply claim that Joe Biden pulled the trigger, or, in the alternative version, that the shooting was justified because the victim was a 'bad guy', and the US Constitution gives him 'the right to do whatever I want'.
So it is not surprising that Trump and his congressional acolytes self-righteously deny indisputable facts revealed in the impeachment inquiry, which resulted in charges of abusing power and obstructing congress (by his unprecedented refusal to comply with any congressional subpoenas). Of course they insist that Trump did not ask the Ukrainian president, Volodymyr Zelensky, to investigate former vice president Joe Biden, his chief political rival, even though he did so publicly, in plain view, and has publicly acknowledged doing so.
We've seen the memo of his now infamous phone call on 25 July with Zelensky, during which he responded to Zelensky's request for military aid by saying 'I'd like you do us a favour though', exhorting him to investigate two definitively debunked conspiracy theories: that Ukraine, not Russia, was responsible for hacking Democratic committee emails in 2016, and that, as vice president, Joe Biden interfered in a corruption investigation in Ukraine to protect his son: '… so if you can look into it… it sounds horrible to me.'
In case there was any doubt about what Trump wanted from Ukraine, he confirmed in a press scrum on the White House lawn that he was seeking a 'major investigation into the Bidens… They should investigate the Bidens.' For good measure, he declared that China should join in: 'China should start an investigation into the Bidens, because what happened in China is just about as bad as what happened with Ukraine.'
Oh well, that was then. Now the Trump defence to impeachment rests partly on the contention that he did not ask for these investigations. Evidence that he did so is 'ambiguous' and unsupported by the record, House Republican counsel Steve Castor asserted during a judiciary committee hearing. How do Republicans handle the cognitive dissonance? As Arendt wrote, 'politics is a game of cheating', in which the categorical imperative is not truth but absolute loyalty to the proposition that the leader 'is always right'.
So while Trump denies what we have witnessed – that he asked a vulnerable, supplicant Ukraine to investigate the Bidens, as well as its own imagined interference in the 2016 election – he has also claimed the right to do so: it would 'have been okay if I did'.
In fact, and under law, it would not have been 'okay'. It is illegal to solicit foreign aid in a campaign and foreign interference in an election, even in the absence of undue pressure, or a quid pro quo. Trump's solicitation was, at least, a very arguable felony violation of campaign-finance laws, as well as an impeachable offence for seeking foreign electoral assistance. But, in any case, there is overwhelming testimonial and documentary evidence that he did indeed condition delivery of congressionally approved military aid (vital to Ukraine's defence against Russian aggression) on Ukraine's submission to his demands.
Implicitly recognising this fact, some Republicans now argue, in the alternative, that, as Trump asserts, he had a right to withhold aid in return for investigations into the Bidens and Ukraine's fictive interference in the 2016 election. (None of them acknowledge the senselessness of Trump's contention that Ukraine hacked and released the Democratic National Committee emails, hobbling the Clinton campaign, in an effort to secure her election.) Instead, they make the equally nonsensical claim that a few Ukrainian expressions of policy differences with Trump, like a 2016 op-ed by an official criticising Trump's support for ceding Crimea to Russia, are equivalent to what the Mueller investigation called Russia's 'sweeping and systematic' disinformation campaign, including email hacks, designed to elect Trump and enthusiastically welcomed by him.
Former national-security hawk Republicans seem untroubled by the fact that advancing absurd claims about Ukrainian election interference requires advancing a conspiracy theory that has been thoroughly debunked by the US intelligence community, the Republican-led Senate intelligence committee, and Trump's former homeland security adviser. Who else endorses and has helped disseminate fictions about a Ukrainian pro-Clinton conspiracy? Vladimir Putin. As the Trump administration's former Russia expert Fiona Hill testified, the claim that Ukraine and not Russia systematically interfered in the 2016 election and hacked the Democratic National Committee emails is Russian propaganda. Republican dissemination of this fiction is 'a propaganda gift for Vladimir Putin', conservative critic Jonah Goldberg writes. As Putin himself recently declared, 'Thank God no one is accusing us of interfering in the US elections anymore. Now, they're accusing Ukraine.'
They (meaning the president and supine congressional Republicans) have also accused the FBI of improperly opening a politically biased investigation into Russian interference and several Trump campaign associates in 2016. They're undeterred by recently released findings of the widely respected Justice Department's inspector general that the FBI investigations were opened lawfully 'with sufficient factual predication', uninfluenced by 'political bias or improper motivation'. The inspector general did, however, find serious abuses in the execution of the investigation, with regard to court-ordered wiretaps of one target. Civil libertarians have pressed for reform of security-state wiretap procedures for years, against the opposition of Trump Republicans, who are now lambasting these abuses when doing so benefits their leader.
So the inspector general's report had something for everyone, but it lacked everything, or the main thing, that the president sought – confirmation of his fictions about the Russia 'hoax' and the FBI's alleged campaign to help elect Hillary Clinton. It is worth noting that these assertions require us to believe that the FBI sought to help Clinton by revealing its politically damaging investigation into her email practices, (and reopening it shortly before the election), while keeping secret what would have been much more damaging news that it was investigating Russian election interference and the Trump campaign. But conspiracy theories need not make sense, particularly when sufficient numbers of people are inclined to 'believe everything and nothing'.
Exploiting this susceptibility to conspiratorial thinking, Trump's attorney general Bill Barr has been quick to dispute and distort the inspector general's report, facts be damned. As soon as the inspector general declared finding a 'sufficient factual predication' for the Russia investigation, Barr misrepresented that finding, claiming the report makes clear that the FBI 'launched an intrusive investigation of a US presidential campaign' on insufficient grounds. Barr has launched his own criminal investigation, the outcome of which seems pre-determined. He will find that that the FBI illegally opened an investigation into Russian interference and selected Trump-campaign associates.
This is not simply a challenge to the basis for investigating the Trump campaign. It implies, contrary to the facts, that there was no basis for investigating Russian interference, when the FBI knew, for example, of Russian efforts to hack state-election systems, as well as the Democratic National Committee, as Greg Sargent points out in the Washington Post. Barr, acting like Trump's personal attorney and fixer, and not the national chief law-enforcement official, will effectively confirm the president's fictitious claim that Russia did not interfere in the election to his intended benefit, thus supporting his deep-state conspiracy theories, preserving his fragile ego, and enabling his continuing efforts to enlist foreign interference in the 2020 election. His personal attorney Rudy Giuliani has reportedly been in Ukraine preparing a new conspiracy theory smearing Joe Biden, as well as George Soros (a favorite conspiratorial target).
Of course, Trump will not be removed from office and may well be re-elected, especially if he successfully solicits foreign electoral assistance, or if he shoots someone on Fifth Avenue tomorrow, even if he is supported only by 40 per cent of the voting public. He does not, after all, need to win the most votes — he can win the essential Electoral College with a minority of votes, distributed advantageously, as he did in 2016. And his impassioned base remains secure.
For true believers, Arendt observed, the leader is supreme. Trump is even regarded by some evangelical supporters as a messiah figure, while his critics are considered demonic, quite literally. Clearly he doesn't need to make sense. But even if the leader is not deemed an emissary of the divine, the conviction that he is always right has 'nothing to do with the objective truthfulness of the Leader's statements', Arendt wrote. Whether or not Trump's constant, routine lying is pathological, it is strategic: mass conspiratorial movements rely on an 'unsurpassed capacity to establish and safeguard the fictitious world through consistent lying'. That's the world of Trump's America, and we're all stuck living in it.
Wendy Kaminer is an author, a lawyer and a former national board member of the American Civil Liberties Union.
Picture by: Getty.
To enquire about republishing spiked's content, a right to reply or to request a correction, please contact the managing editor, Viv Regan.