Venice's floods are not signs of a 'climate apocalypse'
There is no reason why local solutions cannot be found to the flooding.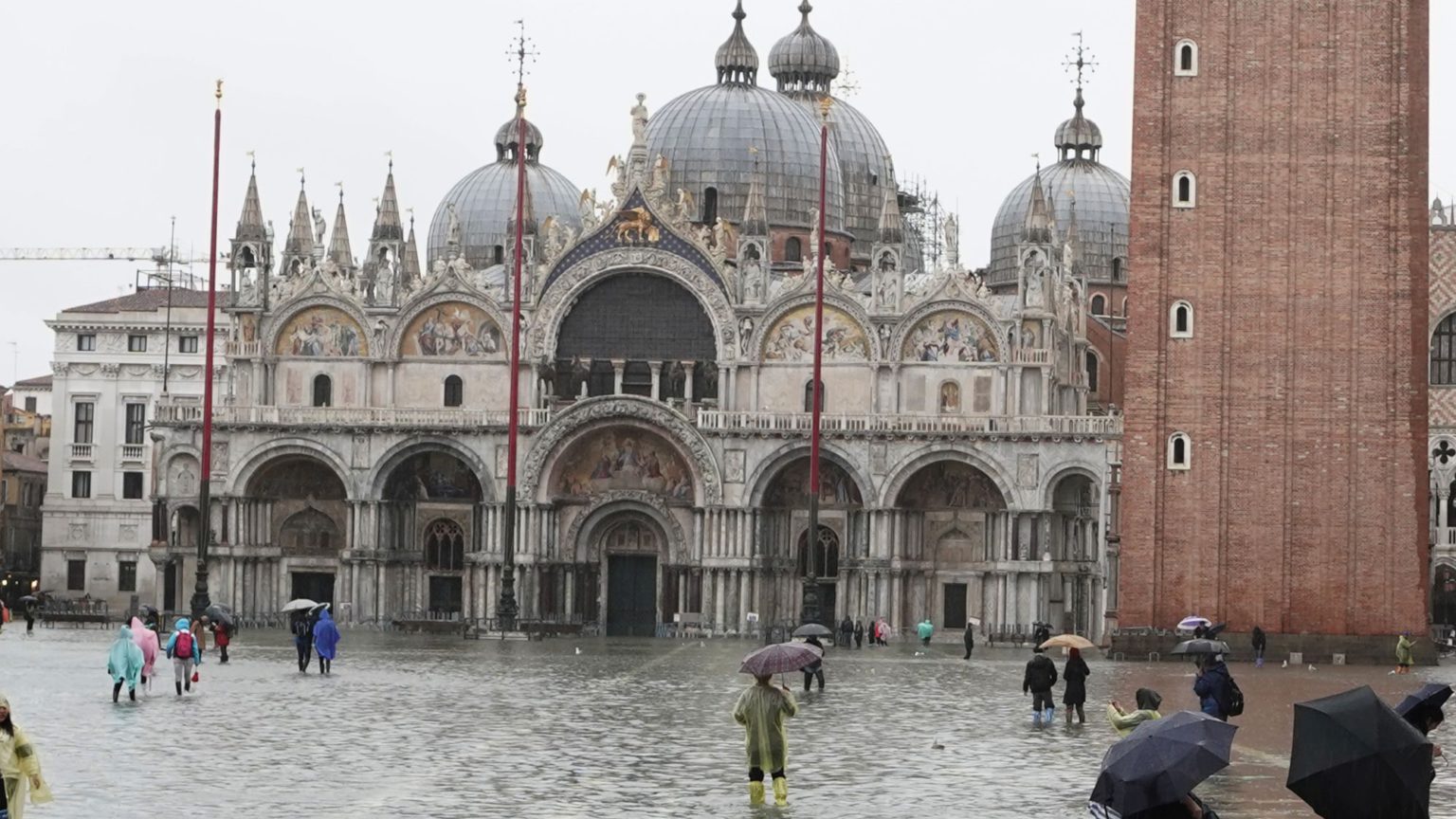 Venice has endured a terrible two weeks of flooding. On 12 November, over 80 per cent of the city was flooded. The reading on the local tide gauge reached 187cm – the highest level recorded for 53 years. Venice mayor Luigi Brugnaro tweeted: 'This is the result of climate change.' His claim was widely repeated by the media. Luca Zaia, governor of the Veneto region, added that 'We are faced with total apocalyptic devastation'.
The floods were certainly dramatic and damaging. In Venice's city centre, St Mark's Church was flooded and there are concerns about damage to the crypt, columns and floor mosaics. Three water buses sank and some banked on to public walkways. Boats and docking platforms were damaged throughout the lagoon due to high winds of 100km per hour and a tornado close to St Mark's Square.
The worst damage was on the island of Pellestrina, where an elderly man died when he was struck by lightning. Pumping flood waters was a significant problem for flooded properties on this island. Other coastal areas of the region also experienced flooding and damage, including Chioggia, Jesolo and Caorle.
The damage is estimated to have cost hundreds of millions of euros. Churches, businesses, transport organisations and residents have suffered damage to their properties and boats. The height of the tide was underestimated. Winds were stronger than expected, leaving most people unprepared. On 14 November, the government declared a state of emergency and earmarked €20million to support Venice and its population.
But despite all the damage, the statement by Veneto governor Zaia, that Venice faced 'total apocalyptic devastation', is both inaccurate and historically ignorant. Venetians have suffered far more from past flooding than they have over the past two weeks. Fewer flood defences, less sturdy buildings and weaker infrastructure have hugely exacerbated the consequences of flooding.
Given its location, Venice has faced devastating floods throughout its history of over 1,500 years. In 1106 severe flooding wiped away every single building in the Venetian town of Malamocco. Historical accounts of flooding in 782, 840, 875, 1102, 1240, 1268 and 1794 reveal people frequently died from drowning or being stranded in cold water.
In modern times, during the floods of November 1966, the tides reached up to 194cm and 100 per cent of the city was flooded. Several thousand people were made homeless and the city was without electricity or telephones for days. The consequences of the 1966 floods were far more severe than today's 'total apocalyptic devastation'. Since 1966, measures such as the construction of jetties and breakwaters, waterproofing, raised paths and improved drainage mean that Venice is much better protected today – especially against low- and medium-level floods.
But as the recent floods clearly attest, Venice is still vulnerable. High-level floods – measured as above 110cm on the tide gauge – have become more frequent over the past century. These are caused by short-term weather effects, especially high winds blowing a greater volume of water from the Adriatic Sea into the Venetian lagoon, combined with rainfall and water from the surrounding rivers.
In addition, there has been a long-term rise in the mean sea level relative to the land. This correlates strongly with the increasing frequency of high floods.
The increase in the mean sea level in Venice has two causes. One is a sea-level rise related to climate change. The other is subsidence – meaning that the land around Venice is getting lower. The principal reason for so much subsidence is that groundwater used to be extracted from the aquifer under the lagoon between the 1930s and 1970s. Between 1897 and 1983, the relative sea level to the land in Venice rose by 23cm – with 12cm due to subsidence and 11cm caused by rising sea levels. Since the 1970s, subsidence has slowed and sea levels have risen by approximately 5cm.
Venice's mayor was therefore wrong to say that the recent floods were only the result of climate change. Sea-level rise due to climate change has certainly contributed more to high floods in recent years, but land subsidence has been a major cause over the longer term.
Understanding these various causes is important in formulating responses. Blaming the 'climate emergency' misses the fact that the worst of the flooding could have been prevented – and can be prevented in future – with the right infrastructure. For instance, one long-term proposal being considered is whether to pump water back into the ground to raise the land level across the lagoon.
The most recent floods might have been blocked had the MOSE mobile dams been completed on time. These dams were designed to protect Venice and its lagoon from tides of up to 3m high. They began construction in 2003 and were due to be completed in 2011. Unfortunately, completion has been delayed due to environmental objections (including from the EU), technical and funding problems, frequent changes of government, and a local corruption scandal in 2014. The earliest the dams are estimated to be fully functioning is 2022.
Venice's problems need to be dealt with as a matter of urgency. They are serious. But they are not apocalyptical. We are more than capable of solving them.
Dominic Standish is the author of Venice in Environmental Peril? Myth and Reality and has lived in the Venice region since 1997. Visit his website here.
To enquire about republishing spiked's content, a right to reply or to request a correction, please contact the managing editor, Viv Regan.