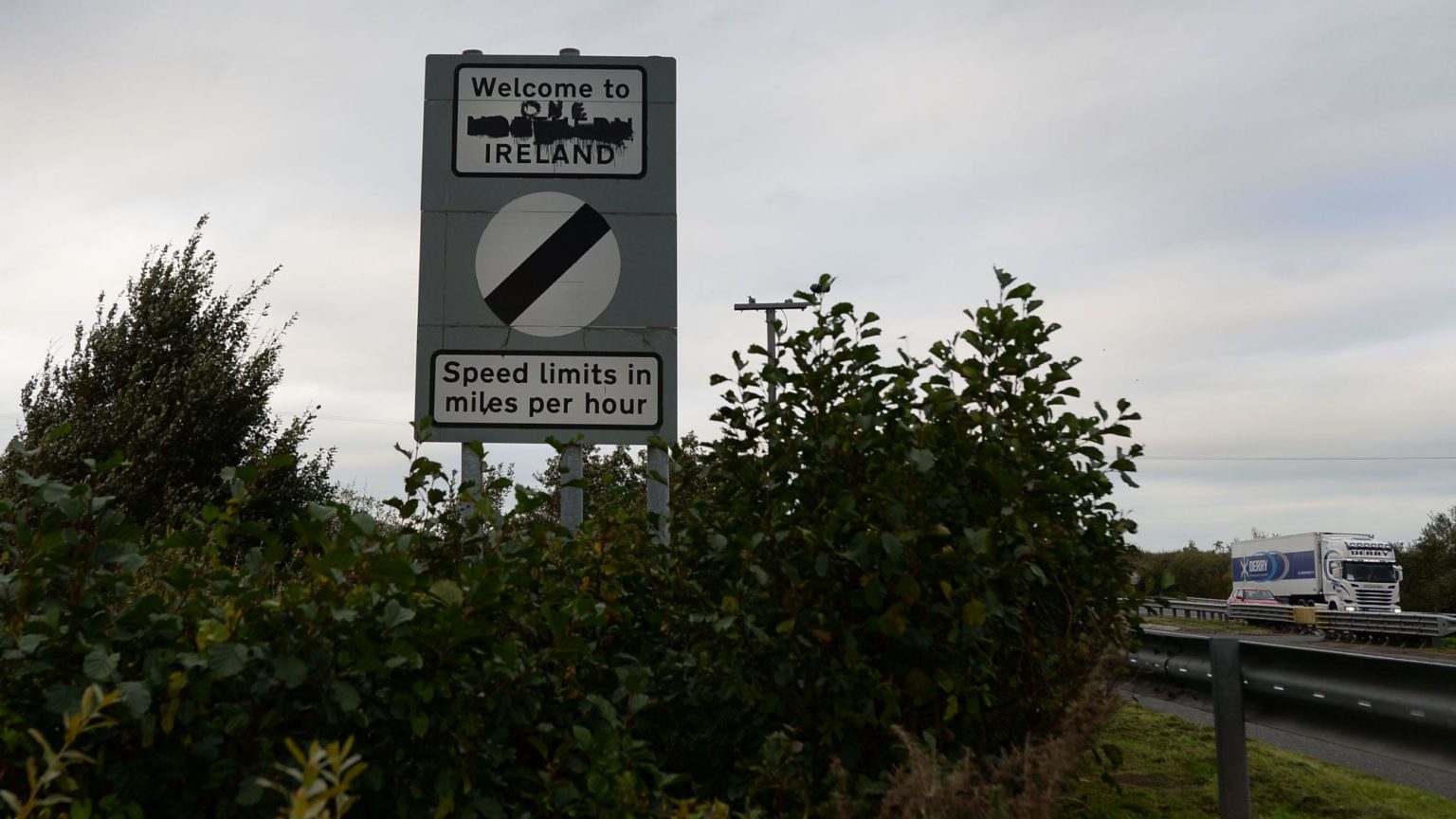 A united Ireland is back on the agenda
Thanks to Brexit, even Partition itself is now being called into question.
Let's deal with the first big development. Little over a week ago, Sinn Fein leader Mary Lou McDonald made the surprising announcement that her party would not contest three of Northern Ireland's 18 Westminster constituencies, so as to maximise the chances of Remain supporters defeating Brexit-supporting candidates for the Democratic Unionist Party (DUP). McDonald urged support for Alliance Party leader Naomi Long in East Belfast, Social Democratic and Labour Party (SDLP) candidate Carmel Hanna in South Belfast, and, most surprisingly, Sylvia Hermon, the Remain-supporting Independent Unionist candidate for North Down.
For the first time since Partition and the creation of the Irish Free State in 1921-22, Sinn Fein, the anti-partitionist and united-Ireland party is supporting, in Hermon, a partitionist, British-unionist candidate. 'You can call it a pact; you can call it what you wish', McDonald said. 'The reality is that we are asking people to come out and vote for the pro-Remain candidates.' When pressed by the media, she added: 'I have no problem urging Sinn Fein supporters to vote for Westminster's only pro-Remain Unionist.'
Fast forward 48 hours, and in a further dramatic development, Hermon announced she was standing down and retiring from politics. This now makes the North Down seat a shoe-in for the DUP candidate Alex Easton. Suddenly, pacts mooted either to Stop Brexit or Get Brexit Done look much more like good, old-fashioned pro-Irish Nationalist or pro-Unionist deals.
For example, the DUP has stood aside in Fermanagh South Tyrone in order to maximise the chances of Ulster Unionist Party (UUP) candidate Tom Elliot defeating the incumbent Sinn Fein MP Michelle Gildernew. This constituency is always fiercely contested – so much so that it traditionally has one of the highest turnouts of the 650 Westminster seats, and is again on a knife edge. Brexit may motivate some of the voters of Fermanagh South Tyrone to turn out in their tens of thousands, but many more will be moved by the age-old constitutional question of whether Fermanagh South Tyrone is British or Irish. This, after all, is the seat won in 1981 by IRA hunger striker Bobby Sands, a victory that prompted Sinn Fein to start contesting elections in Northern Ireland.
In Belfast, the DUP holds three seats to Sinn Fein's one. Yet in South Belfast, with Sinn Fein and the pro-Remain Greens pulling out to support the SDLP candidate, the DUP incumbent Emma Little-Pengelly is likely to lose the seat to the SDLP. As my dad would say, even the dogs in the street know that though this looks like an anti-Brexit pact, it is just as much a nationalist-versus-Unionist battle.
In return for the DUP stepping back to allow the UUP candidate to stand unopposed in Fermanagh South Tyrone, the new UUP leader Steve Aitken (elected only a fortnight ago on a pledge to oppose all DUP seats) has withdrawn the UUP candidate from North Belfast in order to give the DUP's Westminster leader Nigel Dodds a free run. In the past, North Belfast had a significant Unionist majority, but demographic changes mean that the Catholics have caught up, making it an exact 50-50, nationalist-Unionist split. The SDLP has withdrawn from the contest under the guise of maximising the Remain vote. But is that the real reason? Nigel Dodds, the DUP leader in Westminster, is loathed by nationalists who see him as a sectarian bigot. In my view, the SDLP has stood down because its leaders know they would never be forgiven for splitting the nationalist vote and letting Dodds go back to Westminster. For nationalists, the prize of unseating Dodds is well worth a bit of tactical voting.
While the UK media's swingometer may not focus on North Belfast on election night, the people of Ireland will be gripped by this epic battle. The Sinn Fein candidate, John Finucane, is the son of Pat Finucane, a much admired and prominent solicitor brutally murdered by loyalists in 1989. John Finucane is currently the mayor of Belfast and a rising star in Sinn Fein. Meanwhile, even those who hate Nigel Dodds concede he is a formidable operator. If the DUP loses, it will be a major blow to Unionism.
Many in England see the DUP as the dominant party in Northern Ireland. It has been prominent in UK politics since the 2017 General Election, when Theresa May's Tories were forced into an agreement with it in order to secure a working majority in parliament. Sinn Fein, of course, also holds seven seats (to the DUP's 10), but is traditionally 'abstentionist', meaning its MPs refuse to take their seats on the grounds that they would be required to sign an oath of allegiance to the queen. The DUP's goal is to emerge from this election bigger and stronger, holding its 10 seats, and perhaps even picking up an 11th. Its fear is that it could lose South Belfast and North Belfast and be pushed in East Belfast by Alliance leader Naomi Long.
In keeping with the rest of the UK, Northern Ireland looks set for the most unpredictable vote in its 98-year history, with competitive races in 10 of the 18 constituencies.
In recent years, support for Sinn Fein and the DUP has begun to decline, with the Alliance Party and Greens making gains in council and European elections. The DUP has been outmanoeuvred by Tory prime minister Boris Johnson, which has left it open to ridicule in the election campaign as the party unable to stop the imposition of a border down the Irish Sea.
At the same time, McDonald is under serious pressure as Sinn Fein haemorrhages support in the southern counties. The economic recovery there has been a disaster for Sinn Fein, as its appeal to the young middle classes fades fast, and its 'radical' mantle is stolen by the Greens. Michelle O'Neill, Sinn Fein's leader in the Northern Ireland Assembly, has none of the fiery appeal or rebellious past of Gerry Adams or Martin McGuinness. She comes over as a pedestrian career politician. Also, Sinn Fein's attempt to appear woke, and champion every socially liberal cause, looks like a slightly desperate attempt to break away from its past. Its move to adopt a strong pro-choice stance means it could even lose its Derry seat to the new Republican and pro-life party, Aontu (meaning, Unity).
Sinn Fein's abstentionist stance now also looks anachronistic. When it was an Irish republican party, which supported the armed struggle to force Britain out of Ireland, abstentionism made perfect sense. But it is hard now to justify refusing to take its seats on the grounds that it rejects parliament's right to make laws for Northern Ireland when it is looking to its friends in the Labour Party and Liberal Democrats to propose the laws it wants on abortion and gay marriage. Similarly, Sinn Fein's strong backing for Remain candidates raises the question as to why it does not just take its seats, and join the pro-Remain coalition in Westminster. Surely it is only a matter of time before abstentionism, this last vestige of traditional republicanism, is quietly ditched.
Mick Fealty, editor of the Slugger O'Toole website, notes how 'tired, siege-weary and devoid of practical ideas' Northern Ireland's political class now appears. Yet it feels as if Brexit and the reawakened constitutional question have stirred things up in a way that could potentially offer the opportunity for new leadership and fresh ideas. Working-class loyalists, especially in Belfast, are mobilising in large numbers independent of the DUP in order to 'save the Union'. Their leaders are explicit that if the choice is a border down the Irish Sea, as suggested by Johnson's deal, then they would rather stay in the EU. This is a view also being expressed by growing numbers of DUP rank-and-file members.
Meanwhile Brexit has reignited the debate about the possibility of a united Ireland. Recently, a letter calling for the establishment of a citizens' assembly to prepare the ground for Irish unification was signed by representatives of the civic nationalist group, Ireland's Future, and sent to Taoiseach Leo Varadkar. It was signed by over 1,000 figures from the arts, academia, labour, law, sport, business and community groups; it galvanised huge numbers of people. Many are now talking in terms of 'when', not 'if', a united Ireland will happen.
Paradoxically, there is a surge in support for a united Ireland at the same time as support for Sinn Fein appears to have flatlined or dipped. Moreover, Sinn Fein is not the prime mover in the growing civil-society campaign for a united Ireland. The irony is Sinn Fein, despite appearing jaded, could yet benefit come election time from this renewed interest in Irish nationalism. It is also possible that a fear of a nationalist resurgence could send the loyalist working class back into the arms of the DUP.
In important ways, then, the election is a referendum on Brexit and on the border. It is therefore one of the most interesting and important elections in Irish history. I personally support Brexit and Irish reunification. Please tell me who on earth I should vote for?
To enquire about republishing spiked's content, a right to reply or to request a correction, please contact the managing editor, Viv Regan.