The neo-fascist re-wokening
Identitarianism was, and still is, a way of pitting groups against one another.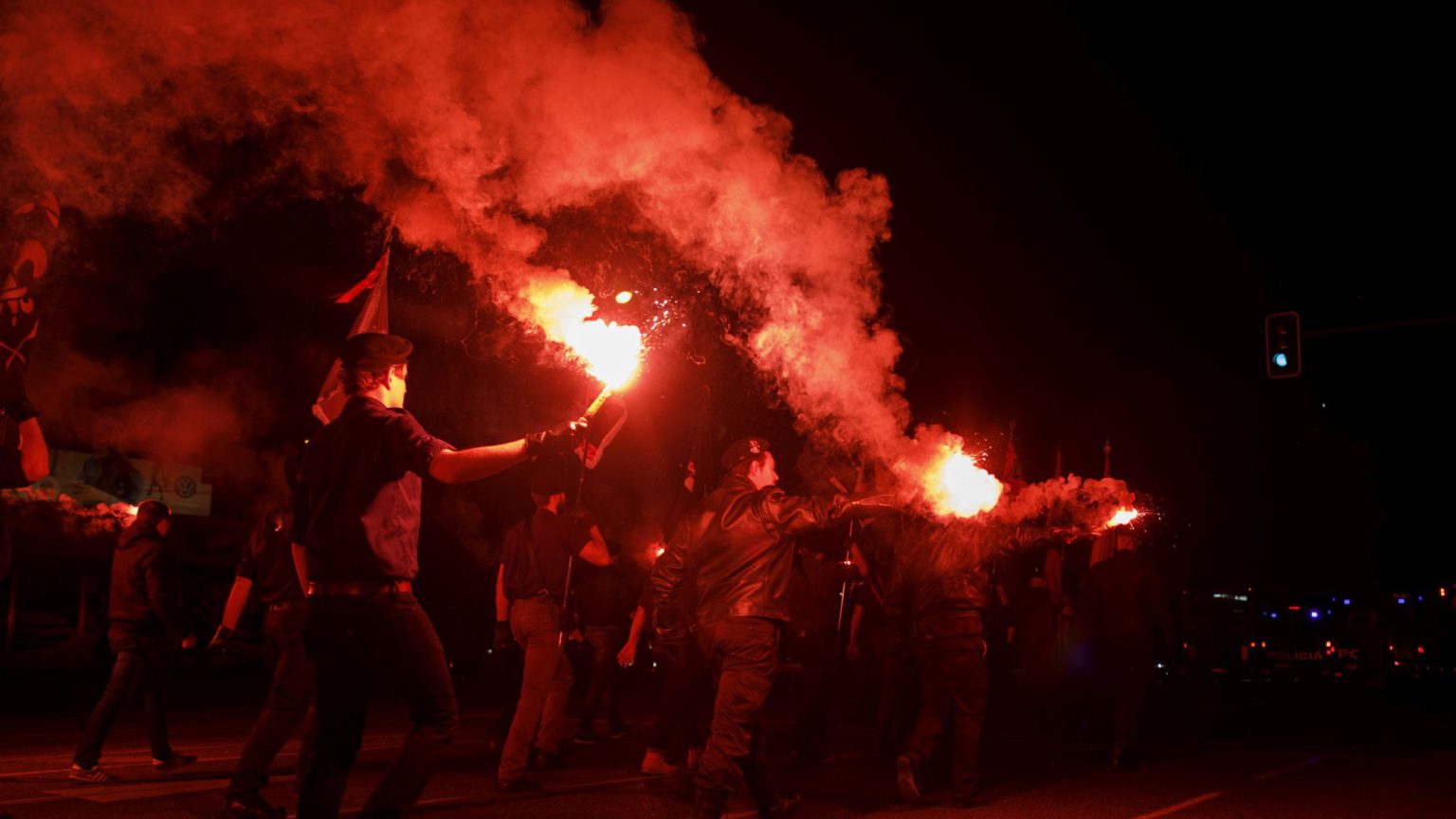 The terms 'identity politics' and 'identitarianism' are now being used interchangeably. They seemingly refer to the views of those who define and rank individuals in terms, usually, of the ethnic, racial or gender groups to which they are said to belong. But there is, in fact, a firmer link between the two terms.
Identitarianism is originally a far-right philosophy, and one that neo-fascist thinkers after 1945 actively sought to promote into the mainstream. It seems that through identity politics they have succeeded.
Taking their cue from Antonio Gramsci, the Italian philosopher and communist who developed the idea of cultural hegemony, postwar rightist thinkers used words as weapons, smuggling their concepts into mainstream culture, where, in time, they might achieve hegemony. 'Cultural hegemony', David Art, a political scientist, points out, is 'a condition for achieving political power' (1).
French journalist and philosopher Alain de Benoist was an influential figure on the postwar right. He played a key role in what became known as the Nouvelle Droite (New Right) movement, developing its ideas through the Groupement de Recherche et d'Études pour la Civilisation Européenne (GRECE) during the 1960s. This, the real New Right, had nothing to do with Thatcherism and Reaganomics. This New Right was new because it was not imperialist. Instead it was identitarian. Its members believed that groups should be segregated according to ethno-cultural background, and each accorded their own separate territory.
New Right thinkers drew on the ideas of Italian thinker Julius Evola, who claimed that 'race' should be defined culturally or spiritually, and not biologically. Evola thought most people were 'history's objects rather than its subjects… scarcely aware of the influences they obey and the goals they contribute to achieving'. In what Evola called this 'occult war', the New Right saw a role for its activists: as historical subjects, consciously promoting and exacerbating the racio-cultural forces and conflicts shaping the lives of 'history's objects', namely, other people (2).
New Right ideas reached the ears of the future British National Party leader Nick Griffin, through National Front-linked magazine, The Scorpion. Griffin was to combine the ideas of Evola and de Benoist with the activist tactics of the Nazi outcast Otto Strasser, mounting what looked like respectable, but ethnically divisive political campaigns in places like Oldham in 2001, while encouraging deniable trouble to break out on the streets. Moreover, BNP New Rightists like Griffin wanted quietly to jettison biological racism and anti-Semitism from its new political brand.
De Benoist imagined European civilisation as inherently superior, but without the Throne-and-Altar politics of the old right. Identity politics shares the New Right's anti-Christian direction, albeit by default. It marks down Christian groups as oppressor groups. So, while identity politics may oppose 'white privilege', it is really just as inegalitarian as the New Right. It merely reverses the supposed hierarchies.
Identity politics also shares the binary, either-for-me-or-against-me thinking of the New Right. But, in woke hands, it can be even more disruptive. That's because, for identity politics, the group championed can change from issue to issue, meaning that group allies on one issue, can become group enemies on another.
Nevertheless, the refrain of 'you are either with me or against me' dominates the identity-politics songbook. These are 'the wartime polarities of friend and foe' (3), not the foundations for democracy. A political opponent stops being a person who holds a different view. He or she becomes a representative of a privileged group, an agent of power in the 'hidden war' between identity groups.
Those promoting identity politics should be appalled. Their approach does the work of the neo-fascist New Right for it. The New Right wanted to foment conflict between distinct cultural groups. And that's precisely what woke identitarians are doing. They are putting group identity ahead of individuals, and pitting group against group, and groups against individuals.
They can't – or rather won't – see what people have in common. For what neither they nor the New Right understand, is that there is always more that binds than divides us.
Andrew Macdonald Powney is a writer.
(1) Inside the Radical Right, by David Art, CUP, 2011, p131
(2) Men Among The Ruins, by Julius Evola, Inner Traditions, 2002, pp71 & 236
(3) The Third Reich, by Michael Burleigh, Pan, 2001, p37
Picture by: Getty.
No paywall. No subscriptions.
spiked is free for all.
Donate today to keep us fighting.
Donate online
To enquire about republishing spiked's content, a right to reply or to request a correction, please contact the managing editor, Viv Regan.