The unfinished business of St Peter's Field
Read Brendan O'Neill's speech from yesterday's pro-Brexit rally in Manchester.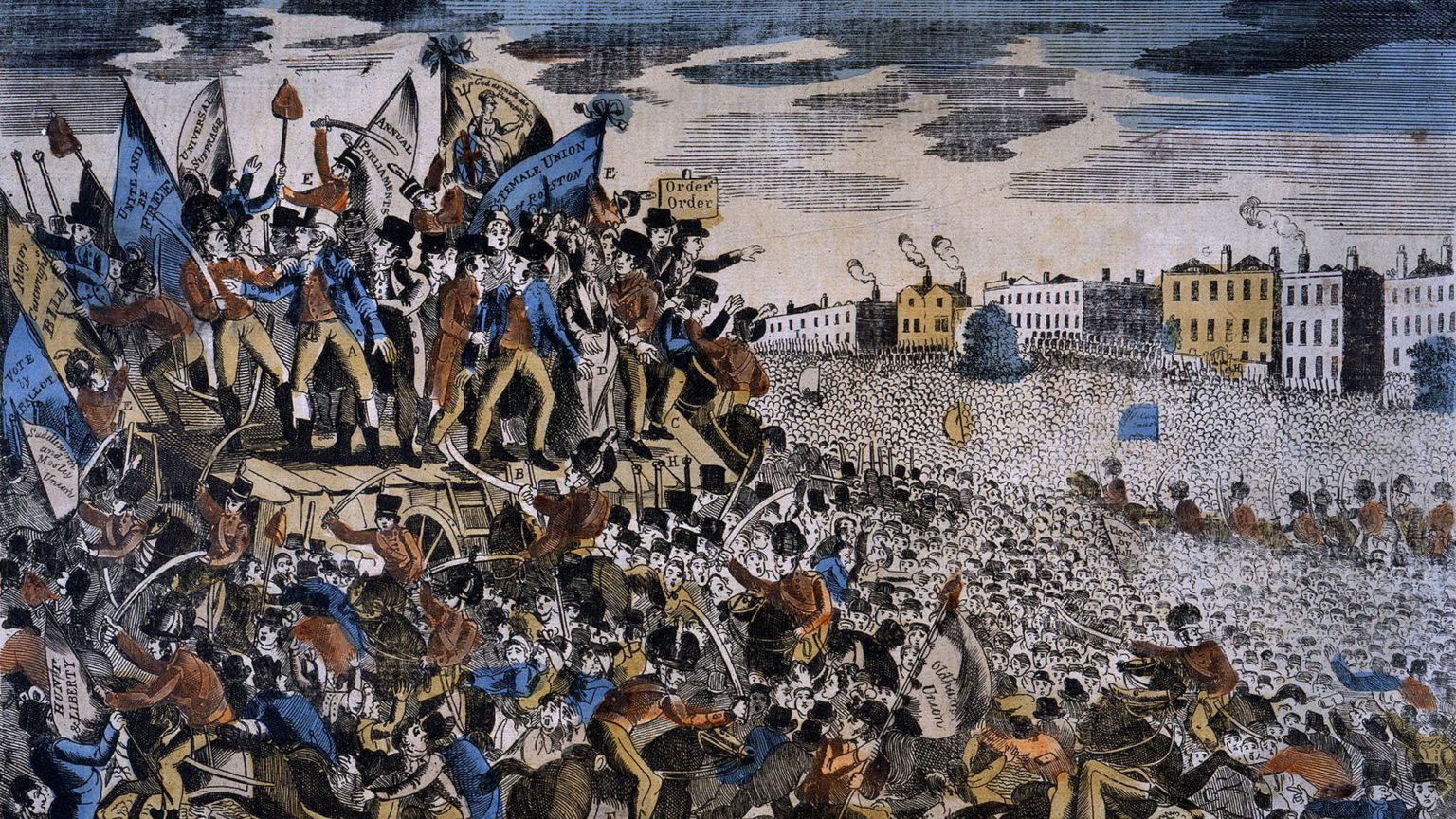 Yesterday, Brendan O'Neill spoke at a pro-Brexit rally organised by Leavers of Manchester close to the spot of the Peterloo Massacre of 1819. His speech is published below.
All my life, I've been labouring under an illusion: I believed I lived in a democratic country.
I believed that as a result of the sacrifices made by the people who marched here 200 years ago, Britain was now a democratic nation.
I believed that thanks to the tireless campaigning of the Chartists in the 1840s, British people had the right to vote.
I believed that thanks to the Suffragettes, every adult in this country, regardless of their sex or their station in life, had an equal say in how the country should be governed.
But now, I'm not so sure.
Because now I am told that the vote I cast in 2016 – the most important vote I have ever cast – can be overturned.
I am told that the votes of my friends and family can be overturned.
I am told that the votes of millions of my fellow citizens can be declared null and void. They can be destroyed; erased from history.
And if that can happen, if that does happen, then this is not a democratic country. And the suffering of the people who rallied in St Peter's Field, on this spot, 200 years ago will have been in vain.
We cannot let that happen under any circumstances.
Let's get real about Brexit. This is no longer a fight to take Britain out of the EU, although that absolutely must happen. This is a fight for democracy itself. This is a fight to preserve the vote.
This is a fight to ensure that ordinary people have as much say in the governance of this country as rich people, posh people, and those bloody people marching in London today to overturn the result of the 2016 referendum.
This is a fight to say that the people who marched here 200 years ago were right. They were right that even people who live in the most difficult of circumstances deserve equal democratic rights.
That's why we are here today – to make sure the democratic progress those brave marchers fought for is not snuffed out by the new elites; by our political class and the 'People's Vote' mob who trust the snobs and technocrats of Brussels more than they trust us, the British people.
We should never underestimate the seriousness of the political moment we are living through. We are living through a huge battle over democracy.
If our votes from 2016 can be trashed, then the right to vote itself becomes meaningless. If the largest democratic vote in the history of this nation is blocked or thwarted or diluted beyond recognition, then voting itself will be emptied of meaning.
The vote will become a hollow thing. It will be robbed of its power. If our votes are enacted only if the political class and chattering classes agree with what we say, that isn't the right to vote at all. That is the right to vote so long as the establishment thinks you made the right decision.
That would kill the right to vote stone cold dead. It would disenfranchise us. These are the stakes.
The political and media elites who are lined up against Brexit and against us – what they really fear and loathe is democracy itself. It isn't really the wisdom of leaving the EU that they are calling into question – it is the wisdom of the people.
What Gina Miller really detests is the idea that her cleaner should have the same political power as she does.
What those Remain snobs at the Guardian really hate is the idea that people who read the Sun should have the same voting power as they do.
What the leaders of the 'People's Vote' movement really cannot stand is the idea that the people who live on the council estate at the end of their street should have the same say as them as to whether Britain stays in the EU.
Those people, with their St George's flags hanging off their balconies, and their tabloid newspapers under their arms, and their white vans in their driveways – how is it possible that those people had the same right as nice middle-class people who went to Oxford to decide whether Britain should stay in the EU?
That is the question that keeps these people awake at night. Let us never underestimate the role that class hatred plays in the ultra-Remainer camp and in the broader war on Brexit. Make no mistake – these people would have been with the magistrates who sent out the yeomanry to cut down democratic protesters on this spot 200 years ago.
Democracy was a searingly radical idea 200 years ago when the good people of Manchester gathered here to demand their democratic rights. And it remains a searingly radical idea today. That is why this idea is causing the elites to go into such meltdown right now. They can't believe people actually took this idea seriously; they can't believe we really thought that working people should have the same voting power as wealthy people.
Well, we do! We take this idea very seriously indeed. Some of us think it is the most important idea in the entire history of politics. And that's why we are here today to defend it.
We owe so much to the people who marched here 200 years ago. We owe so much to the 60,000 men, women and children who gathered here and said: 'Give us a voice.'
Their bravery ignited the spirit of democracy; it gave rise to movements which won us the rights and comforts we enjoy today.
We cannot let those people down. Two hundred years ago, people's democratic rights were cut down by swords and sabres – today our democratic rights are cut down by technocratic deal-making, middle-class arrogance, and parliamentary betrayal.
No more. Brexit is the people's cry for greater democratic power. If democracy in this country is to survive, then Brexit must happen. And mark our words – it will.
Brendan O'Neill is editor of spiked and host of the spiked podcast, The Brendan O'Neill Show. Subscribe to the podcast here. And find Brendan on Instagram: @burntoakboy
To enquire about republishing spiked's content, a right to reply or to request a correction, please contact the managing editor, Viv Regan.