Veganism won't save the planet
This is a cult of self-righteousness, not a sensible eco-diet.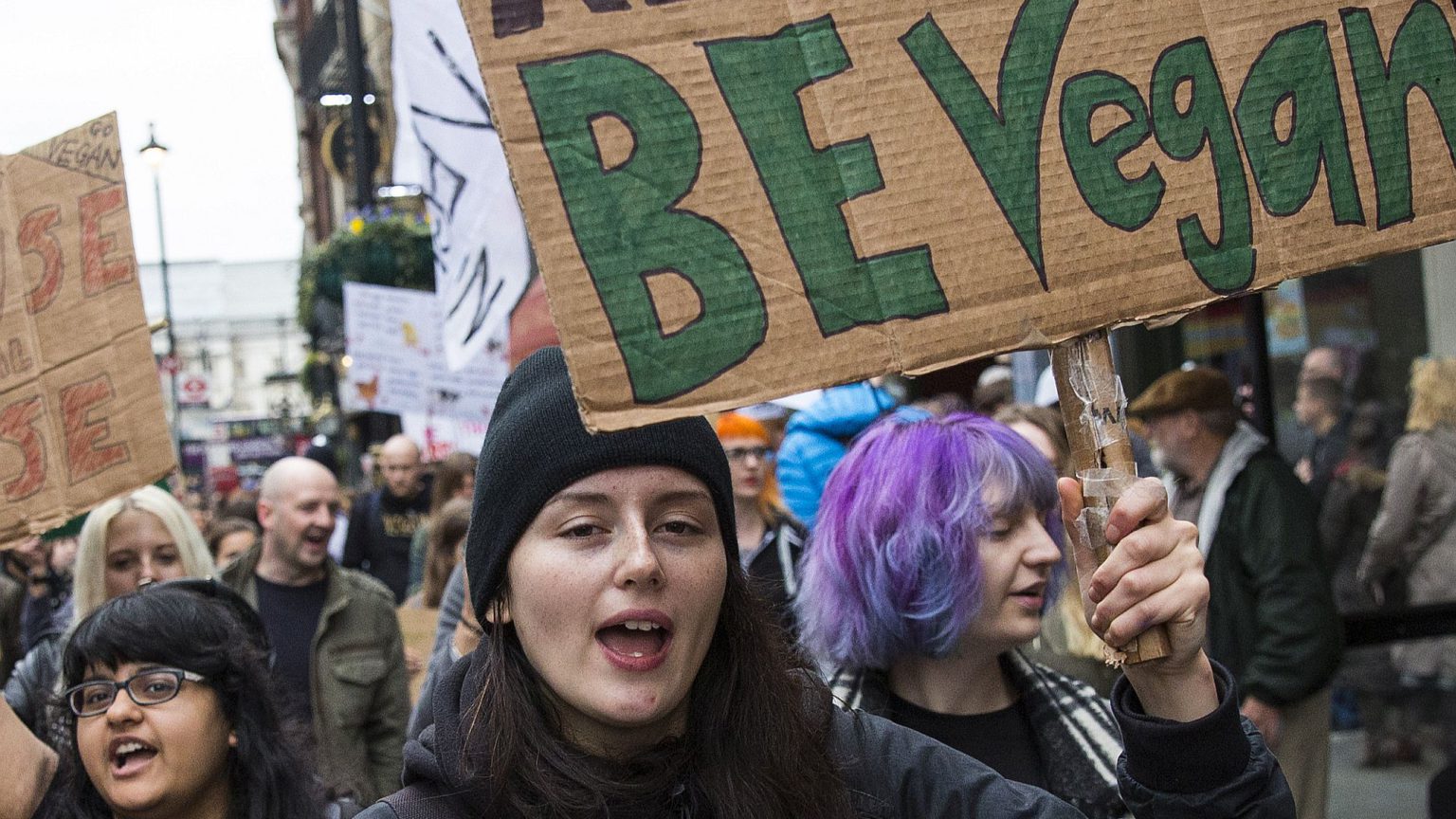 Three trends this year have proven that the new religion of Gaia has arrived in earnest: environmental catastrophism, the cult of veganism, and the acceptance of outright hypocrisy.
The first is seen in the emergence of Extinction Rebellion / Cult of Greta, with its heady combination of juvenile sanctimony and rampant exaggeration. The growth of the cult of veganism can be seen in thousands switching to the diet and 'free-from' foods; Quorn expanding into the vegan market; the current television advert for Tesco; and in Lewis Hamilton, a hugely rich, one-man gas-guzzler, insisting that veganism is the only way to save the planet.
The third manifestation can be seen in Madonna, Emma Thompson and Harry, Duke of Sussex, all lecturing us on the need to cut our carbon footprint, while stamping it heavily with their penchant for flying a lot. It also takes us neatly back to Lewis Hamilton.
Veganism is routinely championed as the principal remedy to climate change. After all, it is something we can all do on a personal level. Except that, as remedies go, it is snake oil. Sure, livestock disproportionately take up valuable farmland, eat food we could be eating ourselves, and emit much methane that exacerbates the greenhouse effect.
But many popular vegan foods eaten by Westerners often have a huge carbon footprint. Unlike milk, cheese and eggs, staples for the more sensible and sustainable vegetarian diet, which can basically be sourced anywhere where humans live, voguish vegan food – and let's keep in mind that veganism is mostly a voguish, middle-class diet – is rarely local food.
People in Britain who adopt a vegan diet should be eating potatoes, bread, legumes and domestic vegetables. Yet instead, it is often the case that they opt for foreign foods, such as pomegranates and mangos, which are flown in from India; and also lentils from Canada, beans from Brazil, blueberries from the US, and goji berries from China. The demand for even more fashionable foods, such as avocados and quinoa, which come from South America, has pushed up prices to such a degree that people in their country of origin can no longer afford to eat them.
Instead of flaunting your virtuous credentials, or indulging in medieval public displays of self-flagellation and piety, there are other, more practical means of reducing one's carbon footprint — ones that don't involve drastically changing our lifestyles and keeping the world's poor trapped in poverty. These involve furthering electric-car technology, which has in this decade at last increasingly become a viable alternative to petrol and diesel; burying carbon underground; advancing laboratory-produced meat, which will free up millions of hectares of farmland for the growth of crops; refraining from using the internet when you don't need to (the internet is responsible for roughly one billion tonnes of greenhouse gases a year, or around two per cent of world emissions); wearing more clothes instead of turning up the heating; and even drinking Carlsberg beer that now comes in paper bottles.
None of this will please the purists, however, who are fundamentally waging a war against modernity, and who seek to banish anything that 'doesn't really address the problem'. Rather, veganism will remain popular because it is a handy means for whining, complaining and shrieking. It is passive-aggressive showing-off.
---
Catalonia, the EU is not your friend
Whatever your opinion on the Catalan independence movement, few of us who have seen the scenes from Barcelona this week will have failed to be appalled by the behaviour of the Spanish police in their crackdown on Catalan independence campaigners. It is like 2017 all over again, when police from Madrid weighed in to disrupt the unofficial Catalan referendum, cracking many skulls.
Just as in 2017, the European Union is conspicuous by its absence of action or denunciation in the face of such brutality within its borders. It has been silent for the same reason that it hasn't denounced the violent actions of the French police against the yellow-vest campaigners. The EU supports the integrity of the French and Spanish states at all costs, because it feels threatened by any movements that might destabilise the integrity of the EU itself.
The Catalan independence movement, for so long fervently and naively pro-EU, believing that it would deliver it from Madrid rule, learned a harsh lesson in 2017. The Catalans are being reminded of it again now (we Brits received a similar lesson in 2016): if you want to change the system, the EU is not your friend.
---
Lahore Times, 20 October 2019
Imran Khan widely praised by the British public for 'dressing in traditional English clothes' on his visit to the UK
On his state visit to Britain yesterday, President Imran Khan was widely lauded by the British public for 'dressing in traditional English clothes'. As he stepped off the airplane at Heathrow Airport and on to the tarmac, Khan was greeted with raucous adulation by the Brits there assembled, on account of wearing a pin-striped suit and bowler hat, carrying an umbrella and a copy of The Times. His traditionally British 'funny walk', which came to the world's attention on account of Monty Python's Flying Circus, was also received with tears of joy. 'He's just like a true Brit today', said Bert Orwell, 46, from Billericay. 'Ow lawd gawd, bless 'im!'
President's Khan next port of call will be the famous East End of London, where he intends to tour the area dressed as a veritable 'Cockney Sparrow', wearing a 'pearly king' outfit while playing the spoons. His next visit will be to Newcastle, where he plans to forgo any clothes at all above his waist. Then on to Glasgow, where, on the sartorial advice of funnyman Frankie Boyle, formerly of the television show Mock The Week, he will compose himself as an incomprehensible, wife-beating, racist alcoholic wearing a string vest and braces.
Not everyone has been entirely happy with President Khan's decision to 'dress up like an Englishman'. Veteran left-wing campaigner and journalist Mungo Krankenhaus called it 'blatant, patronising and demeaning cultural appropriation'. Mr Krankenhaus continued: 'How would Pakistanis like it if a British state dignitary came over to their country and dressed up in their so-called "traditional clothes"?'
Addressing Mr Krankenhaus's concerns, a Pakistani government spokesman told the campaigner to 'just shut up, you stupid, white, lefty bastard'.
Patrick West is a spiked columnist. His latest book, Get Over Yourself: Nietzsche For Our Times, is published by Societas.
To enquire about republishing spiked's content, a right to reply or to request a correction, please contact the managing editor, Viv Regan.