The brutal reality of Fortress Europe
The EU is outsourcing its external border control to murderous human traffickers.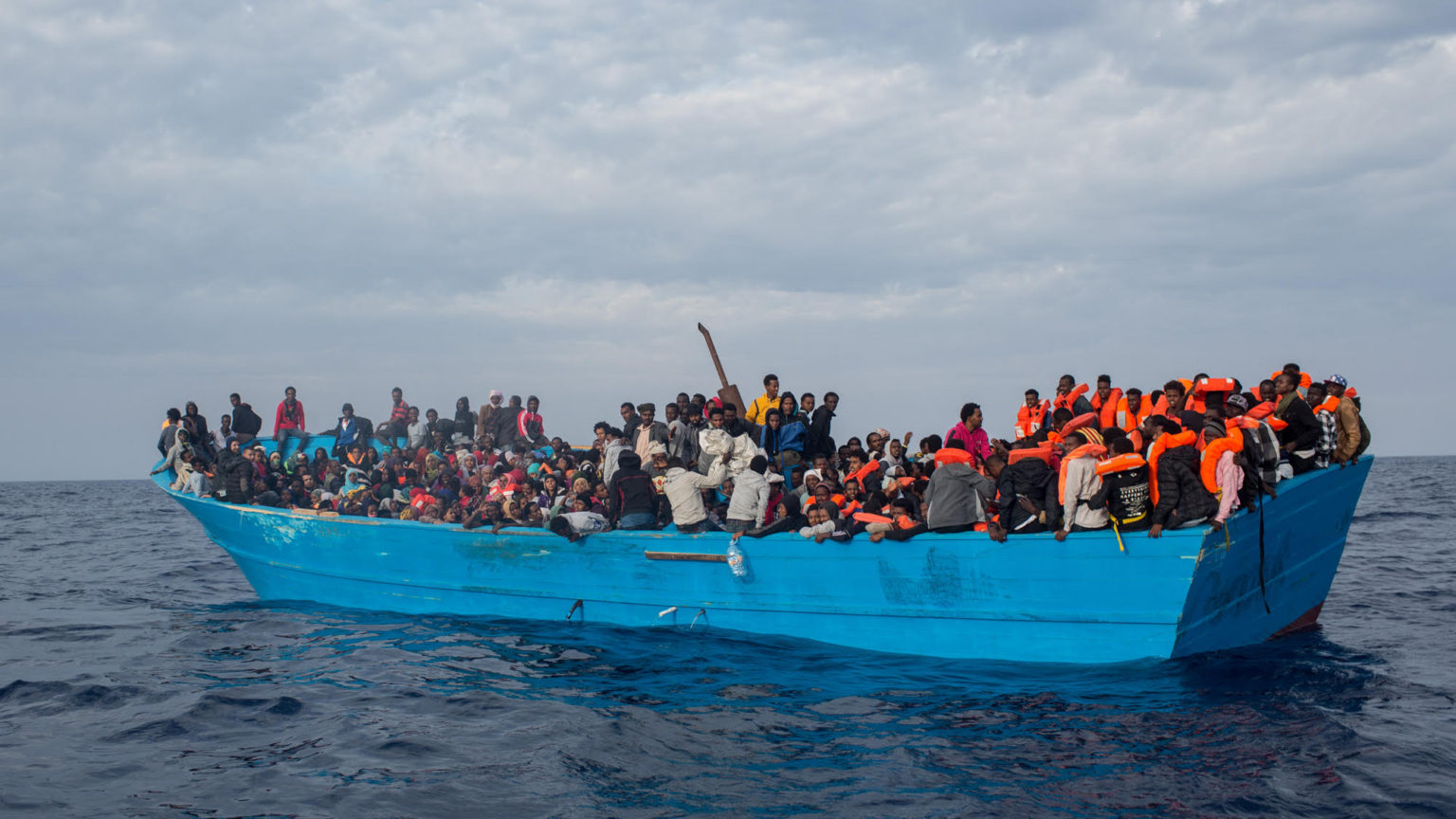 On 11 May 2017, Abd al-Rahman Milad, known as 'Bija', took part in a meeting organised by the UN's International Organisation for Migration, held at Cara di Mineo, in Catania, one of the biggest migrant reception centres in Europe. Bija, there as part of a delegation from the Libyan coastguard, was meeting with Italian officials to discuss how to manage migration flows between the two nations.
But Bija was not just coastguard chief from the city of Zawiyah. He was also a 'bloodthirsty' thug, as a UN security report put it, working with a local militia leader, gang boss and human trafficker called Mohammad Koshlaf, who, as it happens, also runs a migrant-detention centre in Libya. Bija himself is thought to be responsible for shooting and drowning dozens of people desperately trying to reach Europe.
Yet the news that an EU member state has been working with militias and human traffickers to keep migrants out of the EU should not be a surprise. It is merely further confirmation of the reality of the EU — that it is a protectionist economic bloc determined to keep out non-European people, especially those from Africa.
In 2004, for instance, the European Union cut a deal with Libyan dictator Colonel Gaddafi, and lifted all economic sanctions in return for Libya staunching migration flows. In 2008, Italy promised to invest a further $5 billion over 20 years, partially as historical reparations, as long as Gaddafi kept Libya's 1,100-mile Mediterranean border with Europe well policed.
Few in the EU, let alone its one-eyed champions in the UK, raised their eyebrows at any of this. A case of out of sight, out of mind. Which is partly the point of the EU's policy of externalisation. In subcontracting dirty work to dirty regimes, it passes the buck to others beyond Europe's sightlines.
And it worked. The EU could continue to promote itself as a bastion of openness and tolerance, playing up to its advocates' righteous self-image, while its reality as a principle-less, protectionist capitalist bloc, committed to keeping the 'wrong' people out, was preserved externally by dictators and despots. Gaddafi knew his worth when, in 2010, he demanded five billion Euros a year in return for erecting a barrier between the EU and Africa. 'Europe runs the risk of turning black from illegal immigration', Gaddafi said. 'It could turn into Africa.' An EU spokesperson responded enthusiastically: 'There is great scope to develop cooperation with Libya on migration.'
The end to the EU's cosy little arrangement with Gaddafi arrived in 2011. The Arab Spring, followed by the West's grandstanding interventions in Libya and Syria, unravelled the aged strong-armed order of the Middle East and north Africa. Millions of people were displaced, and states fractured and, in the case of Libya, collapsed. It left many more people in conflict-ridden countries looking for a way to Europe at a time when the gateway through Libya, and across the Mediterranean, had rarely been more open.
We now know of course that at the peak of what followed – the so-called migrant crisis in 2015 – over one million migrants entered the EU by sea, and nearly 4,000 died trying. And we remember the virtuous poses struck by EU politicians, as they urged poorer member states to open their arms and borders. But what tends to be forgotten is that the EU's policy never really changed. It was still determined to outsource border control to authorities beyond its borders.
The $3.3 billion bilateral deal the EU struck with Turkey in 2016, which means Turkey holds migrants in huge camps away from the EU, is merely the most notable. The EU was also busy funnelling money and support, with the aid of the UNHCR and the IOM, to the militias, crime gangs and political factions that had filled the hole where the Libyan state used to be. Of course, the $377million the EU has spent since 2014 is theoretically said to be going to help the Libyan coastguard and improve facilities for migrants. But in practice, the cash ultimately goes to those performing the role of the state in Libya right now: the human traffickers, like Bija, regulating the coastal border, and the militias manning the large, brutalising prisons-cum-detention centres. As one aid worker reports, '[The UN and UNHCR] work together with the EU to ensure that the migration problem is not coming to Europe. This is the aim of the EU and some of the European states.'
Bija's involvement in discussions about migration to the EU is therefore perfectly in line with the EU's long-standing approach to its southern borders. Just as it used a military dictator like Gaddafi to stymie migration flows in the 2000s, so it now uses the militias and gangs that have replaced Gaddafi to stymie migration flows today. It knows what it is doing. It knows what happens to those people stuck in migrant-detention centres. The outgoing EU high representative for foreign affairs, Federica Mogherini, said as much earlier this year, when, citing 'ghastly conditions' in detention centres, she declared that 'Libya's current system of detaining migrants has to end'. But it won't end for as long as the EU is the EU – a capitalist, protectionist bloc, promoting the movement of cheap labour within, while impeding the movement of desperate people from without.
European Commission president-elect Ursula von der Leyen recently retitled the EU commissioner tasked with migration as the 'vice president for protecting our European way of life'. The reality of 'protecting our European way of life' can be found patrolling the Libyan coastline and running detention centres in northern Libya. Bija's involvement was not an aberration. It is the EU norm.
Tim Black is a spiked columnist.
Picture by: Getty Images.
No paywall. No subscriptions.
spiked is free for all.
Donate today to keep us fighting.
Donate online
To enquire about republishing spiked's content, a right to reply or to request a correction, please contact the managing editor, Viv Regan.