Anti-abortion posters are not 'harassment'
Stella Creasy is right to defend the right to choose but wrong to demand the removal of 'pro-life' posters.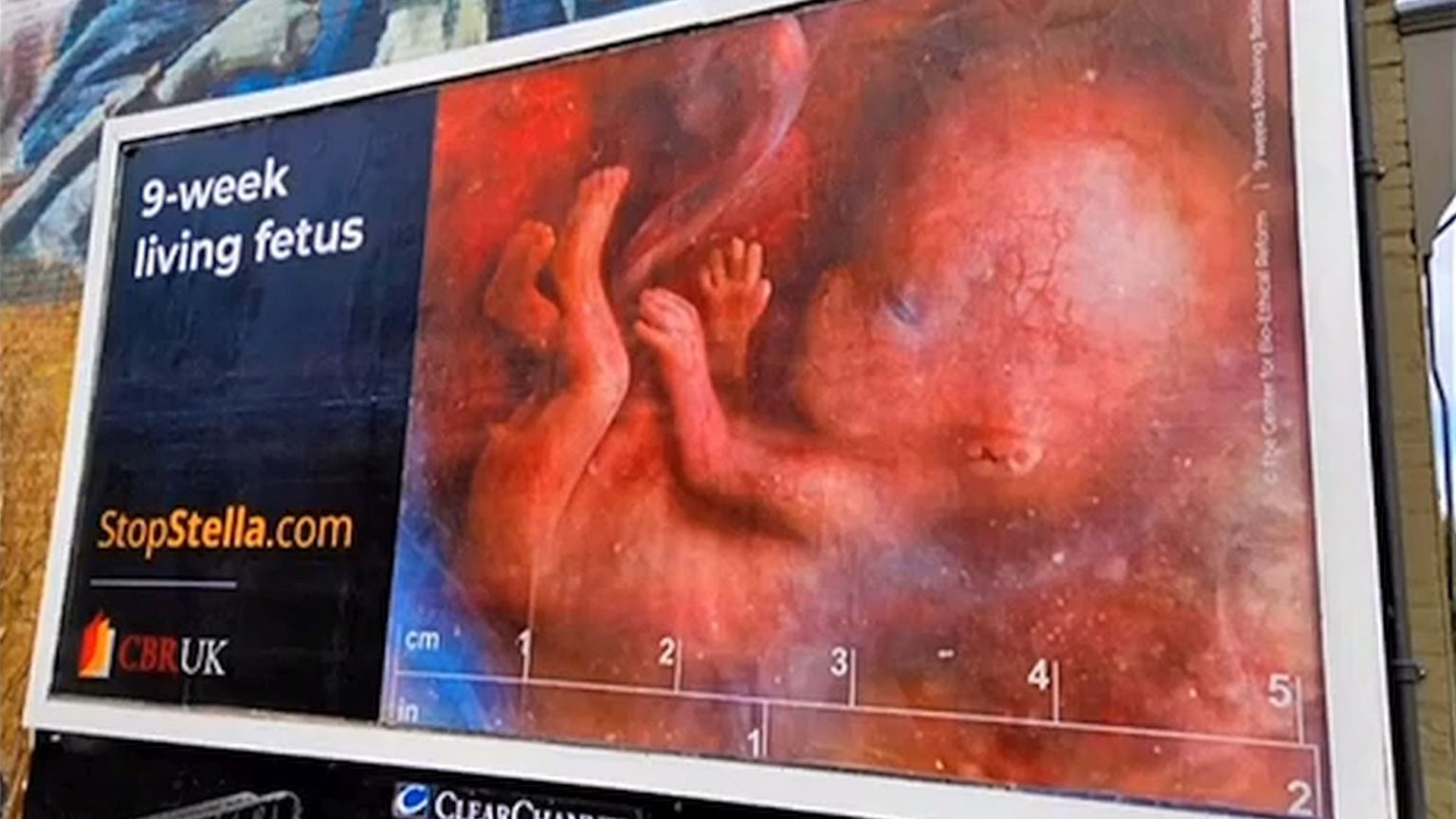 Anti-abortion protests use some of the lowest, nastiest forms of political action out there. From giving out knitted baby boots to women on their way to have an abortion to shouting 'baby murderers' at clinicians, they are rarely pleasant spectacles.
One of the favoured tactics of these anti-choice groups is to display pictures of fetuses – sometimes in the womb, sometimes bloodied on surgical trays – in order to promote their belief that abortion is child murder. This is what happened in Walthamstow, London when a giant billboard was put up displaying a 'nine-week living fetus' in the womb, complete with centimetre measurements. Paid for by the anti-abortion group, CBRUK, the poster also advertised a website – stopstella.com – referring to Walthamstow's Labour MP, Stella Creasy. CBRUK has chosen to focus on Creasy for two reasons: because she is at the forefront of calls to decriminalise abortion by repealing parts of the Offences Against the Person Act, and because she is pregnant.
CBRUK seems to have no scruples whatsoever – its Stop Stella website goes into detail about Creasy's miscarriages and her current pregnancy, calling her a hypocrite for talking about her 'baby' while advocating for abortion rights. Still, Creasy's reaction to the poster has been wrongheaded. She tried to get the Metropolitan Police to remove the poster. When the police refused to get involved, she criticised them for thinking 'this is just free speech'. She then put pressure on the advertising company that owns the billboard – it eventually agreed with her that the poster should be removed.
This is exactly the kind of reaction that anti-abortion protesters are hoping for when they use such shock tactics – and it is a shame that Creasy and other pro-choice activists keep falling into this trap. The poster was a matter of free speech. The advertising board even made clear that CBRUK's campaign did meet its 'requirements' and was not deemed to be in contravention of UK Advertising Codes. The police were right to refuse to intervene to stop a certain viewpoint, however horribly expressed, from being displayed in public. By claiming that the poster was a form of harassment and harmful to women, Creasy has given the anti-choice nutters at CRBUK and other organisations reasonable cause to argue that they are being silenced. Any sensible person knows that driving extreme views underground only serves to harden those views and earn them a certain kind of glamour through censorship.
That CRBUK has targeted Creasy while she is pregnant is particularly odious. But the uncomfortable truth is that she is an MP with a certain political stance on abortion. This means that she, and other politicians, should be fair game for criticism from those who disagree with their position. Like it or loathe it, the anti-choice position is a moral and political one. What if the billboard had a different message – targeting an MP for their position on the bombing of Libya? Or on the migrant crisis? Or on food banks? Should other forms of speech against politicians also be restricted in case a politician feels 'harassed'?
Perhaps the most important reason why Creasy should have tolerated that billboard is because the pro-choice position is meant to be about freedom. It is a demand for women's freedom and autonomy. Any argument in favour of a pro-choice position has to understand the importance of demanding freedom more broadly – particularly freedom of choice and speech. The move to decriminalise abortion in this country will be a radical step – one which I and spiked have long argued for – but it cannot be won by silencing the opposing view. Just take a look at the boom in anti-choice activism in the US, where the main tactic of so-called pro-life organisations is to claim that their messages are being silenced on social media and elsewhere. If we want to win people to the cause of bodily autonomy for women, we have to play fair.
Before the advertising company that owned the billboard could acquiesce and remove the poster, some Walthamstow residents had taken matters into their own hands and painted over the giant picture of a fetus. Pro-choice sentiment in the UK and elsewhere is strong. A majority of us now believe that women are strong enough, capable enough and intelligent enough not to need doctors or politicians to decide when we should have children.
So let's not wreck this progress by suggesting that a shock-tactic poster would dent our resolve to fight for freedom or make us feel harassed. To use the now-hackneyed Michelle Obama phrase, when they go low, we go high. Let the anti-abortion people put up what they like, and let's stick to our principles – especially the principle of freedom.
Ella Whelan is a spiked columnist and the author of What Women Want: Fun, Freedom and an End to Feminism.
To enquire about republishing spiked's content, a right to reply or to request a correction, please contact the managing editor, Viv Regan.