Why democracy must reign supreme
Supreme Court judges have no right to rule on political matters.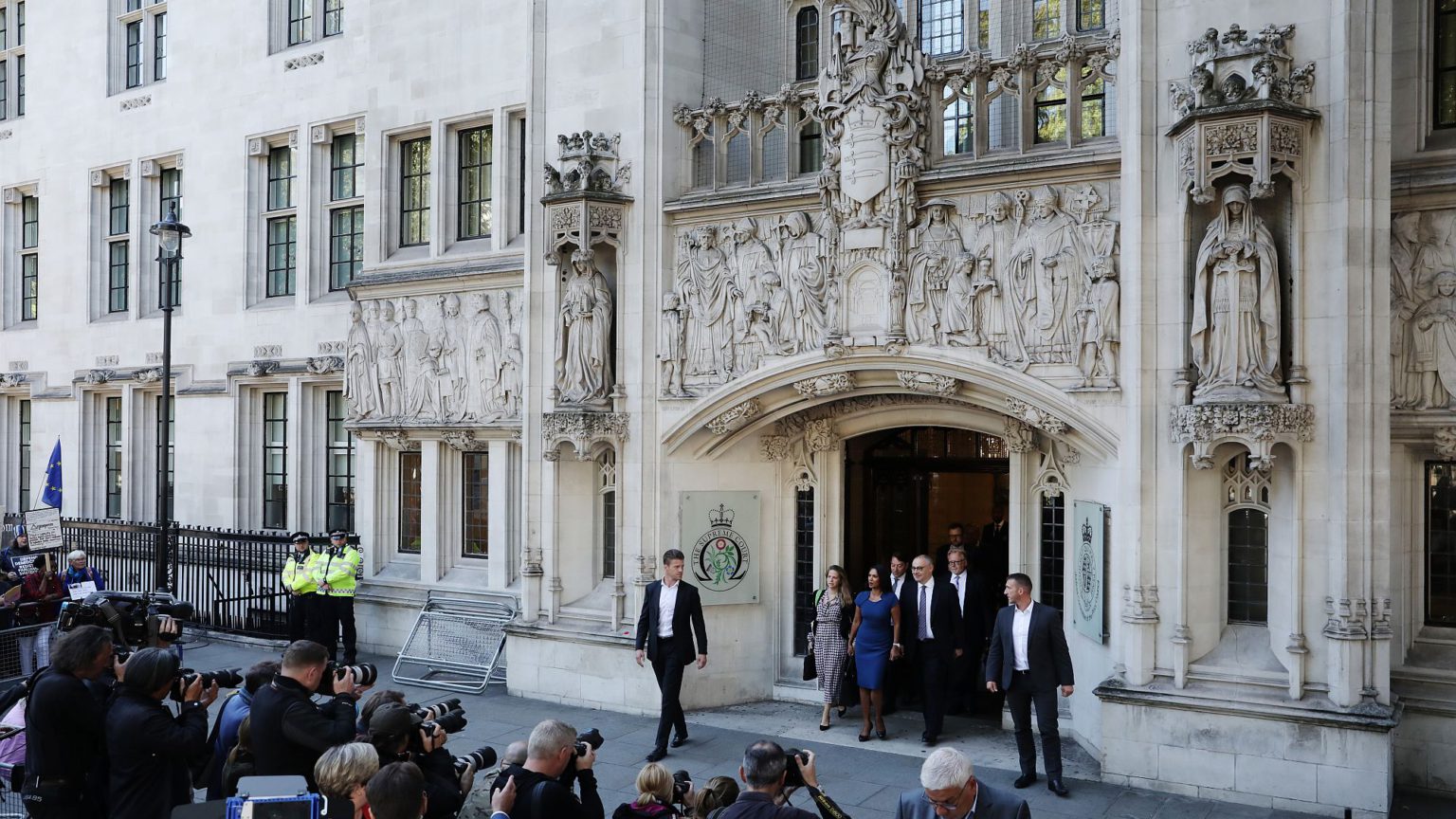 On Tuesday, 11 Supreme Court judges ruled in unequivocal terms that the prime minister's decision to prorogue parliament was unlawful. A political decision taken by the head of the British government was declared void and of no effect by a court. Never before has a political decision of this magnitude been struck down by British judges. The decision is as unprecedented as it is significant, with the leaders of most opposition parties calling on Boris Johnson to stand down. And yet, so far as the government is concerned, this is a court judgement that amounts to little more than a temporary setback. The prime minister has said the decision was 'wrong', but there have been no government claims that judicial power has gone too far and needs to be reined in.
As I have argued previously on spiked, the legal sphere has been expanding for decades as the political sphere has contracted. For the health of British democracy, it is time to kick judges out of politics. If ever there was a legal judgement to exemplify this problem, it was the one delivered on Tuesday. Speaking on Radio 4's The World at One, the constitutional historian, Lord Peter Hennessy, observed how Tuesday was the day when 'the constitution really did shift'. He argued that 'the architecture of the British constitution will never be the same again' because 'the Supreme Court's reach… now penetrates the most intimate relationship in the British state, that between the head of government, the prime minister, and the head of state, Her Majesty the Queen.'
In short, Tuesday's judgment showed that there is now no political issue upon which the judges are not prepared to rule. If an exercise of the prerogative power to prorogue parliament can be set aside by judges, then almost any political decision can be. But while academic commentators can see the judgment's significance, the political class cannot. Even though the judges have set themselves up as the ultimate arbiters of political decision-making, the very people most affected — politicians — have little criticism to utter.
Indeed, in the wake of the judgement much of the political class has gone into overdrive to defend the judiciary. The government's lord chancellor, Robert Buckland, claimed that 'our world-class judiciary always acts free from political motivation or influence'. Others went out of their way to silence any criticism of judicial rulings, no matter how muted. The best that Downing Street could muster was the unattributed view that 'we think the Supreme Court is wrong and has made a serious mistake in extending its reach to these political matters'. Yet, even this went too far for the former Tory lord chancellor, David Gauke, who tweeted: 'This is not on. A clear attempt to undermine respect for the judiciary… Not how a government should behave.'
This non-debate on judicial overreach speaks to a profound problem with today's political class. Over many years politicians have found themselves unable to connect with the public. Politicians lack the credibility, the ideas, and the personalities that can enthuse their electors. And as power has drained from them so it has vested in judges. The law is attempting to fill a void that an exhausted political class has created.
On Tuesday, Lady Hale, the Supreme Court president, delivered a speech that was coherent, captivating and important. When did you last hear a politician deliver a speech with those qualities? Certainly not from the former prime minister Theresa May, a politician best remembered (or forgotten) for her inability to connect with an audience. And while her replacement, Boris Johnson, is more engaging, he has yet to deliver a speech with anything like the content or significance of Baroness Hale's Tuesday peroration. This isn't a left or right thing — when confronted with a TV microphone Jeremy Corbyn, Nicola Sturgeon and Jo Swinson all have a remarkable ability to persuade legions of viewers to hit their remote-control mute buttons.
Judges appear to have ideas and principles that command respect. They talk of rights, equality and justice. Starry-eyed undergraduates want to be campaigning solicitors and human-rights barristers who make bad things stop and good things start. Most politicians, on the other hand, no longer have the language, words and principles to enthuse the voting public. The historic and competing political visions of liberty, the free market, democracy and socialism have become hollow. Politics as a vocation or discipline appeals to an increasingly narrow stratum of policy wonks and wannabe MPs, all with a motivation that is often hard to fathom.
In the legal sphere, things happen. When Lady Hale says the prorogation of parliament is null, void and of no effect, parliament reconvenes, almost immediately. When Theresa May says Britain is leaving the EU, Britain remains in the EU. When Boris Johnson says Britain is leaving the EU on 31 October, almost nobody believes him. Jeremy Corbyn can't even tell us whether he wants to leave the EU. With judges, their word is their deed. With politicians, their word is best forgotten.
It seems unlikely that anybody has written a children's book celebrating the life and career of a leading politician that 'will aim to inspire primary-school children'. This is not so with the UK's top judge, Lady Hale. Judge Brenda: Equal to Everything will be published later this year to tell 'an inspirational story of Lady Hale's achievements', so as to 'introduce children to the legal system, the concept of equal access to justice, the importance of the rule of law and how it affect us all'. This 'beautifully illustrated children's book' will be published 'thanks to the generous donations made by many individuals' who want 'to make sure we are getting our message over'.
The problem with law's esteemed constitutional status is that it is based on a false prospectus. Law is designed to deal with issues that are politically uncontentious. Law needs consensus and it needs politicians to argue their way to finding that consensus. Where consensus exists law can provide a framework for dispute-resolution. But in the absence of a consensus, law cannot create one, and if it tries to then disputes merely assume a legal form. Law's proper reach extends to technical disputes over income tax, contracts, probate law and other issues that are of concern to the litigants, but not the wider public.
When law deals with controversial issues, law's hallmark of being dispassionate and even-handed is lost – despite the protests of present and former lord chancellors. No matter how many times Lady Hale claims that Tuesday's judgement was not about Brexit, the public may conclude otherwise. It is clear that the case was brought by those seeking to stop Brexit and the judgment was cheered by Brexit-loathing activists. But for each Remainer who cheered, there was another Leaver who doubted the objectivity of law. When law rules on a political controversy, the law becomes politically controversial. In his recent Reith lectures, the former Supreme Court judge, Lord Jonathan Sumption, noted how 'law is now the continuation of politics by other means'.
Political issues need political solutions; they cannot be addressed with legal tools that are designed to interpret statutes or fill interstitial gaps in well-established legal frameworks. When legal rules designed for regular circumstances are bent to address irregular circumstances the rule of law becomes the rule of lawyers. The principles and coherence that are supposed to be law's hallmark morph into the pragmatism and discretionary judgment that law abhors.
Tuesday's Supreme Court judgement began by noting that the nature of the task facing it has never arisen before. But this was not true. Campaigners often seek to take their political arguments into court, but, because they are political, the courts normally shut the door, as the High Court did, in this case only two weeks earlier. It slammed the door on Gina Miller, Baroness Chakrabarti and Sir John Major, for the principled reason that their claims 'were inherently political in nature'.
The Supreme Court, on the other hand, bent the rules, or, as Lord Sumption put it, the court made a 'revolutionary' decision that 'makes the courts the ultimate arbiters' of a political matter. And having abandoned the principle of declaring political questions to be non-justiciable, the court will in future be expected to adjudicate on these political claims. And it will have to do so without any consistent standard, for as the High Court observed, political judgements are 'not something the court can judge by any measurable standard'.
Law's apparent ability to turn word into deed is also illusory when it comes to politics. It is easy to say 'no' in order to stop something, which is all that the court did on Tuesday: No, Parliament has not been prorogued. It is much harder to say 'yes', in order to start something. Only a diehard Remainer can seriously believe that the reconvening of parliament has brought a Brexit solution any nearer. When it rules on legal issues, the law can solve. But when it enters the political fray, the law can at best frustrate, it cannot resolve.
As for Lady Hale's 'beautifully illustrated children's book', it's pleasing to know that the Supreme Court president is 'thrilled at the idea of making it into a picture book to entertain and inspire young people'. But the likelihood is that the book will go down better with woke teachers and parents than children. In a few weeks' time, Lady Hale will have been forgotten by the millions who watched her recent courtroom address. Judges are not memorable. They are supposed to be dispassionate dispensers of justice, anonymised under wigs and gown. Litigants need to know of their judgements and orders. But the wider public does not need to know their names, faces or stories.
Tuesday's Supreme Court judgement highlights the extent of law's inappropriate reach. It ought to trigger a proper debate about the problem of judicial expansion. On Tuesday, as Lord Hennessey pointed out, 'the constitution really did shift'. But do we want a constitution where 11 judges can reign supreme on political issues? Or do we want a constitution where political decisions are taken by politicians in the political sphere? Politicians need to rediscover their vision and values. They could start by reasserting the primacy of politics and the right of politicians, who draw their power from the people, to be in charge. It would do politicians no harm to make the case for judges, who draw their limited power from the rule book, to be reminded that in a democracy they have no right to rule on politics.
To enquire about republishing spiked's content, a right to reply or to request a correction, please contact the managing editor, Viv Regan.