Why climate-change teachers are a bad idea
The UN's climate-change agenda has no place in the classroom.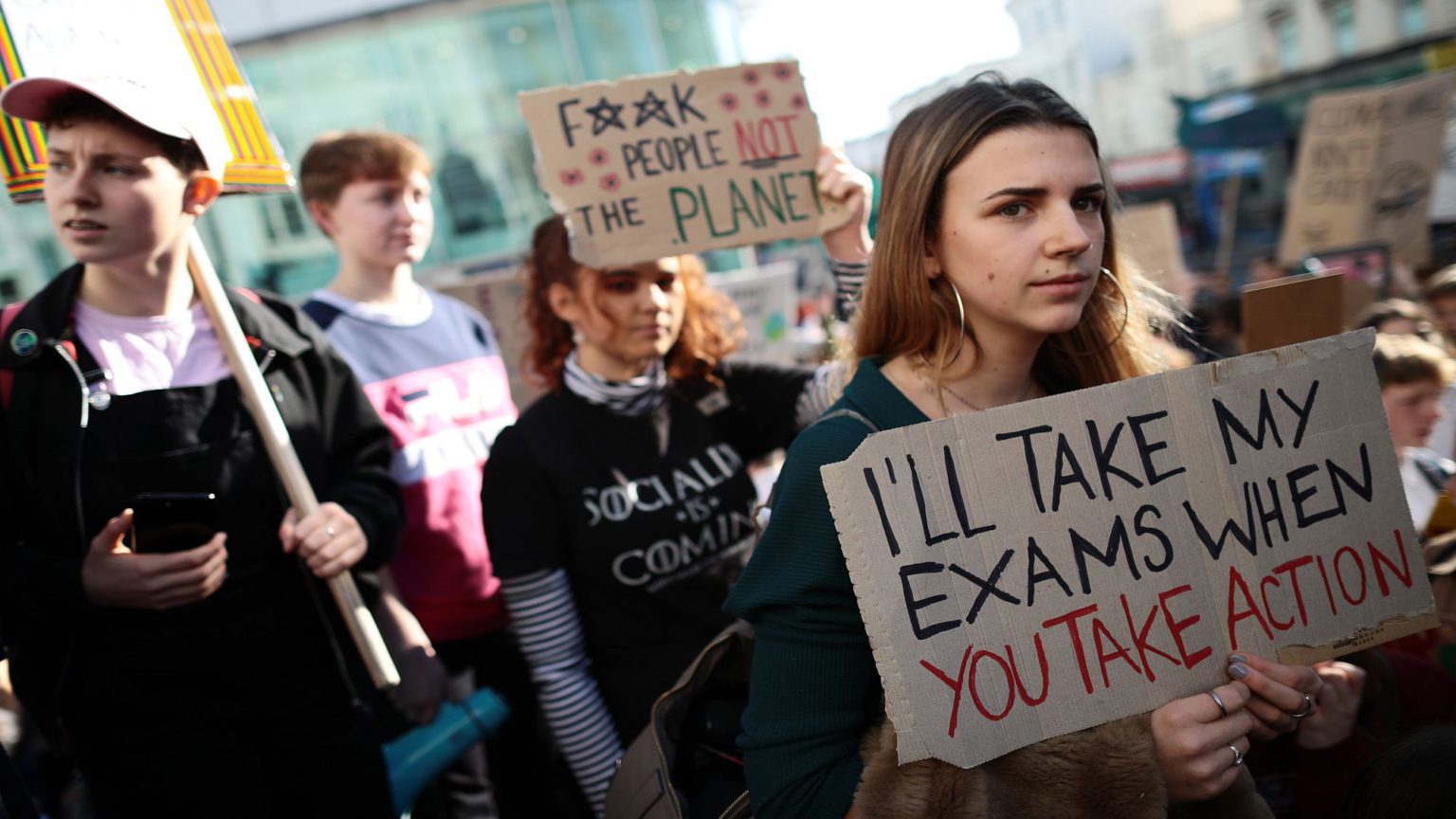 As schoolchildren were readying themselves for the big global climate strike last week, it emerged that hundreds of teachers in the UK were taking a UN-accredited online course on climate change, run by a group called eduCCate Global. After graduating from what is being called the 'UN Climate Change Learn Teacher Academy', these teachers will become 'UN Climate Change Learn accredited'.
So what does it take to be a UN-endorsed climate-change teacher? Having signed up to the course, I discovered that it involves taking seven modules, entitled: 'Introduction to climate change'; 'Children and climate change'; 'Gender and environment'; 'Cities and climate change'; 'Human health'; 'International legal regime'; and 'Sustainable food tech'.
The aspiring climate-change teacher must then study and pass a test on all of the modules, except the 'introduction…', which is odd because it is the only module that offers the scientific background to global warming, explaining the sources and effects of greenhouse gases (GHG), and showing historical data on global warming since the 1850s, including its effects on oceans, precipitation patterns and ecosystems.
The 'introduction…' then goes on to reiterate the alarmist predictions generated by the UN Intergovernmental Panel on Climate Change (IPCC). So teachers are told, for example, that in Asia 'more than a billion people could have water shortages by 2050', or that in Africa 'agricultural production, including access to food, is projected to be severely compromised'.
It is true that global warming has already changed seasonal temperatures, precipitation patterns and ecosystems, and will continue to present significant challenges for developing countries. But the IPCC's conclusions, which are based on current levels of wealth and development, are misleading because they fail to factor in nations' economic and material development. Hence the IPCC presents a static and overly pessimistic view of the potential for adaptation in developing regions.
Going by the content of the other modules, it is clear that teachers are being provided not with simple background knowledge about climate change, but with a political worldview.
So, for example, the 'cities and climate change' module advocates investment in renewable energy, low-budget (and low-quality) housing, cycling and public transport to reduce GHG emissions from growing urban areas. The 'gender and the environment' module, focusing on countries with laws restricting women's access to land and resources, promotes small-scale projects (like replacing kerosene cookers with solar-powered cookers), rather than the kind of economic investment that really would diversify and expand production and open-up job opportunities for men and women. And the 'impact on children' module miserably informs teachers that 'everyone is a source of climate change', which will 'undermine all the gains of children's survival and development'.
In fact, it didn't seem to matter what the problem is, be it drought, disease or exploitation. Everything that might once have been viewed – and potentially solved – through the prism of economic and material development is now understood in terms of climate change.
There are at least two ways in which pushing the UN's climate-change agenda in the classroom will harm children's education and future prospects if teachers incorporate it into their curriculum.
First, it substitutes propaganda for knowledge. Aside from the fact that climate change is already taught in the national curriculum through the sciences, geography and technology, this is the UN we are talking about. It may present itself as a non-partisan international organisation, but anybody with a modicum of political knowledge understands that, through the undemocratic structure of the ruling Security Council, it is set up to serve the interests of powerful Western nations. Its climate-change agenda, complete with calls for developing countries to lower their carbon emissions, is propaganda. As the environmental moderniser Michael Shellenberger told spiked: 'Climate change has been used to advance an agenda by rich nations to keep developing nations down, to deprive them of resources and to thwart their competitiveness internationally.'
Second, the course presents humanity as the problem. Virtually all of the course modules denigrate material and economic development because it entails building, electric-power generation, mass transportation, large-scale food production, and so on – aspects of development that we in the West take for granted. In fact, the course's anti-development approach sounds very much like rich countries pulling up the ladder to leave poorer nations stranded and underdeveloped.
Moreover, think of the impact this misanthropic doom-mongering has on schoolchildren and young people. No wonder students, full of fear and despair, are taking to the streets to protest, or, according to researchers at the University of Bath, increasingly suffering from 'eco-anxiety'. Adults are telling them that humanity is bringing about the end of the world.
What is lacking from the current narrative on global warming, in schools and beyond, is a positive sense that human creativity can lead society to a better place. A belief, that is, that we can find ways to lower GHG emissions, through, say, carbon capture and storage, and continue to improve living standards, especially for people in less developed countries.
Global warming is a serious challenge, and scientists are right to draw attention to it. But rather than spreading fear and embracing costly, kneejerk policies, we need to cultivate patience and ingenuity, and encourage research and investment. Children need reassurance from teachers, parents and politicians that this is a challenge we can face and overcome, as society has done when faced with adversity in the past. This is why teachers should kick the UN's climate-change propaganda out of school.
Alex Standish is a senior lecturer in geography education at University College London. He is the co-editor, with Alka Sehgal Cuthbert, of What Should Schools Teach? Disciplines, Subject and the Pursuit of Truth
Picture by: Getty Images.
To enquire about republishing spiked's content, a right to reply or to request a correction, please contact the managing editor, Viv Regan.