Toxic people in a haunted house
With a bit more heart, Appropriate could have been a classic.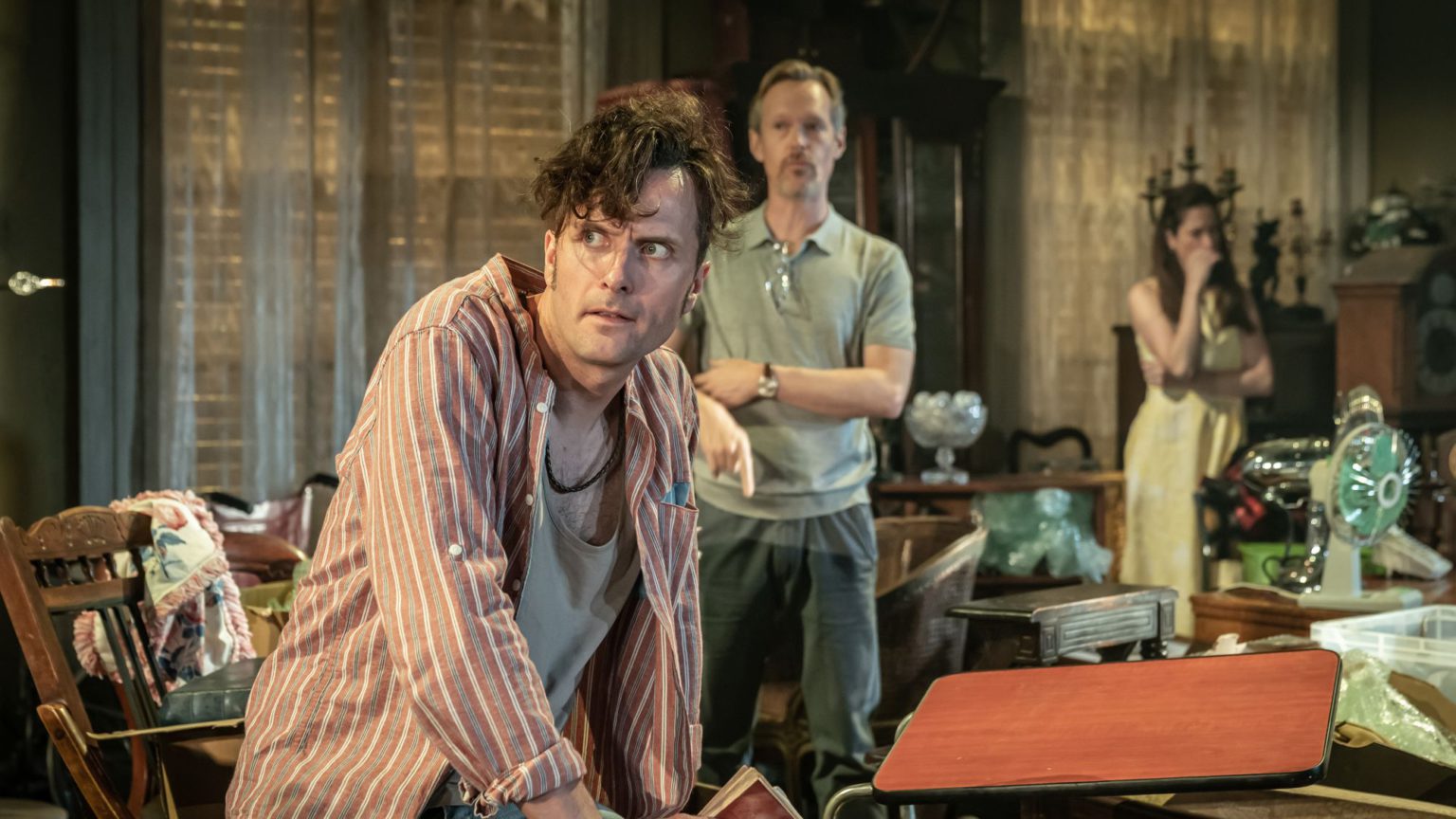 There's a fashionable word often used on the internet to describe difficult personal relationships: toxic. Just look at those pages on Reddit where voyeuristic types go to read other people's family problems and you'll see it everywhere (along with its near cousin 'problematic'). From ex-partners to bosses and parents, it seems just about everyone is toxic now. Well, everyone else, anyway.
What would it look like if everyone really was toxic? Probably something like Appropriate. Written by trendy playwright Branden Jacobs-Jenkins, it is essentially a millennial take on those big American domestic dramas – think Cat on a Hot Tin Roof – where an extended family come together only to find they are unable to contain their resentment of each other. The main difference this time is that everything has been dialled up a notch. The Lafayettes aren't just slightly dysfunctional, they're walking DSM manuals.
Take the three main adult siblings: a joyless self-pitier prone to lash out at the slightest excuse, a drug-addled tearaway with a habit of chasing teenage girls, and a penny-pinching blowhard with a superiority complex. The two significant others – a moralising yet hypocritical 'love and the universe' type and an uber-competitive trophy wife – don't add much to the emotional ecosystem either. The minute they all get on stage you realise we're heading for disaster.
In more ways than one, it turns out. Far too much of Appropriate is consumed by ear-piercing arguments which flare up at every opportunity. Having been estranged for a few years, the siblings have reunited – at the family's crumbling plantation in Arkansas – to carve up the estate of their dead father, a hoarder and manic depressive. He's the one, incidentally, they all hold responsible for their personality flaws – a point rammed home multiple times by multiple characters. Oh, and he might have been a secret racist too. See what I mean about the toxicity?
We never quite get an answer on the racism point. Yes, a mysterious white hood turns up in one of the guest bedrooms, but the old man was a hoarder: could he have been keeping it for the antique value (weirdly, this argument has the siblings convinced)? Then there's the leather-bound album downstairs which turns out to contain old photographs of lynchings. That's when the really big bust-up kicks off: an argument over whether to throw the photographs out or hold on to them in the hope they might be worth a pretty penny. Is there really a big market for old lynching photos? The play certainly suggests so.
In case you haven't guessed, Jacobs-Jenkins is none too sweet on his characters. That's not always a problem, except he is slightly over-keen to make us dislike them too. Barely five minutes go by without another reminder of how terrible they all are. If schadenfreude is your thing, you might enjoy it. But it still leaves the old-fashioned problem of who exactly you are meant to root for when everyone on stage is so irredeemably bad.
Amid all the fighting, though, there is something else going on: a surprisingly convincing subplot as to whether the plantation itself might be haunted. Now, admittedly, that sounds silly on paper. After all, everyone knows it is nigh-on impossible to do 'scary' in the theatre. (Just look at the laughably naff West End production of The Exorcist from two years ago.) Yet, somehow, director Ola Ince, making her Donmar debut no less, manages to pull it off.
Between scenes, we get creepy black-out moments where the set – a crumbling Southern mansion – throbs with all sorts of strange noises. Lights flicker back on to reveal chunks of plaster having been scratched away from the walls. Something falls in the dark and bounces tunelessly off the grand piano. At one point, a clattering of chains comes from behind the stalls. Too obvious a political point? Maybe. Either way, I jumped out of my skin.
The spooky stuff is fun but doesn't really lead to any big pay-off. That's probably for the best (why risk it spilling over into downright silly?), but it is frustrating to see the production's most promising moments fritter away. Jacobs-Jenkins makes one concession to the otherworldly, apparently suggesting the photographs themselves have demonic properties. I say apparently; it was a sharper critic than me who noticed that the characters' most beastly turns come after they have handled the album. With so much nastiness throughout the play, this small detail went straight over my head.
Thankfully, the whole thing is rounded off by some excellent performances: Monica Dolan, Steven Mackintosh and Jaimi Barbakoff are all first-rate. The set, largely obscured from view by the clutter until after the interval, is superbly done too. Hats off to the Donmar: a lot of work clearly went into this. With a bit more heart to the writing, it could have been a classic.
Robert Jackman is assistant features editor at the Spectator. Follow him on Twitter: @robertjackman88.
Appropriate is at the Donmar Warehouse until 5 October.
To enquire about republishing spiked's content, a right to reply or to request a correction, please contact the managing editor, Viv Regan.