Remoaners who want your money
Remainers want your money to sue Boris and go interrailing.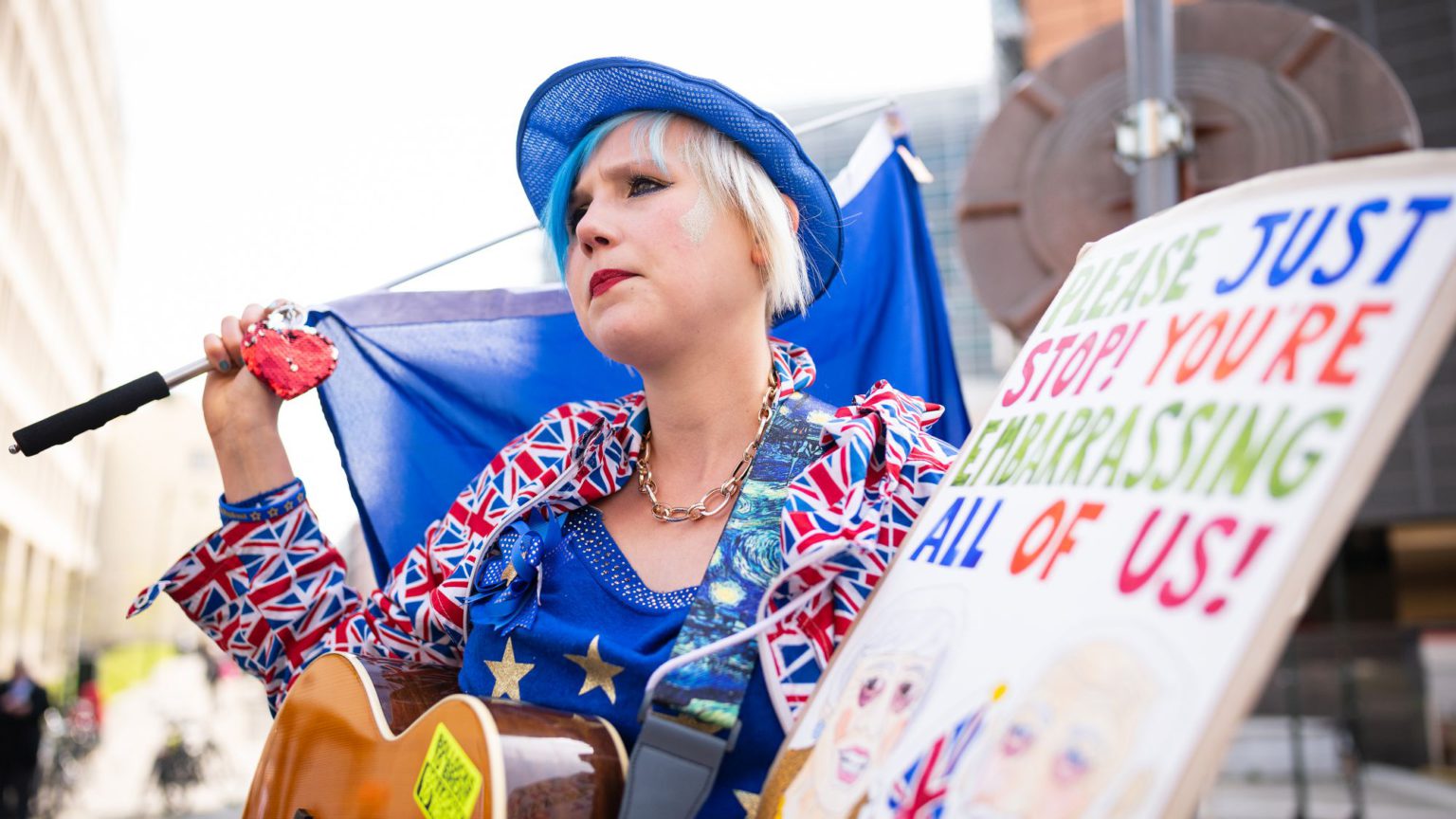 Since the Remainers lost the 2016 referendum, a whole host of colourful campaigners has emerged dead-set on thwarting the vote, from the bloke who shouts 'Stop Brexit' outside parliament to the naked professor.
One prominent Remain activist is 'EU Supergirl' Madeleina Kay. And she needs your money… to fund her summer interrailing trip.
1/ #EUsupergirl heading to Paris for the start of my first Interrail Adventure ???❤??? 1 of the wonderful benefits of the EU is opportunities for young people to travel! You can support my #EUsupergirlTour ?? https://t.co/7Qy6f07qgW
I'll keep you posted on my journey! ❤??✊? pic.twitter.com/pCCpA5qQ2R

— Madeleina Kay????#EUsupergirl? (@MadeleinaKay) July 29, 2019
So far, 'The Future Is Europe #EUSupergirl Tour' has raised over £3,000 from sympathetic Remainers on one crowdfunding page. Meanwhile, another crowdfunding campaign, set up on her behalf, has raised over £22,000. 'Keeping the one woman, "Madeleina Kay Show" on the road costs around £1,000 per month', it claims.
And what a show it is. This week, the world was treated to EU Supergirl singing her masterpiece 'Always On the Road':
This song: 'Always On the Road' is about the joys of travel the EU brings us ???? #StopBrexit
Music video @jeffk33 is a project outcome for my #EUsupergirlTour

Thank you to the @ECF_tweets & all my crowdfunders for supporting my #TheFutureisEurope Tour: https://t.co/7Qy6f07qgW pic.twitter.com/GDiXajR6TB

— Madeleina Kay????#EUsupergirl? (@MadeleinaKay) August 3, 2019
If 'singing' isn't your thing, then you can surely appreciate EU Supergirl's paintings. Here she is presenting Guy Verhofstadt with a portrait:
.@GuyVerhofstadt seemed thrilled with his birthday gifts! ???❤️??
Thank you to everyone from the #FBPE community who signed his card we collected 1,200 signatures to wish him a very #HappyBirthday and thank him for his hard work! @Suewilson91 @BremainInSpain #EUsupergirl pic.twitter.com/CV4lamJ5S1

— Madeleina Kay????#EUsupergirl? (@MadeleinaKay) April 11, 2018
Another Remoaner constantly calling for more money is Marcus Ball. Ball has spent the past few years crowdfunding various legal actions in the name of his 'Brexit Justice' campaign.
Recently, Ball attempted to bring a private prosecution against Boris Johnson over that £350million NHS figure. Ball raised over £430,000 to bring the prosecution, but it was quashed in the High Court back in June.
Now Ball is appealing the decision at the Supreme Court – and needs your money to do it.
We're trying to get our #BallVJohnson prosecution case against #BorisJohnson MP appealed to the Supreme Court.

But we DO NOT have enough funding to complete the case. Find out more about our case and fund it here: https://t.co/wYKCi6Q9Zp pic.twitter.com/4GWNH9ZGHa

— Marcus J Ball #BallVJohnson (@MarcusJBall) August 6, 2019
Let's hope he takes better care of the crowdfunded money this time. As the Telegraph reported back in May, according to Ball's accounts, around £50,000 of the crowdfunded money was spent on himself.
Ball treated himself to a luxury London flat with a private gym. He also used the crowdfunded cash for self-defence classes, professional headshots, hotel rooms and 'special' branded cupcakes.
And they said Brexit would make us poorer.
Picture by: Getty.
To enquire about republishing spiked's content, a right to reply or to request a correction, please contact the managing editor, Viv Regan.