When did tourism become a crime?
Venice's new rules for tourists are making life hell for locals, too.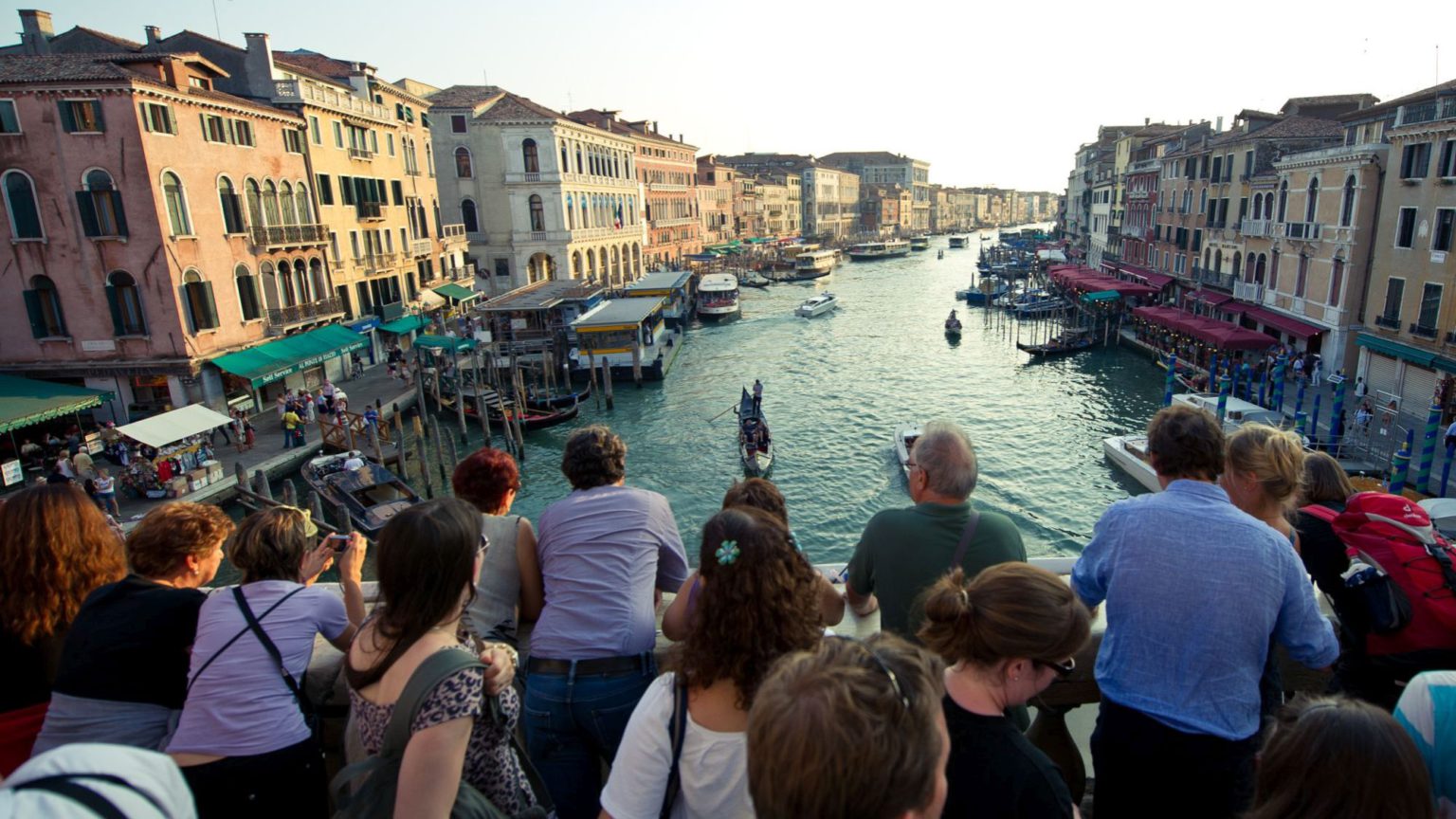 This month, two German tourists were fined a total of €950 and banished from Venice. Their crime? Making coffee on a portable cooker near the steps of the Rialto Bridge. Photographs show that they were not obstructing anyone and there was no evidence of any littering. So why were they treated so harshly?
In May, Venice City Council approved a range of new regulations. Wrongdoers can be sanctioned with fines from €25 to €500 and can even be handed a ban from the local area, known in Italian as a Daspo. The Daspo was introduced in Italy to ban football hooligans from football stadiums. Venice City Council agreed to apply a city-wide Daspo to anyone charged with 'anti-social' behaviour. In the first three weeks since the new regulations were agreed, 26 people were issued with Daspo orders.
So what constitutes anti-social behaviour under the new regulations? First, noisy stag or hen-type parties and even university-degree celebrations (an important Venetian tradition in a city with many students) are banned from Monday to Thursday between 8pm and 8am. During the same hours, although every day this time, there is a ban on consuming alcohol outside designated areas. From 2021, plastics will be banned from all bars, restaurants and takeaway outlets. Even before these new rules, there was already a €200 fine for sitting down outside to consume food or drinks, except within designated areas. Similarly, last year, Florence imposed fines of up to €500 for people eating outside in some parts of the city centre.
Bathing suits have been targeted by the authorities, too. Venice has banned wearing a bikini or being bare-chested while walking through the city or travelling on a boat. An unfortunate 23-year old Canadian tourist was fined €250 for sunbathing in a bikini in Venice's public gardens at the end of June. Barcelona City Council also now fines people for wearing bathing suits in its city centre.
Tourists are forbidden from placing 'love lock' padlocks on railings. Bicycles are banned from the historical centre and kids' scooters are only permitted outside areas where there are monuments – and only if the rider is under 12 years old. Three French tourists were fined €100 each for locking up their bikes and leaving them in an alleyway. Two British tourists faced a double fine for troubling nobody at all: they were fined €250 each for being bare-chested and €100 each for pushing their bikes – by hand – through Venice's historic centre.
Worse still, other Italian cities have followed suit. In early June, Rome's City Council agreed to start fining people for bathing in fountains, dressing as centurions, taking part in pub crawls, being bare-chested, dragging wheeled suitcases over historic staircases, ticket touting, eating near monuments, singing on public transport, and even for hanging laundry out to dry between buildings – a local, Roman habit.
As this last example shows, while many of these measures are aimed at tourists, they place restrictions on local people, too. Thanks to Venice's nighttime ban on outdoor drinking, organisers of traditional summer Venetian street parties found they needed to apply for permits for the first time ever. Many simply cancelled their parties. What's more, the 'locals', whom measures like these are supposed to protect, travel as well. Venetians will also be tourists in other cities in both Italy and around the world.
Cities ought to be welcoming visitors. But after years of concern about 'overtourism' – with local councils essentially treating tourists as environmental and cultural hazards – it is no surprise that tourists are now being criminalised. Venice could certainly manage tourism better. But it is not faced with anywhere near the levels of 'anti-social behaviour' that could ever justify such petty restrictions.
From Venice to Rome, Barcelona and Amsterdam, local councillors are treating normal behaviour which harms no one as criminal. This needs to stop.
To enquire about republishing spiked's content, a right to reply or to request a correction, please contact the managing editor, Viv Regan.