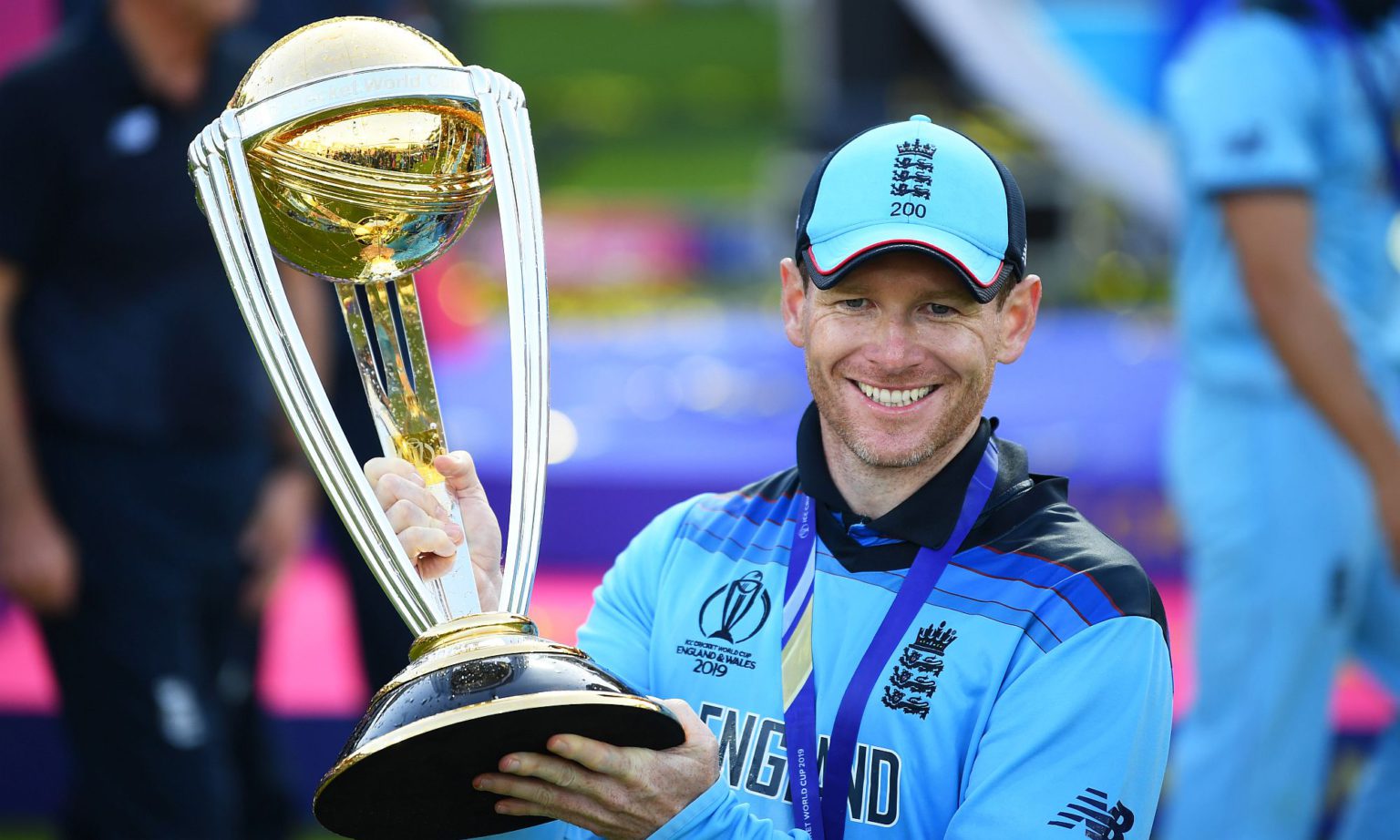 Long-read
Ireland's sticky wicket
What cricket tells us about the complexity of Anglo-Irish relations.
Not only is Eoin Morgan not England's first Irish-born world champion, he's not even the first from County Fingal: just a few miles up the road from the Cricket World Cup-winning captain's hometown of Rush lies the picturesque fishing village of Skerries, birthplace of Kyran Bracken, England's unused replacement scrum-half on that wet November Sydney night almost 16 years ago when Jonny Wilkinson dropped that goal to secure a first Rugby world crown.
Although Bracken left for England while still a child, that didn't exempt him from the ferocious welcome he received from the Irish pack the first time he played against them at Twickenham in 1994. It didn't matter that Ireland had never sought to cap him – he was a traitor, big time. Earlier this year the defection of West Ham's already thrice-Irish-capped footballer Declan Rice to England, the land he was born and reared in, was a timely reminder of the discomfort so many Irishmen feel at supposed compatriots choosing to sing 'God Save the Queen' and do battle for Blighty.
Morgan's predicament was even more unique and lost on those unfamiliar with the realities of his sport: born and reared in Dublin but with a mother from Suffolk, he played for Ireland for years but at a time when his goal of playing test cricket was not possible with Ireland (which, at the time, had not been accorded test status by the International Cricket Council). Demonstrating the detached, almost enigmatic single-mindedness which would irrevocably change the destiny of English cricket this summer, he made the decision to cross over to England, a decision that wasn't met with universal approval at home.
For Ireland, whose national teams in all sports have always been stacked with British-born heritage players, surely it should have been expected to one day see the law of averages come in to play and see someone go in the other direction. Viewing the Cricket World Cup and England's heart-stopping victory in the final, reaction to Morgan's achievement in the land of his birth has, unsurprisingly, been mixed. While many have been quick to congratulate him, online anger at his alleged sedition has led to him being labelled, among other things, a West Brit and souper — a reference to starving Irish Catholics agreeing to convert to Protestantism in exchange for soup during the Great Famine.
While some of the more chauvinistic of the English cricketing cognoscenti are clearly uncomfortable with an Irishman as captain, he remains largely an unknown figure in his native land. Some English experts have expressed mild surprise at the type of Irishman he is, his articulate and serious manner in interviews not conforming to type, devoid either of the anticipated amiability of a Terry Wogan or the wild, unhinged, chilling forthrightness of a Roy Keane. Now part of a sporting Holy Trinity alongside Bobby Moore and Martin Johnson, England's other mainstream World Cup-winning captains, his demeanour would be considered somewhat closer to Johnson's intimidating gruffness rather than Moore's boyish Essex charm.
In spite of Ireland's embrace of other garrison games, especially football, or soccer as many call it, for many cricket is too English
But then there is the issue of his sport itself. In the week that Ireland played its historic first-ever test match at Lord's, it's worth noting that cricket was hugely popular until relatively late in the 19th century. But the wave of cultural nationalism that swelled alongside demands for Home Rule and full independence largely swept it away, making it a minority pursuit, and elevating the indigenous codes of Gaelic football and hurling under the auspices of the Gaelic Athletic Association (GAA) in its place. Cricket, like almost all other sports, is played on an all-island basis, in the north overwhelmingly by Unionists. Aside from the more well-heeled clubs located mostly in suburban south Dublin, the England white-ball skipper's hometown of Rush and surrounding area remains the only cricketing stronghold in the Republic of Ireland.
There, the mere mention of cricket often induces at best bewilderment and at worst hostility: too boring and too difficult to understand, cry those who defiantly never take the time to fathom its apparent complexity. In spite of Ireland's embrace of other garrison games, especially football, or soccer as many call it, for many cricket is too English. That association football is now the world's game, goes the argument, means that those handful of all-dominant behemoth clubs now transcend all trace of nationality, to the extent that devotion to such entities is both logical and reasonable. The question of why Irish football aficionados swear blind allegiance to Manchester United, Liverpool and Arsenal while never daring to cheer for England despite our common language – one that we have happily maintained since independence to the largely unlamented detriment of our own native tongue, geographic proximity and familial and cultural ties – is often uncomfortably but self-justifyingly batted away. Tellingly, the decision in the early 1960s of most Irish football fans to abandon their own domestic league to support vastly superior clubs across the Irish Sea, thanks to the rise of television, brings to mind the old Frantz Fanon line about the oppressed always believing the worst about themselves.
The issue of social class bedevils all manner of English life but not, ostensibly, Ireland's. Rugby, which, along with hurling, was, in the words of that giant of Irish political history, Eamon De Valera, the sport best suited to the nation's temperament, has enjoyed a boom in the last decade, with some commentators now boldly claiming it to be the people's game. But this is difficult to square when the national squad is dominated by alumni of exclusive fee-paying secondary colleges in the Republic, and prestigious grammar schools in the north. Cricket is, nevertheless, deemed too exclusive and posh, all cucumber sandwiches and tally-ho, chaps. Yet Morgan himself grew up on a council estate, while many cricketers on the island are of solid blue-collar stock.
Perhaps the most obvious answer is that cricket is not a cultural fit; its relative gentility and need for time and patience is largely anathema to a creative, poetic, loquacious and emotionally attuned people who have excelled at home and abroad by cutting through unnecessary bluster and blather, not least the stuffy formality and stilted politeness of life in England. The frenetic energy and directness of rugby and hurling stand in contrast to the meandering nature of a day at the cricket, something too sedate and unfocused. Ireland is not a village green kind of country – even our elderly don't play bowls.
Ireland is a land where a mañana-like, ah-sure-it'll-do attitude reigns supreme, the concept of rules and procedure treated like an unwanted family heirloom bequeathed by an unloved aunt. Inheriting our legal system from our old colonial masters, it automatically made the law something to be suspicious of. Rather than being cast-iron, it should instead be open to interpretation and malleability. Cricket, in effect, is too honest. Watching New Zealand's ultimately luckless Martin Guptill immediately signal his teammate Trent Boult's boundary-treading catch for six in the closing stages of the final against England, I couldn't help but think of the chicanery in operation when it comes to disciplinary proceedings in our native sports, where player suspensions are miraculously overturned and loopholes in the rulebook are sought and exploited all day long. The Irish have always had a sneaking regard for cute hoorism, a Celtic version of South American viveza, or street cunning.
Ireland is not a village green kind of country – even our elderly don't play bowls
Now, as Anglo-Irish relations sink to their lowest ebb in a generation, it is apt that cricket should lend its name to the stumbling block – the 'backstop' – which threatens to rip asunder more than 20 years of peace and prosperity in the north. Unyielding in its hitherto insistence on the backstop, the Irish government is now preparing for the very real possibility that Boris Johnson will pull Britain out of the EU without a deal on Halloween.
Should no solution be found, economic problems await Ireland. And while many in Britain cannot understand our willingness to throw our weight firmly behind the EU, Ireland looks on with horrified disgust at the flippant disdain shown for it by the more extreme ranks of the Tory party. Fear and frustration are born of the knowledge that termination of our shared EU membership threatens to do untold damage to the pillars of a bilateral relationship that Ireland has benefited greatly from. Indeed, it is recognition of the uncomfortable and unadmitted reality that Ireland has always needed Britain. Although keen to emphasise our Irishness and European credentials at every turn, Ireland is firmly an Anglophone nation; while the US is a great friend and ally, Ireland's economic and cultural reliance on Britain is enormous. Despite Ireland leaving the Commonwealth in 1949, something recent polls show most of its citizens are unwilling to reverse, British and Irish citizens enjoy the privilege of mutually unrestricted voting rights in each other's countries and the luxury of passport-free travel as part of the Common Travel Area. Yet even when re-joining the Commonwealth was mooted as a positive attempt to reach out to northern Unionists and to demonstrate creativity in supplementing our already not inconsiderable diplomatic clout in a post-Brexit world, any apparent sign of subservience to a country we are more reliant on than we would like to admit is a non-runner.
As the soon-to-be largest native English-speaking country in the EU, Ireland's wish to be a proud, open, non-British, European Anglophone country is a natural one. But some of the more recent attempts to emphasise the differences to Britain are questionable to say the least. They have been more numerous and belligerent in tone under the leadership of Leo Varadkar, in contrast to the more balanced, behind-the-scenes diplomatic approach of his predecessor, Enda Kenny. Echoing Jean-Claude Juncker's ludicrous claim that English, the world's lingua franca, is losing importance in Europe in the wake of Brexit, Ireland's recent bizarre decision to apply for membership of the Francophonie, while steadfastly refusing to countenance renewed membership of an organisation with shared linguistic and cultural links for fear of being seen to kowtow to the English monarch, is a rum development. It is a pitiful act of defiance by the government of a people not quite as rebellious as outsiders think, a people happy to abjure responsibility, replacing decades-old rule by the Catholic Church with subservience to their masters in Brussels.
Ireland's blanket, unquestioning loyalty to the EU, as shown by its political and media class, despite having been bullied into voting twice on EU treaties it rejected and then being dumped with over €50 billion of its bank debt, says something troubling about the psyche of a people who seem unconcerned with being a pawn in the EU's long game. Symbolism is powerful, as is the succour it grants; like our general antipathy towards cricket, our love of the EU marks us out as different, un-British and un-English, a stick with which to beat our residual post-colonial guilt and fear of the new reality awaiting us.
This was the first time since 2003 that Ireland did not make the Cricket World Cup, a tournament disgracefully truncated for the benefit of Indian television companies. In Ireland, the signs for cricket's future remain bright: though the glow of the golden era of 2007 to 2015 fades slowly, many returnees from Australia have become fans, while immigration from the Indian sub-continent has led to new clubs appearing all over Ireland. Time will tell if Morgan's achievements help the sport gain real mainstream approval. It won't surpass football and Gaelic games in the affections of the masses. But even cricket will always be more popular than the idea of bending the knee to the Brits.
Conor Murphy is a writer and translator. Follow him on Twitter: @ConorMurphy80
Picture by: Getty Images
To enquire about republishing spiked's content, a right to reply or to request a correction, please contact the managing editor, Viv Regan.