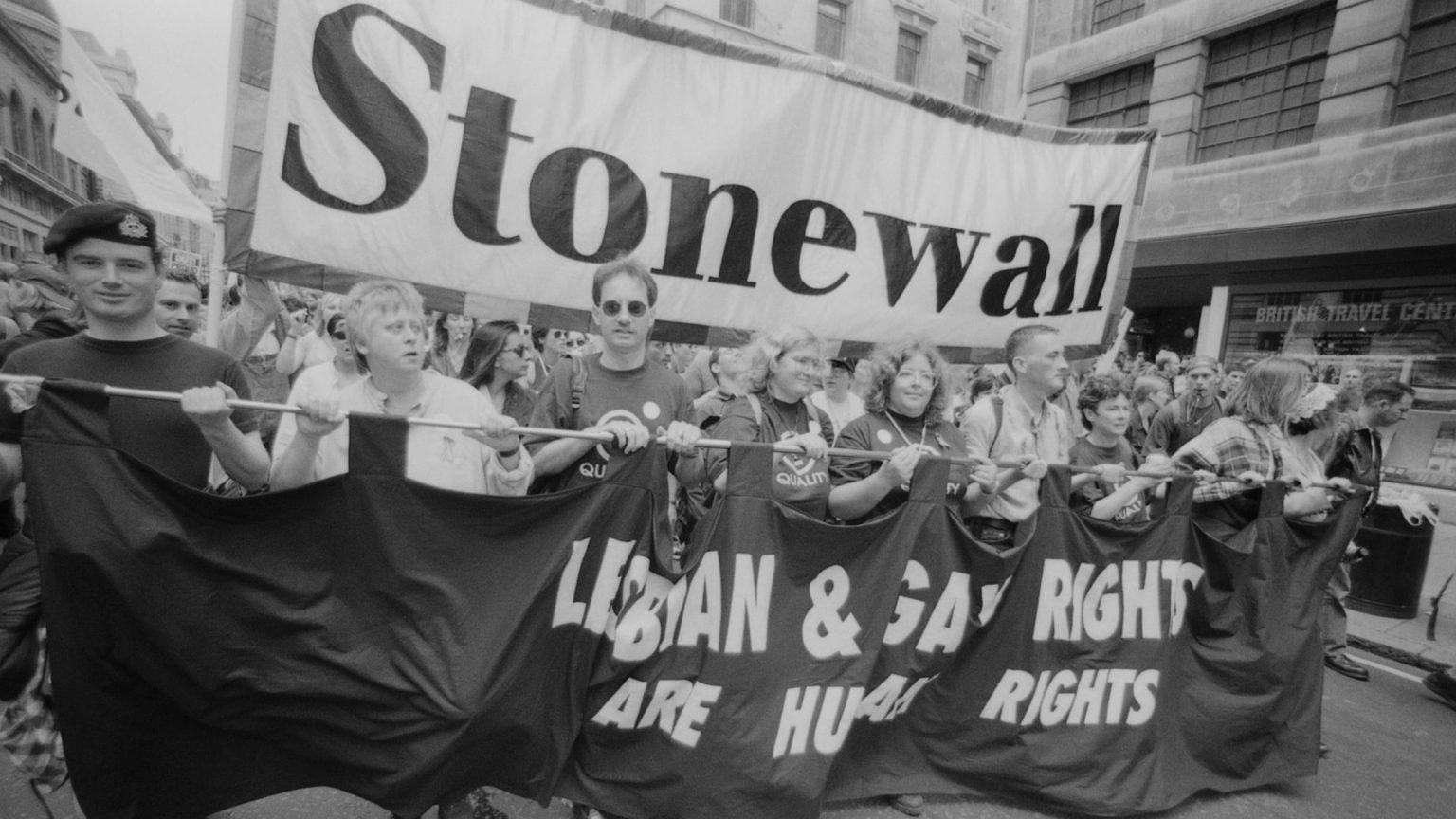 Let's recapture the Stonewall spirit
Gay politics is at risk of becoming an elitist and intolerant project.
It's Pride, if you hadn't noticed. It's the season when the corporate logos turn rainbow-coloured. Along with our smartphone apps, Twitterfeeds, Facebook timelines, online search engines, supermarkets, coffee shops, banks, cash machines, bacon sandwiches, train stations, construction sites, Premiership football crests… the list goes on.
Then there's politicians, charities and various state bodies and other institutions. The Pride flag is flying 'proudly' above town halls across the country. In London, borough councils have even repainted zebra crossings in the colours of the rainbow, just so mayors and local councillors can pose for photos, Beatles-style, to raise our awareness about how much they care about diversity and the LGBTQ+ community.
'Paint the whole world with a rainbow', went the song to the classic toddler TV show Rainbow, and this year it seems that we really have. The way things are going, one day Pride could be bigger than Christmas.
For many thousands of people – gay and straight and those inbetween – Pride is a fine excuse for a big summer party. And there's nowt wrong with that. Nor is there anything wrong with adding a bit of temporary colour to the world. That's why we love to decorate our streets and homes with Christmas lights and decorations.
Perhaps most significantly, this year's Pride, or 'Gay Pride' as it was originally known, coincides with the 50th anniversary of the Stonewall riots, an event which gave rise to the gay civil-rights movement. In the early hours of 28 June 1969, police raided the Stonewall gay bar in Greenwich Village, New York City, sparking several days of rioting. People who were sick of continual police harassment finally broke and started a fightback, drawing the support of many people in the surrounding community. It was certainly not the first time the gay community had bravely stood up to police and the authorities. In 1966, two days of rioting erupted after police raids on Compton's Cafeteria in San Francisco. As the writer Don Milligan explains, Compton's was a late-night hangout for 'transsexuals, transvestites, and street hustlers' (ie, rent boys) and it was largely those people who led the resistance against police brutality.
But Stonewall helped give rise to something bigger and longer lasting. Within months of the riots in Christopher Street, all kinds of groups, newspapers and initiatives sprang to life. New York's first Gay Pride march took place a year to the day after the Stonewall riots. That same year there were marches in Chicago, Los Angeles and San Francisco. London's first Gay Pride came two years later in 1972.
Stonewall was a popular revolt, a cry for freedom, and it's right that 50 years on we remember and celebrate it. But we should also reflect on what has changed and how far have we come since then.
Undeniably, life in all kinds of areas – work, community, education, leisure, etc – has got much easier in the West for lesbians, gays and trans folk over the years. Social attitudes have changed; families, friends and communities are far more accepting of homosexuality.
One of the surest signs that homosexuals have come in from the cold is that corporates and other institutions are falling over themselves to cosy up to the gay community. 'Nobody knows you when you're down and out', the old song goes, 'but when you finally get back up on your feet again… Everybody wants to be your good old long-lost friend.' Naturally conservative corporates would never have publicly associated themselves with those once considered beyond the pale – social outcasts, perverts and deviants.
Then we have the politicians, the law and the state. Discriminatory laws against homosexuals were eventually repealed, though, of course, discrimination continued long after 1969. On the whole, state institutions, politicians and the law followed the people, not the other way around. But today, it is almost taken as common sense that those in authority – the political and media class, state institutions and supra-national bodies – are the ones defending homosexuals and trans people against a bigoted populace.
This gets things the wrong way round. Genuine popular change comes from the bottom-up. And it's worth remembering that the authorities were never the friend of gays, and it was the police who stormed Stonewall. If anything, the way in which gay rights has been institutionalised has brought its own problems.
There are no doubt many good, decent people working in gay organisations, organising Pride, running support groups and so on. But the transformation of the fight for gay rights into today's diversity / LGBTQ+ paradigm has left us with something that is dogmatic, preachy and often intolerant – the opposite of how it all started out 50 years ago.
Anyone who dares to criticise, even mildly, anything to do with gay politics is likely to be branded a homophobe. When a handful of users of Barclays online banking raised objections to the app logo being turned rainbow-coloured earlier this month, they were castigated in Pink News as 'homophobic'. Some of them were, some of them weren't. But if LGBTQ+ campaigns are about raising awareness and changing hearts and minds, then why are activists so ready to denounce, in the strongest possible terms, anyone who raises even the slightest objection? Advocacy groups like Stonewall (UK) seem to think that they even have the right to castigate the public and tell them what to think. 'Some people are gay. Get over it!', screams their slogan on the side of London buses.
When you tell people that they're stupid and bigoted, is it any wonder that some people react against that? When you bombard them with rainbow flags at every turn, effectively politicising public and personal spaces – their phones, laptops, even their sandwiches – is it any wonder that they develop 'flag fatigue'? It doesn't mean they're bigoted. But if the intention is to turn people off and lose their good will, then these excessive, preachy campaigns are doing a good job.
Fifty years ago, people were essentially fighting to be left in peace, to be able to enjoy the same freedoms as their fellow citizens, and live their lives without interference and harassment from the authorities. That democratic impulse was something that many people in wider society could relate to and support. Today's campaigns are not only more preachy and intolerant — they're also making demands for recognition and privilege. Unlike the campaigns of 50 years ago, they don't want the state to leave them in peace — they want its support, its funding, and its protection.
Fifty years ago in New York City, pretty much the only external support the gay community had was the Mafia. Until the gay community started to fight back, it was mobsters who kept the police and the courts away, paying them off so that the Mafia-owned gay bars and clubs could remain open. Stonewall bar was owned by the Genovese family and, according to American historian Thaddeus Russell, Genoveses even funded the Gay Pride parades in New York.
It is no understatement, then, to say that much has changed over the past 50 years. Yes, life has imporoved for homosexuals, and society has become more open, but the transformation of gay-rights politics into diversity / LGBTQ+ politics, into something resembling a state- and corporate-sponsored morality that is increasingly difficult to question – that is not something that benefits any of us, gay, straight or trans.
So let's party at Pride and celebrate the Stonewall riots, and also remind ourselves that real change comes from below, not from the moralists in power.
Niall Crowley is a writer based in London.
Picture by: Getty.
To enquire about republishing spiked's content, a right to reply or to request a correction, please contact the managing editor, Viv Regan.