This is what EU 'democracy' looks like
People of Europe, meet your unaccountable new rulers.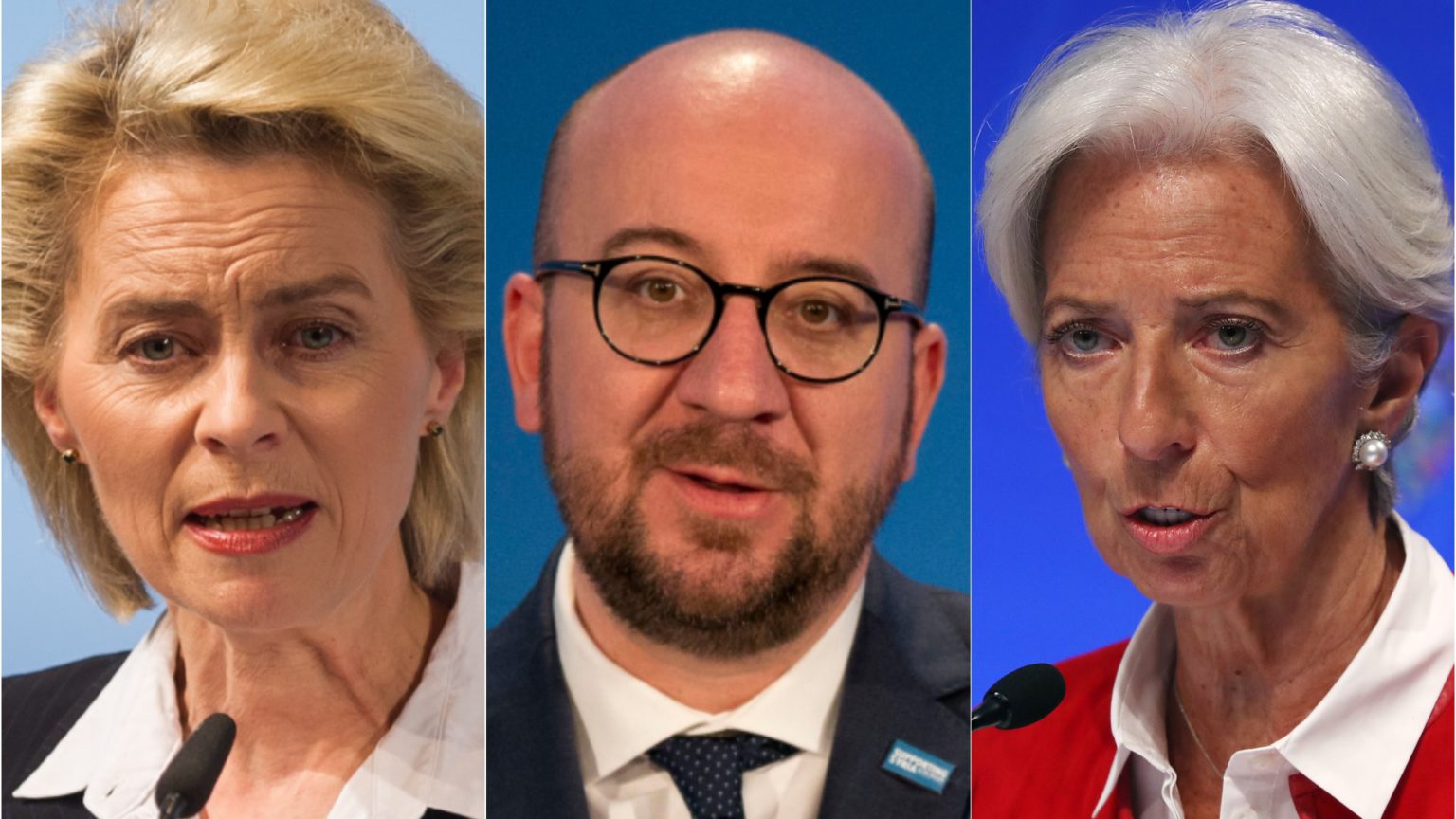 Remoaner Twitter lost it again yesterday, after Brexit Party MEPs turned their backs in the European Parliament as musicians performed Ode to Joy, the EU's not-quite-national anthem, to mark the beginning of the new parliamentary session. Some prominent Remainers were literally crying, decrying the BP's protest as an affront to Western civilisation itself. Others were busy making demented Nazi comparisons.
But so far we've heard nothing from these staunch defenders of EU 'democracy' about the behind-closed-doors appointment of the EU's top jobs. After weeks of wrangling, the European Council appointed new EU leaders yesterday. Belgian PM Charles Michel will be president of the European Council. Ursula von der Leyen, of Germany's CDU, has been put forward to be president of the European Commission, subject to parliamentary approval. And the International Monetary Fund's Christine Lagarde looks set to take the reins of the European Central Bank.
These people, who most European citizens will never have heard of, let alone voted for, are set to take up offices of incredible power at the nod of EU leaders, with no proper, direct mechanism for voters in EU countries to dismiss them or hold them to account. This is what EU 'democracy' looks like, and it ain't pretty. This process of appointments and recommendations, made behind closed doors, is deeply undemocratic, and the appointees and candidates themselves are almost provocatively out-of-touch.
A busted flush in German domestic politics, Ursula von der Leyen is following in her late father's footsteps – he was a high-ranking European civil servant. In 2011 she backed a 'United States of Europe along the lines of federal states like Switzerland, Germany or the US' – something most Germans don't even want – and last year she voiced support for a European army. Charles Michel, who resigned as Belgian PM in December after losing a no-confidence vote, is set to become another second-generation Eurocrat – his father is a former EU Commissioner.
But the choice of Lagarde is easily the most galling. For an institution that has a reputation for corruption and cronyism, you'd have thought the EU would have had more sense than to pick her. The head of the International Monetary Fund was found guilty by a French court in 2016 of negligence for approving a massive payout of taxpayers' money to a controversial French businessman. She avoided jail and kept her job, and it clearly hasn't stopped her getting even more work.
As chair of the IMF since 2011, Lagarde was also one of the chief punishers of the Greek working class during the debt crisis. She publicly backed punishing austerity measures being enforced on Greece by the IMF and the EU in exchange for bailouts. She did so despite conceding in private, according to former Greek finance minister Yanis Varoufakis, that she knew the crippling measures would not work.
Britain's teary-eyed Remainers and deluded 'Remain and Reform' left-wingers have gone stunningly silent these past 24 hours. This is your EU. Own it.
To enquire about republishing spiked's content, a right to reply or to request a correction, please contact the managing editor, Viv Regan.