An all-out assault on American democracy
Extreme gerrymandering is a serious threat to our democratic rights.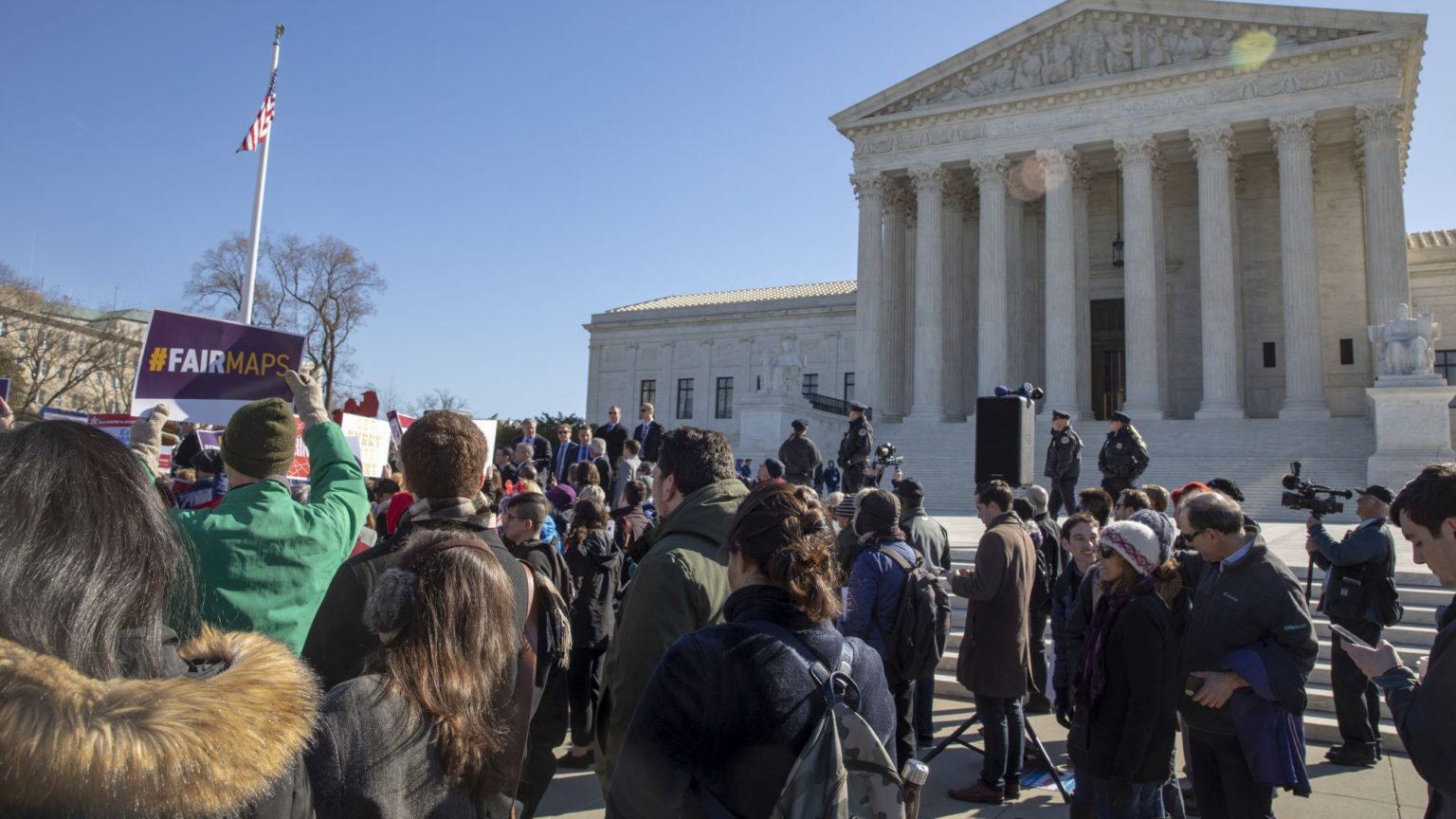 If you're going to lie to John Roberts, chief justice of the US Supreme Court, don't do it in plain view. That's one lesson the Trump administration might take from his majority opinion in Department of Commerce v New York, a challenge to the addition of a citizenship question to the decennial census.
Roberts, joined by his four liberal colleagues, upheld the administration's power to add a citizenship question to the census. But he rejected the Commerce Department's stated reason for doing so as an obvious – or too obvious – lie. Secretary of commerce Wilbur Ross falsely claimed that the question would provide information needed to protect minority-voting rights, when, in fact, its purpose was to provide information useful in diluting minority votes. Asking about citizenship 'would clearly be a disadvantage to the Democrats' and 'advantageous to Republicans and non-Hispanic whites', a strategist who specialised in drawing congressional districts favourable to Republicans advised (on a hard drive discovered after his death, shortly before the Supreme Court handed down its decision).
In other words, the citizenship question would help consolidate Republican power at the state and federal level for the next decade, until the 2030 census is carried out. How would it do so? There is little dispute that it would discourage both legal and undocumented immigrants from answering the census, resulting in inaccurately low population totals in the states and cities where immigrants are concentrated. Congressional and state legislative districts are drawn every 10 years, using population counts provided by the decennial census. Federal funds are also allocated according to population. So the predominantly Democratic states and cities in which immigrants are concentrated would lose funding and political representation when new federal and state districts are drawn in 2021.
Roberts was tactful, but clear, in accusing the secretary of commerce of lying to the courts. He came up with several relatively polite ways of calling Wilbur Ross a liar: 'The evidence tells a story that does not match the secretary's explanation for his decision… the sole stated reason seems to have been contrived… we cannot ignore the disconnect between the decision made and the explanation given.' But the Roberts opinion did not resolve the controversy over the census question. It upheld a lower court decision sending the matter back to the Commerce Department. This could make the controversy moot – if census questionnaires must be printed before the department can address the court's concerns. But the president wants to delay the printing and Justice Roberts, the swing vote in this case, may accept a better pretext, or less obvious lie, for inquiring about citizenship status. Or maybe he'll be mollified if the secretary simply tells the truth – that the question was intended to serve partisan political interests.
In a case decided the same day as the census decision, Rucho, et al v Common Cause, Roberts wrote the five-to-four opinion upholding the power of elected officials to engage in extreme, overtly partisan gerrymandering – the design of federal and state congressional districts by the party in power that dilutes votes for the party out of power. Joined this time by his four conservative colleagues, Roberts rejected a challenge to gerrymandered districts favouring Democrats in Maryland and Republicans in North Carolina. In both states, gerrymandering enabled the majority party to maintain disproportionate legislative power.
There was no question in either case that districts were drawn to benefit the party in power and protect it from changes in popular opinion. Any doubts about the crudely cynical partisanship of gerrymanders were dispelled by comments from a Republican state legislator in North Carolina: 'I propose that we draw the maps to give a partisan advantage to 10 Republicans and three Democrats, because I do not believe it's possible to draw a map with 11 Republicans and two Democrats', he explained to a redistricting committee. 'I think electing Republicans is better than electing Democrats. So I drew this map to help foster what I think is better for the country.'
You might think that in a democracy, the voters should decide what's better for the country, as Justice Elena Kagan suggested in a strong dissent in Rucho. You might even think that the constitution guarantees that votes will count equally, regardless of the voter's party affiliation. You'd be wrong, according to the court's conservative majority. It found that voters have no such rights, dismissing Equal Protection arguments against vote dilution, as well as First Amendment claims that gerrymandering punishes voters loyal to the minority party. It found, instead, that the court is powerless to intervene in the political questions that gerrymandering raises.
The dismissal of First Amendment claims is particularly striking, given the court's record of protecting speech rights in the purely political context of campaign-finance rules. Roberts and his conservative colleagues have held that unlimited campaign contributions by individual and corporate donors to parties and candidates should be considered 'protected speech', striking down numerous restrictions on them. I don't disagree with these decisions, but I do consider the speech and associational rights of ordinary voters in gerrymandering cases to be at least as strong as the rights of major donors to political campaigns.
Gerrymandering engages in differential treatment of voters, based on their constitutionally protected political views. A Rucho amicus brief from the Floyd Abrams Institute for Freedom of Expression explains: 'Citizens with favoured views are assembled into districts in a manner most likely to ensure that their preferred candidates will prevail… Citizens with disfavoured views are… assigned to districts in ways designed to minimise their political efficacy and defeat their political views.' This is 'unambiguously an official act of viewpoint discrimination'.
Gerrymandering also infringes on our rights of association, essential to meaningful voter participation. Individual voters who can't write six or seven-figure cheques to campaigns find political power by associating with parties and advocacy groups, right and left. Gerrymandering discriminates against voters who use their associational rights to challenge the party in power.
Following the Supreme Court ruling, both parties will now undoubtedly engage in aggressive gerrymandering (although Republicans, who control more states, have more opportunities to do so), while challenges to gerrymandering move to state courts.
Some states also provide for voter referendums that effectively bypass legislators, and Roberts suggested that gerrymandering could be put to popular votes. But as Kagan pointed out in her dissent, referendums are allowed in fewer than half of all states. And in those states that do allow referendums, legislators in the majority often qualify or effectively nullify referendum results that they oppose. In Florida, for example, the Republican governor has just signed a bill passed by the Republican legislature effectively undoing a referendum enfranchising convicted felons. In Missouri, as Kagan stressed, the legislature is in the process of undoing a popular vote to have its voting districts drawn by a non-partisan state demographer.
American voters are in trouble. Democracy fails when legislators, the executive and the courts have so little regard for it.
Wendy Kaminer is an author, a lawyer and a former national board member of the American Civil Liberties Union.
Picture by: Getty.
To enquire about republishing spiked's content, a right to reply or to request a correction, please contact the managing editor, Viv Regan.