'Can Glastonbury help me shed my toxic masculinity?'
The funniest, most un-self-aware takes filed from this year's festival.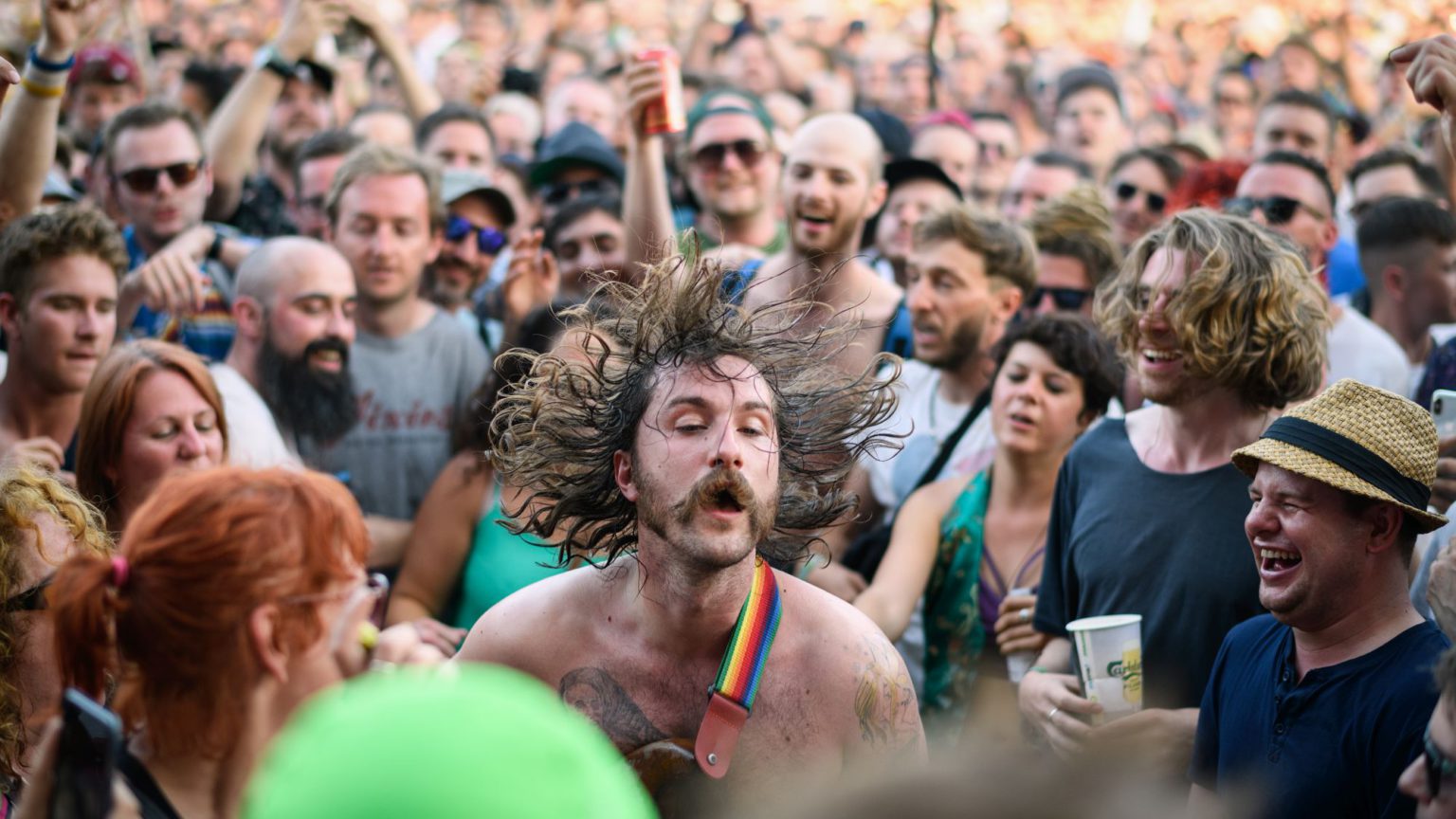 You can tell how thoroughly bourgeois and un-edgy Glastonbury Festival is by the love-bombing it gets from the media and political set each year. The BBC give it the multi-channel treatment befitting an international sporting event. Broadsheet columnists file breathless copy from the Healing Field about the 200,000-strong festival's spirit of rebellion. MPs show up in droves. The booze, drugs and atmosphere creates a spectacular failure of self-awareness that never fails to entertain.
This year was no exception. The Observer's Miranda Sawyer hit full-on rhapsodic joy: 'If you're there, you are Glastonbury. In the words of now: it you.' She declared the £250-a-ticket festival a 'mirror of society', in that it popularises such grassroots movements as 'health and safety culture' and 'green activism'. (So representative is Glastonbury that in 2016, when the EU referendum result was declared midway through the festival, Damon Albarn led the public mourning, declaring from the Pyramid Stage that 'democracy has failed us'.)
Stormzy's scorching Friday-night set – with which he became the first black British solo artist to headline this still thoroughly caucasian event – also sent some commentators a bit giddy, particularly when the south London rapper led the crowd in chanting 'fuck the government, fuck Boris'. 'I am witnessing history in the making', gushed leading Corbynista George Aylett. Because, as we know, pop stars disparaging Tory politicians has never once happened at Glastonbury.
Green politics was also high on the Glasto agenda. David Attenborough was Kylie Minogue's warm-up act, Extinction Rebellion made an appearance, and plastic bottles were banned from sale. One commentator pondered if this was the 'the greenest Glastonbury yet'. But, as it turned out, it was also one of the hottest: there were hour-long queues for drinking water and showers were switched off to avoid a shortage. Amid all the cloying attempts to highlight plastic waste and global warming, 70 people were treated for heatstroke and other heat-related illnesses.
But the prize for best Glasto take easily goes to Andrew Gilchrist, also of the Observer, for a piece titled 'Can Glastonbury help me shed my toxic masculinity – and become a better man?'. It's about a workshop he attended where he was addressed by, among others, that bloke from Rizzle Kicks. Gilchrist, nodding to his '(possible) tendency to mansplain', was hoping to come out of it a better feminist ally.
But not everyone was as excited by this prospect. 'As the panel moves on to talking about the dangers of preaching only to the converted', writes Gilchrist, 'two young men stagger in and ask: "What's this?"… "Positive masculinity workshop", I say and pat the vacant space on the sofa beside me. "Shite", says one of them and they head back out.' Perhaps there's hope for Glastonbury yet.
Picture by: Getty.
To enquire about republishing spiked's content, a right to reply or to request a correction, please contact the managing editor, Viv Regan.