How dare you call the Brexit Party racist?
A British-Indian Brexit Party candidate stands up to the political elite's slanders.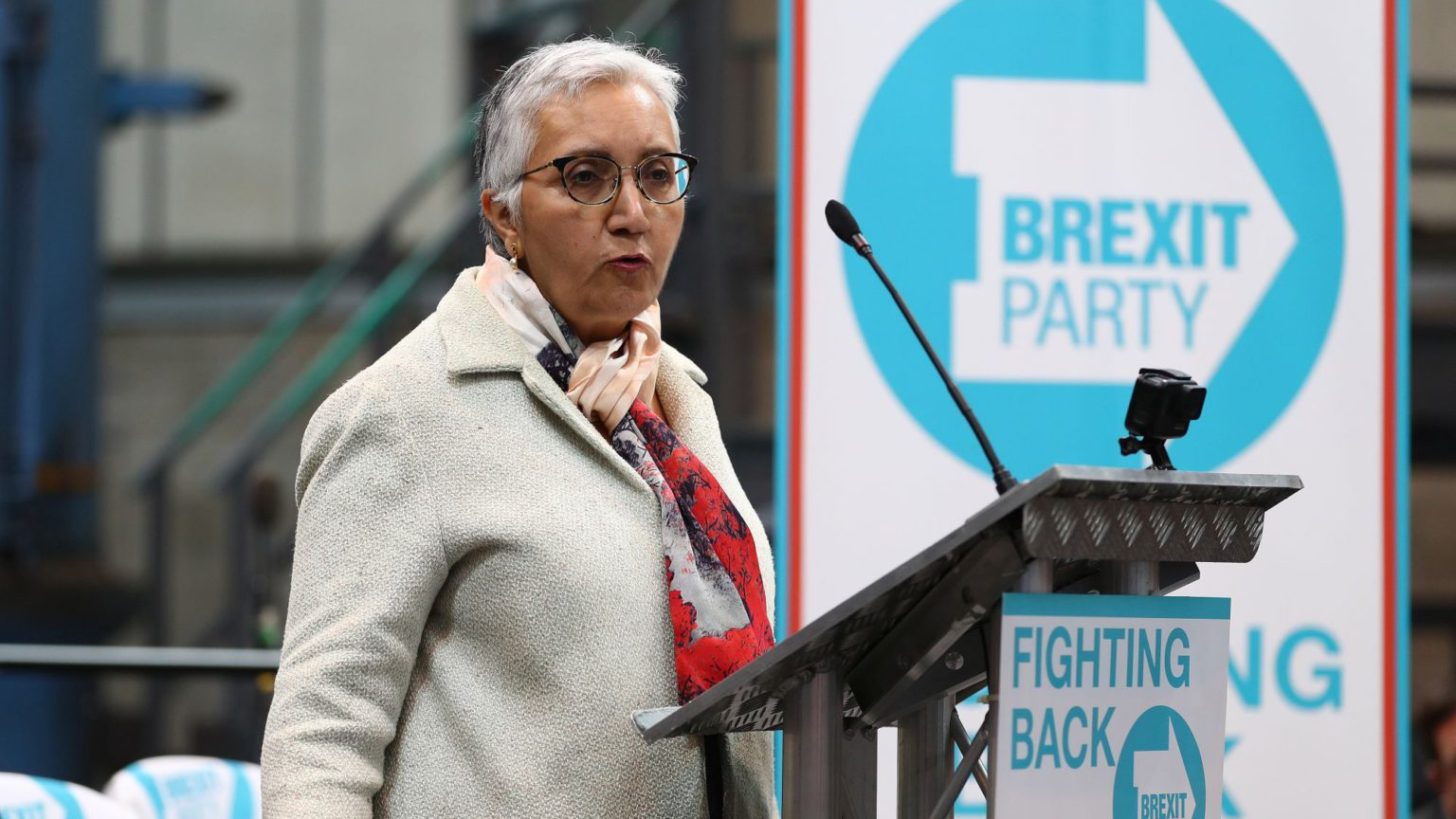 The Brexit Party's success has startled its political opponents. It also presents them with an intractable problem. The problem for the Remain Liberal Democrats and the majority of the Labour Party is how to reconcile their support for a fundamentally anti-democratic institution – the European Union – with looking ethically good in public life.
There are a few options. You could admit that your personal desire to stay closely tied with the institutions of the EU is greater than your commitment to the principle of democracy. You could be honest and admit you simply failed to convince a majority of British voters to support your approach to the EU. Or you could be utterly dishonourable and try to delegitimise the Leave vote and the people who supported it.
Unfortunately, it is this last option that many politicians have warmed to.
First, they have tried to use maths to delegitimise the Brexit Party. They claim that the Brexit Party, despite winning 29 out of 72 MEP places in the EU elections in May, actually lost to the parties that want to stay in the EU. If you add up all the votes of those various pro-EU parties, that is.
And secondly, they have tried to delegitimise Brexit Party people by branding them racists or even fascists. For Brexit Party candidates and supporters who are not white, which includes me, this attack is as baffling as it is infuriating. Apparently, no evidence is needed to show that the Brexit Party and its candidates are racist. One only need refer to that poster from the EU referendum in 2016 and to past comments made by Nigel Farage to 'prove' that the Brexit Party is a racist outfit.
For the record, I think that anti-immigration 'Breaking Point' poster of 2016 was crass and its message was wrong. But claiming that domestic political and cultural problems are in part caused by foreign forces is not unique to Farage. I don't recall the same level of outrage when Labour, under Gordon Brown, adopted the slogan 'British jobs for British workers'. Or when, under Ed Miliband, Labour issued mugs with the words: 'Controls on immigration.'
And let's not forget that it was under a Labour government that Indian women were subjected to virginity tests in Indian embassies and at Heathrow Airport in the late 1970s. Also, past offensive comments by Brexit Party leaders or candidates pale into insignificance in comparison with the EU's support of the Libyan Coast Guard that resulted in 8,000 to 10,000 migrants and asylum seekers being kept in detention centres under inhumane conditions.
If you think posters and comments are worse than actual policies that openly discriminate against non-EU people – which primarily means non-white people – then you have a very superficial understanding of what constitutes racism.
The people bandying about accusations of racism are unable to accept that the Brexit Party's campaign to strengthen democratic accountability strikes a chord with many people who have feel increasingly disenfranchised. Voters' growing openness to democratic debate and public discussion is vital to the health of politics going forward. Yet rather than welcome this development, some Labour and Lib Dem leaders and campaigners respond with moralistic denunciations and slanders.
These cavalier and unfounded accusations of racism can have a very detrimental impact on public life. They re-racialise everyday life and contribute to a more censorious, authoritarian culture. They encourage the belief that society is divided along racial lines. Society is divided, yes – but along political lines, not on the basis of race or ethnicity.
The main divide today is between democrats who see the nation state as essential to the project of democratic accountability, and those on the other side who see politics as something that is better done through the supra-national relationships of élite cliques. This is the debate we need to have. Let the insults end, and the discussion begin.
Dr Alka Sehgal Cuthbert was a candidate for the Brexit Party in the European Parliament elections. She is an educator, researcher and writer. She is also co-editor of What Should Schools Teach? Disciplines, Subjects and the Pursuit of Truth.
To enquire about republishing spiked's content, a right to reply or to request a correction, please contact the managing editor, Viv Regan.