Don't cry for Andrea Nahles
The outgoing leader of Germany's SPD sums up the uselessness of establishment politics.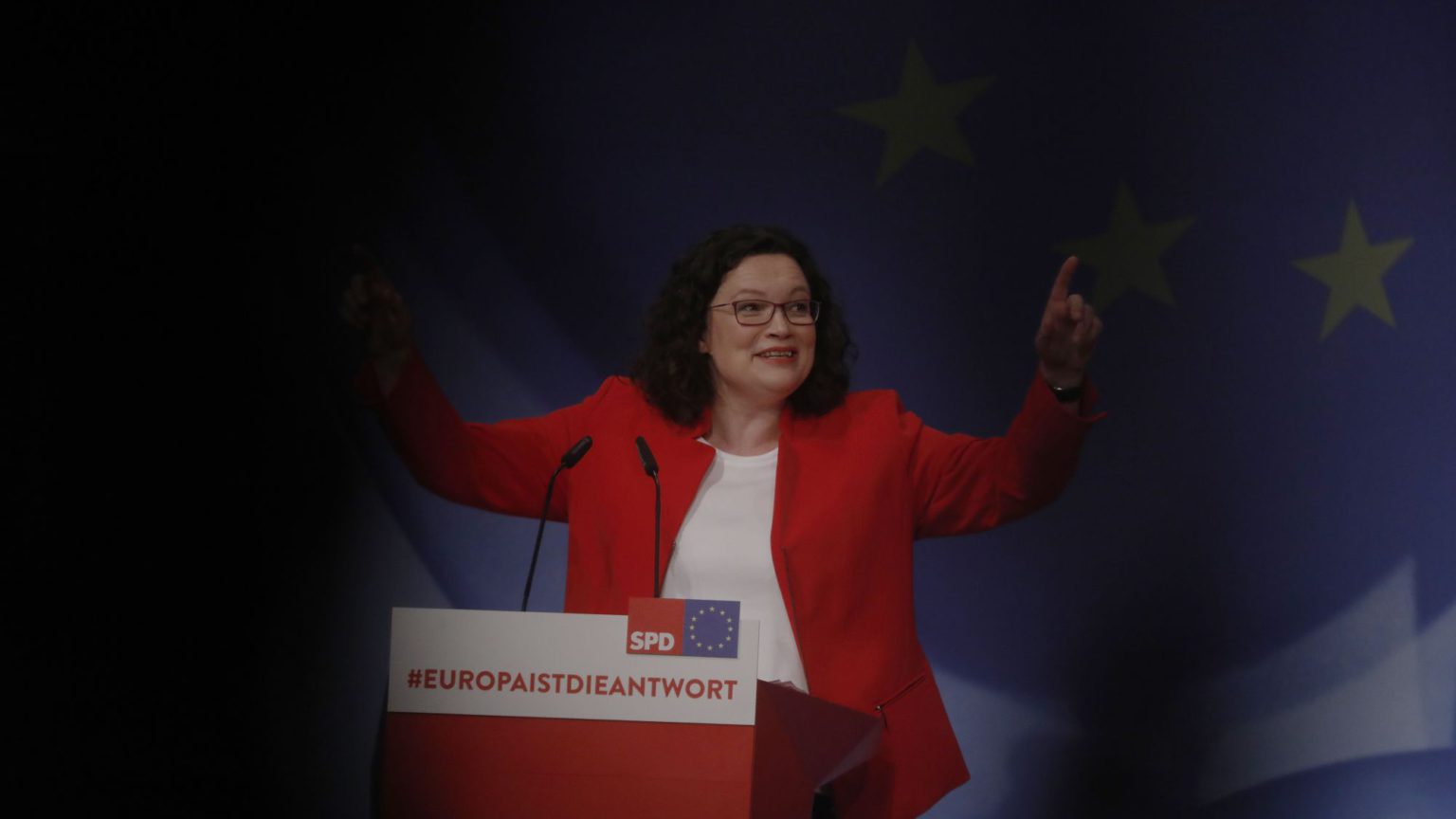 'Comrades, stick together.' That was Andrea Nahles's last piece of advice to her party, Germany's Social Democratic Party (SPD), as she resigned on Monday. Nahles stepped down after the SPD received just 15.8 per cent of the vote in the EU elections. This was the party's worst result in a federal election ever, and represented a fall of 11 per cent from the 2014 EU elections. Nahles will also give up her job as head of the parliamentary faction of the SPD and her seat in the Bundestag.
In normal times, Nahles's resignation might have been greeted with relief. She has never been a popular or respected politician. Her 16 months in office have been widely referred to as 'negative'. She was a politician with infantile tendencies who tried to cover up her lack of ideas with coarse and childish language, one newspaper said.
In April 2018, she was elected SPD leader with 66.4 per cent of delegates' votes – far fewer than had been expected. In a survey carried out just after the EU elections, 71 per cent of respondents said she should resign. A vote of no confidence in her was due to take place in her parliamentary faction – but her resignation made that unnecessary.
And yet, such is the crisis of the established parties in Germany that even this resignation of a politician regarded as a failure is being talked about as some kind of disaster. 'The treatment of the retiring SPD leader has caused horror in Berlin's political scene', says Der Spiegel. Malu Dreyer, vice chair of the SPD, claimed politics is entering a dangerous moment. Reporting on Nahles's final address to her colleagues, Focus magazine said: 'After only 10 minutes, she left the room – there were tears in the eyes of many in her faction.' The Süddeutsche claimed Nahles was living proof of how difficult it is for women to have leadership positions. Even chancellor Angela Merkel, rarely seen or heard in the press these days, spoke of Nahles as a 'fine character'.
All this focus on the emotions of Nahles's colleagues, and the dirty nature of politics more broadly, is a distraction from the real story here. Nahles lacked authority, not because she is a woman, but because she had no substantial ideas. And the infighting and bickering within her party are symptoms of a broader political crisis, of a mainstream social-democratic party in decline.
Politics needs strong ideals and hard arguments. And politics has always been a test of character and stamina. The appeals to be 'nicer' to politicians are a weak attempt to take some pressure off politicians and to sanitise political debate. Nahles was, as FAZ put it, a master of tactics and intrigue. She is not a victim – she is part of the problem.
Her rise to the top came after her predecessor, Martin Schulz, had to resign following the SPD's huge losses in the 2017 federal elections. Nahles became the frontwoman of a party leadership whose aim was to fend off their discontented party base, many of whom were opposed to the renewal of the grand coalition with Merkel's CDU. Now, Nahles has become the eighth SPD leader since 2005 – the start of Merkel's term as chancellor – to resign in response to a crisis or in disgrace.
Malu Dreyer, who is one of three interim leaders of the SPD, says it is important to 'signal' that this is not a party without leadership. But that's exactly what it is. Nahles's departure has exposed the true character of this once proud and coherent party – it has become an empty shell, and many people, including some of its own leaders, have given up on it.
A 'Troika' – does nobody see the irony in this word? – will now act as 'caretakers of the party' until a new chairperson has been found. All three – Dreyer, Manuela Schwesig and Thorsten Schäfer-Gümbel – have made it clear that they do not want the job of party leader. The two women wish to continue as the premiers of their federal states, while Schäfer-Gümbel is preparing for a better career than leading a party that is set to lose more elections: in the autumn he will become managing director at GIZ, Germany's development agency.
Meanwhile, the main issue now motivating the clueless SPD leadership is the survival of Merkel's grand coalition. The cobbling together of the Troika, this leadership of the unwilling, was about preventing the collapse of the government. Only fear of new elections – in which both the SPD and CDU would do very badly – is binding the government coalition together right now.
The SPD is stuck. It hasn't even announced when a leadership contest will take place. Its strategy is to muddle through and to avoid controvery and political debate by appealing for everyone to be 'nicer'. It won't work. It will only further expose the indirection and unpopularity of the establishment parties in Germany.
To enquire about republishing spiked's content, a right to reply or to request a correction, please contact the managing editor, Viv Regan.