Greece and the EU austerity trap
Syriza is paying the price for promising the impossible: abolishing austerity while remaining in the EU.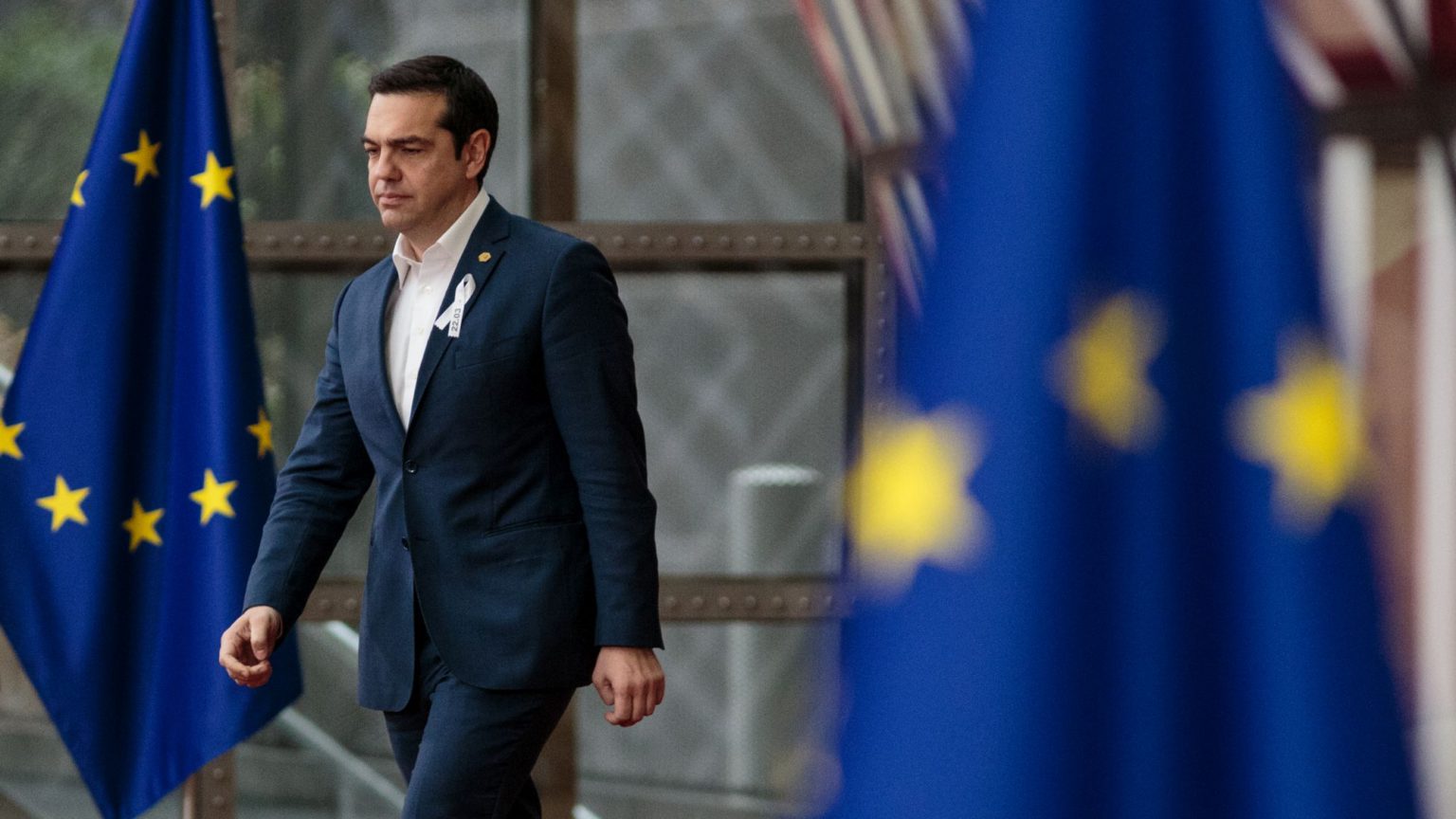 It is not over just yet for Greek prime minister Alexis Tsipras and his leftist party, Syriza. The snap General Election he has now called is not for another month at least. But the reason for calling it – Syriza losing to the New Democracy party in this weekend's European Parliament elections – suggests things could be over very soon. New Democracy won 33 per cent of the vote, while Syriza won just 24 per cent. If repeated in a General Election, New Democracy could even win enough seats to form a majority government. 'Did not meet expectations', was Tsipras's downcast but succinct verdict on his party's performance.
It is a far cry from five years ago, when Tsipras cut a far more ebullient figure. Syriza, a hitherto small-ish leftist coalition party, had just picked up 24 per cent of the vote in the European Parliament elections. It was seen by many, not just in Greece but across Europe, as the beginning of a left-wing fightback against the neoliberal European Union, which, alongside the other two members of the so-called Troika – the European Central Bank and the International Monetary Fund – had subjected Greece to a harsh regime of fiscal discipline, complete with drastic public-spending restrictions, rampant privatisation and debt restructuring, in return for billions of Euros in bailout cash. As Tsipras put it at the time, Syriza's popular support robbed the then coalition government of any 'political or moral legitimacy to continue with austerity policies'.
In January 2015, Syriza's campaign against austerity catapulted it to victory in the General Election. Again, basking in the afterglow of victory, Tsipras struck a belligerent anti-austerity note, pledging to end 'five years of bailout barbarity'. Syriza's triumph, he continued, was a 'defeat for the Greece of the elites and oligarchs'.
Anti-elites. Anti-oligarchy. And, above all, anti-austerity. These constituted Syriza's raison d'ȇtre, the source of its popular appeal, the prompt for leftists across the West to cheerlead it. So, four years on, what's changed?
Not much. And that is precisely the problem. Within a month of assuming power in 2015, Tsipras, with his finance minister Yanis Varoufakis leading the way, approached the Eurogroup to attempt to relax the onerous bailout conditions. Yet not only did they fail to win any concessions, they completely capitulated, agreeing to honour the existing obligations in full and desist from taking any further unilateral actions. It meant that everything that the Troika demanded of Syriza's predecessors, was demanded of, and, incredibly, accepted by, Syriza.
The so-called 20 February agreement was no aberration. It became the modus operandi of Tsipras and Syriza. They would talk of resisting the EU's harsh demands, of shaking off the fiscal straitjacket of austerity, while, in practice, acquiescing at every key moment, from their response to the infamous referendum in July 2015 – when the Greek public voted to reject the Troika's bailout conditions, only for Tsipras, a few days later, to accept them – to the end of the the bailout loans and attached conditions in August last year. Indeed, this was trumpeted by Tsipras and others as the end of externally forced austerity in Greece. It is nothing of the sort. The Eurogroup has actually imposed on Greece budget-surplus targets of 2.2 per cent of GDP or more until 2060 (which means that state revenue must be greater than spending), which comes on top of Troika-dictated austerity until 2022 – all of which will be monitored by the EU and the ECB.
It is unsurprising, then, that Greece, fours years into Tsipras's premiership, remains stuck in the economic and social rut in which it found itself after the Eurozone crisis that began in 2010. Greece's GDP has shrunk by 25 per cent over the past decade and its debt-to-GDP ratio has grown from 130 per cent in 2009 to 180 per cent in 2018. Unemployment did fall below 20 per cent in 2018, after it peaked at nearly 30 per cent in 2013. But over half of new jobs in 2017 were part-time, and many unemployed people, especially young people, have emigrated. The average monthly salary (state employees excluded) fell from €1,285 a month in 2012 to just €929 in 2018.
Despite all the leftist rhetoric, politically and socially, the trajectory of Greece has remained unaltered under Tsipras. Privatisation has continued apace, with airports, railways and large segments of the energy grid all sold off. The homes of families unable to pay their debts to banks have been ruthlessly auctioned off. Public-sector employment has shrunk by 30 per cent in a decade, leaving basic services, from healthcare to transport, painfully understaffed.
And, so, to this weekend's European Parliament election results: is it any wonder that the leftists long promising an end to austerity are now being rejected in favour of centre-rightists, who are now also promising an end to austerity? For that is what underpins New Democracy's revival under Kyriakos Mitsotakis: the promise to relax the harsh fiscal regime that has been strangling Greece for too long. Yes, ND's emphases are often different to Syriza's – tax breaks for property owners rather than tax rises for the wealthy – but the big manifesto commitments to lift employment levels, increase GDP and, finally, increase state spending and investment are not so dissimilar. Even the key promise that would unlock all these policy pledges is straight from the Syriza playbook: to negotiate a new deal with Greece's European and international creditors. It is just that, from a voter's perspective, where Syriza has repeatedly failed, New Democracy has yet to try.
But there's the rub. New Democracy faces the same obstacle as Syriza: the EU.
Syriza's attempt to challenge the neoliberal consensus, as its leftist supporters would no doubt have it, was not undermined by the duplicity and slipperiness of Tsipras and his fellow travellers. They were no doubt genuine in their desire to ameliorate the dire situation of the Greek people. Nor was Syriza crippled in advance by the admittedly deep-rooted weaknesses of the Greek economy, from its chronically low levels of productivity and its overreliance on imports to its huge levels of public and private debt.
No, Syriza's problem, indeed, its fatal flaw, was to attempt to oppose the Troika-imposed austerity regime while simultaneously refusing to leave the Eurozone and the EU. It amounted to seeking respite from austerity from within institutional arrangements dedicated to advancing austerity – hence the demand made of all EU members that government deficits cannot be more than three per cent of GDP. Moreover, Syriza attempted to act with a degree of national sovereignty within a union that explicitly denies and curtails national sovereignty. There was no room for manoeuvre – no way, for example, to devalue the currency, or to increase investment in a particular industry, because such powers were no longer in the gift of the Greek state. As a member of the EU and the European Monetary Union, and a heavily indebted one at that, Greece was no longer in control of its own affairs. That Tsipras seemingly wagered on the democratic mandate of an election and a referendum carrying any weight in the EU, an institution designed to insulate Europe-wide governance from national electorates, was at best naive, at worst cynical.
So even if New Democracy does defeat Syriza in the coming weeks, its commitment to remaining within the EU is likely to stymie any attempts to relax the regime of austerity that looks set to hold Greece in thrall for decades to come.
The lesson is there if left-leaning Remainers in the UK care to look: austerity can only be abolished outside, not within, the EU.
Tim Black is a spiked columnist.
Picture by: Getty.
To enquire about republishing spiked's content, a right to reply or to request a correction, please contact the managing editor, Viv Regan.