Why it was right to 'platform' Ben Shapiro
His wrongness was exposed in front of millions.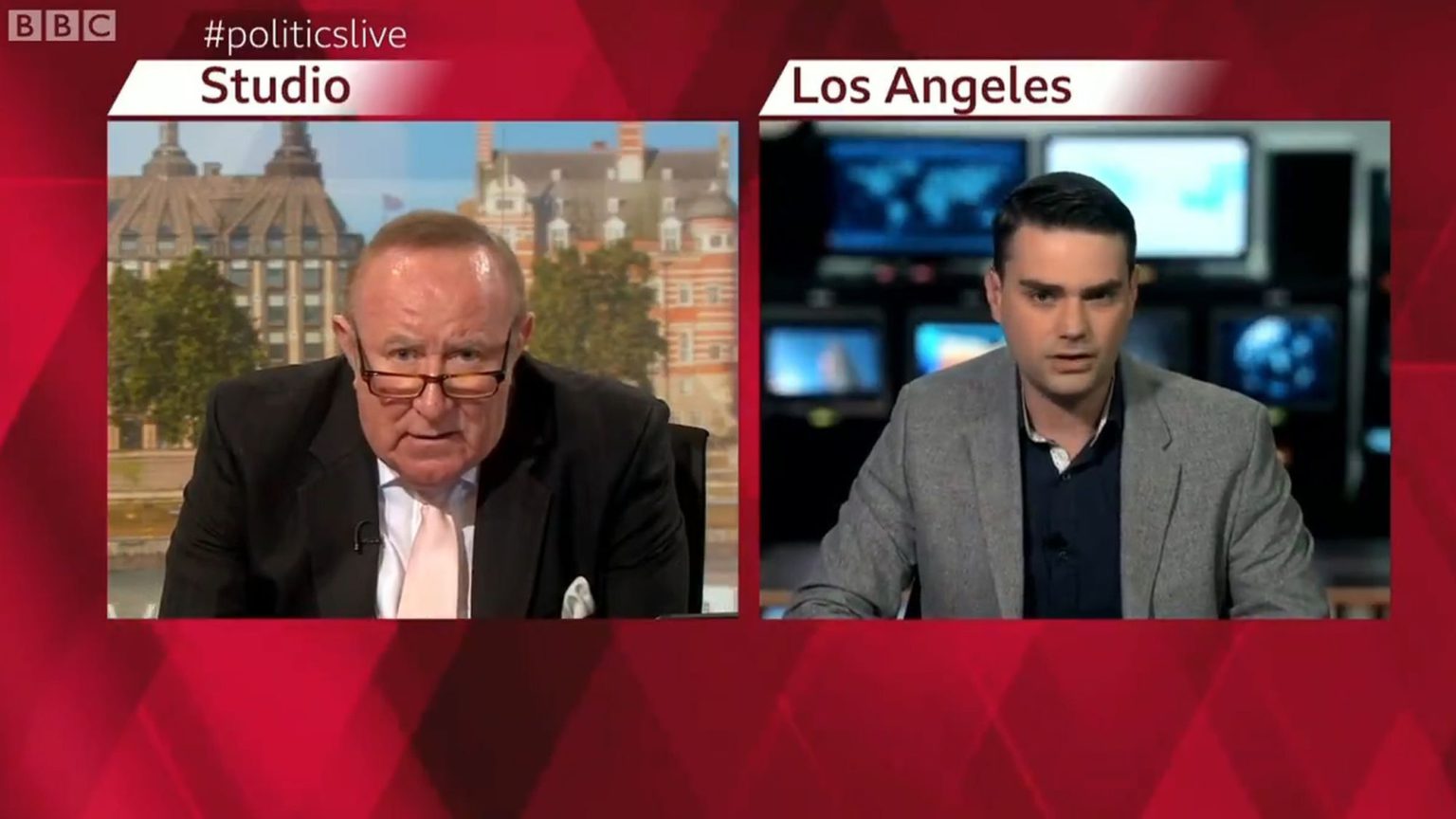 Some are not happy that the interview even took place – and not just Shapiro and his supporters. The logic of No Platforming now extends beyond the campus and into the media. For the Guardian's Nesrine Malik, no airtime should be given to those whom she considers far-right bigots: 'It is the platform that legitimises them, not how they perform when they are on that platform.' That Shapiro lost decisively is irrelevant, according to this view. The mere utterance of his opinions makes them somehow persuasive. The audience has no ability to discern right from wrong and is probably composed largely of bigots and thickos anyway. Best not to embolden them. 'Sunlight simply provides exposure and nourishment. There is no middle ground with bigots, no matter how popular they are. With every attempt at "challenging" them, all we do is expand their stage that little bit more', Malik argues.
For some, public debate itself is problematic. Debating issues, particularly on television, in small segments for a mass audience, 'rewards liars and bullies, is about beating the opponent rather than finding the truth, and is structurally biased in favour of conservative bromides rather than surprising new ideas', writes Stephen Poole, also in the Guardian. Implicit in these critiques is the idea that some people and views are simply beyond the pale, beyond reasonable discussion in public, and it isn't worth the risk of challenging them or attempting to expose their wrongness.
But Shapiro's wrongness was exposed in front of millions. Over 2million have watched the full, unedited shellacking on YouTube; shorter social-media clips have no doubt been seen by many more millions.
Millions saw that Shapiro had no serious answer to the charge that his views on abortion are 'barbaric'. In particular, Neil questioned his support for Georgia's infamous 'heartbeat' bill, which criminalises all abortions after six weeks of pregnancy, a stage at which many women might not even know they are pregnant. It could lead to women being jailed for decades simply for having a miscarriage. This is unquestionably barbaric. It would hand control of women's bodies to the state, force them to carry a baby to term and give birth against their will. Shapiro's answer that it was simply 'science' to support this, and that Neil must be some kind of radical leftist to question the Georgian bill, would embarrass a sixth-form debater. He was also unable to account for his racist tweet saying that 'Arabs like to bomb crap and live in open sewage'.
Neil was also right to question Shapiro's commitment to civil discourse. In the culture wars, no side has a monopoly on censorious tactics. The right couches its appeals to censorship in calls for more 'civility' in public life and for the other side to tone down its rhetoric. And yet, at the same time, as Neil pointed out, many of Shapiro's 'greatest hits' in various debates seem remarkably uncivil. When posted on YouTube, these videos feature titles like 'Ben Shapiro DESTROYS transgenderism and pro-abortion arguments'. Shapiro said it isn't him who labels the videos in this way, and he cannot control how others describe him. Here, he is being slippery. Some of these videos were uploaded by the Daily Wire, a website he edits. What's more, he wrote a book called How to Debate Leftists and Destroy Them.
The book's first sentence is revealing: 'All that matters is victory.' For Shapiro, too many on the right are overly focused 'on the virtue of their message, the intellectual honesty of the cause, and the frustration of having nobody care about it either'. Ironically, what this shows is that Guardianistas and Shapiro's ilk share a disdain for serious, reasoned debate and agree on its purpose: to get one over on your opponents and humiliate them. This is why half of the videos in which Shapiro DESTROYS his enemies are either delivered straight to camera, with nobody challenging his view, or are clips of him humiliating a hapless college student. This practice of 'owning the libs' might generate excitement and clicks, but perhaps if Shapiro had more experience debating his ideas with adults on the other side, then his arguments and composure might not have crumbled so quickly in the face of Andrew Neil's robust questioning.
Challenging debate and tough questions are imperfect tools, of course. Even the best interviewers can be outfoxed by canny operators. Some debates might be won or lost on the competence and charisma of the speaker rather than the rightness or wrongness of the arguments themselves. But the main reason we need free speech and open debate is not for the benefit of the speaker – it is because it is by far the best way to help us, the audience, form our opinions and make up our minds.
We must be prepared to debate and consider even the most controversial subjects and positions. If we do not, then the right answer has been decided in advance on our behalf. Too many on both sides of the culture war would happily rob us of the opportunity to reach independent conclusions. Andrew Neil's skewering of Shapiro was the perfect rebuke to this censorious attitude.
To enquire about republishing spiked's content, a right to reply or to request a correction, please contact the managing editor, Viv Regan.