The Brexit Party has parked its tanks on Labour's lawn
A former miner reports from a packed Brexit Party rally.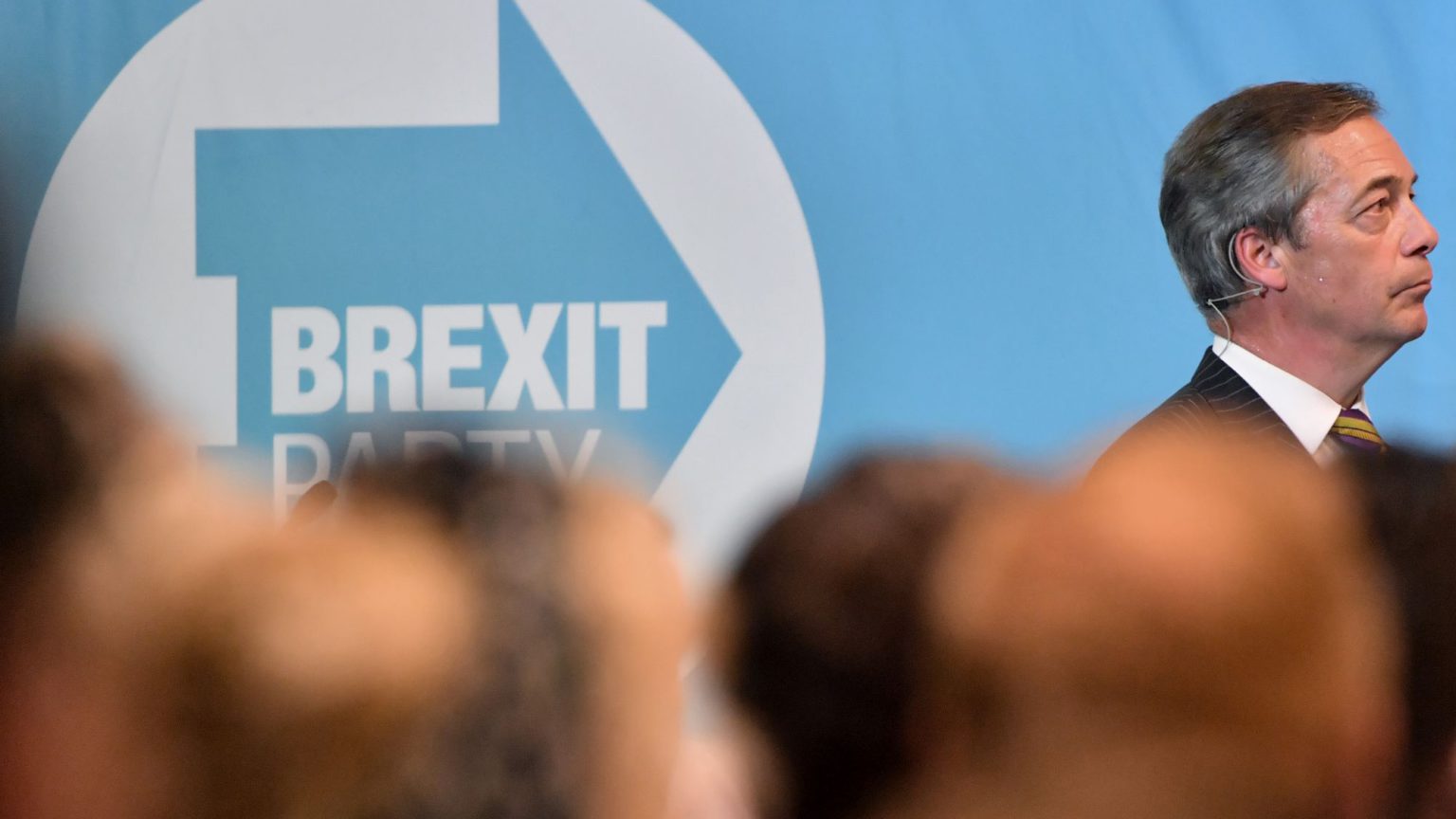 Another sold-out Brexit Party rally – this time on a Monday morning. Yesterday, the Brexit Party was in Featherstone, a town in the Hemsworth parliamentary constituency, held by Jon Trickett for Labour in the 2017 General Election with 56 per cent of the vote. It is next door to Labour's Yvette Cooper's constituency.
True to his word, Brexit Party leader Nigel Farage is going deep into the heartlands of the Labour Party. Featherstone is a traditional working-class town, known for its coal-mining history and its Rugby League team, Featherstone Rovers. Physicality and brutality are the hallmarks of both the sport and the mining industry. Sports journalist Eddie Waring once said that if the Rovers were ever short of prop forwards, all they had to do was shout down the pit and more players would emerge. Everyone knew what he meant.
The coal pits are now closed. But mining had a long history here. In 1893, striking miners and their supporters gathered in Green Lane. The Riot Act was read and two men were shot dead. Several others were injured in the gunfire. It became known as the Featherstone Massacre. As the commemorative plaque at the town crossroads reflects, this was 'the true price of coal'.
Featherstone is a small town where memories linger and traditions die hard. The struggles between miners and their employers were reignited once again in the Miners' Strike of 1984-85. The miners were eventually defeated after a momentous struggle. The British working class, as an organised political force, was never the same again.
Back then, the working class was betrayed by the Labour Party and democracy is being betrayed by the Labour Party today. Working-class people – who backed Brexit in their millions, only to see it delayed and diluted – have been more than loyal to Labour, until now.
And so it was, here, in the very same Green Lane, site of the Featherstone Massacre, that the Brexit Party held a rally yesterday at the working men's club. I arrived one hour before it started. There were already people everywhere. Some were milling around, talking politics. Some were queueing for the best seats – a good idea, as it turns out. The rally was packed to the rafters.
I sat next to John Crace from the Guardian and Henry Deedes from the Daily Mail. Not quite their usual scene, one could say. But, during the rally, something clearly dawned on them. Perhaps the standing ovation for ex-Tory and Brexit Party MEP candidate Anne Widdecombe – not exactly a friend of the miners – made them realise that something new is happening in politics. New alliances are being forged and the status quo is being threatened.
Widdecombe spoke of 'sweeping the traitors from parliament'. She mocked Theresa May and the EU technocrats. She finished by saying 'give us Brexit or your time is up'.
The rally drew people from all walks of life. There was a genuine diversity of ages, sexes, social classes and occupations. I met lorry drivers, labourers, hairdressers, pensioners, small-business owners and more. On this Monday morning, they came from Featherstone, Wakefield, Doncaster, Brigg, Castleford, Hemsworth, South Elmsall, Bradford, East Cowick and beyond. Many of them had made the effort to travel here, some for 30 miles or more. This was important to them.
I spoke to dozens of attendees. This was a knowledgeable crowd, not the dimwits of the elite's imagination. Whenever any of the speakers referenced a specific UK politician or EU bureaucrat, he or she was instantly recognised and booed accordingly. This crowd knew their politics and want it all to change. This was so uplifting to see from ordinary folk. Inevitably, when the names of the two local Labour MPs were mentioned from the platform, the audience erupted into chants. 'Traitor' was the most used word.
Yes, this was a professionally organised event. But there was a sincere affinity between the crowd and speakers. A stage-managed political conference this was not. This was politics driven by and involving ordinary people.
For many of the attendees I spoke to, this was the first time they had ever been to a rally. They had waited many years for an opportunity to be listened to. The first time was the EU referendum in 2016. I met disgruntled Conservatives, even a Green. But, without doubt, the majority here were angry ex-Labour voters, supporters and members. And they were open about their disgust with the party.
Fred Hilton, a former Labour councillor of 12 years in Hemsworth, West Yorkshire, typified this. He and his wife had a long history with Labour. 'Not any more', Fred said. 'The Brexit Party is the only way to get our freedom back… Labour don't even canvass for our votes now. They daren't.'
A couple from Doncaster North, Ed Miliband's constituency, said that while Miliband was 'a lovely man', he did not understand why his electorate voted Leave. One man I spoke to said that we can no longer trust politicians. 'They had better listen because they don't want to know me as a freedom fighter', he added
I asked a number of people whether their support for the Brexit Party would continue into the next General Election, and whether it was a problem that the party is light on policy. But they were all adamant that this did not matter. 'A manifesto is worth nothing if [politicians] don't carry it out', said one. 'Concentrate on Brexit, then look at policies. No clouding the issues', said a younger couple.
'Let's get the enthusiasm and excitement going', added the young couple. They think that we should embrace the 'challenge' of Brexit. 'We came from nothing. If worst comes to worst, we will survive.' This was coming from two people starting to make their way in life. They had travelled 25 miles on a Monday morning to be part of this event.
A lot has changed since the referendum. Those I spoke to yesterday told me that when the result was announced, they were excited and positive about the future. They wanted change, not just the same old, same old. Then the anger at the betrayal set in. But what is clear now is that the betrayal has only made Leavers more determined. This was particularly true of the younger attendees I spoke to.
The elites' betrayal of Brexit has created a democratic crisis. But the people may very well step in to sort out this mess and breathe life back into politics.
Steve Roberts is a writer and former miner, based in West Yorkshire.
Picture by: Getty.
To enquire about republishing spiked's content, a right to reply or to request a correction, please contact the managing editor, Viv Regan.