Hail Cesar
Let's praise Billy McNeill, one of the greatest men of football.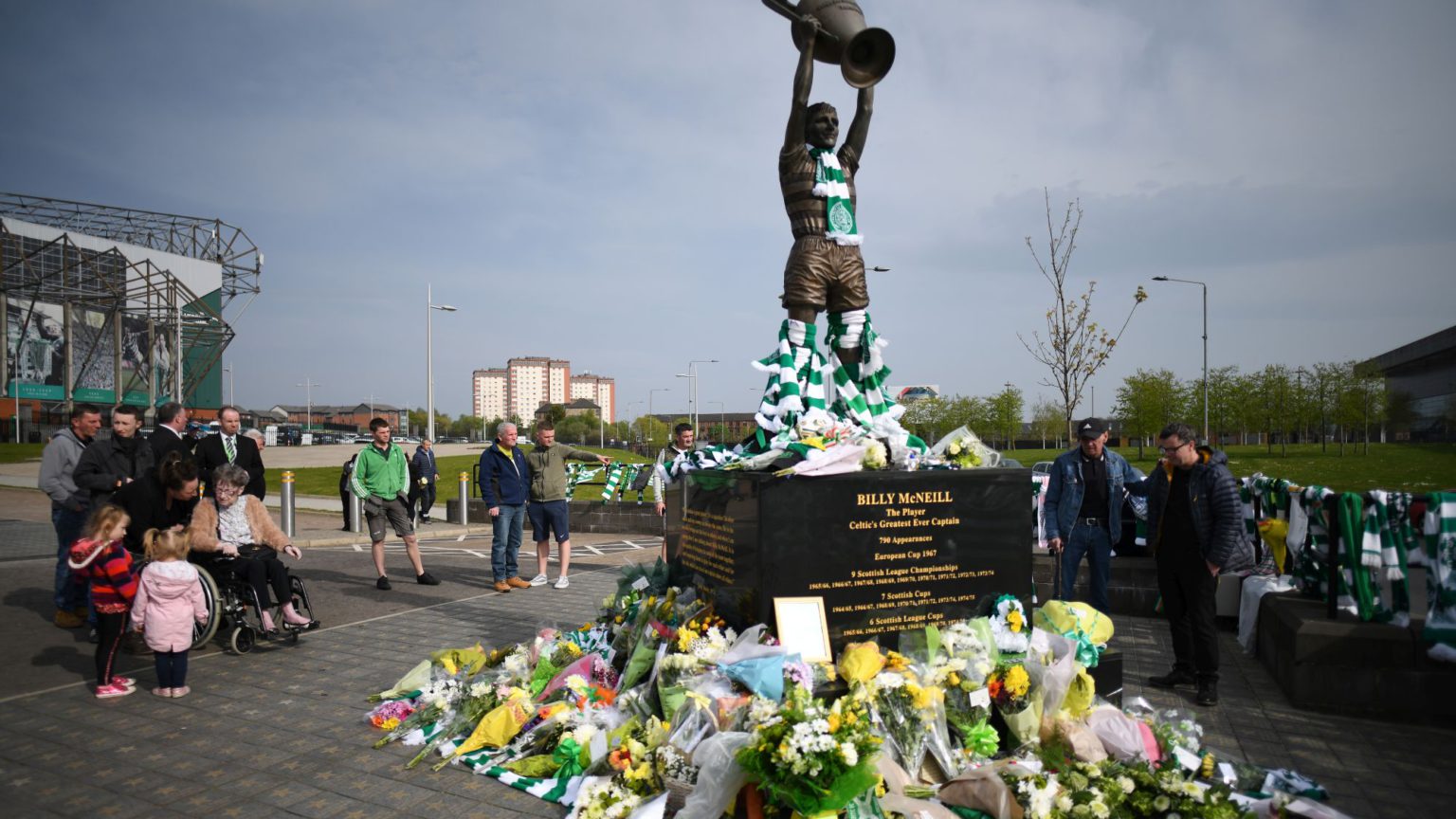 Today in Glasgow we bury a legend. A true great and a gentleman. One of the finest men ever to grace a football pitch. Billy McNeill, captain of that famous Celtic team forever known as the 'Lisbon Lions', passed away peacefully surrounded by his family 12 days ago. He was 79 and had been suffering with dementia in his final years.
For those of a certain age who appreciate the beautiful game, who could forget that iconic moment in 1967 as 'King Billy', perched high on the marble steps of Lisbon's Estadio Nacional on a sunlit May evening, raised aloft the 'Big Cup'? It is a wonderful, unforgettable moment of history etched in the memory of Celtic supporters and lovers of attacking football everywhere. In winning the European Cup, Billy and his teammates made history: they were the first British football team to win European football's premier trophy.
In the semi-final, much to the surprise of the English press, Celtic knocked out the much fancied Leeds United at Hampden Park in front of 137,000 fans – an attendance that still stands as a UEFA Club competition record. In the final they faced the even more strongly fancied Italian giants Inter Milan, who had dominated the competition in the previous few years, winning in 1964 and 1965. Inter Milan were exponents of the ultra-defensive catenaccio ('door bolt') system and it had served them very well. Celtic were the rank outsiders. But in playing what manager Jock Stein described as 'pure, beautiful, inventive football', they shocked the football world by beating the Italians two goals to one.
Today, in an era of international transfers and multimillion-pound football deals, it is remarkable to think that 10 of the Celtic team were were born within 10 miles of Celtic Park and the eleventh player lived only 20 miles beyond that. It may be difficult for younger readers to imagine, but in the years leading up to Celtic's triumph in 1967 the players' wages were so modest that very few of them owned a car. This is how Billy came to acquire his nickname: Cesar. Younger teammates would always ask Billy for a lift. Hence the nickname in deference to Cesar Romero, the getaway driver in the original Ocean's Eleven film. Because he was such a commanding figure on the pitch, many younger supporters imagined Cesar was a misspelling and that the name was meant to be Caesar the Roman leader in homage to his powerful presence.
The contribution he made to Celtic and football more broadly is eye-watering. He holds the record for most ever appearances for the club – 822 over 18 years. He captained the team to nine successive league titles in a row, seven Scottish Cups, six League Cups, and two European Cup finals, in 1967 and 1970. He went on to manage the team, bringing in four more titles, six League Cups and seven Scottish Cups. As captain, manager and official club ambassador, his association with the club stretches to 60 years.
He was a towering figure, fierce competitor, and considered one of the best defenders in the world, known for his strength and leadership. In the heat of battle he showed no quarter and put his body on the line when needed. He also had that great knack of popping up with important goals to win vital games. What is universally acknowledged by all of his footballing opponents and by anyone who knew him is that he was an absolute gentleman off the pitch. For such a great footballer he was always warm, calm and patient with people who wanted his time, a chat or a photo. When he retired from management, he did a bit of football commentating on TV. He also ran a pub for a few years.
One day I was at Celtic Park when we beat Rangers heavily in a game. What followed was many hours on the beer celebrating. By the time we arrived at McNeill's bar in the south side of Glasgow we were already hammered. On entering his place we were met by absolute bedlam, a sea of very drunk Celtic supporters bouncing up and down, celebrating in full song. Somehow, amid this madness and delirium, stood at the bar, imperious, was Cesar himself. I approached with a friend. Suddenly I felt completely sober. It was like I was having an out-of-body experience as this great man and idol stretched his hand out and proceeded to make conversation with me. I stood there like an idiot, unable to think of what to say as he asked me about my family in Ireland, what I was working at in London, and what I thought of the current crop of Celtic players. In person, the big man was wise, patient and knowledgeable.
Last Saturday, fans in their tens of thousands paid tribute to a leader, captain and legend at Celtic's home ground. Outside the stadium, the imposing statue of him holding the European Cup aloft was surrounded by thousands of scarves and flowers. What struck me was how many parents brought their young kids along to introduce a new generation to the legend that is Billy McNeill.
As we bury Cesar, we should praise him too.
Kevin Rooney is co-author of The Blood-Stained Poppy.
To enquire about republishing spiked's content, a right to reply or to request a correction, please contact the managing editor, Viv Regan.