The Brexit Party is the earthquake British politics needs
The establishment is right to be terrified by this diverse, dynamic new party.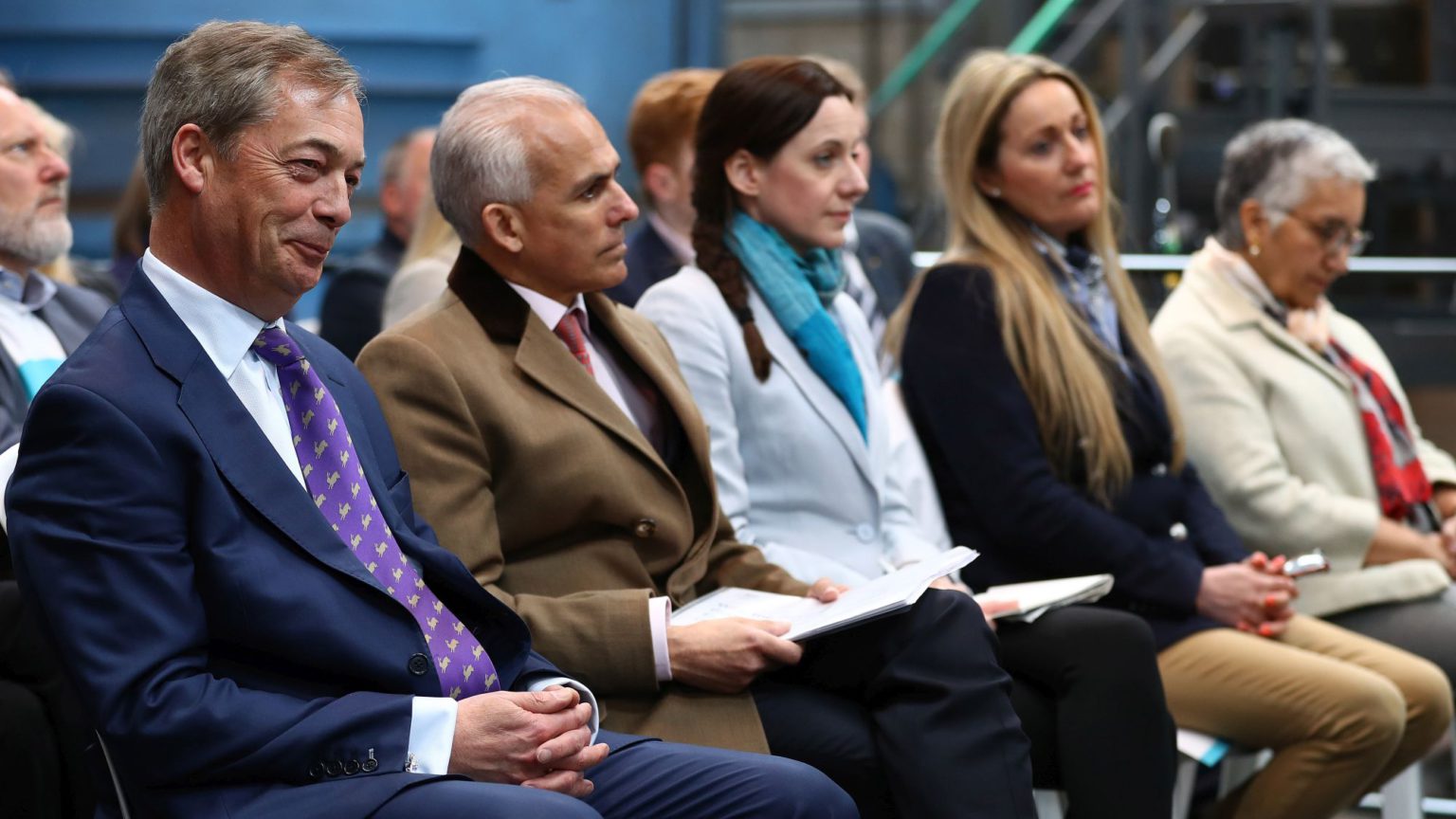 Even before the Brexit Party has taken part in an election, it has done something incredibly important – shattered the caricature of the Brexit voter. For nearly three years, the Remainer elites that dominate public life and the political sphere have promoted a demeaning, borderline libellous image of the average Brexit-backer. Brexit is the handiwork of racists, they claim. It's all down to old white men. It's pale, male and stale. It's something only toffs wanted, they insist, and the poor voted for it only because they were hoodwinked by a bus. Charming.
And now here comes the Brexit Party with a dose of reality. The Brexit Party is the most dynamic and diverse new party to have emerged in years. Its candidates come from across the political spectrum, from various social classes, from different cultural backgrounds. There are men and women, old people and young people, right-wingers and left-wingers. But this is not a conflictual bunch. On the contrary, these people from divergent worlds are united around a single message: that the 2016 vote for Brexit must be honoured and must take force. In the Brexit Party there is diversity of experience but unity of outlook. These are people coming together to say: democracy is an essential value, the glue of civilised politics, and it must be protected from a political class that seems hell-bent on selling it out.
To those of us who have long been aware that Brexit was backed by a third of ethnic-minority voters, a third of voters aged 18 to 24, 49 per cent of women, and by more working-class people than middle-class people, the elitist caricature of Brexiteers has never washed. Yet now the Brexit Party will surely open other people's eyes to this reality. This is a party that includes Elizabeth Babade, a Nigerian-born lawyer who wants Britain to be more global than it could ever be inside the EU, and Alka Sehgal Cuthbert, an educationalist who is pro-immigration. So much for Brexiteers being Little Englanders.
There is an opera singer (Lucy Harris) next to a former lads' mag editor (Martin Daubney). This party contains both the former Tory rabble-rouser Ann Widdecombe and my old comrade from the Revolutionary Communist Party, Claire Fox. The Brexit Party candidate line-ups represent a cross-section of political and cultural life that most parties would kill for. Those people saying 'But Nigel Farage went to private school!' sound increasingly ridiculous. The fact is Farage has very quickly and successfully drawn together a thrilling political machine from a huge array of backgrounds.
Of course, what is really important about a party is not where its candidates were born or what they look like, but what they stand for. And here, the Brexit Party's message is far clearer than the messages of the other parties standing in next month's EU elections. Labour is in turmoil over its election leaflet. Its army of Remain-backing members are furious that the leaflet doesn't say the party backs a 'confirmatory referendum' – Newspeak for a second referendum, which Labourites support because they think us plebs behaved idiotically in the first referendum. The Tories seem to be hoping against hope that they will squeeze their Brexit-betraying deal through parliament so that the EU elections don't have to take place at all. The hardcore Remainer parties are deeply divided. The Greens, the Lib Dems and Change UK spend their whole time bitching with each other over which of them will do a better job of betraying the public and killing off the largest democratic vote in UK history. 'We are the party you can trust to trash democracy!' – their perverse rallying cry.
The Brexit Party is more unified than these parties and it isn't hard to see why: standing up for democracy is a naturally unifying message. Democracy is a cause that transcends left and right. Indeed, left and right, and politics itself, are all but impossible, or at least meaningless, in the absence of democracy. Anybody who wants political life to be livelier, more honest and more engaging must first stand up for the only thing that can give political life meaning – democracy; our hard-won democratic rights; the right of all people, whatever their background or station, to have a say in the future. Defending Brexit is about defending democracy, and defending democracy is the precursor to making politics interesting again. Those complaining that the Brexit Party hasn't released its manifesto yet are missing the point. Its key task is to stand up for the principle that creates the space for manifestos and serious political debate in the first place – the principle of democracy.
The past couple of weeks have been eye-opening. The elite Remainer parties are drawing their candidates from the most narrow social circles. Witness Change UK, relying on famous media luvvies and human-rights lawyers, the jet-setting elite, for its candidate base. The Remain parties are also utterly out of touch with their traditional voting base. The sight of Labour MEPs in the north of England demanding a second referendum to correct the masses' dumb vote of 2016 is almost too painful to watch: they seem utterly clueless as to how this will look to Labour's northern voters. The Brexit Party, in contrast, feels diverse, revved-up, confident and engaging. No wonder it is currently at the top of the polls for the EU elections, with a predicted 28 per cent of the vote – the same as Labour; 14 points more than the Tories; and a full eight points ahead of the three extreme Remainer parties combined. The Brexit Party is tapping into a well of political anger with the establishment and its flagrant betrayal of our democratic vote. Good on it.
Brendan O'Neill is editor of spiked and host of the spiked podcast, The Brendan O'Neill Show. Subscribe to the podcast here. And find Brendan on Instagram: @burntoakboy
Listen to the latest episode of The Brendan O'Neill Show below:
To enquire about republishing spiked's content, a right to reply or to request a correction, please contact the managing editor, Viv Regan.