Let Lyra rest in peace
Both the Zombie IRA and a decaying political establishment are exploiting her awful death.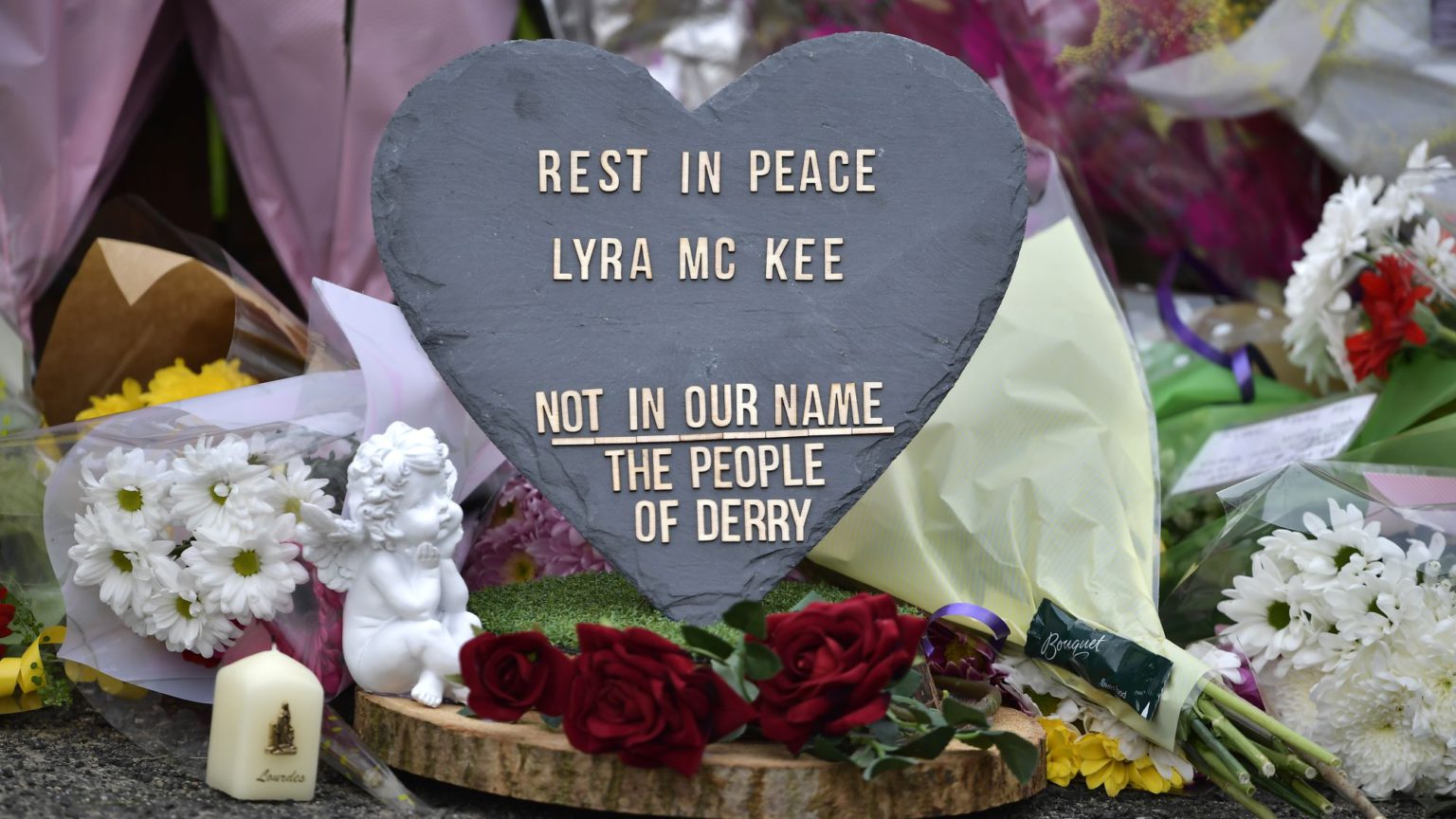 There is a twisted irony to the name 'New IRA'. This so-called dissident group is anything but new. It is an archaic outfit, a splinter of a splinter, engaged in a militarised form of nostalgia. A better title for it would be the Zombie IRA. Like the Real IRA and Continuity IRA before it, the New IRA is a deathly movement, dolling itself up in the language of the past, of long-gone conflicts, precisely because it has such an infinitesimal amount of support in the here and now. It's a poxy, self-interested terror group that hides its smallness and its gangsterism behind the grand language of 'republicanism' and 'resistance'.
So it is doubly tragic that Lyra McKee was killed – accidentally, it seems – by this group. It is tragic first and foremost because McKee was a young and talented journalist. What a waste of life when she was shot dead in Creggan in Derry last Thursday. And it is tragic that she was killed by such a backward and meaningless 'movement'. To have been murdered by the Zombie IRA adds insult to the fatal injury of untimely, unjust death.
What has been incredibly unseemly since the murder of McKee is the way everyone, on all sides, has sought to politicise her death. On one side we have the New IRA, which has apologised for killing McKee but which nonetheless sees its own firing of guns in crowded riotous streets and its threats of further violence as meaningful political acts. Of course they're nothing of the sort. These people are simply exploiting the vacuum that exists in Northern Ireland to gain ground and gain influence and make a statement about themselves. But here's the thing: less violently, but no less cynically, the other side – the political establishment – is doing something similar. Where the New IRA seeks to politicise the mayhem leading up to McKee's murder, the British and Irish elites have politicised McKee's murder itself.
All are playing nauseating political games with the horrific tragedy of McKee's death. Witness how politicians and observers, with a grim speed and glee, cited her death as proof of why we can't have a 'Hard Brexit', otherwise known as Brexit. A clean Brexit would destabilise Northern Ireland by hardening the border, they claim, and McKee's death is a sign of what will happen if we go down that road. Tory MP George Freeman said McKee's murder is a reminder of why 'we cannot allow a Brexit which undermines the peace in Northern Ireland'. The Independent insisted that 'it is not a cheap point to link the upsurge in violence – partly – [to] Brexit'. When of course it is. Cheap and ghoulish. Other observers said the murder exposed the 'dangers of a No Deal Brexit' while Michel Barnier said we must now all work to 'preserve the Good Friday Agreement' – code for 'prevent a clean Brexit'.
The politicisation of McKee's death continued, sadly, around her funeral. Observers cited the coming together of all sections of the political class for her funeral as an example of the kind of post-political unity we need in this era of Brexit. This sad event was turned into a political cry for compromise and consensus (a flash word for compromise) in relation to Brexit.
So both the Zombie IRA and a decaying establishment have played politics around McKee. In a disturbing sense, they have worked in tandem, unwittingly. The political elite's promotion of the idea that New IRA violence will be an inevitable response to any kind of full, meaningful Brexit actually provides that tiny terror group with a veto over British democracy. It empowers them. It boosts them. It grants them moral authority over the democratic destiny of the UK by saying we can't possibly pursue a clean Brexit because the New IRA won't like it. This is a dangerous exploitation of the terror threat by a political class that clearly hates Brexit to a pathological degree.
Lyra McKee deserves better than these political games. She deserved better than to live in an area in which the New IRA remains a threat, and she deserves better in death than to be used by the political class as the poster girl for why Brexit must be weakened and ideally put off all together. Stop this. Let Lyra rest in peace, you zombies and ghouls.
Brendan O'Neill is editor of spiked and host of the spiked podcast, The Brendan O'Neill Show. Subscribe to the podcast here. And find Brendan on Instagram: @burntoakboy
Listen to the latest episode of The Brendan O'Neill Show below:
Picture by: Getty.
To enquire about republishing spiked's content, a right to reply or to request a correction, please contact the managing editor, Viv Regan.