'Disillusionment with the main parties is higher than ever'
Patrick O'Flynn MEP on Brexit and why he left UKIP for the SDP.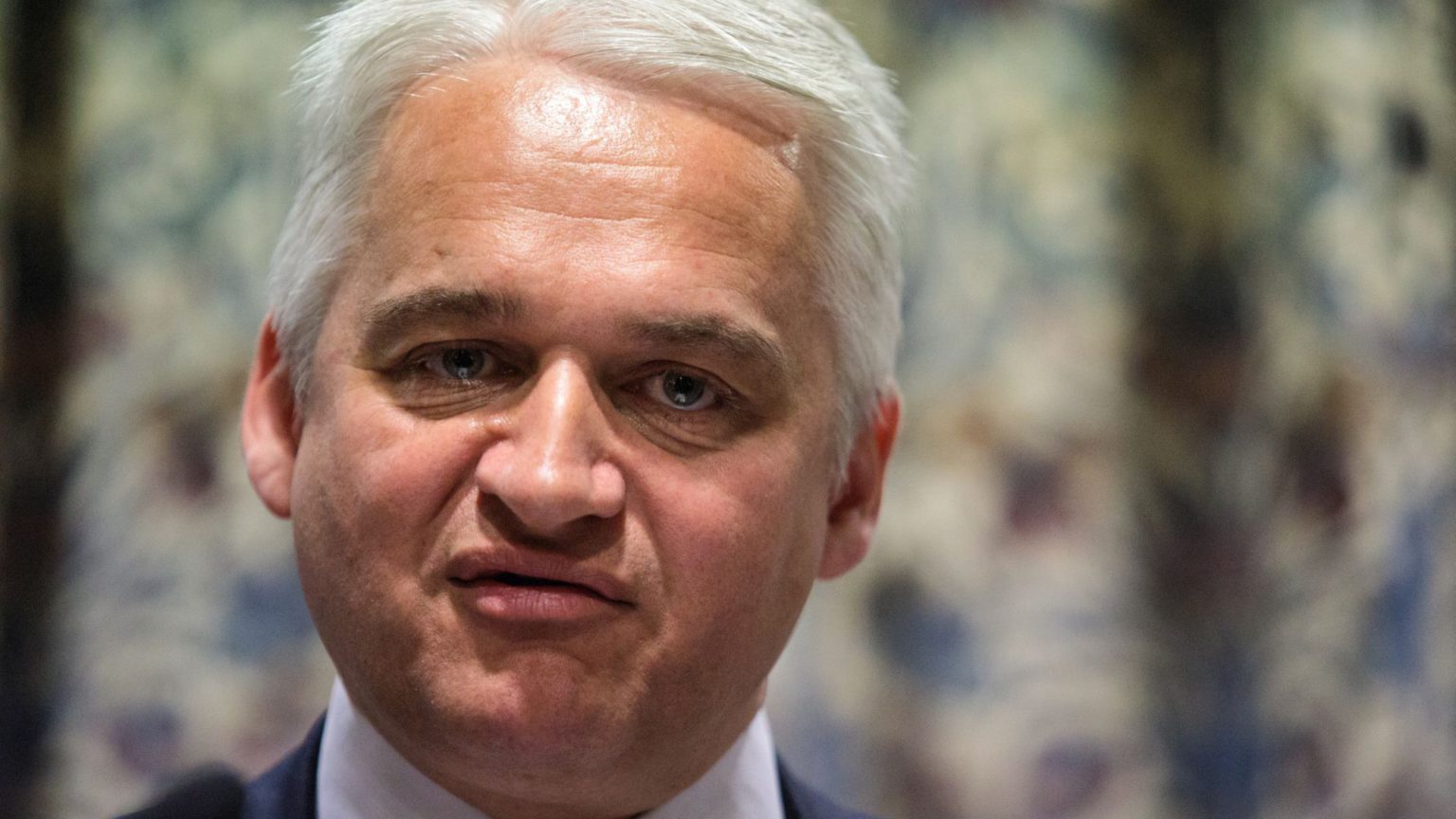 Public trust in the established parties is at an all-time low. Only around 10 per cent of the public identifies strongly with either the Tories or Labour. In YouGov's weekly tracker poll of who would make a better prime minister, the most popular answer in almost every week since July 2018 has been 'not sure'. But disillusionment with the Brexit process could provide fertile ground for new parties and movements. One of those new parties is a reboot of an old one that many thought long gone: the Social Democratic Party (SDP). Patrick O'Flynn was a UKIP MEP. He managed UKIP's winning 2014 EU election campaign but defected to the SDP last year. spiked caught up with him for a chat.
spiked: What do you make of how the two main parties have handled Brexit?
Patrick O'Flynn: Like almost everyone who voted Leave, I'm appalled. Jeremy Corbyn has played a canny game in terms of his personal interest, but not the national interest. Despite supposedly being a lifelong Brexiteer, he obviously doesn't give two hoots whether we leave the EU. He has at least made a valuable contribution towards splitting the Conservative Party.
The Tories, the party of government, are primarily responsible for all of this. We can see now that they installed a Remainer as leader and they negotiated a Remain version of Brexit, behind everyone's backs. From very early on, Theresa May was sending Philip Hammond and Greg Clarke round to all the multinational corporations to say, 'Don't worry lads, nothing is going to change for you'. They promised the multinationals completely frictionless trade, which meant they would be making all kinds of concessions on other things. Brexit voters, on the other hand, were being told they would get the real deal. It's been a massive con from the start.
spiked: Does the blame lie more with the UK government or with the EU?
O'Flynn: When the EU appointed the European Commission as the negotiator, it became clear that the negotiations would serve the interests of the European bureaucracy. Had the negotiations been led by the European Council, there would have been more input from the member states and their national interests would have played a bigger role (like Germany's need to export cars to Britain). But nonetheless, in the EU's terms, it has waged a competent, aggressive dismantling of a very weak opponent. Overwhelmingly, the predicament we're in is the fault of the Conservatives, and the prime minister in particular.
spiked: Does the disillusionment of Leave voters create new opportunities?
O'Flynn: There are certainly opportunities for new political parties, such as mine, the SDP. The current SDP is an offshoot of the old SDP, which has always been Eurosceptic. But it is, in effect, a start-up party. We are, to use the Remainer's terminology, a 'hard Brexit' party, but we are not 'hard right' on other issues – in fact, we are left of centre on the economy, taxation and public services. That's the gap in politics that's not being filled. You get people like Chuka Umunna starting up something new, and yet it's the same old rubbish that the likes of Cameron and Blair have been peddling for decades, predicated on overturning the biggest vote in British history.
Public disillusionment with the two main parties is at a pitch higher than I can ever remember. Even more so than in the 2014 European elections. Back then I was the campaign director for UKIP. We always thought we could win. But this time the conditions are far more fertile. The fact that 17.4million people voted for Brexit and it still is not happening has enraged millions.
spiked: Lots of people will have assumed that the SDP ceased to exist after the 1980s. Were there people keeping it alive?
O'Flynn: In 1988, there was a vote on whether the Social Democrats and the Liberal Party should merge forming the Liberal Democrats. Both parties still had remnants that carried on. It was at our party conference in 1989 that the remaining faction of the SDP passed a motion against a United States of Europe. They were opposed to Maastricht and the Euro. In the 2016 referendum, the very small SDP, which only had around 40 or 50 members, was on the Leave side.
Shortly after the referendum, I became interested in the SDP because I saw that David Owen, who now sits in the House of Lords as an independent social democrat, had resurfaced during the referendum, campaigning for Leave. So there was this entity which had a bit of a brand name that people would recognise – indeed, that many people will have voted for. It had a mixture of policies that I agree with and saw potential in. It is for Brexit and for the patriotic nation state but it is not culturally chauvinistic or economically Thatcherite.
spiked: Why did you leave UKIP?
O'Flynn: I thought that I would serve the duration of my term as an MEP in UKIP, and perhaps after that I would move on to other things. But several things had changed in UKIP, the most notable being Gerard Batten's leadership. He had this fetish for Tommy Robinson and wanted to turn UKIP into an anti-Islam party. I thought this was a disgrace. We should have been appealing to as many of the 17.4million Leave voters as possible in order to put pressure on the two main parties to deliver a proper Brexit. But under Gerard's direction, we got to a position where in order to confidently tell a pollster you were going to vote UKIP you had to be perhaps one million or so people who admired Tommy Robinson as well. So it drastically narrowed our support at the moment when the Brexit movement needed UKIP the most.
Batten then made Tommy Robinson an adviser on various issues and arranged a march on Whitehall where Robinson was the keynote speaker. This was deliberately provocative. It trashed the promise I had made to voters that you could safely vote for UKIP in the East of England, knowing that it had a ban on people who had been members of extremist groups like the BNP and the EDL. But here we were, elevating a former BNP member and the man who set up the EDL.
spiked: What's different about the SDP?
O'Flynn: We think there has been an excess of liberalism – both social and economic liberalism – and a devaluing of communities and solidarity. I think the Brexit vote was partly about a yearning for social solidarity from a number of communities.
We have a stronger approach to law and order, which some see as a right-wing issue. But then, you might think of this as left-of-centre, we absolutely acknowledge that there are certain things that belong in the public sector. We believe in properly funded public services and an end to austerity. We share the public's view that the very wealthy and the multinational corporate sector find it too easy to avoid tax and haven't paid their fair share into the pot. The EU has been a racket for the corporates, allowing them to bring in unlimited cheap labour, compressing wages in working-class occupations.
The Remainers went on and on about x points off GDP far into the future, but a lot of thinking that there are non-pecuniary aspects to your living standards. Part of that is having a settled community, where you know your neighbours, and having stability in work.
Patrick O'Flynn was talking to Fraser Myers. O'Flynn is hoping to take part in an upcoming by-election in Peterborough, should a petition for the recall of the constituency MP reach the required threshold. The SDP is not taking part in the EU elections – O'Flynn is endorsing the Brexit Party.
To enquire about republishing spiked's content, a right to reply or to request a correction, please contact the managing editor, Viv Regan.