It is time to put the fear of God into MPs
The response to Nigel Farage's comments shows how unhinged the establishment has become.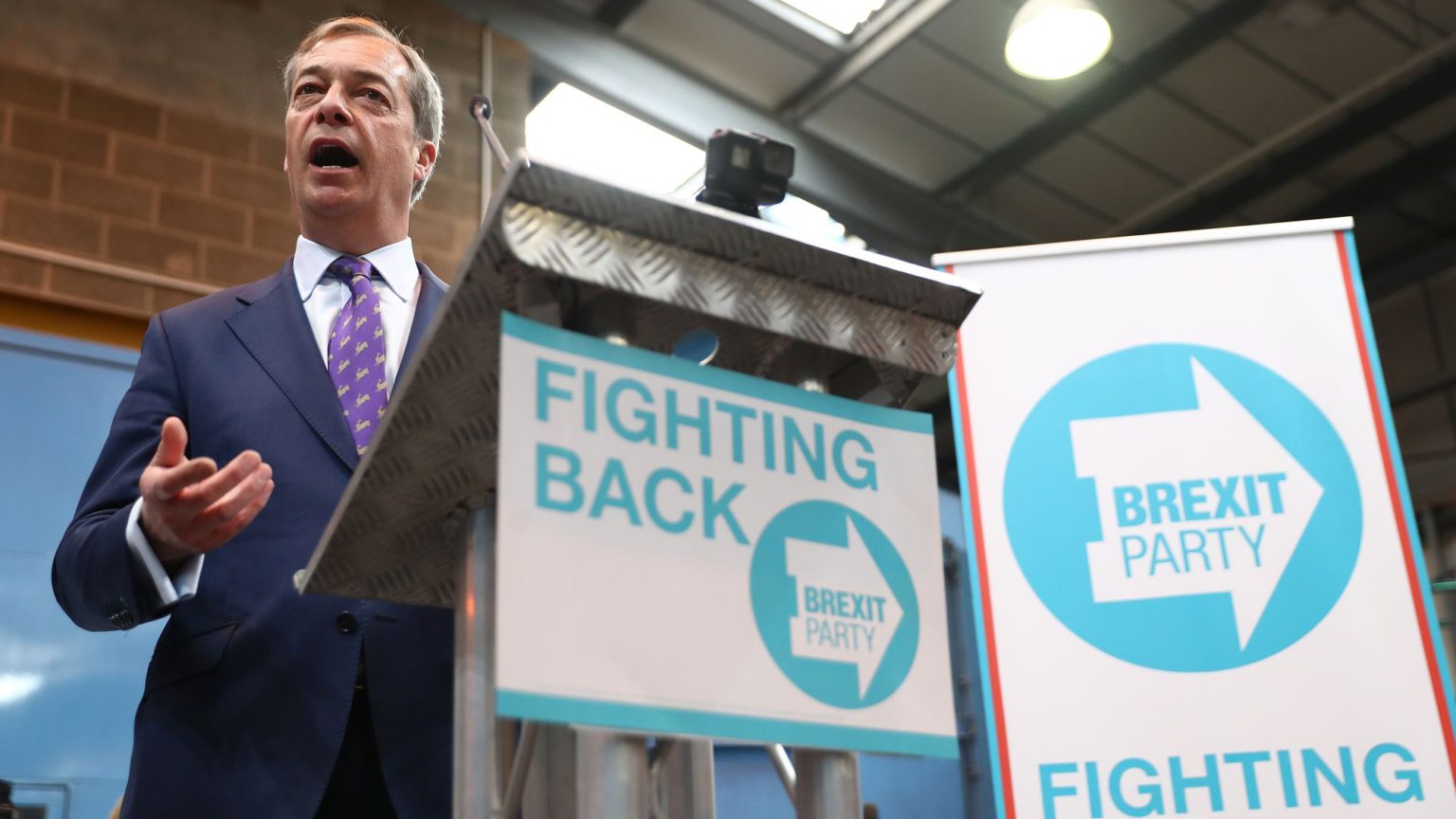 To see how cynical and censorious Britain's political class has become, look no further than its mad response to Nigel Farage's comments at the launch of his new Brexit Party. Farage raged at the mess the elite has made of Brexit, promised to start an 'earthquake' in UK politics, and said it was time to put 'the fear of God' into MPs who have stitched up Brexit. Cue hysteria among the political and media classes. That phrase 'the fear of God' was an incitement to violence, they squealed, and a disgrace given that the Labour MP Jo Cox was murdered just three years ago. Nonsense. The true disgrace are those politicians who are still exploiting the murder of Jo Cox to try to protect themselves from the wrath of voters they have betrayed.
The condemnation of Farage was swift and furious. Labour MP turned ballroom buffoon Ed Balls went overboard with the adjectives, claiming it was 'deeply, shockingly, horribly and indeed dangerously irresponsible' for Farage to say 'fear of God'. 'Has nothing been learned from the tragic and terrible murder of Jo Cox?', he asked, ghoulishly marshalling a murdered woman to the end of trying to silence ideas he doesn't like. 'Jo Cox murdered… and now Nigel Farage wants "to put the fear of God into our MPs!" Shame on him!', said Labour MP Jack Dromey. Farage's comments are 'vile', 'inciting (more) hate towards MPs', said MP Tracy Brabin. The Mirror accused Farage of issuing 'dog-whistle threats' against politicians.
Then, to the glee of these politicos accusing Farage of stirring up violent hatred, the Jo Cox Foundation made a statement. It said Farage's speech 'directly incited violence and abuse towards MPs'. But this is a lie. Farage's speech did not do that. He did not call for any kind of violence against anyone. 'Fear of God' is a metaphor, and a common one, and the political establishment might know that if they rubbed shoulders with everyday people a little more often. The really immoral thing here is not Farage's use of colourful, angry language to condemn MPs who absolutely deserve to be condemned – it is the Jo Cox Foundation's propagation of an untruth and its willful use of Cox's memory to the political end of stifling anger about the betrayal of Brexit.
There was nothing shocking in what Farage said. But there is much that is shocking in the response to what he said. First because it has been so full of misinformation. To say you want to put the fear of God into someone is not to say violence should be used against that person. Farage was very clearly talking about people using the ballot box to put the fear of God into MPs, by depriving them of that thing they require but no longer deserve: our votes. Secondly, it speaks to a political class which genuinely thinks it should suffer no repercussions for its betrayal of Brexit. Which thinks it can overturn the largest democratic vote in UK history – something it explicitly promised not to do – and encounter no anger, no fury, no protests, no fear of God. The arrogance is breathtaking. They really believe they can stab voters in the back and that the voters will not at some point turn around and say: 'What the…?'
And thirdly, there is the Jo Cox exploitation. This has got to stop. A young mother and politician was horribly murdered by a maniac three years ago, and yet rather than letting her rest in peace, MPs are constantly citing her name as part of their cynical effort to silence dissent, stifle public anger, demonise Brexit more broadly, and shield themselves from angry voters. That is morbid and anti-democratic. And it shows how desperate they are to safeguard themselves from democratic accountability – so desperate that they will use a tragic murder as a moral forcefield. It isn't Farage who should feel ashamed – it is these ghoulish, self-interested betrayers of democracy.
Brendan O'Neill is editor of spiked and host of the spiked podcast, The Brendan O'Neill Show. Subscribe to the podcast here. And find Brendan on Instagram: @burntoakboy
Watch Brendan O'Neill's speech at the March to Leave below:
Picture by: Getty.
To enquire about republishing spiked's content, a right to reply or to request a correction, please contact the managing editor, Viv Regan.