Germans for Brexit
Why I have written a pro-Brexit book for a German audience.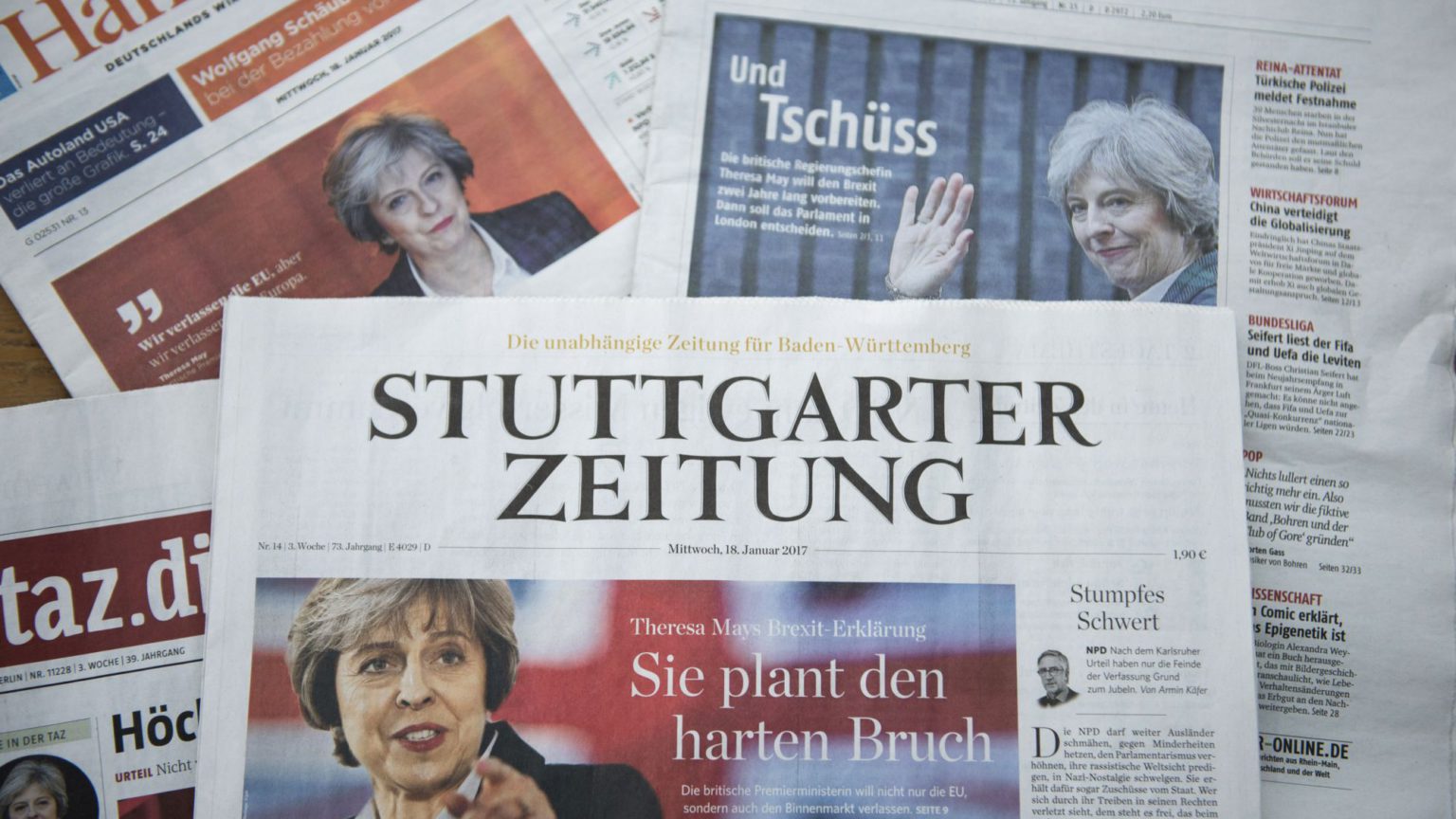 Brexit has been talked about in the German media more than in any other European nation's media – apart, of course, from Ireland's. That is according to a recent Reuters Institute Report. And yet, paradoxically, the German public is not well-informed on Brexit. Why? Because the Brexit story has been told to us by journalists with a strong pro-EU outlook. Rarely, if ever, do we hear the voices of those who voted Leave. Germans have been told time and again that the referendum was a mistake, that the voters have changed their minds, that Britain is now full of Remainers, and so on.
For those of us in Germany who sympathise with Britain's vote to leave the EU – and according to a recent survey, that's 30 per cent of Germans – the anti-Brexit bias of the press is hard to bear. It begins with the language. We are now used to hearing the term 'Brexit' only in combination with words like 'chaos', 'disaster' and 'drama'. Then there are the traits so often attributed to Brexit supporters: they are apparently conservative, ultra-conservative, hardliners.
Very rarely do we hear of left-wing Brexit supporters and never of liberal or progressive ones. These adjectives don't seem to apply to Brexit at all. Tellingly, the 30 per cent of German Brexit supporters are similarly characterised as 'young, right-wing and pessimistic'>. The reason? Thirty-five per cent of these Brexit supporters said they would vote for Alternative fur Deutschland (AfD).
Are German journalists particularly biased when it comes to Brexit? Daniel Johnson, the Daily Telegraph's former Germany correspondent, thinks so. 'German correspondents aren't reporting the story of Brexit – they're churning out Merkel propaganda', he writes. But this image of journalists as Merkel flunkeys seems too simple. (Few German journalists would define themselves as Merkel fans.) It is more that they feel solidarity with Britain's Remainer elites, whose distrust of voters and fear of populism they share. It is less a question of being pro-Merkel than of having a shared social status and attitude with British Remainers.
And so, when it comes to discussing Brexit, German journalists have relied heavily on their like-minded British friends. They make sure we hear the voices just of these Brits.
On 25 June 2016 – very soon after the Brexit vote – my newspaper, Berliner Zeitung, interviewed several British expats living in Berlin. All of them expressed horror at the referendum result. A Glaswegian pub owner was quoted as saying that millions of British morons had slapped common sense in the face.
In November 2018, Deutschlandfunk – Germany's national public radio – broadcast a debate about how to proceed with Brexit. The defence of Brexit was left to an AfD politician. The only Briton on this panel discussion was a journalist called Grahame Lucas, who spouted the worst anti-Brexit prejudices: the vote was a result of British colonial nostalgia, many voters didn't use their brains, etc.
Meanwhile, Kate Connolly, the Guardian's Germany correspondent, has been on countless TV shows and is now surely the best-known British journalist in the country. She says that she became German because of Brexit. Her book Exit Brexit: Wie ich Deutsche wurde (Exit Brexit: How I Became a German), has been widely reviewed.
Other prominent Remainers have been granted exclusive interviews and guest commentaries here, including AC Grayling ('We can stop Brexit', Die Zeit in 2017); Christopher Clark ('Consequences of Brexit: unfortunately people are so stupid that they don't learn from history', Deutschlandradio, June 2016); and Timothy Garton Ash ('The EU has made the best possible offer on the withdrawal agreement and the Irish backstop', Tagesspiegel, March 2019).
Occasionally, critical voices are allowed – the German-born former UK Labour MP and chair of Vote Leave, Gisela Stuart, was on a talkshow in January. But the German image of Brexit is still that it is the work of the wrong kind of people, who fell for lies and populist demagoguery. One journalist says Brexit is the product of an 'unprecedented lie-and-disinformation campaign'. The result is that there is very little open discussion about Brexit here in Germany. And that is bad for all Germans. Germany might be a country that is tied closely, politically and economically, with the EU – but that makes it all the more important for us to understand what is going on across the continent.
This is why I have written a book on Brexit. It is an attempt to tell the other side of the story. Each chapter deals with a common anti-Brexit argument. It starts with a quotation from the German press and then puts an alternative view in depth. Writing about Brexit has also meant writing about the EU, democracy, and German politics. I got a lot of inspiration for the book from EU-critical Germans, such as the left-liberal author Hans Magnus Enzensberger and the anti-Nazi postwar politician Kurt Schumacher. Their books and speeches were a great discovery for me.
In her foreword to my book, Gisela Stuart writes: 'When the voters here were asked who should have the last word on laws, taxes and borders, the majority of them decided that it had to be their own government.' That is a sentiment and aspiration that every German should understand.
Sabine Beppler-Spahl's Brexit – Demokratischer Aufbruch in Großbritannien is out now.
To enquire about republishing spiked's content, a right to reply or to request a correction, please contact the managing editor, Viv Regan.