Why aren't children protesting against poverty?
Climate change is not the most pressing issue for millions around the world.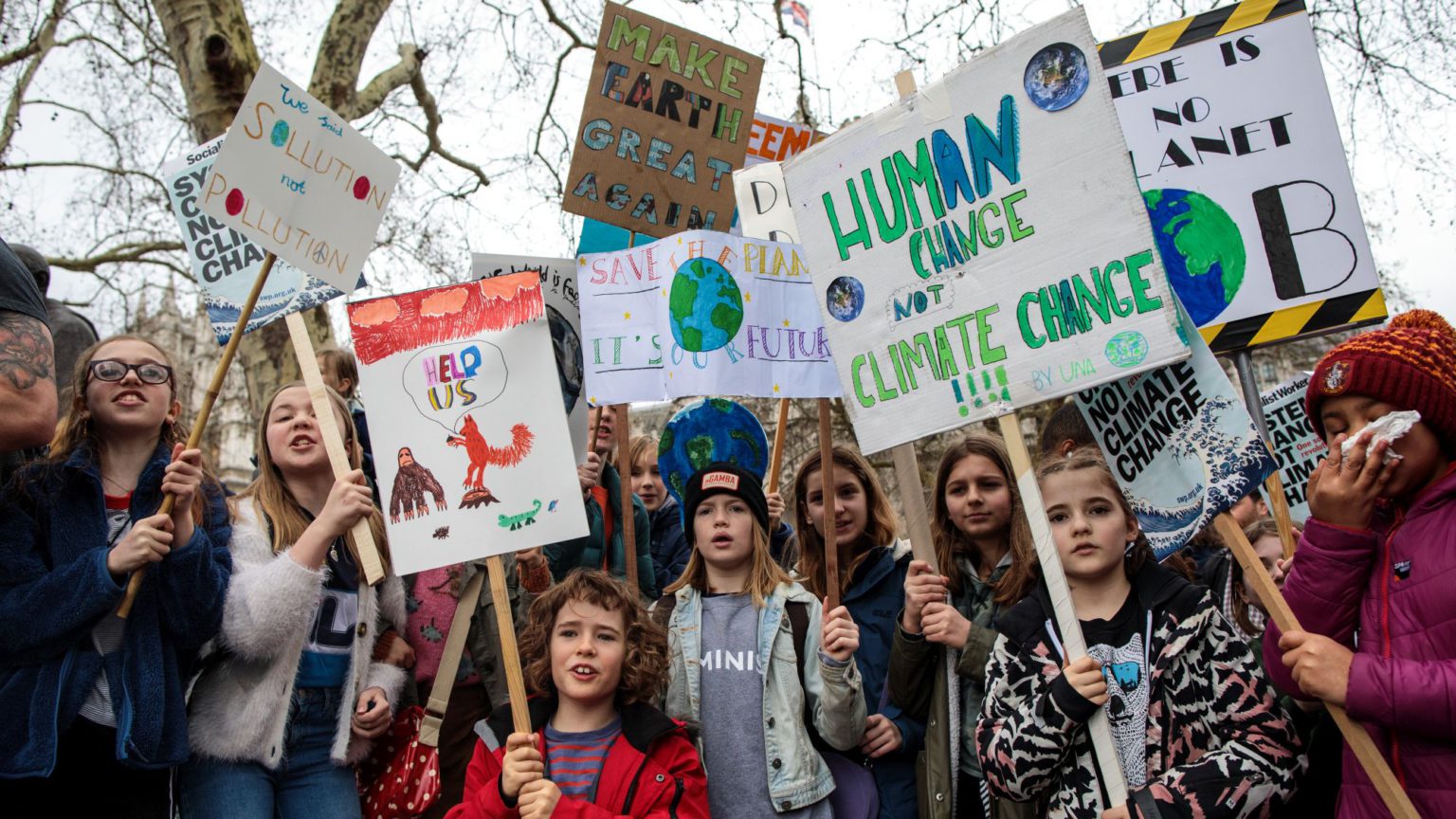 Last Friday, while travelling on the London Underground, I noticed a number of kids on the train with climate-change banners in hand. They were probably aged between 15 and 17, and on their way to the global school climate strikes, which campaigners say attracted over a million participants worldwide. The kids on the train appeared to be under the supervision of an older lady who looked upon them with a proud smile.
There is a part of you that always wants to endorse youth activism. It is great to have young people involved in politics, particularly considering how regularly they get screwed over by politicians much older than themselves. But I struggled to summon much enthusiasm for the climate-change strikes, because, to be frank, it all seemed a bit misplaced. And I say that as a young adult myself.
Now, don't get me wrong – I don't have a problem with people campaigning about climate change per se. It is an important debate, and one of many that have been given reduced attention amid the all-consuming political behemoth that is Brexit. But it seems odd to me that this issue, rather than any other, has got young people going so much – or rather, young people in the West.
Indeed, concern about climate change is a phenomenon mainly confined to developed (read: rich) Western countries. Growing economies like China and India are understandably less worried about the supposed climate Armageddon we are regularly told we are heading towards, since the basis of their growth is fossil fuels. Were these countries to abandon fossil fuels at this time, it is undeniable that the amazing progress they have made, in bringing hundreds of millions of people out of poverty, would stall.
That is not to say they should be given a free pass to burn their way through coal and oil forever – but it is to say that telling them they need to meet our moral standards, and lampooning them for their failing to do so, is both unfair and dangerous.
Climate change is often treated as a 'moral' problem in a way that ignores many inconvenient material realities. This is part of a shift in Western politics away from the old economic arguments of left and right and towards issues of a more nebulous moral character. Because ditching fossil fuels won't hurt most Westerners financially, a lot of Western activists think it is a grand idea. Those impoverished Asians and Africans who might see their livelihoods ruined, and any prospect of advancement destroyed, are largely ignored.
What's more, arguing their corner is seen as a form of climate change 'denial', as is any refusal to believe the apparently obvious truth that the climate trumps all other issues in importance. The absurdity of the discourse around this issue hit home when the Swedish 16-year-old Greta Thunberg, an activist and architect of the kids' protests, was nominated for the Nobel Peace Prize, an award I thought was reserved for people who have done something genuinely seismic for peace.
Why aren't young people protesting in anything like the same numbers about inequality? Or poverty? Or homelessness? The reason is that many in the modern liberal 'left', who are popular among the young, have lost interest in materialistic concerns, or are perhaps too comfortable to see evidence of hardship in their daily lives. As poverty isn't so bad in the West, many people don't care so much about it. That it is still horrendously bad globally, and that fossil fuels have done an incredible amount to lift people out of its grip, are facts that don't fit with the narrative.
Obviously, there are exceptions. There will have been people campaigning last week, young and old, who have a great history of work on all sorts of political issues. There will be others for whom this was their first political action, but who will go on to engage with a varied agenda of causes. But part of the intensity around climate-change activism, and part of the reason it has caught on so much among the young, comes from the fact that people see it as an uncomplicated moral issue, and that there can be no debate about it.
So let's look at things with more balance. If we're going to campaign about climate change, let's treat it as what it is: one issue among many others, and one which needs genuine debate. We shouldn't dismiss everyone who isn't totally convinced that the climate is more important than everything else. Nor should we be teaching young people that this is the way to do politics.
Paddy Hannam is a history student based in London.
Picture by: Getty.
To enquire about republishing spiked's content, a right to reply or to request a correction, please contact the managing editor, Viv Regan.