Downstate: controversy without closure
Bruce Norris's child-abuse play has an impeccable setup, but goes nowhere.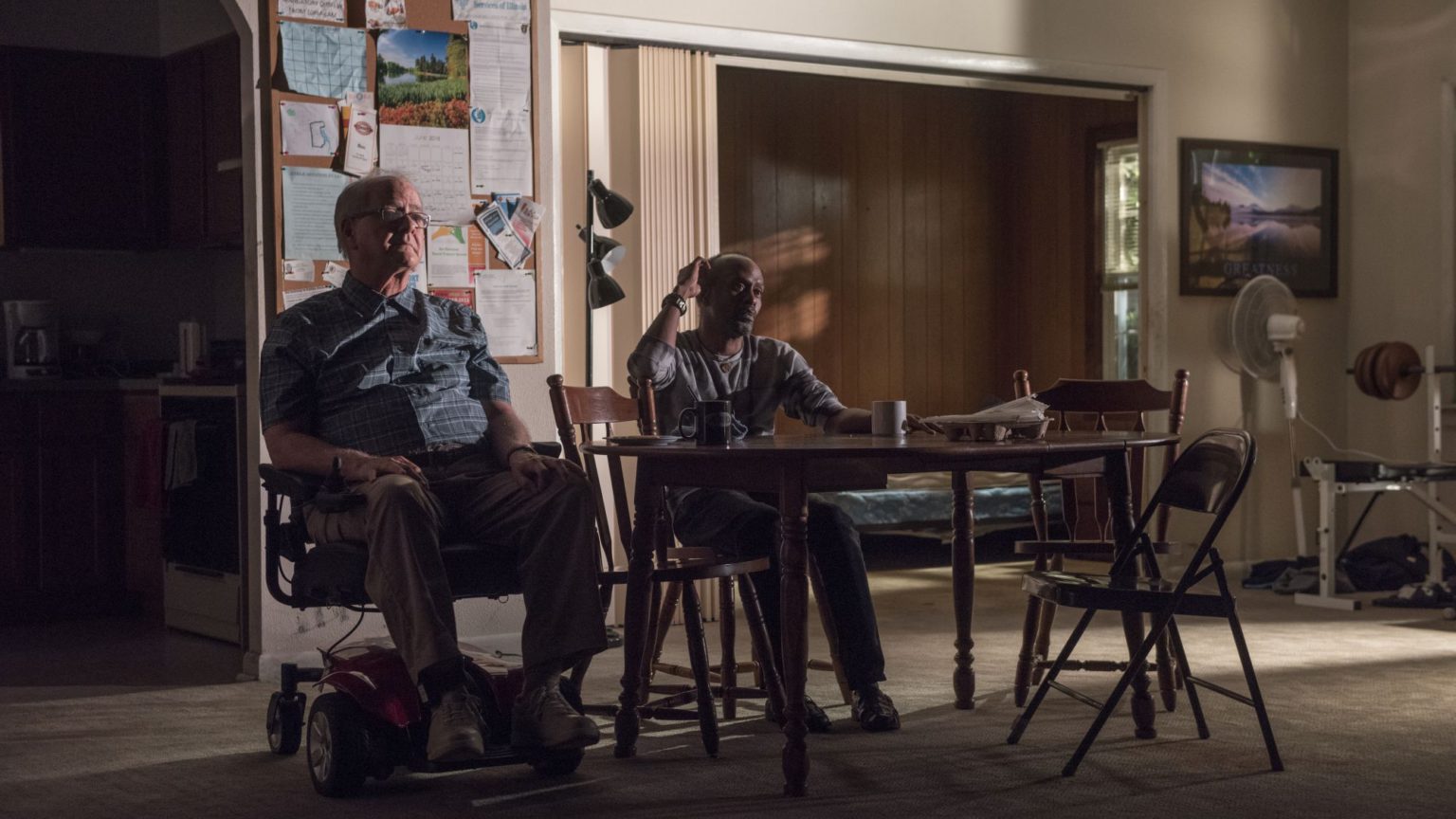 Downstate, the National Theatre's new play, comes with a tabloid-friendly marketing ploy: here is the play about paedophiles that is supposedly so shocking that it had to be performed under armed police guard when it opened in the US.
Its immediate predecessor at the National – the infamous 'Cate Blanchett with a strap-on dildo' play – had a similar pitch, being apparently 'so shocking' that audience members fainted at previews (probably from boredom, one critic speculated). If nothing else, that the most subsidised theatre in Britain is having to engage in controversy marketing is cause for concern.
Some relief, though: Downstate, by Pulitzer-winner Bruce Norris, is nowhere near as bad as that Cate Blanchett / Martin Crimp debacle. It even has the elements of a great play – they're just not all put together. The setup is impeccable: four newly released convicts living in one of those US towns that exist purely to house child-sex offenders. On top of that, you've got intriguing subplots, smart ideas and lots of tension. But there is still something missing: the backbone.
Take the first scene. Andy, a former child victim of Fred, a resident, confronts him with a 'reconciliation contract': a jarringly formal process intended to give both men (yes, the rapist, too) some kind of 'closure' about what happened. In 10 minutes, Norris eviscerates the whole 'restorative justice' fad: the awkward therapy-speak, the fetishisation of victimhood, and, of course, the ease with which predators like Fred play the whole thing like a fiddle. Fred instantly flips the power dynamic with a seemingly innocent offer of coffee – hats off to the writer.
But rather than take that idea and run with it, Norris parks it altogether. Soon this becomes a pattern: introduce a smart idea only to drop it entirely and shift focus. By the interval, I still had no idea what the main plot was. (I realise plots aren't in fashion in certain parts of theatreland, but, hey, they certainly helped Norris win his Pulitzer.) The most interesting stuff – Fred's trial or another character's tragic backstory – occurs before the play begins, and is mentioned only in passing. Instead, we end up with a fly-on-the-wall documentary about life in a sex offenders' refuge. It's good, but it lacks bite.
Two other criticisms: one artistic and the other ethical. Firstly, Downstate suffers from just how annoying its main characters are. Of the four residents, three have outlandish mannerisms: Fred is a bumbling Harold Bishop type with folksy diction, Gio is a clueless self-evangelist, and Dee prances around like a particularly acidic RuPaul contestant. All three are well-acted (at times K Todd Freeman is downright magnificent as Dee), but suffer from having to hold the same note for too long.
Now for the other problem: at risk of falling into the 'controversy' trap, some of the things in this play do feel, well, a bit distasteful.
During a showdown between Andy and Fred, another resident interjects to speculate that Andy's real problem is the jealousy of knowing he wasn't even Fred's favourite child victim. His evidence? Andy's fixation on the fact that he didn't receive oral sex from Fred – unlike his 12-year-old classmate. Andy's response confirms as much. Dee then makes a music-hall zinger about blowjobs. Just writing this now feels bad enough. But to come up with it in the first place? And for the National's top team (who commissioned Downstate) to approve it? It certainly raised my eyebrows.
This isn't squeamishness about the theme itself: Norris isn't the first playwright to spot the ethical dilemmas in pathological paedophilia. But others have done it better. In 2013, the Royal Court produced an excellent thriller (The Nether) by an American writer about consenting adults getting their rocks off by role-playing as adult / child couples in a Second Life-esque virtual reality. On paper, it sounds yucky, too. But it was smartly done, unpacking all sorts of issues around morality and the harm principle. And it had a strong thriller plot.
As the old cliché goes, it succeeded in asking those 'uncomfortable questions'. By contrast, parts of Downstate just made me feel a bit uncomfortable.
Robert Jackman is assistant features editor at the Spectator. Follow him on Twitter: @robertjackman88.
To enquire about republishing spiked's content, a right to reply or to request a correction, please contact the managing editor, Viv Regan.