Bloody Sunday: it's time to move on
An Irish republican on why the soldiers should not be prosecuted.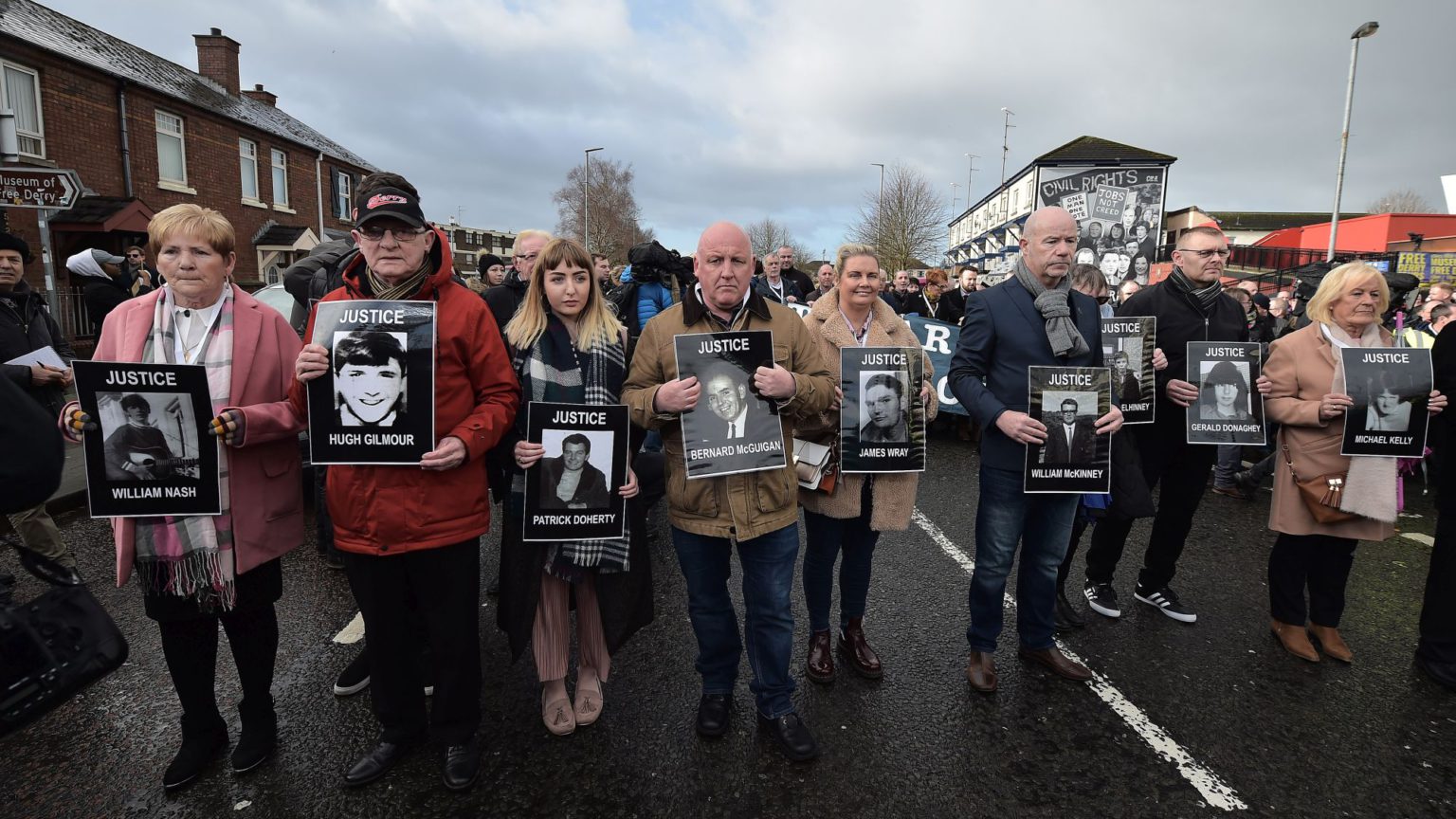 On Bloody Sunday, 30 January 1972, British soldiers acting on behalf of their political and military masters murdered 13 unarmed civil-rights demonstrators in the Bogside in Derry. Those of us living in the north of Ireland at the time always knew what had happened. The nationalists on that march, demanding equal rights and protesting against internment without trial, were considered a threat to the British state. That was why they were gunned down. Not because they were IRA men, not because they were armed, not because they shot first. Those claims were all lies peddled by the British Army to justify cold-blooded killing. Months earlier the same parachute regiment had gunned down 10 innocent unarmed people in Ballymurphy, the housing estate in Belfast where I grew up. The reasons were the same. The lies from the British Army were identical.
It took 30 years for the British government to admit the truth about Bloody Sunday; the Ballymurphy families are still waiting for the truth. The families of the Bloody Sunday victims fought a long and dignified battle to expose the truth. Their determination to challenge the British state to admit that its armed forces engaged in cold-blooded murder and then a high-level cover up was brave and I salute them. I was happy to see their joy and vindication when David Cameron stood up in the House of Commons, admitted the truth, and apologised. But I think they are wrong to pursue criminal convictions of the individual soldiers. It's time to move on.
'The war is over and the good guys lost.' This is what my hero Bernadette McAliskey said on the day the IRA declared a ceasefire in 1994, which officially ended the armed struggle against British rule. Veteran civil-rights activist McAliskey, who was one of the organisers of the Bloody Sunday march, was acknowledging that her side in this war had lost: that they had failed to end British rule and unite Ireland. But she was suggesting we concede defeat and move on. I am with her.
Forty-seven years after the event, do we really want to put an elderly British veteran in jail? More than 20 years after the 1998 Good Friday Agreement, the official end of the 'Troubles', do we want to put anyone in jail for for things that happened because of that conflict?
For me, the answer is no. No one should spend even a day in jail for actions that happened as part of the Troubles. None of the people involved in killings in Ireland were what we sometimes call ODCs: Ordinary Decent Criminals. In the same way that young men from Newcastle or Liverpool ended up driving around my home in West Belfast in reinforced armoured vehicles carrying automatic rifles, so my friends and family members joined their own army to resist them with guns.
These people would not have carried guns or ended up in jail during peacetime, and indeed that was why 10 young republicans died on hunger strike in 1981. These prisoners went on hunger strike to assert their right to be treated as political prisoners and to resist Margaret Thatcher's attempts to paint them as ordinary criminals. Horrible and heartbreaking things happened in the course of this conflict. People on all sides suffered terrible pain and loss. But the actions were politically motivated, and the end of the conflict should also mean the end of the prosecutions and the trials and the political prisoners that were a part of that conflict.
The families' demand for prosecutions of British soldiers risks bolstering the efforts by some to criminalise, retrospectively, other participants in the war in Ireland. If British soldiers following orders are criminals to be brought to justice, then so are the young men and women of Derry and West Belfast who queued up to join the IRA after Bloody Sunday.
The other reason I think we need to move on is that the current campaigns for punitive justice are reinforcing divisions rather than healing them. One of the ugliest features of politics in the north of Ireland is how the political parties indulge in the politics of 'selective atrocities' in order to score points against each other. 'Victims' groups' representing the families of nationalists, unionists, British soldiers and others get drawn into a neverending dispute about how much time, resources and energy should be devoted to investigating each killing, who should do the investigating and how the investigations should be carried out.
Prime minister Theresa May, defence secretary Gavin Williamson and Northern Ireland secretary Karen Bradley offered a classic example of this competition for victim status this week, when they claimed that British army veterans were being unfairly singled out for investigation compared to IRA volunteers. There is nothing positive about this unseemly competition for victim status.
Sinn Fein is every bit as opportunistic as the British government and Democratic Unionist Party in its political point-scoring. It seems it is prepared to do anything in order to achieve prosecutions of British army veterans, even if that requires the abandonment of previously held principles. Sinn Fein was the political wing of the republican movement, which included the IRA. For decades Gerry Adams and Martin McGuinness refused to condemn the IRA. Now in their haste to see British army veterans prosecuted, Sinn Fein politicians are effectively accepting that IRA volunteers be prosecuted, too; that their former comrades were just criminals. Bobby Sands would surely be spinning in his grave.
Those who lost loved ones during the Troubles – there were over 3,500 deaths – will carry their loss for the rest of their days. I am well aware of the pain and anguish they carry. How to deal with the legacy of the conflict is a very emotive subject. It brings back terrible memories and even divides families. Most just want the truth known of what happened to their loved ones. Some families want prosecutions, but no one jailed. Some want prison sentences, and yet others just want to move on and leave the whole thing behind.
I suggest we now leave the past in the past. Let the young generations focus on the future. Let's help them by removing the millstone around their necks – the neverending demand for prosecutions and jailing related to a war which is long since over and should be allowed to fade into history.
Kevin Rooney is co-author of The Blood-Stained Poppy.
To enquire about republishing spiked's content, a right to reply or to request a correction, please contact the managing editor, Viv Regan.