Why we're campaigning for a Full Brexit
Meet the leftists making the case for Brexit's transformative potential.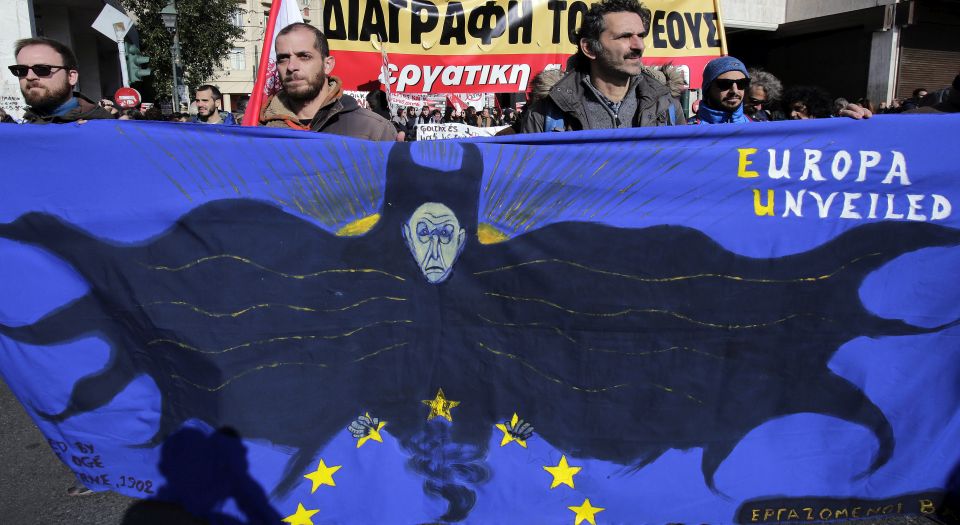 Last week, 'Transforming Britain After Brexit' was launched. This is a national Left Brexit tour organised by Labour Leave, Trade Unionists Against the EU, the European Research Network on Social and Economic Policy, Polity Books, and The Full Brexit.
With five dates across the country, the tour is intended as a (re)statement of the left case for Brexit and against the EU – a position that has received relatively little media coverage. We also see it as an opportunity to connect the debate over Brexit to arguments about the necessity for a deeper democratic renewal of British politics. We believe it is crucial to link achieving Brexit to the longer-term task of transforming politics and the economy after Brexit.
The Full Brexit is a group of activists, scholars, journalists and policy experts from the broad political left who came together in 2018 to defend the potential for economic and democratic renewal offered by Brexit. Although we are not a political party and do not have a shared set of positions on every issue, we have been working together to develop a common framework for understanding Brexit and contemporary British politics.
Within this framework, our website has published a number of pieces of analysis, ranging from a critique of 'Remain and Reform' to the analogies between Brexit and the English Revolution to the chimera of workers' rights in the EU. We have also explored how anti-racism is often cynically employed in arguments against Brexit. We also push policy proposals, from giving all EU nationals resident in Britain full citizenship to solving the question of the Irish border by using technology already used elsewhere in Europe.
Our analysis of Brexit has two central planks. First, it points to a deeper crisis of representative democracy as the cause of contemporary political chaos and stasis. Our starting point is that at the time of the referendum, British politics had been profoundly hollowed out by decades of declining popular participation in politics (including declining party membership rates, decreases in voter turnout, and falling trade-union membership). In other words, the sources of popular sovereignty had been significantly eroded. In this context, concepts of representation and democratic accountability had come to have less force for the political class and the commentariat. Therefore, the democratic moment of Brexit presented a serious problem for our political representatives.
Second, our analysis views EU integration as part of the dynamic that contributed to an undermining of popular sovereignty. The transition from a 'nation state' to a 'member state' under EU membership involved a re-orientation of British politics away from national democratic contestation to consensual and unaccountable decision-making processes in Brussels. Indeed, it is the effect of the EU on national politics that is most often left out of debates around Brexit. This understanding of EU integration, which emphasises long-term processes involved in accession to the EU, also points to the deep challenge of reversing these processes once we leave the EU.
The tour dates so far – in Coventry, Manchester and Liverpool – have made it clear that the crisis of British representative politics is both real and keenly experienced as a disillusionment with both of the main parties. In particular, many attendees at the events have said that they feel the Labour Party, in its seeming support for a second referendum, is coming perilously close to turning its back not just on Labour's own Leave voters but on the very concept of democracy. It is not surprising that there is very little trust in politicians, who are thought to be working to stall or overturn a clear democratic mandate in favour of leaving the EU. For the left, there is very little to celebrate in this profound state of distrust in politics, because it opens the door for right-wing populists to make gains and advances by arguing that representative democracy has failed. A disastrous second referendum would add further ammunition to those arguments.
It has also been striking the number of 'card-carrying Conservatives' who have come to our events and found little to disagree with in the speakers' presentations. Given that our political world has been turned upside down by Brexit, it does not seem far-fetched to wonder whether we might not witness a fundamental realignment in British politics in the near future that pitches those dedicated to defending the principle of democracy against those who apparently have little need for democracy.
The 'Transforming Britain After Brexit' tour continues this month, with events in London on 25 March and Durham on 28 March. In our view, the debate over Brexit and what comes next is the central one in British politics for the foreseeable future. We would invite democrats of any political background – Leavers or Remainers, Conservatives or Labour – to come along. For us, Brexit can be the first step in reversing the hollowing out of Britain's popular sovereignty.
To enquire about republishing spiked's content, a right to reply or to request a correction, please contact the managing editor, Viv Regan.