'I am not Titania McGrath. Go f**k yourself'
Lisa Graves talks to Andrew Doyle about Twitter's favourite polyracial ecosexual.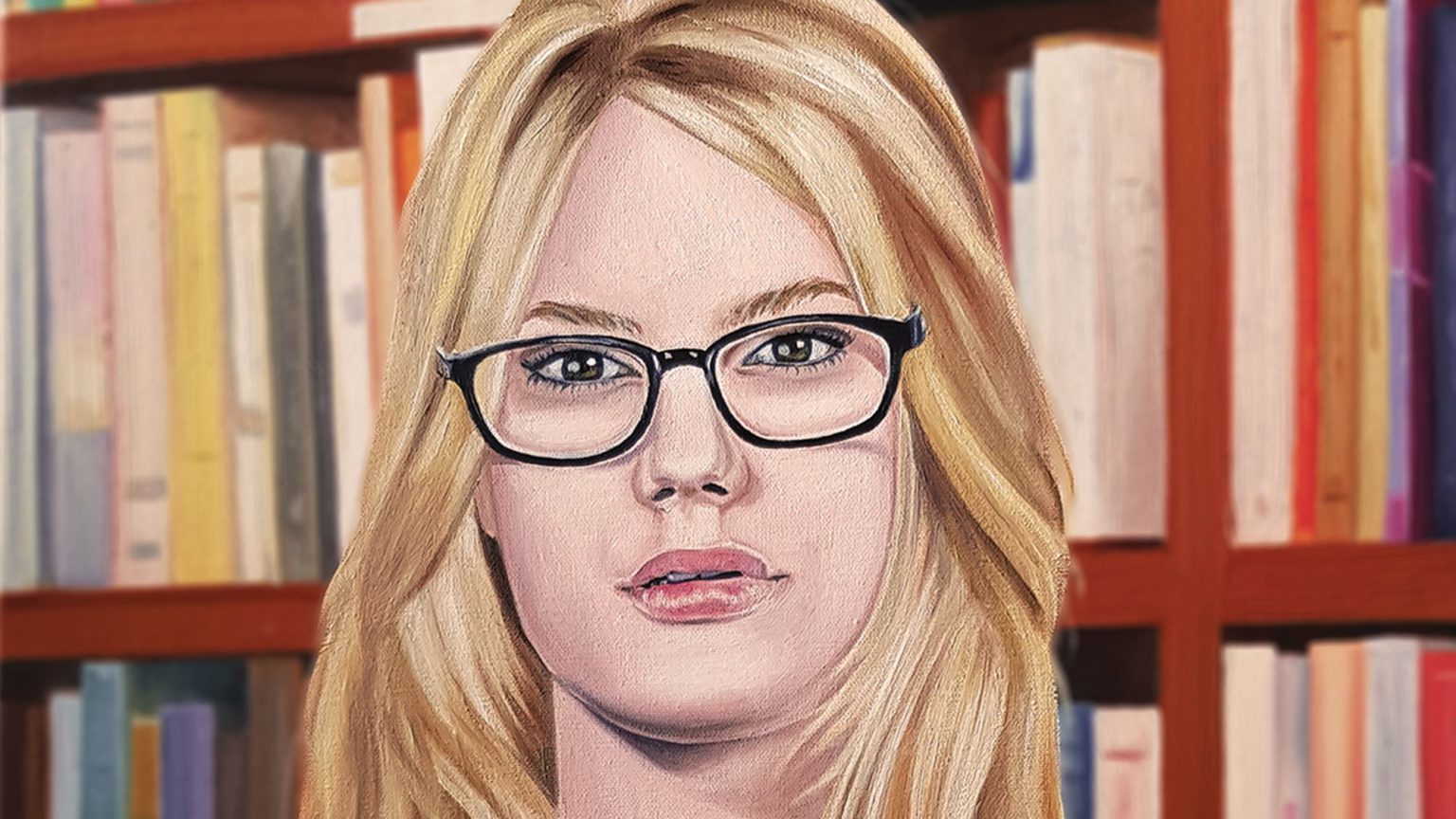 On Saturday I was contacted by Rosamund Urwin, a journalist at The Sunday Times, who wanted to know if I was behind the Twitter account Titania McGrath. This 'radical feminist slam poet' is a satire of the present crop of young trendy intersectional activists who subscribe to the bourgeois cult of identity politics, and McGrath's first book – Woke: A Guide to Social Justice – is published this week. Given that I am not a blonde, 24-year-old woman who identifies as a polyracial ecosexual, I was a little surprised by the suggestion that I was the same person. According to Urwin, the book contains a number of references to sources that I have quoted previously. Of course, this is hardly conclusive evidence, especially since my articles are generally published on the internet, rather than circulated privately in manuscript.
I am not the only suspect in this curious affair. Twitter users have speculated that the account is run by Chris Morris, Ricky Gervais, or even the American conservative Ann Coulter. There are now rumours that Rosamund Urwin is the real Titania McGrath, and that her article in The Sunday Times was an ingenious exercise in misdirection. And on Friday, The Times published an exposé in which the satirist Lisa Graves was named as the principal culprit. Lisa was one half of the writing team responsible for the 'genderqueer Muslim atheist' character Godfrey Elfwick, who was permanently banned by Twitter in July last year. I spoke to her over the phone to hear her side of the story, and started by asking her directly if she is Titania.
'The reporter who wrote the article in The Times asked me the same question', she tells me. 'And I told him I am not Titania. But he didn't seem to believe me. A case of my reputation preceding me there, I think.'
This, of course, gets to the heart of the problem. The concept of 'trolling' is often misunderstood as a synonym for online abuse. But a genuine troll is one who baits his or her audience, who lures them into a state of credulity, while at the same time signalling the absurdity of their own position. This is what Joe Orton was up to when he wrote letters to newspapers under the pseudonym Edna Welthorpe (Mrs) to complain about his own plays. It is what Chris Morris did in Brass Eye when he duped celebrities to pledge their support to ludicrously implausible charities. When Godfrey Elfwick's #wrongskin campaign made the national press, he was following in this satirical tradition.
'The duality is key when it comes to good trolling', says Lisa. 'By "trolling" I don't mean just being a knob and being abusive. I mean it in the old skool sense, like in the glory days of winding up Christians in Yahoo chatrooms. For lols.'
Lisa's admission makes me nervous. Part of the fun of this kind of trolling is the acquisition of 'scalps', and there is a very good chance that even now I am being hoaxed. Last month, NatWest customer service replied in earnest to Titania's complaint that it was inciting violence against vegans. Not long before, Private Eye had published a quotation from Titania in 'Pseuds Corner' in order to mock her pretentious claim that readers should buy her book not for her sake 'but for the sake of humanity', not realising that the character was satirical. Liz Wheeler, the host of Tipping Point on the One America News Network, invited Titania to appear on her show to discuss her activism. Titania accepted the offer, on the condition that she have full editorial control, did not have to interact with any males, and was permitted 10 minutes airtime to perform her 'groundbreaking intersectional feminist slam poetry'.
How, then, can I be sure that Lisa is being genuine when she says she is not Titania? 'You can't. Deal with it. Deception is my trade. Trickery is the mist I call upon to obfuscate and bedazzle you. Seriously though, I'm not Titania. This time I am telling the truth. Like that boy in the story about a wolf. "Twilight" or whatever. Check out my fingers, they're not crossed. Look, this is the universally acknowledged sign that I am not fucking with you.' As proof, she emails me a photo of her fingers, which are indeed uncrossed, but suspiciously hairy.
In addition to her work as Godfrey Elfwick, under which pseudonym she currently writes for Spectator USA, Lisa is also an accomplished artist. She was commissioned to paint the portrait of Titania McGrath which adorns the dust jacket of Woke. Little wonder, then, that her authorship is widely suspected. Moreover, she is believed to be behind another satirical Twitter account, Jarvis DuPont, the uber-privileged embodiment of white guilt. Jarvis is Titania's housemate, and they are often seen communicating on Twitter. I point out to Lisa that even if she isn't behind Titania, these connections suggest that she must know her true identity. 'Maybe I do', she says. 'Maybe I don't. Who's to say who Titania really is? In a way, Titania is all of us. Titania is me, Titania is you, Titania is Fred Dibnah. Actually, he's dead isn't he? But you get the general idea.'
So how did she get involved with Godfrey Elfwick? 'My friend was running the account and making me cry laughing every day. Then he got bored of it and jacked it in. I was annoyed with him because I don't think he appreciated just how loved and needed Godfrey was. A few months went by and people were still talking about the Godfrey account, so I asked my friend if he would mind me bringing it back and he was fine with it. I ran it alone for a while, then he came back on and we ran it together for a bit. Then I called Gary Lineker a bad word rhyming with punt and it got suspended. A few months later I brought it back again. It ended up getting suspended again after I called another cunt on Twitter a cunt on my personal account and he got my account suspended, and Godfrey was nuked as well for being on the same device. I learned a valuable lesson in all of this, which was not to call celebrities cunts on Twitter, even if they really are cunts and totally deserve it. This experience changed me and I grew as a person.'
I ask Lisa to explain the purpose of Titania's satire and why she thinks it has become so popular. 'Well, I am not Titania, like I said, but her tweets are parodying the same subjects we did on Godfrey, the same angle I take with Godfrey's Spectator articles. Identity politics, feminism, which has lost its way, the authoritarian nature of this new woke culture we appear to be living in. I think, in general, most people are fed up of being told what to think and feel. Some really ridiculous things are happening right now in the name of progressiveness, and if you speak out against it, you could get suspended or shamed into apologising for wrongthink. By this, I'm not saying we should all go around being genuinely horrible to others, but that we should be allowed to question and debate issues without being chastised and chased by an internet pitchfork mob. The best way to deal with this sort of thing, the most effective way to fight back, is with humour. Parody has always been an incredibly valuable tool. Satire can mirror the world in such a way that many other mediums cannot. Also, it can be very funny and enjoyable.'
I tell Lisa that I have been accused of 'punching down' when I ridicule this 'woke culture' in my stand-up, even though it now represents the powerful establishment position. 'It is not the vulnerable groups that are being mocked', Lisa says. 'It is the woke idiots who think they are on some kind of crusade to change the world, when in fact all they are doing is patronising the fuck out of everyone around them and being generally unpleasant while sipping their oatmeal and cardamom chia smoothies and wanking on about how shit capitalism is from their MacBook Pros in Starbucks.'
Although Titania has been praised by left-wing commentators such as Shappi Khorsandi, she has also been recommended by prominent figures on the right like the conservative actor James Woods. Does this not worry her? 'Well, you should really be asking the person behind the Titania account', says Lisa, still refusing to fall into my snare. 'But it is a free country and anyone should be able to retweet what the hell they like. If anything, it shows that the account is doing something right when it is getting people from across the political spectrum retweeting and getting the point of it. It is also hilarious when people take these parody accounts seriously and get angry with them.'
Our conversation is drawing to a close, and I decide to give Lisa one last chance. I point out that sources in Woke appear to have been lifted from my articles at spiked, and that Lisa has often retweeted links to them. Is she trying to frame me? Is she, in fact, the real Titania McGrath? 'Why are you doing this to me?', she snaps. 'I am not Titania. I have said this like literally a billion times now and yet you still persist with this line of questioning. Like, yeah, if I were Titania – let's just explore that possibility for a second – maybe I would deny it because that amuses, I mean would amuse, me. But I am not Titania and this is bullshit. Go fuck yourself.'
I thank Lisa for her time. 'Whatevs', she says, and hangs up.
Andrew Doyle is a stand-up comedian and spiked columnist. He is also the co-founder of Comedy Unleashed, London's free-thinking comedy club.
The next Comedy Unleashed show will be on 12 March at the Backyard Club in Bethnal Green. The line-up includes Geoff Norcott, Jay Handley, Francis Foster and Rosie Wilby. Tickets are available here.
To enquire about republishing spiked's content, a right to reply or to request a correction, please contact the managing editor, Viv Regan.