Keith Flint, the last punk
A rock star who relished giving offence – we won't see his like again soon.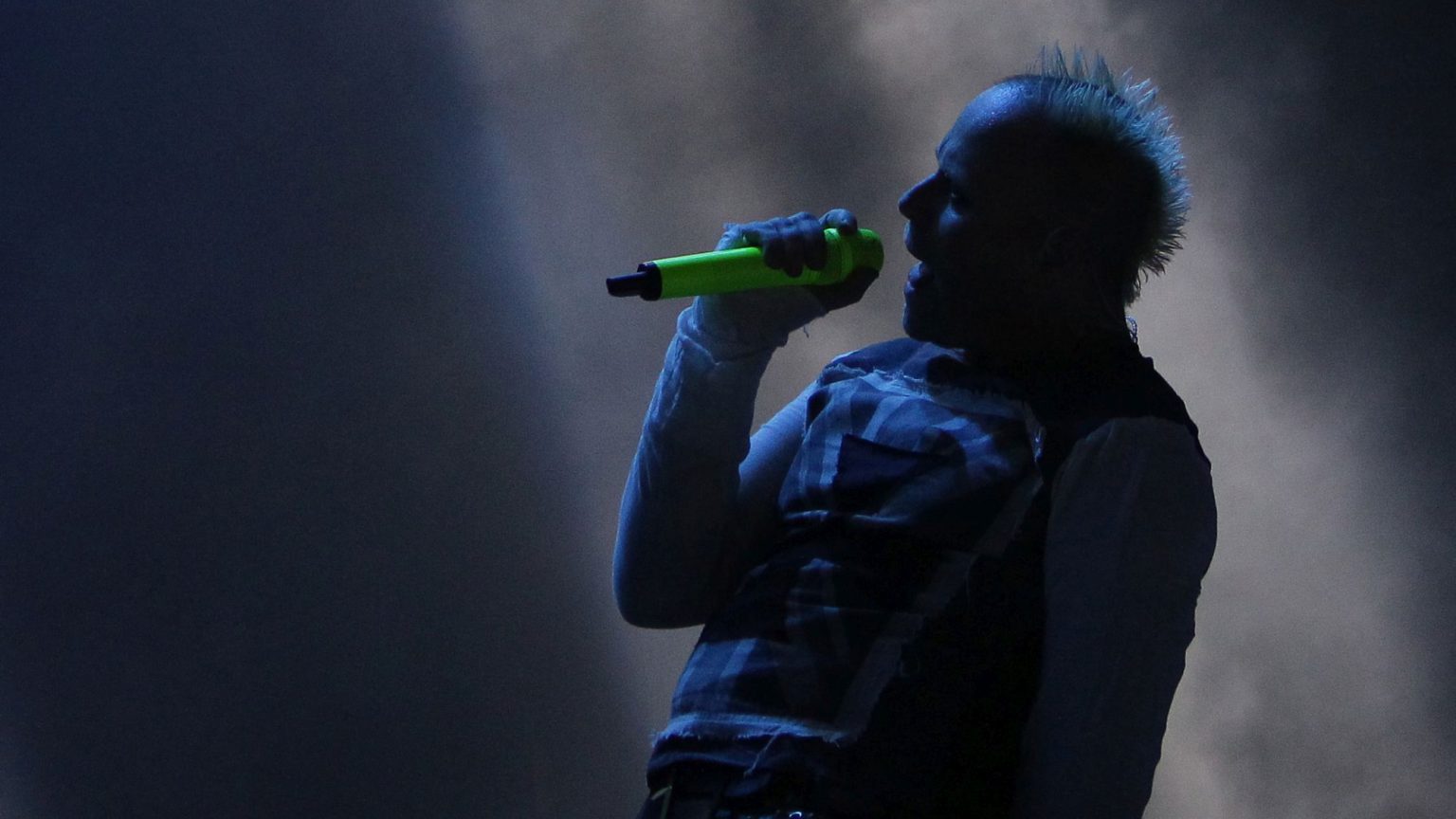 The death of Keith Flint, the rave-cum-punk genius who fronted The Prodigy, feels like the passing of an era. Of an era when rock stars considered it their job to give offence. When they didn't feel the need to bow and scrape and apologise before every whipped-up mob crying, 'You've hurt my feelings!'. When popular music hadn't yet been colonised by the prissiness and touchiness that defines, understandably sometimes, other areas of human life. Flint was from another millennium, but right now it feels like he might have been from another planet too.
Not many people will have thought of Jeremy Corbyn when they heard of the death of Flint this morning. I did. It was 1997, nearing Christmas, and I was young enough to still be frequenting nightclubs and occasionally even raves. The Prodigy's third, and finest, album – The Fat of the Land – had been released a few months earlier. Its first single release, 'Firestarter', had already inflamed the preachy set. 'It will encourage kids to start fires!', they said, and they weren't joking. 'Ban this sick fire record', the Daily Mail demanded. Parliament even debated how dangerous the record might prove to be. Meanwhile, those of us who actually listened to and loved The Prodigy had the song in our ears pretty much constantly and somehow managed to avoid becoming pyromaniacs. It's almost as if pop culture doesn't actually remould personalities and pollute souls in the way panic merchants claim. (Though it can certainly heighten emotion – I still cannot hear the first 15 seconds of 'Firestarter' without having my entire 1990s flash before my eyes.)
Anyway, back to December 1997 and to the third single to be released from The Fat of the Land. The classic 'Smack My Bitch Up'. The response was swift and shrill and unforgiving. In the US, the National Organization of Women convinced Walmart and others to stop stocking The Fat of the Land, on the basis that 'Smack My Bitch Up' was a 'dangerous' song that 'condoned violence against women'. The BBC banned the song. Radio 1 would only play a words-free version. (The lyrics, which recur throughout, are: 'Change my pitch up / Smack my bitch up.') On the BBC's chart countdown, it was referred to as 'Smack'. How absurdly paternalistic to refuse to say the words 'Smack My Bitch Up', lest some wide-eyed pop / rock fan take it as an instruction and wallop the first woman he encounters. Such context-free demonisation of cultural or humorous words can be seen everywhere these days, of course, from the erasure of the word 'faggot' from Shane MacGowan's 'Fairytale of New York' to the arrest of Count Dankula for saying 'gas the Jews' in a skit.
Anyway, in 1997 who should come out against The Prodigy and in favour of censoring this wild raving mob and their scary, spiky-haired frontman, Flint? Why, none other than Jeremy Corbyn. In parliament – yes, actual parliament – an Early Day Motion – an actual Early Day Motion – was put forward condemning The Prodigy. 'This House expresses its disgust and outrage', the motion said, 'at the advertising billboard campaign to promote a record album entitled "Smack My Bitch Up"'. Signed by… Corbyn, Diane Abbott, John McDonnell, Barry bloody Gardiner, and a host of other tragic Mary Whitehouse wannabes determined to cleanse the nation of anything remotely offensive. These people are now in charge of Labour. What a tragedy: Flint is dead and Corbyn is in charge. This isn't the future us youthful rebels had in mind when we were joyfully freaking out in the 1990s. The rebel dies, the censors take over. Fuck that.
Keith Flint and Co's run-in with saddos and censors in the 1990s was an important moment. It spoke to two things in particular. Firstly, to the emergence of a new form of censure, more likely to be justified in PC, feministic language than in old-fashioned blather about God and sin. And second, to the last hurrah of the punk attitude, of rock that pushed boundaries, of simply popular culture that believed that its right to say and do certain things overrode other people's fragile prissy sensibilities.
The Prodigy stood up to their censorious persecutors. How rare that is today, when self-flagellation and showy apologetics are the normal response to any whiff of a Twitterstorm or an accusation that your music or art is PROBLEMATIC. Band member Liam Howlett said they didn't intend 'Smack My Bitch Up' to be controversial (it isn't about beating women, of course, but rather about putting your all into raving). But, he said, once the censors, on both sides of the Atlantic, kicked up a fuss, the band saw it as an opportunity to 'push the boundaries as much as we could'. Got that? They didn't respond to censorious fury by backtracking but by going further. One of the ways they went further was by making a video for 'Smack My Bitch Up' that was absolutely nuts – violent, sexually explicit, all about a stripper being mistreated, and then, boom, we finally see the person who has been mistreating her and it's a woman! A twist we talked about for ages. 'We decided it was important to push all censorship laws', said Howlett. He said they wanted to 'take the piss out of censorship laws'. Prodigy, we salute you.
Flint was at the forefront of all this. He was the terrifying face of this brilliant, punkish, anti-censorship outfit. His hair, his gurning, his barked-out singing – this man, who came from the rave scene but then turned against rave's hippy-dippy BS by making The Prodigy into something far darker and more rock, was in many ways the last punk. The last proper rebel of British music. And surely one of the last to stand up for his and other musicians' freedom to speak and sing as they see fit in the face of a new army of easily offended bores. It is sad that the wrong side from that 1990s culture war was victorious – the feministic set, the PC censors, the 'disgusted and outraged' Labour lefties, the foul idea that culture which offends feminists or minorities or anyone else is by definition bad. And that the right side – the ravers and rockers who want to 'push all censorship laws' – are so rare today. Alas, we still have Flint's music, a guttural roar that sounds more beautiful to me than any of today's moaning about problematic art.
To enquire about republishing spiked's content, a right to reply or to request a correction, please contact the managing editor, Viv Regan.