Stop scaring kids stiff about climate change
Adults should dispel children's worst fears, not encourage them.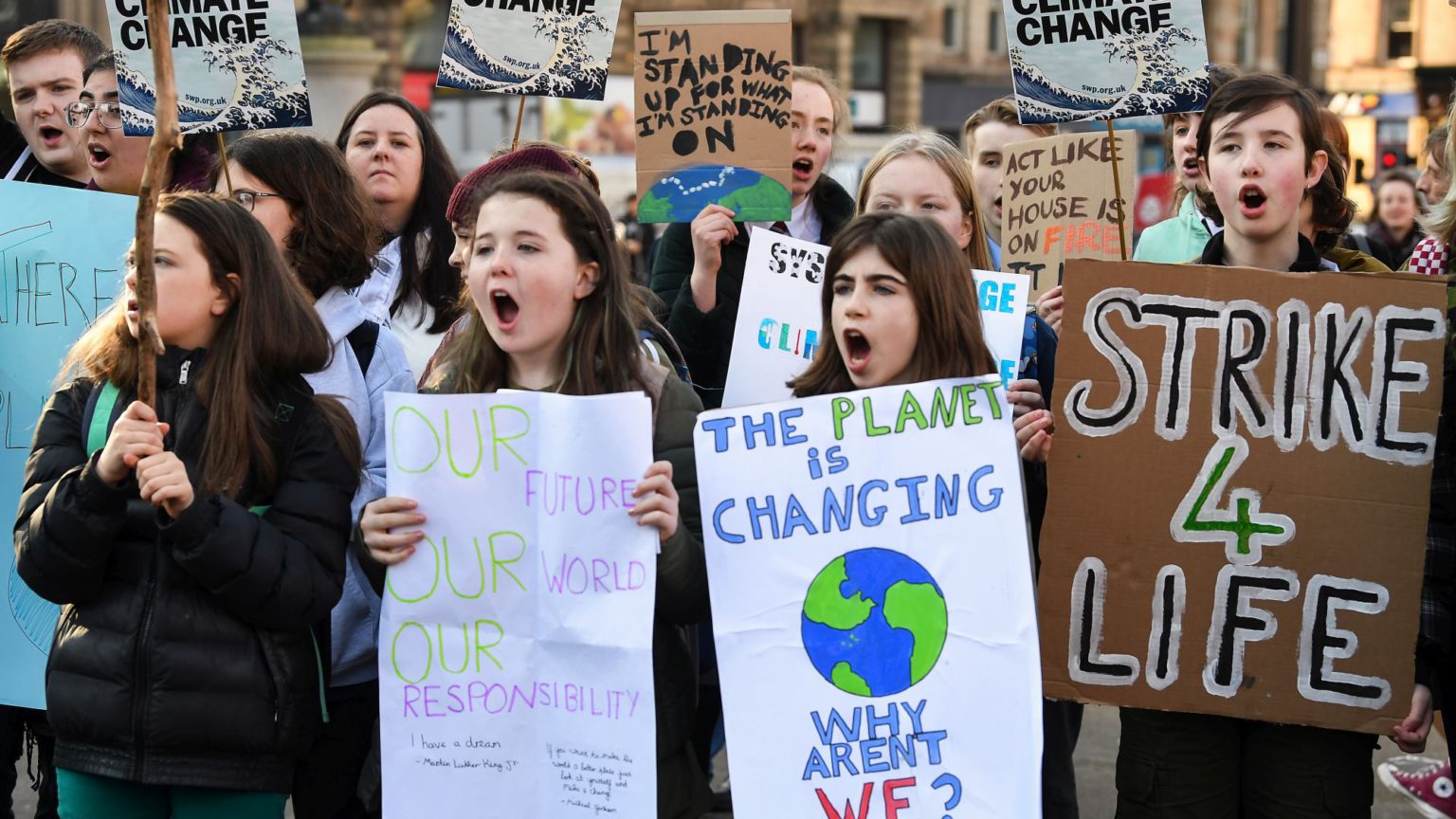 Last week, thousands of children in the UK went on 'strike', bunking off school to call on the government to declare a 'climate emergency'. The inspiration for the strike was 16-year-old Swede Greta Thunberg, who refused to attend school and protested for weeks outside the Swedish parliament over climate change.
Thunberg has since been feted by the great and the good. At a recent United Nations Framework Convention on Climate Change (UNFCCC) meeting in Katowice, Poland, she admonished the politicians in attendance: 'You are not mature enough to tell it like it is… You say you love your children above all else. And yet you are stealing their future in front of their very eyes.'
This view was echoed last week by the British strikers' self-appointed spokesperson, Lottie Tellyn. 'If we don't strike now, then we are getting educated for a future that we don't know is going to exist', she told the BBC. 'Our core message is that we want politicians to start listening to what we need as a generation… we're going to be left with the problems they've created.'
In 1992, when I was still at school, 13-year-old Severn Cullis-Suzuki read almost the same script to the UN's Rio de Janeiro Earth Summit. She claimed to be fighting for future generations. Twenty-seven years on, Cullis-Suzuki and I are now part of the generation of grown-ups who are said to have failed the young.
But have we really failed them? Nine per cent of children born in 1992 did not reach their fifth birthday. By 2015, that number had halved: approximately 10,000 fewer infants die per day than in the 1990s. The average child born in the world in 1992 had a life expectancy of 64.5. Children born in 2015 have a life expectancy of 71.43. The world is improving for future generations on almost every conceivable measure. And this is largely thanks to the very economic development that is held responsible for climate change and therefore for endangering these children's futures.
Then there is the charge that politicians are 'doing nothing' in the face of crisis. One striker, 12-year-old Theo, told Sky News that, 'There are people in that building [parliament] going week in, week out, ignoring the fact that our world is dying out'.
But politicians are doing a lot in response to climate change. Thunberg, for instance, delivered her famous address to the UNFCCC's 24th annual Committee of Parties (COP) meeting, where the UK and EU have long sought 'ambitious' global reductions in CO2 emissions. For all of the school strikers' lives, the UK parliament has been dominated by a cross-party consensus on climate change, which has led to the creation of the Climate Change Act. The Act is likely the most expensive piece of legislation in British history – it is estimated to cost us a total of £319 billion.
And what about the strikers' fears of a climate apocalypse? The truth is that science has yet to detect any statistical increase in the kinds of floods, wildfires, droughts and storms that these kids believe will rip civilisation from its foundations. Extreme weather today kills barely two per cent of the number of people it claimed in the early 1900s, despite the global population increasing from 1.65 billion to 7.7 billion. And thanks to economic development, even if natural disasters were to multiply in the way that certain doomsayers predict, far fewer people would be exposed to them. It is therefore highly unlikely that any of the strikers, their children or even their great-great-great-grandchildren will ever experience climate-change-related devastation.
It would be moving to see children organising themselves spontaneously for a political goal. But children do not rise to global prominence under the steam of movements of their own creation. Last week's day of protest was trailed all over the news media before the event. And it was NGOs, not children, who organised the spectacle and its PR, booking children of green activists for media appearances and interviews. Even government ministers tweeted their support and 'solidarity'.
Children's perception of the world should, of course, be taken seriously by the adults in their lives (if not necessarily by the wider public). But it is not science that has put this apocalyptic understanding of climate change into these children's heads. Adults should challenge children's fears about the future in the same way they would their fears of ghosts and monsters. Instead, teachers, journalists, broadcasters, academics, politicians and even scientists have told them that they are going to die horribly and that they have no future. At the same time, they have abolished any semblance of perspective or debate on climate change from the airwaves, textbooks and the public sphere.
These children aren't 'engaged' – they are scared stiff.
Ben Pile blogs at Climate Resistance.
Picture by: Getty.
To enquire about republishing spiked's content, a right to reply or to request a correction, please contact the managing editor, Viv Regan.