The rebirth of racial stereotypes
The campaign to 'decolonise the curriculum' is demeaning to ethnic-minority students.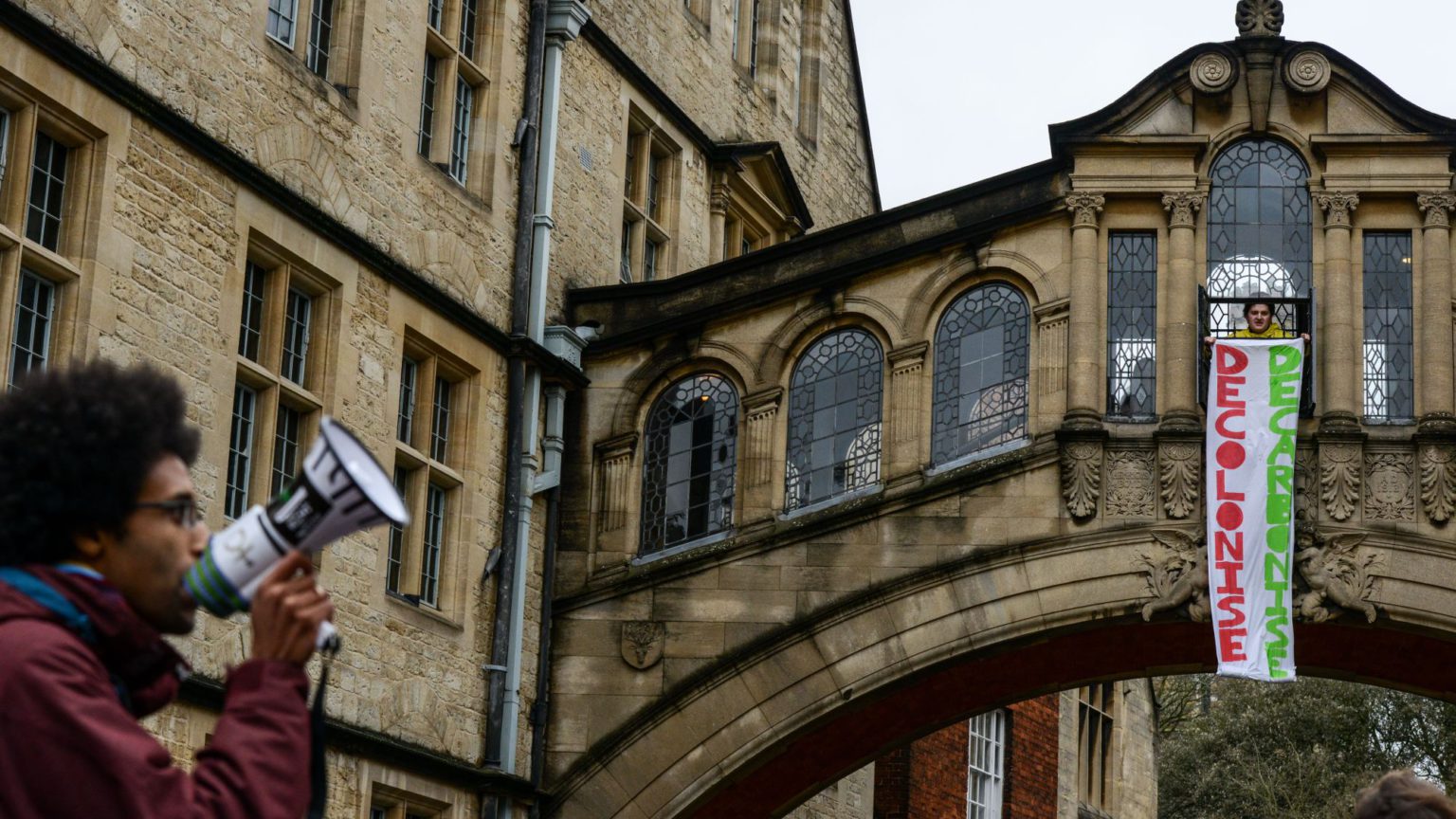 Student campaigns to 'decolonise' higher education started to take off almost five years ago. Even back then, there was very little that was truly radical about them. From UCL's 'Why is my Curriculum White?' project to the international 'Rhodes Must Fall' movement, the rallying cry of 'decolonise' allowed privileged students to tilt at an entirely fictitious notion of universities as the last bastions of empire.
In reality, rather than providing a safe space for elbow-patched professors desperately clinging on to patriarchal, whites-only reading lists, universities were already busy internationalising and diversifying the curriculum. Academics unable or unwilling to defend a disciplinary canon were quite happy to point to inclusivity as the determiner of course content. Far from threatening the foundations of the university, protesting students pushed at an open door and inside found a seat at the departmental table.
So perhaps it is no surprise that the Office for Students, the national regulatory body for higher education, has commissioned and published research urging academics to consider how they 'draw on "non-western" and non-white forms of knowledge' in teaching. Lecturers are encouraged to ask themselves: 'Are our curricular practices dominated by Eurocentric voices? How can we decolonise our teaching and learning practices so that we recognise and respect other voices?' An example of an 'inclusive intervention' that can be used to target students from underrepresented ethnic backgrounds is 'a review of a curriculum to specifically include black-Caribbean authors'.
What is remarkable about this guidance is just how old hat it is. The push to discover forgotten women authors and include them on reading lists took off decades ago. Universities have been internationalising the curriculum for several years. Not only are diverse reading lists often insisted upon, but some universities attach the proviso that all names be written out in full so that women can be clearly identified. On some courses, new modules covering issues of race and identity have been drawn up and new, more inclusive exam questions have been written.
Certainly, university lecturers and schoolteachers should keep under review what gets taught. Just because a particular book or author has had a place on a reading list for the past quarter of a century doesn't mean it automatically deserves a place for the next 25 years. But the movement to decolonise education goes further than just calling for a review of course content. In promoting the notion that irredeemably racist universities play out a legacy of colonialism and can only be saved through the widespread adoption of simplistic solutions, the decolonise movement does more harm than good. It creates problems that should trouble anyone concerned not just with higher education, but with racial equality, too.
Too often, the decolonise movement draws upon patronising and racist stereotypes about black students. Kingston University changed its geography course on rural Britain following concern that it 'normalised white experiences'. It was assumed that black and ethnic-minority students were less likely to visit the countryside and could therefore struggle 'to grasp concepts such as the "rural idyll"'. So the course has been redesigned to encompass 'rural areas globally, with an emphasis on Africa and Asia'. But why should black students struggle with the concept of a 'rural idyll' any more than other students? And why should a black kid born and bred in a British city be expected to feel more affinity for rural Africa than the English countryside? New life is being breathed into jaded old stereotypes.
The push to get black-Caribbean authors on to reading lists suggests that the most significant factor about an author is not their contribution to the discipline being studied, but their skin colour. The life and works of Toussaint L'Ouverture and CLR James are well worth studying — but I'm convinced neither man would welcome inclusion in the curriculum simply to fill a quota for black-Caribbeans. For years women and black writers fought against being labelled according to their gender and skin colour and to have their ideas recognised in their own right.
The decolonise movement assumes a key cause of underperformance by black students at university is a result of them not seeing themselves reflected in the curriculum. At Oxford University, history degrees are reported to have moved away from a 'narrow focus on British and European history' with a new compulsory module on 'global history'. This will, apparently, allow students to study 'black heroes such as Steve Biko, Linton Kwesi Johnson and Stuart Hall'. Robert Gildea, a professor of modern history at Oxford, told The Sunday Times: 'Black and ethnic-minority students are being encouraged to apply to Oxford with the idea that, once they are here, they will recognise themselves and what interests them in the syllabus. If a student arrived to do a degree that was all about the Anglo-Saxons and the Tudors and Winston Churchill, they might think: what is in this for me?'
This assumes that the whole point of education is a narcissistic focus on the self. But education should take us beyond ourselves, it should open up new horizons and help us learn about the world and other people in it. If we only learn about people who look like us then we risk learning very little. I may be a white woman but I want to read novels by James Baldwin and I want to learn about Shirley Chisholm, the first black woman elected to the US Congress and author of the fabulously titled Unbought and Unbossed. By the same token, I want black students to be able to read white novelists and philosophers and, yes, to learn about the Anglo-Saxons and Winston Churchill.
The decolonise movement seeks to challenge racial biases in higher education that have long since been called into question. In constructing a racist academy and then proposing a project of tokenism in order to challenge it, it winds up not only degrading education, but also rehabilitating old stereotypes and prejudices.
Joanna Williams is associate editor at spiked. Her new book, Women vs Feminism: Why We All Need Liberating from the Gender Wars, is out now.
To enquire about republishing spiked's content, a right to reply or to request a correction, please contact the managing editor, Viv Regan.