Maduro should be overthrown, but not by Trump
The internationalisation of the Venezuelan crisis is bad for democracy.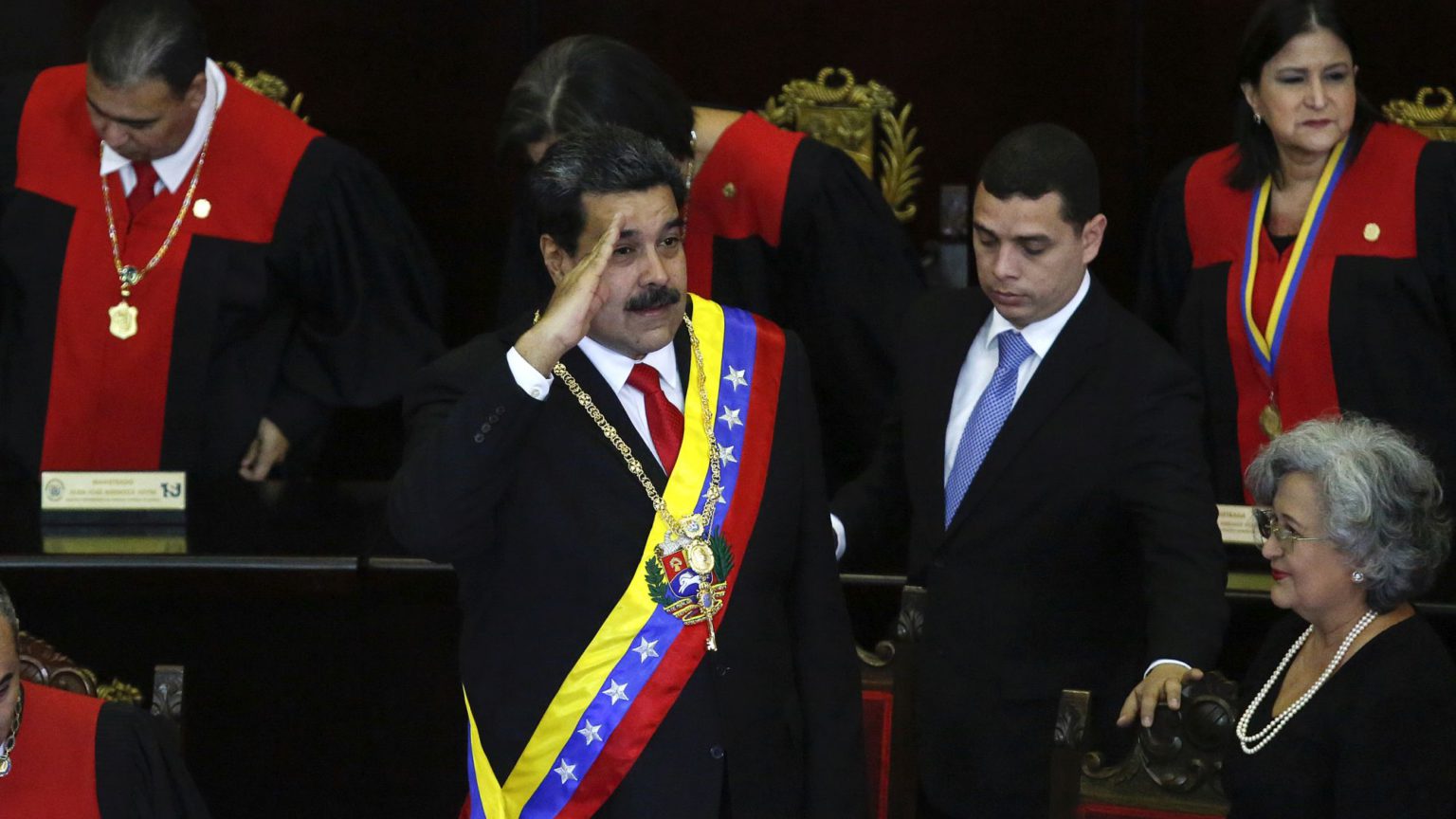 The potential fall of Venezuelan president Nicolas Maduro ought to be a reason for cheer.
Handpicked by Hugo Chavez to succeed him as leader of the ruling United Socialist Party of Venezuela in 2013, Maduro has continued the autocratic, state-capitalist trajectory of El Comandante, but with none of the chutzpah or, more importantly, the petroleum income that Venezuela remains entirely dependent on. The result has been a prolonged economic crisis, and an ever larger, more repressive authoritarian state.
The facts make for grim reading. Since 2013, Venezuela's economy has shrunk by half, hyperinflation has reached 1.3million per cent, and food, medicine and basic goods are in desperately short supply. No wonder it is estimated that three million (out of 31million) Venezuelans have fled since 2013. The US-led sanctions regime, ramped up by Trump last year, which Maduro and pals, and too many on the left, blame for Venezuela's plight, has certainly not helped Venezuelans, especially the poor and working class. But neither, ultimately, have the actions of Chavez and now Maduro.
Chavez nationalised industries and appropriated hundreds of private businesses and foreign-owned assets, at huge expense, creating record-high levels of debt and a massively bloated state bureaucracy. While the cash flowed into state coffers during the 2000s from Venezuela's oil industry (which still accounts for 98 per cent of export earnings and as much as 50 percent of GDP), Chavez could fund his redistributive social programmes (his 'Bolivarian missions'), and sustain a high level of electoral popularity. But this massive over-reliance on oil – the production of which was falling under Chavez, partly because of his attacks on and sacking of nearly 20,000 striking oil workers in 2002-03 – meant that when oil prices plummeted globally, first in 2008 and then again in 2014, Venezuela was left painfully exposed. It exists now as a hugely powerful, but penniless, state. Its leadership has suffocated what dynamism there might have been in the economy.
Maduro ascended to Chavez's throne as this hard reality was about to bite. His response to the deepening economic and social crisis, which has periodically erupted into open unrest (and state murder, arrests and torture), has followed a grim autocratic logic. He has tightened the state's control over all aspects of social and economic life. He has repressed and censored dissent. He has colonised public institutions such as the judiciary and the National Electoral Council. And, through purges and politically convenient promotions, he has turned the army largely into a pliant instrument of his regime's self-preservation.
Above all, Maduro has tried to destroy any means of democratic accountability. Even last year's presidential election was democratic in form only, given opponents had either been banned or forced to boycott it. Yes, Maduro won with 68 per cent of the vote, but that was on a turnout of just 46 per cent, down from 80 per cent in 2013.
Venezuela's elected legislative body, the National Assembly, has been the chief object of his attacks, especially after the 2015 parliamentary elections, when the ruling party lost control of the legislature for the first time since 1999. Maduro's response? To create, in 2017, a parallel, replacement legislature – the National Constituent Assembly – and cram it full of representatives he himself selected.
And it is from this conflict between the National Assembly – which can at least claim a democratic mandate – and Maduro's state forces that the challenge to Maduro has finally emerged, in the 35-year-old shape of National Assembly leader Juan Guaido. Last week, he declared himself interim president before crowds of anti-Maduro protesters in Caracas. It was an opportune moment for a challenge. Venezuela has been gripped by mass protests – many of which have ended in arrests and bloodshed – at several points since 2013, but their constituency has been largely middle-class, long-term anti-Socialist. The protests now are different. They have spread to the working-class enclaves of Caracas and other big cities, traditionally pro-government strongholds. This makes the anti-Maduro movement more significant and potentially more pivotal
So, as I say, all this ought to be a reason for cheer. A repressive authoritarian state could be about to fall to the demands of the majority of the Venezuelan people. Democracy could be about to be revived in this now most undemocratic of nations. Venezuelans might be about to retake control.
Yet, no sooner had Guaido made his move, than US president Donald Trump declared – no, anointed – Guaido Venezuelan president. Trump's declaration was quickly echoed by Brazil, Argentina, Colombia, Chile, Ecuador, Peru, Costa Rica and Paraguay. This weekend, EU members followed suit, threatening to recognise Guaido as interim president, unless Maduro calls elections. In doing so, Venezuela's crisis has been internationalised. It has been turned from a severe set of problems to be worked out by Venezuelans into an opportunity for the US, its Latin American allies and EU member states to express themselves, to showcase their political virtue, their honest-to-goodness love for democracy. And because they have all got involved in Venezuelan affairs, this has dragged in their international political opponents on to the side of Maduro. It has prompted Turkey, Russia and China to back Maduro, also on supposedly virtuous, democratic grounds.
The irony is glaring. In the name of democracy, Venezuela's international do-gooders are undermining it. They are making decisions as to who should lead Venezuela, either by recognising Guaido or backing Maduro, that ought only to be made by Venezuelans themselves. After all, they're the people risking their lives confronting state power, the people struggling to survive on state-rationed food supplies, the people who desperately want to hold accountable the power now being arbitrarily exercised by Venezuela's rulers. They're the people who want, and need, a renewed form of self-government. And yet their aspirations are in danger of being stymied by the intensifying internationalisation of Venezuela's domestic affairs.
Because with every tweet and statement, every lazy murmured threat of military action, every ramping-up of sanctions, the future of Venezuela is taken out of the hands of Venezuelans and placed in those of international actors. And this doesn't even promise a quick or easy resolution to the current impasse. Quite the opposite. US-led international opposition to Maduro, and the interminable sanctions regime, provides Maduro with a chance to play the patriotic card, and blame Venezuela's problems on hostile foreign powers. It also backs him into a corner, from which the only way out, aided and abetted by the likes of Russia and China, is through repressive force. Internationalisation, then, could well result in an internal escalation of a civil conflict.
So let's hope Maduro falls. But if he does, he should fall at the hands of the Venezuelan people, not Trump, Bolsonaro or the EU.
Tim Black is a spiked columnist.
Picture by: Getty.
To enquire about republishing spiked's content, a right to reply or to request a correction, please contact the managing editor, Viv Regan.