Young people are not a Remainer stage army
Channel 4's Brexit debate burst some Remainer bubbles.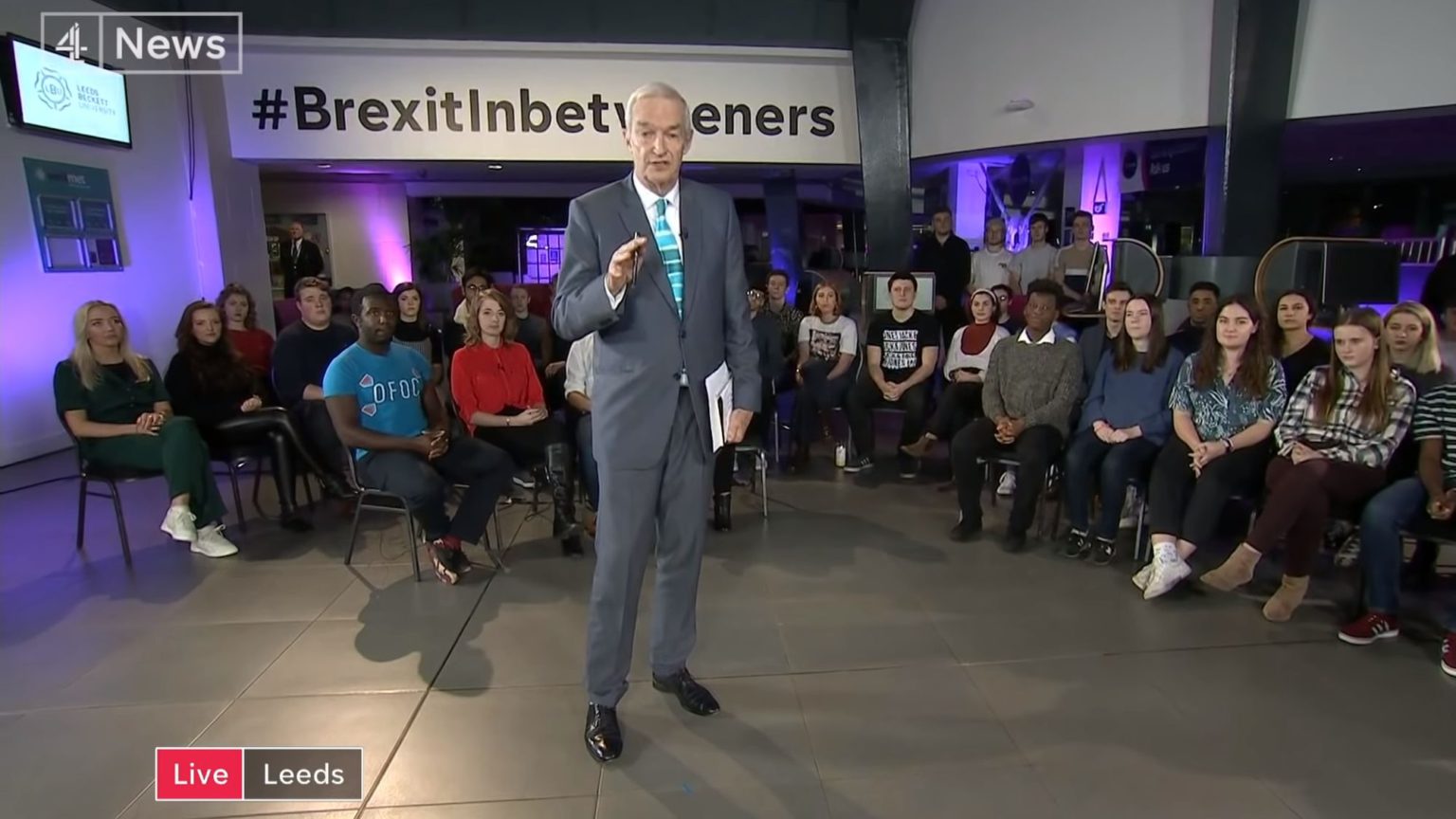 Last night, Channel 4 News invited a studio audience of 18- to 20-year-olds in Leeds to give their views on Brexit. Given the familiar narrative that all young people are passionately pro-EU and have had their futures stolen by their backward Brexiteer grandparents, it is fair to say the debate didn't exactly go to plan.
From the start, Leaver after Leaver made articulate and passionate arguments for respecting the result of the referendum and for leaving the EU.
The first speaker denounced Remain campaigners for 'patronising' the young with talk of 'cheap flights' while ignoring more substantive issues in Europe. He said the EU imposed a 'neoliberal straightjacket' and disastrous austerity policies on its member states. Young Leavers raised important points around trade, national sovereignty and democracy.
Jon Snow, who fronted the debate, was visibly shocked at times. Clearly he and the producers expected a pro-EU whingeathon. A producer revealed that two-thirds of the audience were pro-Remain, reflecting the latest polling of young voters. In a pre-recorded segment, Snow posed as the voice of all young people. He put a question to Labour leader Jeremy Corbyn, who was also in Leeds to deliver a speech on Brexit, asking if he had 'forgotten young people' by refusing to back a so-called People's Vote. This fell flat completely when it transpired that even among the Remain-leaning audience, there was little enthusiasm for a rerun of the referendum.
For the past two-and-a-half years, Remainers have treated young people as a kind of stage army. Yes, polling shows that more young people are in favour of remaining in the EU. For this reason, Remainers insist that younger people are so much cleverer and so much more progressive than their elders – and therefore their voice should count for more. (One cannot help but think this was why Channel 4's debate was organised in the first place. Britain's notoriously pro-Remain broadcasters would be unlikely to air a debate featuring predominantly elderly Leave voters.)
Pro-Remain panellist Femi Oluwole complained of pro-Brexit bias in the debate, despite the favourable audience composition. 'The stats' show young people are 'massively anti-Brexit', he said. But just because a majority of young people are Remain-leaning, that does not make them ardent Remoaners. During the debate, one of the most passionate defences of democracy came from an audience member who said he would have voted Remain but also said he believes the 2016 vote for Brexit must be respected. A second referendum 'devalues the vote' and 'messes around with democracy', he said.
It was clear in the discussion that the momentum was with Brexit. All the young Brexiteers were energised and excited by the possibilities that a radical break with the status quo could offer. We need to encourage more young people to see that the future is theirs to shape.
Fraser Myers is a staff writer at spiked and host of the spiked podcast. Follow him on Twitter: @FraserMyers.
To enquire about republishing spiked's content, a right to reply or to request a correction, please contact the managing editor, Viv Regan.